China's President Xi Jinping looks secure for another Term in the Office
No one seizes power with the intention of relinquishing it.
-George Orwell
The world seems to be stuck in a spiraling conflict of Civil Rights vs. Unfettered Power. While a larger chunk of the global population sides with equal distribution of civil rights and liberty, countries like China, North Korea, and Russia see themselves on the other side of the orbit. China is one of the biggest global players in the world with respect to its population, human resources, and diversified economy. However, the country has faced severe backlash ever since the COVID-19 inception in 2020. One can easily presume that the pandemic has forever solidified the global perspective against the Red Dragon, however, it would be just as defensible to put forth that, the perspective now is out of sheer guilt, frustration and looking for someone to pin the blame at. Nevertheless, China walks away with anything you throw at it. Any sector, any walk of life, any policy – China always seems to function outside the ambit of what's permissible in the world. But is China really a ferocious fire-breathing Dragon or just a flat-track bully or is it just sheer calculated governance?
COVID is not the first time that China has faced massive uproar from the globe. The debacles at Tiananmen Square or the Genocide of minorities at Uyghurs or even the geopolitical expansionism cornering Taiwan are just to name a few. But how is it that mammoth protests have never fetched any result or progress whatsoever? It cannot be just limited to military force or armed neutralization. The prowess of counterpoising the intense protests and wide backlash lies in the hands of China's leadership, currently President Xi Jinping. Having assumed office in 2012 as the President of the People's Republic of China with the vision of 'rebranding and rejuvenating the Chinese Nation' Xi Jinping is said to be the most prominent political leader in China's history. Xi Jinping is currently looking confident about enjoying another term in office ahead of the 20th National Congress of the Chinese Communist Party, this year.
Xi Jinping's journey 2012-Present
Following his father's purge during the Cultural Revolution 1966-1976, Jinping joined the CCP and worked as a local party secretary. Climbing through the political ladder milestone after milestone, Xi Jinping soon rose to political fame courtesy of his efficiency and credibility as a political thinker and strategist. Jinping was made the governor of Fujian from 1999 to 2002. Later he further assumed the office as governor and Party Secretary of Zhejiang from 2002 to 2007. He subsequently joined the Politburo Standing Committee and served as the first secretary of the Central Secretariat and was vouched as the successor of Hu Jintao, the then President of China. In 2008, Xi was appointed as the Vice President of China and eventually assumed the President's office in 2012.
Jinping envisioned making China a major power on the world stage which certainly has stood the test of time. Today, China has an economy that is on its course to surpassing the U.S,'s in the next decade or so. With the economic expansion, China, under Jinping's leadership, also boasts of housing the third largest armed forces in the world. To exert its geopolitical dominion, China has also hugely invested in infrastructure projects around the world. However, despite enormous achievements and unparalleled scope of work, many political analysts, thinkers, and time-keepers have characterized him as a dictator or an authoritarian leader, citing an increase in censorship and mass surveillance in the state. Human Rights Watchers around the globe have always scrutinized the leader but have had no substantial effect on the latter. Instead, Xi Jinping following the traditions of Mao Zedong abolished the two-term limit for the president. Evidently, that only points in the direction of Jinping looking forward to anointing himself again as the President of PRC.
Is Jinping the 'president for life' of China
On his first international trip since COVID-19 to Hong Kong, Xi Jinping projected his confidence in assuming the office for another term. Furthermore, he also has the blessing of the Congress as he was unanimously chosen to delegate to the ruling party's 20th meet in April 2022. While there have been new changes within the appointments in the administerial frame, the key changes in the constitution and inadvertent confidence in his character only points to China's leader continuing in power. Furthermore, Xi's proteges make up the majority of the CCP's Standing Committee and hence inner political or ideological disturbances which naturally result in a "No-Confidence Motion' seems quite improbable. While there have been speculations of pushback from veteran Zhu Rongji, the impact would remain limited. The only important rivals that could have risen at the same level as Jinping and his allies were the Tuanpai, who rose to prominence under the former Presidentship of Hu Jintao. But the Tuanpai stars were effectively sidelined from front-line Chinese politics during Xi's first two terms.
With little to no possible competition to stop Xi in his path to another term, Jinping is likely to optimize his plans in his next term as President. China, after facing massive domestic and international disruptions and sanctions since the pandemic, would hope to strengthen its economy. The country has already achieved an ambitious target of 5.5% of economic growth despite pandemic-related lockdowns, disruptions in manufacturing, and limited consumer spending in the first half of the year. Furthermore, the Russia-Ukraine war also added to the challenge with the price of commodities plummeting through the roof. Xi is currently working and would hope to continue to work in furtherance of mending and improving the country's relations and trade ties with Russia, irrespective of the sanctions imposed by the US and the UK.
Conclusion
China's system of governance does not have an elaborate election structure like that of India. There is no 'dance on the tunes of Democracy'. The members hold a Congress every five years to decide their leaders and policies for the next tenure. There are promotions and elevations of political personalities to move up the ladder and participate in Congress's idea of nation-building and that is about it. The inclusion is systemized but restrictive in nature as there is no accountability or answerability to anyone but to the superior leaders. So, along with this restrictive nature that is already in place, Jinping's decision of removing the term limit is likely to take China back to the turbulent, 27-year, one-man rule of Mao Zedong. While Zedong's tradition was put to a stop by former leader Deng Xiaoping who introduced a system for an orderly succession in the 1980s, Jinping's 'historical resolution' has not met with a reckoning force yet. Xi is set to pass the recommended retirement age of 68 in June and will likely stay at the core, dominating Chinese politics until his dying breath.
Why Olaf Scholz, Chancellor of Germany, is sending a message of Independence by visiting China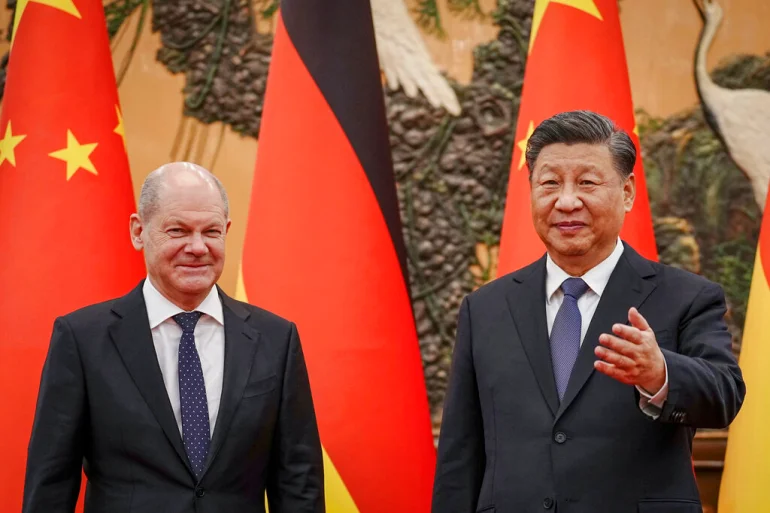 German Chancellor Olaf Scholz was the first G7 head of state to visit China since the outbreak. After the public health crisis, the world changed. The relationship between China and Germany seems to be returning to normal. Since Xi Jinping was re-crowned as the General Secretary of the Communist Party of China, Scholz is the first prominent European figure to visit China.
Nguyen PhuTrong, the head of the Vietnamese Communist Party, Shehbaz Sharif, and Samia Hassan, the president of Tanzania, arrived in Beijing before Scholz. Given that China's relations with Europe have deteriorated due to Uyghur human rights in Xinjiang and Chinese support for Russia in the Ukraine conflict, the Scholz visit last week was positive for Beijing.
Germany's biggest European economy will be even more reliant on China in the first quarter of 2022. During this time, Germany invested €10 billion in China. The amount of bilateral commerce increased by 0.9% to $173.57 billion. Imports from Germany are up 54%. The medium-term ambitions of Germany are in jeopardy due to its 1.9% growth rate.
German investment in China grew by 30% in 2022 despite the Ukraine crisis and criticism of China. A €69.5 billion railway project connecting Tianjin, in North China, and Beijing Daxing International Airport is being financed by KfW (the German state-owned development and investment bank), BASF, Hella, and Robert Bosch. For a total of $17 billion, China is purchasing 140 Airbus planes. Costco, a Chinese shipping business, was permitted to invest in Germany's busiest port, Hamburg, prior to the visit, but with a smaller share. Additionally, the arrival of Scholz coincided with polarization and deteriorating US-China ties. Due to the Ukraine conflict, Germany soon adopted a similar strategy to the US, breaking its contact with Russia.
It maintains caution regarding China because its economic interests are crucial. Scholz met with PM Modi in Berlin after starting his Asia strategy with a visit to Japan rather than China. Germany's foreign policy did not give China top priority, but it is nevertheless significant. It looks inconvenient that the visit comes right after the CCP's 20th National Congress.
Germany confronting China alone has angered Europe. Germany rejected the joint Scholz-Macron visit. The visit by Scholz and a corporate delegation demonstrates a duplication of Angela Merkel's approach. German businesses, which are already suffering from the epidemic, the energy crisis, and the break from Russia, according to the ruling SPD, cannot afford to decouple from China. The German Foreign Ministry criticizes China's human rights record and is developing a new China strategy to counter the systemic rivalry that the EU anticipated.
The Scholz visit revealed strategic independence in Germany. When viewed from the perspective of German relations with Russia, the same autonomy is apparent.
If Germany sways away for its own reasons, how will it continue to lead Europe? Scholz needed to pull many savvy rabbits out of his Beijing visit if he wanted to position Germany and potentially Europe as independent players in the inevitable US-China polarization.
Scholz provided background information for his visit in an opinion piece that was published in the FAZ the day before. Since Merkel's most recent trip to China in 2019, he admitted that the world had undergone significant upheaval. It was crucial to have a face-to-face meeting with Xi in order to address the world's unresolved problems, not because he intended to carry on as normal. China had seen a major upheaval. The German approach had to adapt as well because China had changed.
Additionally, the world had changed. Russia posed a menace that needed Chinese assistance to counter. China was reminded of its unique duty to uphold the UN Charter's ideals and exert influence over Russia as a permanent member of the UN Security Council. This is similar to what China claims about Russia in its Global Security Initiative, which it has yet to put into action. Scholz talked about the necessity of increasing Germany's partnerships and the multipolarity of the world.
Berlin works with various partners because he does not want to see blocs reemerge. China shouldn't be left alone, and a Chinese-dominated world system cannot be cozy. Germany and Europe continue to value China as a trading partner. Berlin didn't want to cut its ties with it. With China, Germany would want more parity and economic diversification. When it came to rare earth, cutting-edge technologies, or raw resources, "risky dependencies" had grown. German enterprises were developing different supply chains. China and Germany will now look for a differentiated basis for trade and investment. Instead of "protectionism and withdrawal," Germany prefers diversity and strengthening.
Scholz's fourth goal was that the disparities between China and Germany, notably those involving political and civil rights, including in Xinjiang, could not be overlooked. Scholz stated that while Germany adheres to the One-China policy, any change to Taiwan's status must be peaceful and reached via mutual consent.
Germany's China policy, according to Scholz, will be effective if it is in line with European policy. In his opinion, there were various areas where China should have a role, including dealing with the G 20, the SDGs, and other things. Before his visit, he consulted with the EU, French President Macron, and the US.
The Chinese readout supports the majority of what Scholz claimed. To preserve Germany's strategic autonomy, Xi is courting it. Despite Scholz's concerns, it stated that "there should be no self-imposed constraints or unrealistic expectations" and publicly disregarded the Taiwan and Xinjiang issues.
This visit is significant because Germany has again demonstrated its desire for strategic independence from the US. Before the Ukraine crisis, which caused them all to flee in the wake of NATO and US leadership, the German coalition and other German and European nations had this as their top priority. Europe is suffering from sanctions and a diminished energy supply due to the standoff in the Ukraine conflict. Despite resistance from within Germany and outside Europe, Germany appears prepared to continue its relationship with China. It must protect its economic growth against the ravages of conflict.