"I now know that experience comes to us for a purpose, and if we follow the guidance of the spirit within us, we will probably find that the purpose is a good one." – Ruby Bridges
Ruby Nell Bridges is an American activist who became a symbol of the civil rights movement. At age six, she was the youngest of a group of African American students to integrate schools in South America.
She was the only black student to attend William Frantz Elementary School in New Orleans in 1960. The eldest of eight children born into poverty in the state of Mississippi. Her family moved to New Orleans, in search of a better life, when she was four years old.
Two years later, the racially divided city had been ordered to integrate its public schools. A test was given to the city's African American school children to determine which of those students were eligible to enter the all-white schools. Bridges passed the test and was selected to be enrolled at the city's William Frantz Elementary School.
A 6 year old coming face to face with racism at school
On November 14, 1960, her first day at school, she was escorted to school by four federal marshals amidst the protests by parents and students. When Bridges and Marshal arrived at the school, large crowds of people were gathered in front yelling and throwing objects. There were barricades set up and the whole place was filled with police officers.
At first, Bridges being an innocent kid believed that it was like a Mardi Gras celebration. As soon as she entered the school, she was rushed to the principal's office, where she spend her entire day. As infuriated students marched into the school to withdraw their children due to her presence.
On her second day, a woman threatened to poison her. Due to the threats, she was only allowed to eat home cooked food at school. Despite of the protests and anger, Bridges was welcomed with open arms by Barbara Henry, a young teacher from Boston. Bridges was the only student in Henry's class and the two sat side by side at two desks, working on Bridge's lessons in an otherwise empty classroom.
In an interview, Ruby Bridges said, "For a whole year, I sat in an empty classroom, with a teacher that was white, who came from Boston to teach me because teachers in New Orleans refused to teach black children."
Another day, she was "greeted" by a woman displaying a black doll in a wooden coffin, she was spit at, been called a 'n*gger' and confederate flags were waved.
"That was my first encounter, knowingly, about racism, I realised at that point it's not Mardi Gras. It all came together and made sense then. I knew that it was about me and I knew that it was about the color of my skin." – Ruby Bridges
Although she faced such a heartbreaking criticism, she did not miss even a single day of school. At just six years of age, she became a strong part of the American Civil Rights movement.
The marshals did not only accompany Rudy the first day, it was an every day thing. They would tell her to look straight no matter what, in that manner, although she could hear the insults and threats of the furious crowd, she would not have to see the racist remarks or the livid faces of the protesters.
According to Bridges, the only people who she phase, was her teacher Barbara and Robert Coles. Coles was a renowned child psychologist who studied the reaction of young children toward extreme stress or crisis.
By the end of the year, the crowd thinned and a couple of more black students were enrolled at the school, making things a bit easier for Ruby.
Several years later, Charles Burks, a federal marshal who accompanied Bridges said that Bridges showed a lot of courage. She never cried or whimpered. He said, "She just marched along like a little soldier."
Inspired by her bravery, Norman Rockwell, a renowned artist, painted a piece of art which he named, The Problem We All Live With in 1963. The painting is considered to be an iconic image of the American Civil Rights Movement.
The painting depicts young Bridges walking to school between two sets of marshals, a racial epithet marking the wall behind them.
"When I saw that painting, I realised that there was something much bigger than myself. So I think that sort of put me on my quest to tell my story and work with kids." – Ruby Bridges
Her story was also recounted in Cole's children's book, The Story of Ruby Bridges 1955. It consists of their conversations during her time at the school.
In 1993 she began working as a parent communicator at Frantz, which by that time had become an all-Black school.
Her memoir, Through My Eyes, was released in 1999, the same year that she established the Ruby Bridges Foundation, which used educational initiatives to promote tolerance and unity among schoolchildren. In 2009 she published the children's book Ruby Bridges Goes to School: My True Story.
Ruby Bridges Foundation
"Racism is a grown-up disease, and we must stop using our children to spread it." – motto of the Ruby Bridges Foundation
In 1999, Bridges formed the Ruby Bridges Foundation, headquartered in New Orleans. In 1993, she was inspired after the murder of her youngest brother, Malcolm Bridges, in a drug-related killing.
For a long time, Bridges looked after Malcolm's four children, who attended the William Frantz School. She began volunteering there three days a week and became a parent-community liaison soon.
"My message is really that racism has no place in the hearts and minds of our children." – Ruby Bridges
With her experience as a liaison at the school and her reconnection with influential people in her past, she began to recognise the need for bringing parents back to schools to take a more active role in their children's education.
Bridges launched her foundation to promote the values of tolerance, respect and appreciation of differences. Through education and inspiration, the foundation seeks to end racism and prejudice in the society.
Ruby Bridges and The Black Lives Matter Movement
On Sunday, September 27, 2020, Ruby Bridges took over Selena Gomez's Instagram account, which has nearly 180 million followers. Bridges shared a moving message related to race an equality on Selena's Instagram.
The celebrity's Instagram account has two videos posted by Ruby Bridges, the first one includes a series of clips from a documentary that showed her first day of 1st grade at William Frantz Elementary School in New Orleans, in 1960.
The second has a heartfelt message by Ruby Bridges. She said, "I want you to remember that it is all of our shared history. This is your legacy too."
In a video series produced by TIME with journalist Katie Couric, Bridges says that when she saw footage of Floyd's death she thought about the "kids watching and what they must have been thinking." She explains that she thinks the video was the "straw that broke the backs of so many people before that young man," sparking protests across the U.S. and around the world.
Bridges also mentions that she thinks the protests from now, look "very different from the protesters during the Civil Rights Movement," due to their diversity. "Yes, there were lots of white folks, Hispanics, lots of people that took part during the Civil Rights Movement," She adds, "But what we've seen today in the streets is very, very powerful."
"They've taken on this charge," she continues. "I think the baton has been passed." Bridges says the protests make her hopeful about the future of the US, adding, "I think when we open our doors and we are able to go back out, this world is going to be a different place."
Assassination of Shinzo Abe & Salman Rushdie – Know Real Facts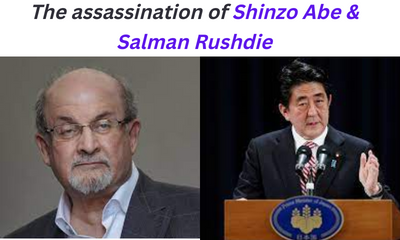 The months July and August of 2022 saw two cases of extermination to promote the fear of terrorism. One of the assassination of Shinzo Abe former Japanese Prime Minister, and another of the famous Novelist Salman Rushdie.
Shinzo Abe succumbed to a gunshot wound, whereas Rushdie's health conditions are improving and he is under medical supervision after the knife attack. However, various assassination attempt of Salman Rushdie has been made during the year.
These two terror acts force us to think about the impact of terrorism on society, the main objective of which is to create an atmosphere of fear so that citizens of the country cannot rely on their government.
This ultimately disturbs the law and order of the society, and serves the terrorists' purpose of creating a chaos.
Here we will see how these two attacks had different reasons but the objective remained the same – to stop someone from propagating his/her opinions independently, and also the factors that make attackers indulge in such acts.
Assassination Attempt of Salman Rushdie – Satanic Controversy
On 12 August 2022, Rushdie was attacked several times by a 24-year-old man Hadi Matar. The attacker's intentions can be linked to Rushdie's fourth novel, The Satanic Verses, published in 1988. Some Muslims considered the novel disrespectful towards Prophet Mohammed.
Soon after its publication, the novel sparked a 'fatwa' or a religious decree. The Iranian revolutionary leader Ayatollah Ruhollah Khomeini called for Rushdie's death in 1989. After, this various assassination attempt of Salman Rushdie has been made.
Complete conversation for Salman Rushdie Assassination:
When asked about the attack Hadi Matar said, "I don't like the person. I don't think he's a very good person. I don't like him very much". He further criticised Rushdie's work by saying, "He's someone who attacked Islam, he attacked their beliefs, the belief systems". Mr. Matar also told New York Post that he had only read 'a couple of pages' of the book and did not tell about whether the fatwa had inspired him or not.
While praising the Iranian religious leader, he stated, "I respect the Ayatollah. I think he's a great person. That's as far as I will say about that".
One can observe that the psychology of the attacker was that he simply disliked the novelist because of his work; although he read only two pages of the novel, but was rather influenced by the religious leaders and their sayings. Just, like this the assassination of Shinzo Abe has been made during this year, which we will discuss on next section.
Perceptions like these can have a long-lasting impact on future generations which can further deteriorate the situation. Violent acts like this demand proper scrutiny of the dissemination of information.
Extremists take advantage of such incidents and brainwash the young minds so that they can be used by them for their selfish purposes.
Assassination of Shinzo Abe – Complete Truth
On 8 July 2022, it was just another day of Abe's political campaign for the upcoming parliamentary elections. He was delivering a speech in Nara City, but no one is the aware about the assassination of Shinzo Abe that day. When a 41-year-old Tetsuya Yamagami shot him twice from behind from a distance of about 10 meters.
During the investigation, he confessed his intentions of killing and it was found that his motives had more to do with religious backing instead of a political reason.
It so happened that Yamagami's mother was a member of a religious group which she joined after her husband's death in 1998. She used to donate huge amounts of money as charity to the group, after the assassination of Shinzo Abe and Yamagami blames the sect for bankrupting his mother.
Confession Statement on Abe Case
The report reveal that Abe was closely associated with the sect, and wanted to take revenge against him for promoting it. "The suspect stated that he held a grudge against a particular organisation and that he committed the crime because he believed former Prime Minister Abe had a connection to it", a senior police officer in Japan's Nara region told reporters.
While the police hasn't given any clarification regarding the unidentified organization, social media in Japan has it that it could be the Unification Church.
Yamagami was unemployed, felt isolated in society, was against religious preaching and blind faith, and wanted to kill the leader of the religious organization but couldn't. One can see the psychological aspects of it that, the killer was anguished with the organisation and blamed them for his conditions and economic turmoil.
Ultimately his grudge converted into a motive of taking revenge for his loss and he did that by killing the perpetrator of the religious group, to give a message to the society and the world that one should avoid themselves from joining or contributing to such groups.
Japan has the strictest gun laws after the assassination of Shinzo Abe , so to bypass such stringent laws the killer used a handmade gun. The occurrence of such incidents in the island nation shows how much resentment the killer has and how strongly he was motivated to commit the murder.
Such incidents are eye-openers for the society that someone's freedom of belief can become others' pain, and teaches that as a society we should try to maintain a balance between them.
Two Paths to Crime
The above two accidents of assassination of Shinzo Abe, and the assassination attempt of Salman Rushdie has been terrifying for the country. First, being a part of a religious group the killer face hardship in his life, which forced him to commit the crime. In the second instance, the attacker got the impression that his religion is being targeted and that it is his responsibility to take revenge so that next time no one dares to do anything like that again.
Interpretation of things based on pre-assumed thoughts can lead to revenge, and revenge based on half-baked knowledge causes harm to the whole humanity, and not just the particular group concerned.