Conservationists warn, around half a million sharks could be slaughtered for shark squalene, a natural oil, to immune everyone in the world with two doses of a Covid-19 vaccine.
The race for coronavirus vaccine may see the slaughter of around half a million sharks, causing irreversible damage to our ocean's ecosystems. Conservationists in the United States have warned that the hasty hunt for a COVID-19 vaccine could mean a death sentence for many sharks across the globe. According to wildlife experts, the mass killing of sharks could take place to harvest squalene, a natural oil.
A shark support group has said, "At least 500,000 sharks around the world could be killed in the process of developing a vaccine. This mass killing of sharks will be done in order to immunise the entire world with the Covid-19 vaccine."
According to shark conservation organisation Shark Allies, sharks could be killed in mass numbers to produce a key compound called squalene that will likely be used in a future COVID-19 vaccine. Squalene is a natural organic compound sourced from shark liver oil. This compound helps in the development of the vaccines, where it acts as an 'adjuvant' that primarily helps in boosting the immune response of the recipient. It also strengthens the dose of medicine.
What experts have to say?
Conservation group Shark Allies predicts that 2,500 – 3,000 sharks are needed to extract one tonne of squalene. Depending on the amount of squalene that will be used experts believe that if everybody in the world receives one dose of the vaccine, around 250,000 sharks would have to be slaughtered and if the doses are doubled to boost the immunity of every person on the globe, it would likely lead to the killing of half a million sharks.
Stefanie Brendl, founder of California-based Shark Allies states, "We are in no way trying to hinder or slow down the development of a COVID-19 vaccine or any other critical treatment that is needed to protect humanity from illness, instead we should be using plant-based and synthetic alternatives for squalene, which don't derive from sharks."
As per the data published by World Health Organisation (WHO) and Regulatory Affairs Professionals Society (RAPS) regarding the adjuvants in the vaccine, the US non-profit organisation Shark Allies evaluated that at least five of those adjuvants are shark squalene-based.
Scientists are worried as the global pandemic has already killed almost 1 million people worldwide and relying on already depleting species for sourcing a cure for a pandemic is a major threat to the population of the aquatic animal.
What is the concern?
It is believed that killing so many sharks will do irreversible damage to our oceanic ecosystems and will hamper the aqua life in a lot many ways. Sharks are critical to ocean health and function. They are a key element in life systems that affect ocean health, food security, and livelihoods for generations to come. We need the ocean and the ocean needs sharks.
Sharks are already globally hunted for squalene, which is heavily used in the cosmetic industry. A reliance on shark oil for a global vaccine is truly insane. The ongoing overfishing of sharks is already on a very critical level, and depending on this wild animal for a global vaccine is definitely not going to help the world.
Brendl points out that the squalene industry is already taking 2.7 million sharks for cosmetics use, a number that is predicted to double by 2024 and triple by 2027. While millions of more sharks are taken for fin harvesting and as a result of overfishing in general. Many conservationists like Brendl are worried that a squalene-dependent COVID vaccine could spell further disaster for shark species that are already at critical levels.
Why is it important to maintain ocean health?
Using squalene in universally deployed COVID vaccines could be detrimental for many shark species. Harming the already harmed is not truly sane. Also, sourcing an ingredient from a wild animal is not a long-term solution.
Maintaining ocean health is an obligation on all of us as it regulates climate and reduces climate change impacts. From a conservation perspective, there is no doubt that the overexploitation of a key component of the marine environment will have dire consequences.
President Joe Biden's Conversation with the Cambodian Prime Minister Hun Sen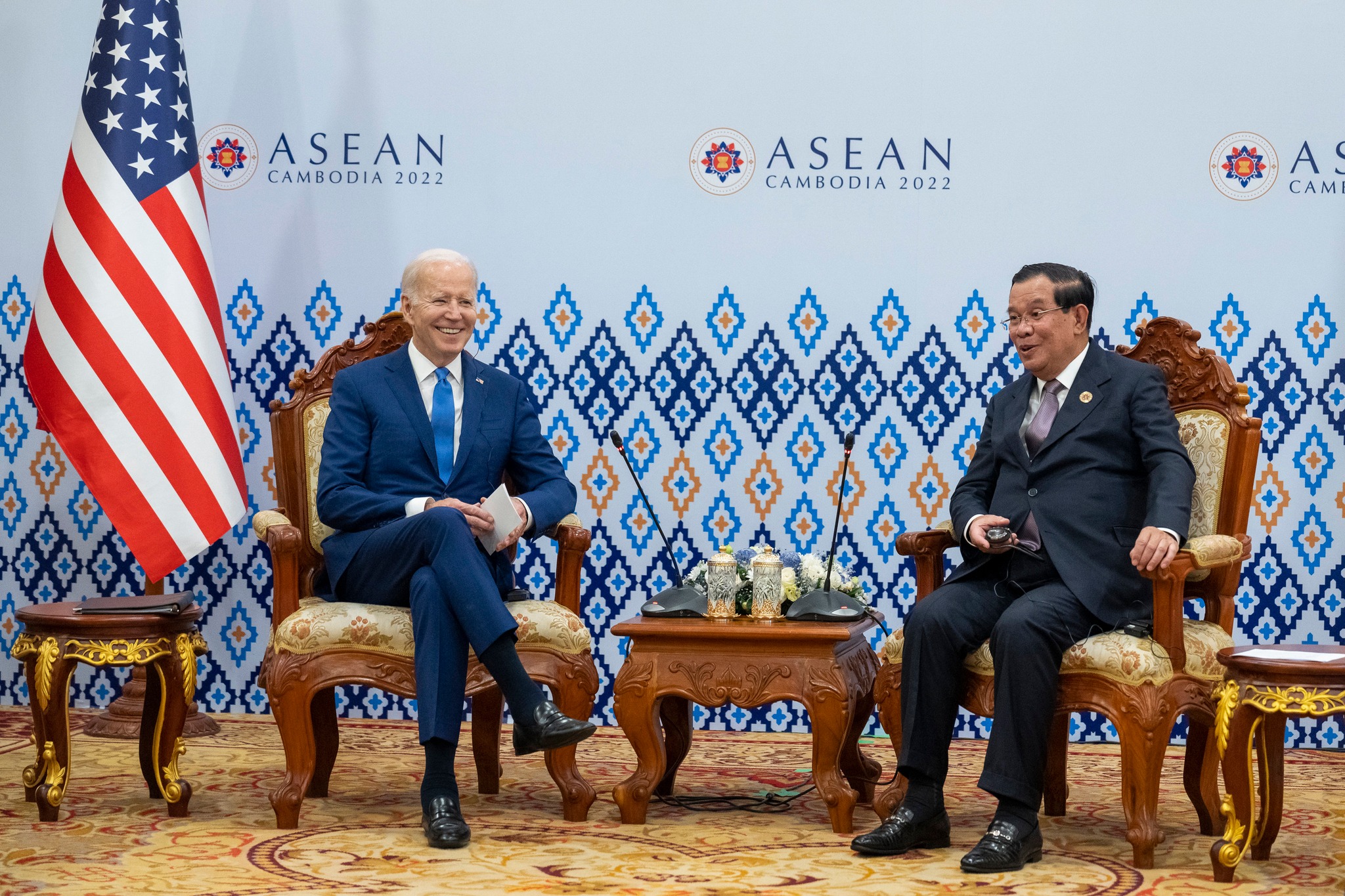 President Joe Biden landed in Cambodia on Saturday and supported the ASEAN nations. Before the eagerly anticipated Group of 20 summits next week in Indonesia, where Biden will meet with Xi for the first time in person since he took office, there will be a weekend of meetings in Cambodia. Before meeting with Xi, the president can engage with US allies at the ASEAN summits and the East Asia Summit on Sunday, both in Phnom Penh.
The US-ASEAN Comprehensive Strategic Partnership, which, according to Biden, "will tackle the biggest issues of our time, from climate to health security, defend against the significant threats to rule-based order and threats to the rule of law, and build an Indo-Pacific that's free and open, stable and prosperous, resilient and secure," was announced as "another critical step" toward building on the group's progress during his remarks at the summit. He cited a budget proposal for $850 million in support for Southeast Asia while praising the US's current financial commitments to ASEAN.
"This is my third journey and third summit, my second in person." The value reflects the United States' commitment to our relationship with ASEAN and our dedication to the region's centrality. The core of the Indo-Pacific strategy of my administration is ASEAN. In his opening remarks to the meeting, Biden said, "And we continue to reinforce our resolve to work in lockstep with an empowered, united ASEAN."
To build on the ASEAN leaders' conference in Washington earlier this year, the president's first meeting in Cambodia was with Prime Minister Hun Sen of Cambodia.
From the beginning of his presidency, Biden "was intent on elevating our engagement in the Indo-Pacific," according to national security adviser Jake Sullivan, and his attendance at the ASEAN and East Asia summits this weekend will highlight his accomplishments to date, including the Indo-Pacific Economic Framework unveiled earlier this year and security partnership initiatives.
"He's coming into this series of summits with that track record of success and purpose behind him, and he wants to be able to use the next 36 hours to build on that foundation to move American engagement forward, as well as to deliver several actual, practical initiatives," Sullivan said.
New initiatives on maritime cooperation, internet connectivity, and economic investment are some of these valuable measures, according to Sullivan. He added that Biden will soon begin a new maritime initiative that will "focus on using radio frequencies from commercial satellites to be able to track dark shipping, illegal and unregulated fishing, and also to improve the capacity of the countries of the region to respond to disasters and humanitarian crises."
Further, he added, Biden will also emphasize a "forward-deployed posture" toward regional defense to demonstrate that the US is actively pursuing security cooperation.
Biden also mentioned a brand-new US-ASEAN electric car infrastructure program during his speech.
He described the project as "a collaborative effort to build an integrated electric car ecosystem in Southeast Asia, enabling the region to achieve sustainable energy, economic growth, and ambitious emissions reduction targets."
Discussions on coordination "to continue to impose costs and build pressure on the junta" will also be centered on Myanmar, which was the subject of a February 2021 coup that ousted the country's democratically elected government.
Key Highlights
Concerns raised by Biden regarding Chinese activity at the Cambodian Ream Naval Base. The president expressed concern over the circumstances at Ream Naval Base and emphasized the value of complete transparency regarding the PRC (China's) military activities there.
The US President congratulated Cambodia's Prime Minister for backing Ukraine at the UN and spoke about the turmoil in military-ruled Myanmar.
President Biden also conveyed his gratitude to Cambodia for supporting resolutions at the UN to defend Ukraine from the brutal assault of Russia.
He thanked Cambodia for holding the ASEAN helm through a trying year.
The leaders "reflection on the historic US-ASEAN Special Summit's success in Washington, DC and applauded plans to establish a US-ASEAN Comprehensive Strategic Partnership at the annual US-ASEAN Summit later that day."
Along with the ASEAN Five Point Consensus, they also discussed the crisis in Burma and ASEAN's reaction, highlighting the international community's crucial role in restoring of democracy and stability in Burma.
In addition, Biden urged releasing activists like Seng Theory and a dual US-Cambodia citizen arrested on politically motivated allegations. The commitment of the United States to the Cambodian people and their goals for a more wealthy, democratic, and independent nation was reaffirmed by President Biden.