Asia is one of the most colonized continents in the world. While northeast Asia was not directly influenced by the British as China and Britain did fight two major wars called Opium wars after which Hong Kong was ceded to UK for 99 years, they were heavily exploited at the behest of Portugal in the mid-sixteenth century as they brought Catholicism wrapped in the lustrous cloak of tech, arms and arsenals. South-East Asia is the one, which was exploited by Europe to serve the local Dutch and reap benefits from the resourcefulness of the nations. The colonialization of the south-east Asian parts also gave additional incentive to the colonizers, as the people of local colonies became subservient to the imperialization and underwent a religious conversion to ensure their safety.
Role of Women in Freedom Struggles
Women all over the world have played integral roles in freedom and liberation struggles. Participation of women in the Indian Freedom Struggle is a testament to that. While the Indian Freedom Struggle is seen as one of the most supreme hustles for power displacement, there have been many other conquests of the same nature in the past as well.
Bangladeshi Women in the Liberation Movement
Not much has been written about Women's eminent contribution to the Liberation Struggle in 1971. Historians and date-clockers have always gone ahead and outrightly undermined women's participation. Instead, the participation if at all mentioned was categorized as passive, inactive, and acquiescent. As a result, the researchers and scholars have only heightened the glory of male valour in their writings.
Women, who almost constituted half of the population in Bangladesh, contributed to the war in both direct and indirect ways. A good number of women, crossed the interstitial border and reached India, and took training in guerilla warfare. The training resulted in women as they dawned an active role as combatants at the war front. While some women opted to be at the frontline, a large pool of women ended up being nurses and medical operatives. There were even some who voluntarily opted to carry out jobs in refugee camps. Women also contributed to society, by staying in their homes and providing shelters, food, information and inspiration to the freedom fighters. Distinguished personalities like Nilima Ibrahim, Jahanara Imam, Sufia Kamal, Roma Chowdhury, Selina Hossain, Forkan Begum submitted their explanative mentions about the role of women in their distinct publications.
Women in Bangladesh also took up extremely risky jobs. While physical combat at the frontier was certainly life-endangering, women along with children agreed to be informants of the freedom fighters. Since women and children were considered docile, not much attention was given to them by the Pakistani Juntas. Bir Protik Taramon Bibi, who was a designated cook at one of the freedom fighters' camps, also performed her duty as a cunning informant.
While the sword was whirling at its pace, the pen didn't lag much behind. Women Journalists and writers, poets, musicians also contributed to the liberation struggle through their respective professional fields. Journalists collected news from the battlefield and wrote them in newspapers and disseminated it throughout the country. Furthermore, patriotic songs like 'Joy Bangla Banglar Joy', 'O Bhai Khati Sonar Cheye Khati', 'Mora Ekti Fulke Bachabo Bole Juddho Kori', 'Sob Kota Janala Khule Dao Na were written by women, which motivated children as well as the old and catered towards the struggle as well.
Women in Vietnam War
About 11,000 military women were stationed in Vietnam during the war as per the Vietnam Women's Memorial Foundation. The women here carried similar roles as that of Bangladesh as they served as soldiers, health workers, and journalists. Furthermore, women also served as general physicians, air traffic controllers, intelligence officers and held other positions in the U.S. Women Army Corps U.S. Navy, and U.S Air Force. Apart from being in such influential and dominating positions, women also carried out voluntary service works on behalf of the Red Cross, United Service Organizations, Catholic Relief Services, etc.
The military women who served in Vietnam largely discharged their duties as nurses. Stationed at the small age of 20 at the war-front to a seasoned career by the time they turned 40, testifies their active role in the war. Significant sacrifices of seasoned officers such as Lieutenant Colonel Annie Ruth Graham who served in World War II and Korea succumbed to a cardiac arrest. Furthermore, First Lieutenant Sharron Lane died from shrapnel wounds in an attack. She was eventually awarded the Vietnamese Gallantry Cross for Heroism.
In addition to the military women, civilian women also contributed heavily to the Vietnam conflict. Many American women travelled as foreign correspondents and bureaucrats and collected news from the battleground and circulated it across the globe. Georgette 'Dickey' Chappelle who was a writer for The National Observer died due to a mine explosion. As per the available date, a total of 59 civilian women lost their lives while discharging their duties for the Vietnamese soil.
Assassination of Shinzo Abe & Salman Rushdie – Know Real Facts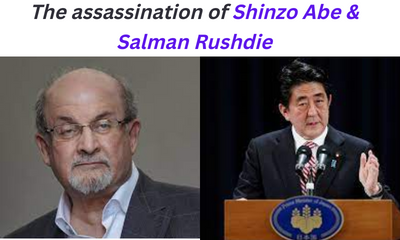 The months July and August of 2022 saw two cases of extermination to promote the fear of terrorism. One of the assassination of Shinzo Abe former Japanese Prime Minister, and another of the famous Novelist Salman Rushdie.
Shinzo Abe succumbed to a gunshot wound, whereas Rushdie's health conditions are improving and he is under medical supervision after the knife attack. However, various assassination attempt of Salman Rushdie has been made during the year.
These two terror acts force us to think about the impact of terrorism on society, the main objective of which is to create an atmosphere of fear so that citizens of the country cannot rely on their government.
This ultimately disturbs the law and order of the society, and serves the terrorists' purpose of creating a chaos.
Here we will see how these two attacks had different reasons but the objective remained the same – to stop someone from propagating his/her opinions independently, and also the factors that make attackers indulge in such acts.
Assassination Attempt of Salman Rushdie – Satanic Controversy
On 12 August 2022, Rushdie was attacked several times by a 24-year-old man Hadi Matar. The attacker's intentions can be linked to Rushdie's fourth novel, The Satanic Verses, published in 1988. Some Muslims considered the novel disrespectful towards Prophet Mohammed.
Soon after its publication, the novel sparked a 'fatwa' or a religious decree. The Iranian revolutionary leader Ayatollah Ruhollah Khomeini called for Rushdie's death in 1989. After, this various assassination attempt of Salman Rushdie has been made.
Complete conversation for Salman Rushdie Assassination:
When asked about the attack Hadi Matar said, "I don't like the person. I don't think he's a very good person. I don't like him very much". He further criticised Rushdie's work by saying, "He's someone who attacked Islam, he attacked their beliefs, the belief systems". Mr. Matar also told New York Post that he had only read 'a couple of pages' of the book and did not tell about whether the fatwa had inspired him or not.
While praising the Iranian religious leader, he stated, "I respect the Ayatollah. I think he's a great person. That's as far as I will say about that".
One can observe that the psychology of the attacker was that he simply disliked the novelist because of his work; although he read only two pages of the novel, but was rather influenced by the religious leaders and their sayings. Just, like this the assassination of Shinzo Abe has been made during this year, which we will discuss on next section.
Perceptions like these can have a long-lasting impact on future generations which can further deteriorate the situation. Violent acts like this demand proper scrutiny of the dissemination of information.
Extremists take advantage of such incidents and brainwash the young minds so that they can be used by them for their selfish purposes.
Assassination of Shinzo Abe – Complete Truth
On 8 July 2022, it was just another day of Abe's political campaign for the upcoming parliamentary elections. He was delivering a speech in Nara City, but no one is the aware about the assassination of Shinzo Abe that day. When a 41-year-old Tetsuya Yamagami shot him twice from behind from a distance of about 10 meters.
During the investigation, he confessed his intentions of killing and it was found that his motives had more to do with religious backing instead of a political reason.
It so happened that Yamagami's mother was a member of a religious group which she joined after her husband's death in 1998. She used to donate huge amounts of money as charity to the group, after the assassination of Shinzo Abe and Yamagami blames the sect for bankrupting his mother.
Confession Statement on Abe Case
The report reveal that Abe was closely associated with the sect, and wanted to take revenge against him for promoting it. "The suspect stated that he held a grudge against a particular organisation and that he committed the crime because he believed former Prime Minister Abe had a connection to it", a senior police officer in Japan's Nara region told reporters.
While the police hasn't given any clarification regarding the unidentified organization, social media in Japan has it that it could be the Unification Church.
Yamagami was unemployed, felt isolated in society, was against religious preaching and blind faith, and wanted to kill the leader of the religious organization but couldn't. One can see the psychological aspects of it that, the killer was anguished with the organisation and blamed them for his conditions and economic turmoil.
Ultimately his grudge converted into a motive of taking revenge for his loss and he did that by killing the perpetrator of the religious group, to give a message to the society and the world that one should avoid themselves from joining or contributing to such groups.
Japan has the strictest gun laws after the assassination of Shinzo Abe , so to bypass such stringent laws the killer used a handmade gun. The occurrence of such incidents in the island nation shows how much resentment the killer has and how strongly he was motivated to commit the murder.
Such incidents are eye-openers for the society that someone's freedom of belief can become others' pain, and teaches that as a society we should try to maintain a balance between them.
Two Paths to Crime
The above two accidents of assassination of Shinzo Abe, and the assassination attempt of Salman Rushdie has been terrifying for the country. First, being a part of a religious group the killer face hardship in his life, which forced him to commit the crime. In the second instance, the attacker got the impression that his religion is being targeted and that it is his responsibility to take revenge so that next time no one dares to do anything like that again.
Interpretation of things based on pre-assumed thoughts can lead to revenge, and revenge based on half-baked knowledge causes harm to the whole humanity, and not just the particular group concerned.