Introduction
Preservation of a sovereign's autonomy is one of the most prominent and distinguished challenges, faced by the governing body(s) of any country. While participation at international forums, global assemblies and bilateral conventions are important, it is also necessary for any competent government and its esteemed bureaucracy to uplift and preserve a nation's individualism and strategic value system. It is in this regard that a group of foreign policy experts have come together and have released a report – Non-Alignment 2.0.
What is NAM 2.0?
Non-Alignment 2.0 is a report made by a group of foreign policy experts and National Security advisors, which identifies the fundamental and basic principles which can potentially drive and boost India's growth in the global circuit over the next decade. While the report aims to cater to the nation's economic, financial and infrastructural growth, it also pledges to preserve the country's undying autonomy and cultural value system.
The core principle of the report philosophizes on cashing the global opportunities to successfully strengthen the country's internal development and growth. Henceforth, the smart choices in terms of global trade and investment shall enlarge the domestic markets, benefitting all Indians. The report also essentially talks about a situation wherein, the world is no longer shackled and bifurcated between two dominant powers i.e., Russia and the USA and therefore the Non-Alignment would severely solicit the nation to undertake the responsibility of handling complex coalitions whilst not jeopardizing the country's own domestic growth, social inclusion and political democracy. The report further enshrines and envisages strengthening and nourish its relations with the "Asian Theatre", prioritizing South Asia, as without managing a smooth relationship with the "Asian Theatre", India cannot mark itself as a pedestal of great global power. Furthermore, the report also goes on to incorporate security matters such as international orders, Internal Security, Non-Conventional Security issues like energy and nuclear weapons, etc.
However, despite the report being optimistically ambitious and enterprising, it has managed to stir a great deal of controversy as well. The authors of the report have received a good deal of flak from distinguished thinkers and analysts. The said analysts have opined that the report aims to resurrect the buried ghost of non-Alignment which has caused an unquantifiable amount of financial and societal harm in the past and would not be able to prove its worth in the future as well. The report is, therefore, has been said to limit rather than advance India's growth and its vested interests.
Background
Postcolonial independence, India was seen as an ancient but resurgent country with a promising future. The people were ecstatic and oozed with enthusiasm after the republic of the country as, to begin with, a new page under the purview of complete independence and freedom. The governing powers at the hands of Pandit Jawaharlal Nehru propagated the message and conduct of peace and mankind rather than war or vengeance. However, reeling from a century-old struggle for freedom and sovereignty, India's unequivocal stance on anti-colonialism is reflected in its continued endorsement of non-Alignment.  
The phrase "Non-aligned" was first used by V.K Krishna Menon while addressing his reservations on behalf of the Indian republic at the United Nations General Assembly in 1953 and later by Jawaharlal Nehru in 1956. Though the past participle was used after a brief interlude of independence, Pt. Jawahar Lal Nehru has been an active endorser of the Non-Alignment theme. Even at the onset of freedom, he expressed his idea of Non-Alignment in a radio broadcast aired in 1946. He remarked that while the country would intricately participate in international conferences as a free nation, it does not aim to meddle and shall avoid entering into other country's issues unless it affects India's own domestic interests. He further submitted that India shall operate as a free nation, according to their own policies rather than being a satellite of other nations.
Need of NAM 2.0
The anchor of the report, the Centre for Policy Research seems to have earnestly tried to incorporate Nehru's views on retaining strategic economy but the report still seems to be half-baked and does not appear to be relevant and serve its purpose in the 21st century.
For instance, the idea of non-alignment in the past stemmed from a different side of India. An India which was almost financially incapacitated and was reeling from the horrendous incidents of partition and dwindling infrastructure. India, now, is a booming power with its people holding chief positions at various global sectors, and therefore, its enhanced economic and security capabilities enable it to exert influence on external affairs. Similarly, as the world becomes more shrink than ever and almost every state endorses the idea of globalization and world trade, external actions affect the domestic institutions of the nation as well. Therefore, the idea of withdrawing India and creating a protective shield against the world, just for the sake of maintaining individualism and autonomy appears to be a half-hearted guide to prosperity and growth.
President Joe Biden's Conversation with the Cambodian Prime Minister Hun Sen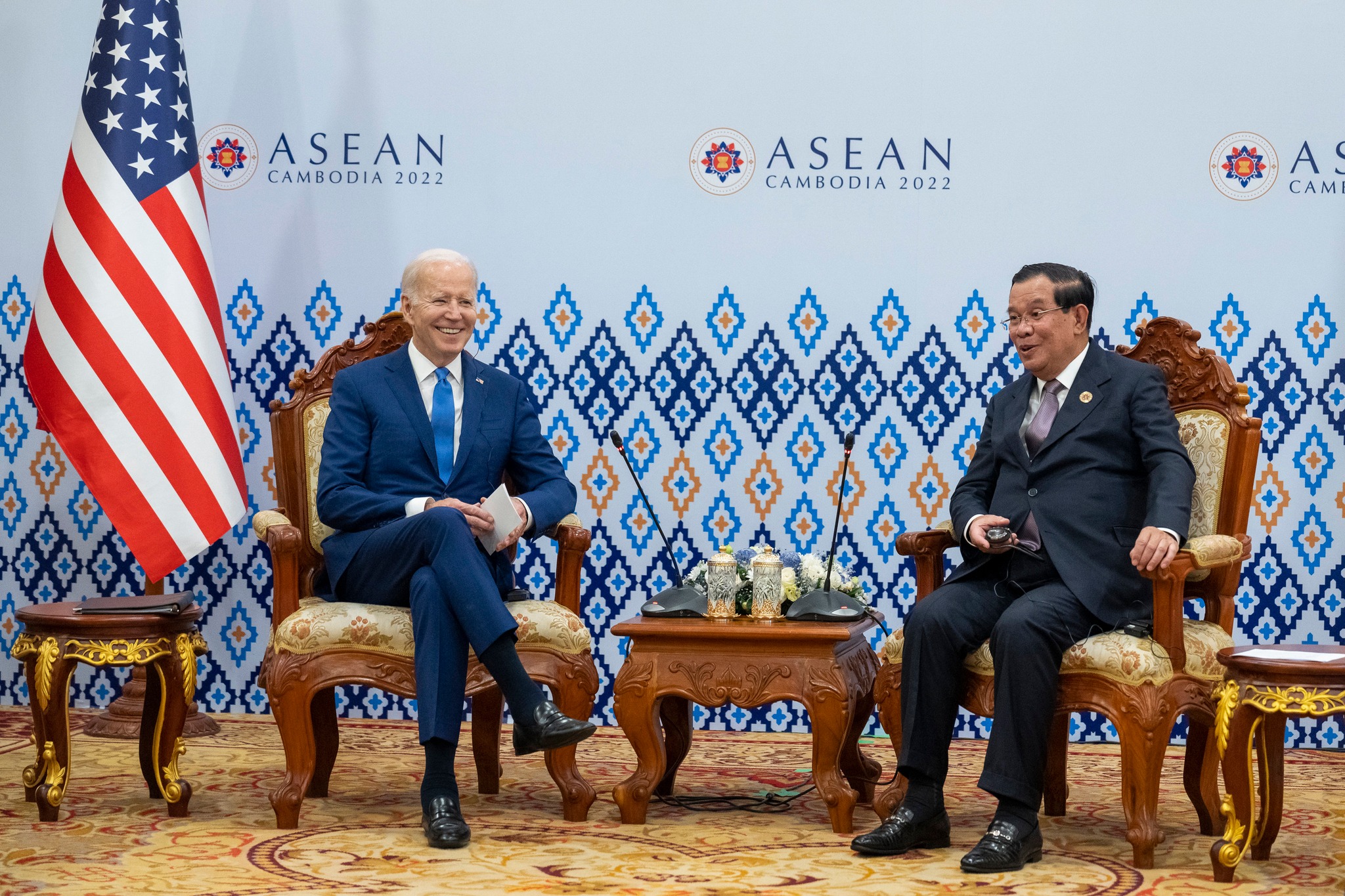 President Joe Biden landed in Cambodia on Saturday and supported the ASEAN nations. Before the eagerly anticipated Group of 20 summits next week in Indonesia, where Biden will meet with Xi for the first time in person since he took office, there will be a weekend of meetings in Cambodia. Before meeting with Xi, the president can engage with US allies at the ASEAN summits and the East Asia Summit on Sunday, both in Phnom Penh.
The US-ASEAN Comprehensive Strategic Partnership, which, according to Biden, "will tackle the biggest issues of our time, from climate to health security, defend against the significant threats to rule-based order and threats to the rule of law, and build an Indo-Pacific that's free and open, stable and prosperous, resilient and secure," was announced as "another critical step" toward building on the group's progress during his remarks at the summit. He cited a budget proposal for $850 million in support for Southeast Asia while praising the US's current financial commitments to ASEAN.
"This is my third journey and third summit, my second in person." The value reflects the United States' commitment to our relationship with ASEAN and our dedication to the region's centrality. The core of the Indo-Pacific strategy of my administration is ASEAN. In his opening remarks to the meeting, Biden said, "And we continue to reinforce our resolve to work in lockstep with an empowered, united ASEAN."
To build on the ASEAN leaders' conference in Washington earlier this year, the president's first meeting in Cambodia was with Prime Minister Hun Sen of Cambodia.
From the beginning of his presidency, Biden "was intent on elevating our engagement in the Indo-Pacific," according to national security adviser Jake Sullivan, and his attendance at the ASEAN and East Asia summits this weekend will highlight his accomplishments to date, including the Indo-Pacific Economic Framework unveiled earlier this year and security partnership initiatives.
"He's coming into this series of summits with that track record of success and purpose behind him, and he wants to be able to use the next 36 hours to build on that foundation to move American engagement forward, as well as to deliver several actual, practical initiatives," Sullivan said.
New initiatives on maritime cooperation, internet connectivity, and economic investment are some of these valuable measures, according to Sullivan. He added that Biden will soon begin a new maritime initiative that will "focus on using radio frequencies from commercial satellites to be able to track dark shipping, illegal and unregulated fishing, and also to improve the capacity of the countries of the region to respond to disasters and humanitarian crises."
Further, he added, Biden will also emphasize a "forward-deployed posture" toward regional defense to demonstrate that the US is actively pursuing security cooperation.
Biden also mentioned a brand-new US-ASEAN electric car infrastructure program during his speech.
He described the project as "a collaborative effort to build an integrated electric car ecosystem in Southeast Asia, enabling the region to achieve sustainable energy, economic growth, and ambitious emissions reduction targets."
Discussions on coordination "to continue to impose costs and build pressure on the junta" will also be centered on Myanmar, which was the subject of a February 2021 coup that ousted the country's democratically elected government.
Key Highlights
Concerns raised by Biden regarding Chinese activity at the Cambodian Ream Naval Base. The president expressed concern over the circumstances at Ream Naval Base and emphasized the value of complete transparency regarding the PRC (China's) military activities there.
The US President congratulated Cambodia's Prime Minister for backing Ukraine at the UN and spoke about the turmoil in military-ruled Myanmar.
President Biden also conveyed his gratitude to Cambodia for supporting resolutions at the UN to defend Ukraine from the brutal assault of Russia.
He thanked Cambodia for holding the ASEAN helm through a trying year.
The leaders "reflection on the historic US-ASEAN Special Summit's success in Washington, DC and applauded plans to establish a US-ASEAN Comprehensive Strategic Partnership at the annual US-ASEAN Summit later that day."
Along with the ASEAN Five Point Consensus, they also discussed the crisis in Burma and ASEAN's reaction, highlighting the international community's crucial role in restoring of democracy and stability in Burma.
In addition, Biden urged releasing activists like Seng Theory and a dual US-Cambodia citizen arrested on politically motivated allegations. The commitment of the United States to the Cambodian people and their goals for a more wealthy, democratic, and independent nation was reaffirmed by President Biden.