History has never been kind when it comes to credit people for their sheer hard work, perseverance and belief during any major event, especially a revolution of a stature as that of Indian Freedom Struggle. With a significantly large population belonging to different ethnicities and cultures, no matter how hard historians try to address the struggles of Indian nationals, some things always remain unsaid. Therefore, it is imperative to understand that history, specifically of Indian Freedom Struggle, conclusively presents the timeline and narrative of what happened, but is not limited and exhaustive.
Unsung Freedom Fighters
There is a humongous library of significant documentaries and testimonies, testifying and cherishing the valiant efforts of distinguished freedom fighters, who looked in the eyes of tyrannical British and raised slogans against the inhumanities. However, not all of those strugglers found their mark on the historian calendar and thus, remain anonymous to the masses today.
Aruna Asaf Ali
One of the prominent anchors of the freedom struggle, Aruna Asaf Ali who is now synonymous with a mere road in New Delhi, did remarkable things at the age of just 33. Ali gained prominence and crowd-appeal following her courageous act of hoisting the Indian National Congress flag at the Gowalia Tank Maidan in Bombay during Quit India Movement in 1942. This act offended the eyes of the Brits and consequently an arrest warrant was issued in her name. However, Ali was able to evade the arrest and started an underground movement. Failing to arrest her, the British authorities seized her property and sold it for monetary gains. Moreover, the government also announced a reward of 5,000 rupees for her capture.
Fortunately, Ali lived to see India's independence and remained active in politics thereafter, but never worked for recognition. And hence, her name remains buried in deep fine-prints in history.  
Bhikaji Cama
Another lost personality but a famed name which houses a lot of restaurants in New Delhi, Bhikaji Cama's valiant and courageous efforts remain unrevealed. Not only was she an integral name in the freedom struggle but also an iconic voice who stood for gender equality during the late 19th and early 20th century. Cama's notable significant moments cherish her bold stance in Germany where she unfurled the Indian flag at the International Socialist Conference at Stuttgart, in 1907. Furthermore, she even donated her personal belongings to an orphanage for girls. Regarded as 'Madam Cama', she suffered through a heart-stroke and later succumbed to it on 13th August, 1936.
Lakshmi Swaminathan Sahgal
An ambitious and brave lady officer in the Indian Army, who had already served in World War II, Lakshmi Sehgal was an epitome of force and valor. Regarded as "Captain Lakshmi" owing to her rank in the second world, she also served time as a prisoner in Burma but it did not flinch her courage from any front. Lakshmi also enlisted as a volunteer in Netaji Subhash Chandra Bose's army of women soldiers. Upon meeting Bose, himself, she emerged with a mandate to set up a women's regiment which was duly called as the "Rani of Jhansi" regiment. In her later years, Lakshmi joined the Communist Party of India and represented in Rajya Sabha. She later succumbed to a cardiac arrest on 23th July 2012 at the age of 97.
Khudiram Bose
Khudiram Bose was one of the youngest revolutionaries of India. He was an inspiration to the youth back then as he embodied the sentiment of nation-love and further instilled the same onto other people. He was arrested for trying to assassinate the British Judge Douglas Kingsford as the latter was believed to be unjust, biased and harsh on his judgements towards Indians. Hanged at the young age of 18 after trial, Bose invited mixed opinions from the senior leaders. Mahatma Gandhi, lamenting the instance which involved the death of two innocence British women due to a failed attempt of assassination of the Judge, condoned the acts of Khudiram as he believed that such should not be the path to attain freedom. Bal Gangadhar Tilak, on the other hand, defended Khudiram and his partner and called for immediate swaraj. The ways may have been debatable, but Bose managed to instill active patriotism in Indian citizens and left a lasting impact.
Conclusion
In the wake of 75 years of independence, the Union government has planned to recognize the unsung heroes and little-known groups and events and credit them during the yearlong celebration. The government has prepared a list of 146 lesser-known freedom fighters to be incorporated under the "Azadi ka Amrit Mahotsav". The 146 names have been broadly classified by virtue of state of origin, ethnicity and impacts that they had over the fellow Indians. The list along with freedom revolutionaries, also includes several tribal leaders, little groups like Hindu Mahasabha, Andhra Pradesh Library Association, lesser-known events and literature.
Why Olaf Scholz, Chancellor of Germany, is sending a message of Independence by visiting China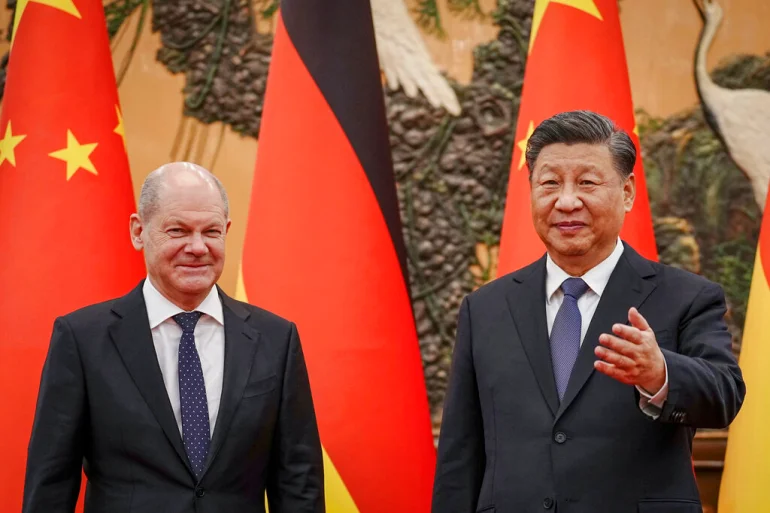 German Chancellor Olaf Scholz was the first G7 head of state to visit China since the outbreak. After the public health crisis, the world changed. The relationship between China and Germany seems to be returning to normal. Since Xi Jinping was re-crowned as the General Secretary of the Communist Party of China, Scholz is the first prominent European figure to visit China.
Nguyen PhuTrong, the head of the Vietnamese Communist Party, Shehbaz Sharif, and Samia Hassan, the president of Tanzania, arrived in Beijing before Scholz. Given that China's relations with Europe have deteriorated due to Uyghur human rights in Xinjiang and Chinese support for Russia in the Ukraine conflict, the Scholz visit last week was positive for Beijing.
Germany's biggest European economy will be even more reliant on China in the first quarter of 2022. During this time, Germany invested €10 billion in China. The amount of bilateral commerce increased by 0.9% to $173.57 billion. Imports from Germany are up 54%. The medium-term ambitions of Germany are in jeopardy due to its 1.9% growth rate.
German investment in China grew by 30% in 2022 despite the Ukraine crisis and criticism of China. A €69.5 billion railway project connecting Tianjin, in North China, and Beijing Daxing International Airport is being financed by KfW (the German state-owned development and investment bank), BASF, Hella, and Robert Bosch. For a total of $17 billion, China is purchasing 140 Airbus planes. Costco, a Chinese shipping business, was permitted to invest in Germany's busiest port, Hamburg, prior to the visit, but with a smaller share. Additionally, the arrival of Scholz coincided with polarization and deteriorating US-China ties. Due to the Ukraine conflict, Germany soon adopted a similar strategy to the US, breaking its contact with Russia.
It maintains caution regarding China because its economic interests are crucial. Scholz met with PM Modi in Berlin after starting his Asia strategy with a visit to Japan rather than China. Germany's foreign policy did not give China top priority, but it is nevertheless significant. It looks inconvenient that the visit comes right after the CCP's 20th National Congress.
Germany confronting China alone has angered Europe. Germany rejected the joint Scholz-Macron visit. The visit by Scholz and a corporate delegation demonstrates a duplication of Angela Merkel's approach. German businesses, which are already suffering from the epidemic, the energy crisis, and the break from Russia, according to the ruling SPD, cannot afford to decouple from China. The German Foreign Ministry criticizes China's human rights record and is developing a new China strategy to counter the systemic rivalry that the EU anticipated.
The Scholz visit revealed strategic independence in Germany. When viewed from the perspective of German relations with Russia, the same autonomy is apparent.
If Germany sways away for its own reasons, how will it continue to lead Europe? Scholz needed to pull many savvy rabbits out of his Beijing visit if he wanted to position Germany and potentially Europe as independent players in the inevitable US-China polarization.
Scholz provided background information for his visit in an opinion piece that was published in the FAZ the day before. Since Merkel's most recent trip to China in 2019, he admitted that the world had undergone significant upheaval. It was crucial to have a face-to-face meeting with Xi in order to address the world's unresolved problems, not because he intended to carry on as normal. China had seen a major upheaval. The German approach had to adapt as well because China had changed.
Additionally, the world had changed. Russia posed a menace that needed Chinese assistance to counter. China was reminded of its unique duty to uphold the UN Charter's ideals and exert influence over Russia as a permanent member of the UN Security Council. This is similar to what China claims about Russia in its Global Security Initiative, which it has yet to put into action. Scholz talked about the necessity of increasing Germany's partnerships and the multipolarity of the world.
Berlin works with various partners because he does not want to see blocs reemerge. China shouldn't be left alone, and a Chinese-dominated world system cannot be cozy. Germany and Europe continue to value China as a trading partner. Berlin didn't want to cut its ties with it. With China, Germany would want more parity and economic diversification. When it came to rare earth, cutting-edge technologies, or raw resources, "risky dependencies" had grown. German enterprises were developing different supply chains. China and Germany will now look for a differentiated basis for trade and investment. Instead of "protectionism and withdrawal," Germany prefers diversity and strengthening.
Scholz's fourth goal was that the disparities between China and Germany, notably those involving political and civil rights, including in Xinjiang, could not be overlooked. Scholz stated that while Germany adheres to the One-China policy, any change to Taiwan's status must be peaceful and reached via mutual consent.
Germany's China policy, according to Scholz, will be effective if it is in line with European policy. In his opinion, there were various areas where China should have a role, including dealing with the G 20, the SDGs, and other things. Before his visit, he consulted with the EU, French President Macron, and the US.
The Chinese readout supports the majority of what Scholz claimed. To preserve Germany's strategic autonomy, Xi is courting it. Despite Scholz's concerns, it stated that "there should be no self-imposed constraints or unrealistic expectations" and publicly disregarded the Taiwan and Xinjiang issues.
This visit is significant because Germany has again demonstrated its desire for strategic independence from the US. Before the Ukraine crisis, which caused them all to flee in the wake of NATO and US leadership, the German coalition and other German and European nations had this as their top priority. Europe is suffering from sanctions and a diminished energy supply due to the standoff in the Ukraine conflict. Despite resistance from within Germany and outside Europe, Germany appears prepared to continue its relationship with China. It must protect its economic growth against the ravages of conflict.