Introduction
Baluchistan is one of the complex territories of the world with respect to its political adherence, sovereignty and people. Being a part of three countries – Iran, Pakistan and Afghanistan, Balochistan's sovereignty and freedom has always been a great matter of discussion. In spite of having its traces in three countries, Baluchistan is the largest province of Pakistan and the area moreover, covers around 47% of the country. However, Much until the independence of Pakistan in 1947, Balochistan comprised and constituted 4 different princely states, namely Kalat, Lasbela, Makran and Khharan, but was later umbrellaed under one chief principal, Pakistan.
History of Political Tension in Baluchistan
The timeline of Baluchistan's intrinsic struggle owing to its political dramas is exceedingly fragmented. The periods of 1948, 1958, 1962-69, 1974-77 and the present-day condition post-2000s are pertinent to political tensions as varying degrees of violence is witnessed in Baluchistan. Pakistan's nationalist elements pestered Baloch's princely states like Kalat for forced accession in 1948. Similar activities being followed after 1948, spewed venom and animosity between Balochistan and Pakistan.
The first phase of conflict began when Khan Abdul Karim Khan's rebellion, with a meagre hundred followers over Kalat's forced accession, was carried out. Though unsuccessful but hugely effective, it led to the foundation for the second phase of conflict. The second phase mainly catered to the dissolution of Baluchistan States Union and its forceful accession as 'One Unit' in West Pakistan in 1958. However, this rebellion also led to the arrest of leaders – Khan of Kalat, Mir Ahmad Yar Khan and many others. The conflict during this phase however reached its peak with the onset of Jhalawan disturbances. However, the members of the same, were arrested and incarcerated along with the others.  
The third phase was a critical juncture in Baluchistan history. Led by the Baloch Peoples Liberation Front (BPLF) of Sher Muhammad Marri against the Ayub Regime, marked a collective input from the people of Baluchistan which was not just limited to the separationists. Followed by the fourth phase which was in the wake of overthrowing the National Awami Party (NAP), an agency of the Pakistan Prime Minister Zulfikar Ali Bhutto, led to a large-scale rebellion by various Baloch tribes against Pakistan.  The rebellion grew so much that the Pakistan military along coupled with the help from Iran, had to intervene to neutralize the revolt. However, as the dust settled, Bhutto was deposed in a military coup by General Zia-ul-Haq in 1977, that the general amnesty was announced to Baloch rebels in order to end the hostilities and chaos.
A fallow and lull period of 25 years has provided room for different militant groups to resurge and carry-on the mission in furtherance of a sovereign state. Militant groups like Baloch Liberation Army (BLA) had started to gorge upon the power vacuum in Afghanistan and established a parasitic relation, in order to launch sporadic attacks inside Pakistan controlled Baluchistan.
Recent Developments
The recent developments and current phases of conflict escalated due to the killing of former Baluchistan Chief Minister and prominent tribal chief Nawab Akbar Khan Bugti in 2006. Now, what started as a mere dispute over royalty and rental payments for natural gas and other resources has now gone beyond control and has transformed itself into an armed insurgency.
Therefore, comparisons with Bangladesh are apparent. The situation of Baluchistan almost mirrors the circumstances of Bangladesh at the time of the liberation war. While Baluchistan is providing the rest of Pakistan with natural gas, it still lags at 9% share of Human Development Index as per the report issued in 2003. It is appalling to see that a relatively large geographical area as that of Balochistan, has 92% of its districts in a "high deprivation" state. Furthermore, Baluchistan's story of population level is equally grim as the Pakistan Integrated Household Survey 2001-02 revealed that it has the most poor and worst level of rural poverty statistics. In addition, Balochistan has the highest infant and maternal mortality rate, but contrastingly lower literacy rates of both men and women at 18.3% and 7% respectively.
Conclusion
Target killings almost equivalent to genocide, race against time to survive rather to live, sectarian trouble and dumped corpses paints an almost same picture as that Bangladesh (Eastern Pakistan Province). However, it is also imperative to understand that the underlying history and geography is very distinct as that of Bangladesh and therefore it is too late to demand a fair share of new state. A loss of 3 million lives during the Liberation war in 1971 should not be mirrored in Baluchistan. Hence, the people of Baluchistan are as much of a Pakistani citizens as everyone, and therefore should be treated as such. Balochs should be given equal share of attention to insane political feuds in Karachi, Lahore and Islamabad. The youth around the world, especially in Pakistan should start taking interest in Baluchistan's affairs and strive towards a better change. A change which does not necessarily warrants a bad news every day.
Why Olaf Scholz, Chancellor of Germany, is sending a message of Independence by visiting China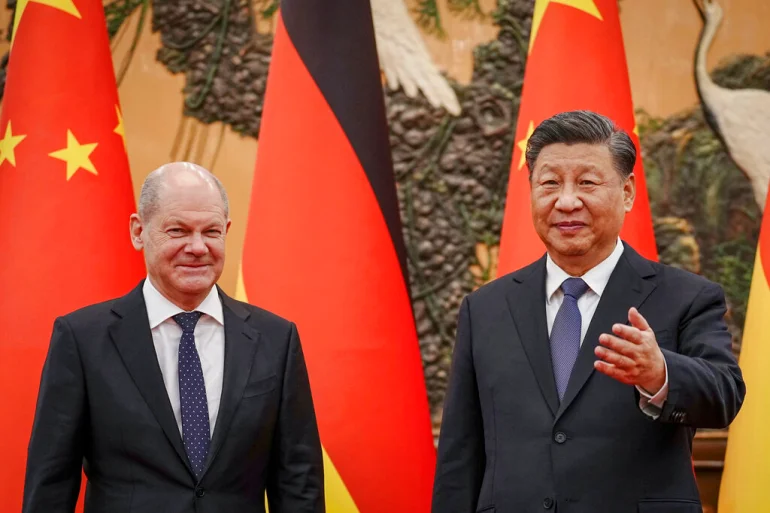 German Chancellor Olaf Scholz was the first G7 head of state to visit China since the outbreak. After the public health crisis, the world changed. The relationship between China and Germany seems to be returning to normal. Since Xi Jinping was re-crowned as the General Secretary of the Communist Party of China, Scholz is the first prominent European figure to visit China.
Nguyen PhuTrong, the head of the Vietnamese Communist Party, Shehbaz Sharif, and Samia Hassan, the president of Tanzania, arrived in Beijing before Scholz. Given that China's relations with Europe have deteriorated due to Uyghur human rights in Xinjiang and Chinese support for Russia in the Ukraine conflict, the Scholz visit last week was positive for Beijing.
Germany's biggest European economy will be even more reliant on China in the first quarter of 2022. During this time, Germany invested €10 billion in China. The amount of bilateral commerce increased by 0.9% to $173.57 billion. Imports from Germany are up 54%. The medium-term ambitions of Germany are in jeopardy due to its 1.9% growth rate.
German investment in China grew by 30% in 2022 despite the Ukraine crisis and criticism of China. A €69.5 billion railway project connecting Tianjin, in North China, and Beijing Daxing International Airport is being financed by KfW (the German state-owned development and investment bank), BASF, Hella, and Robert Bosch. For a total of $17 billion, China is purchasing 140 Airbus planes. Costco, a Chinese shipping business, was permitted to invest in Germany's busiest port, Hamburg, prior to the visit, but with a smaller share. Additionally, the arrival of Scholz coincided with polarization and deteriorating US-China ties. Due to the Ukraine conflict, Germany soon adopted a similar strategy to the US, breaking its contact with Russia.
It maintains caution regarding China because its economic interests are crucial. Scholz met with PM Modi in Berlin after starting his Asia strategy with a visit to Japan rather than China. Germany's foreign policy did not give China top priority, but it is nevertheless significant. It looks inconvenient that the visit comes right after the CCP's 20th National Congress.
Germany confronting China alone has angered Europe. Germany rejected the joint Scholz-Macron visit. The visit by Scholz and a corporate delegation demonstrates a duplication of Angela Merkel's approach. German businesses, which are already suffering from the epidemic, the energy crisis, and the break from Russia, according to the ruling SPD, cannot afford to decouple from China. The German Foreign Ministry criticizes China's human rights record and is developing a new China strategy to counter the systemic rivalry that the EU anticipated.
The Scholz visit revealed strategic independence in Germany. When viewed from the perspective of German relations with Russia, the same autonomy is apparent.
If Germany sways away for its own reasons, how will it continue to lead Europe? Scholz needed to pull many savvy rabbits out of his Beijing visit if he wanted to position Germany and potentially Europe as independent players in the inevitable US-China polarization.
Scholz provided background information for his visit in an opinion piece that was published in the FAZ the day before. Since Merkel's most recent trip to China in 2019, he admitted that the world had undergone significant upheaval. It was crucial to have a face-to-face meeting with Xi in order to address the world's unresolved problems, not because he intended to carry on as normal. China had seen a major upheaval. The German approach had to adapt as well because China had changed.
Additionally, the world had changed. Russia posed a menace that needed Chinese assistance to counter. China was reminded of its unique duty to uphold the UN Charter's ideals and exert influence over Russia as a permanent member of the UN Security Council. This is similar to what China claims about Russia in its Global Security Initiative, which it has yet to put into action. Scholz talked about the necessity of increasing Germany's partnerships and the multipolarity of the world.
Berlin works with various partners because he does not want to see blocs reemerge. China shouldn't be left alone, and a Chinese-dominated world system cannot be cozy. Germany and Europe continue to value China as a trading partner. Berlin didn't want to cut its ties with it. With China, Germany would want more parity and economic diversification. When it came to rare earth, cutting-edge technologies, or raw resources, "risky dependencies" had grown. German enterprises were developing different supply chains. China and Germany will now look for a differentiated basis for trade and investment. Instead of "protectionism and withdrawal," Germany prefers diversity and strengthening.
Scholz's fourth goal was that the disparities between China and Germany, notably those involving political and civil rights, including in Xinjiang, could not be overlooked. Scholz stated that while Germany adheres to the One-China policy, any change to Taiwan's status must be peaceful and reached via mutual consent.
Germany's China policy, according to Scholz, will be effective if it is in line with European policy. In his opinion, there were various areas where China should have a role, including dealing with the G 20, the SDGs, and other things. Before his visit, he consulted with the EU, French President Macron, and the US.
The Chinese readout supports the majority of what Scholz claimed. To preserve Germany's strategic autonomy, Xi is courting it. Despite Scholz's concerns, it stated that "there should be no self-imposed constraints or unrealistic expectations" and publicly disregarded the Taiwan and Xinjiang issues.
This visit is significant because Germany has again demonstrated its desire for strategic independence from the US. Before the Ukraine crisis, which caused them all to flee in the wake of NATO and US leadership, the German coalition and other German and European nations had this as their top priority. Europe is suffering from sanctions and a diminished energy supply due to the standoff in the Ukraine conflict. Despite resistance from within Germany and outside Europe, Germany appears prepared to continue its relationship with China. It must protect its economic growth against the ravages of conflict.