Mi India has released its annual trend report 'PatchWall Replay 2020'. It is based on usage data gathered from customers who bought Mi TV models (which calculates to roughly over 5 million consumers across 25+ content partners). On a side note, a lot of critics have claimed that Mi TV is easily one of the most pocket-friendly smart TV with features that are worth a shot in the market. The report shows some really interesting patterns, trends, and viewer consumption analysis in India. 
Mi India had introduced PatchWall on Mi TV in 2018. An earlier version had already been introduced in China in the year 2016. Patchwall is Mi's own Artificial Intelligence TV system. With a huge partnership and collaboration model both in India and globally, Patchwall has a huge content library.
Digital interaction through entertainment, news, work, and more increased extensively and there is no doubt about it. The year 2020 can be considered as the golden era of media streaming.
Commenting on the unveiling of the report, Eshwar Nilakantan, Category Lead – Mi TVs, Mi India, told Business Insider, "Mi TVs have become an integral part of families and consumers' lives and they further solidify Mi India's leadership in the smart TV segment. Having sold over 5 million TVs, we not only understand the requirements of Indian consumers but have also taken significant steps to address their needs. "Content first" has always been our Mi TV team's philosophy and that led the company to introduce PatchWall on Mi TVs and since then, we have rolled out over 40+ features and extended partnership with 25+ content partners. We are happy to unveil PatchWall Replay 2020', it throws light on what India watched in 2020, across all OTT platforms."
Let's look at some of trends and consumption patterns:
Kid's Content
Online learning and ed-tech experienced a drastic surge in 2020. As per its report, Xiaomi says it saw a 177 percent increase in the edutainment category along with a 205 percent increase in overall kids streaming. "Wheels on the bus', 'Tales of Akbar and Birbal', 'Bal Ganesha' stole the show for the Kids section. 'Show yourself' and 'Baby Shark' was the choice of music. While the schools were finding new ways to keep the kids at home, nursery rhymes and DIY videos saw a significant spike from March to August. The kids took over the screens and so did the kids mode on the respective devices. There were more than a million kids mode sessions on the platform.
Silver screen to Digital screen
The content pipeline was indeed disrupted for some time but it did not cease.
PatchWall Replay 2020 suggests a 2.5x increase in the number of people watching movies on weekdays as compared to 2019. There was reportedly a 97% increase in the movies category. Some of the popular watches of 2020 were: Chintu ka Birthday, Dil Bechara, Lootcase, Chhalaang, Angrezi Medium, Khaali Peeli, and more. There was a surge in the original content production irrespective of the OTT platforms. Shows like Pataal Lok, Mirzapur 2, Scam 1992: The Harshad Mehta Story, and more were responsible for increasing the engagement rate. The April to August 2020 period saw significant growth in movie viewing on PatchWall.
Music & Fitness
More than 20 million minutes were spent in the music department as reported. Genda Phool, Illegal Weapon, Dus Bahane, Bhankaas, and Khulke Jeena ka were some of the popular hits.
With all the gyms, parks, and pools closed, people resorted to find a digital way to keep up their fitness spirits high. There was a 93% increase in the fitness viewership. The top choices in the fitness category were: how to lose weight in 21 days, meditation for relaxation, and yoga stretches.
News and regional landscape
One generally speaks in their regional language when at home. Hence, content in regional languages too saw a spike by around 56 percent. The top languages that saw an increased consumption trend were Telugu, Tamil, Marathi, Malayalam, Bengali.
Locked down in the house with unpredictability circling us, news channels were no less than an escape for many. No wonder there was a 161% increase in news viewership.
Don't forget to tell us how you think this data might change in the coming six months!
May Fourth Movement at Tiananmen Square- China's Awakening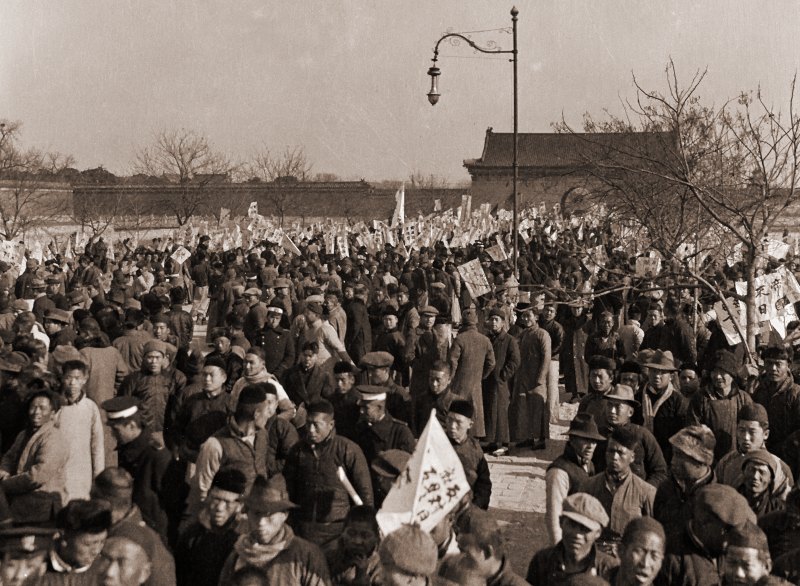 Early in the 20th century, China had a significant socio-political and intellectual movement known as the May 4th Movement, often called the New Culture Movement. It gained support from a wide range of intellectuals, laborers, and business people as it migrated from Beijing to other significant Chinese cities with demands to abandon ancient Confucian principles and to adopt the Western ideals of democracy, freedom, and equality instead. 
While aiming to imbibe the modern thought, these protesters demanded that foreign imperialism be ceased and control be given back to the Chinese. By challenging long-standing conventions and paving the way for a more progressive and open society, this Movement had a significant impact on Chinese intellectual and cultural history.
What Happened on May 4th 1919? 
On May 4, 1919 Chinese students started a series of demonstrations in Beijing, notably in Tiananmen Square. They took to the streets to protest and express their dissatisfaction with the government. Gradually this movement spread to parts of Shanghai and Guangzhou, making it a large-scale student protest. 
What was the Reason of the Student Protest on May 4, 1919?  
First, The Treaty of Versailles & Shandong Problem – The discussion of the Treaty caused much resentment over how China was being treated during the post-World War I by Western powers, especially with regards to Shandong. The German concessions in Shandong were not returned to China but instead were given to Japan. Intellectuals and students in China therefore could not help but be patriotic and anti-imperialist.
Second, existing sociocultural problems in the Chinese society – Disillusionment with traditional Chinese culture and values were growing among Chinese intellectuals and students. Discontentment with existing and belief on the new concepts and philosophies, especially those acquired from the West, were sought to replace these established principles. Thus, fostering science, democracy, and individuality became very important.
What Made May Fourth Movement so Successful?
The Movement's ability to win widespread support from various facets of society was one of the main factors in its success.

Unlike any previous protests in China, the

May 4

Movement

was organised and led by students and intellectuals. They planned gatherings, marches, demonstrations, printed newspapers, and pamphlets to disseminate their views and unite participants. It was this initiative that attracted more people to join, including workers, business people and warlords. This increased the movement's power, and the government was pressured to respond to its demands thanks to this wide-ranging support.
Utilizing new media and communication channels effectively was another key.

Students published their ideas through newspapers, journals, and speeches to get support from the public. They also built relationships with activists and intellectuals who shared their views in other places, which helped the cause extend outside of Beijing. The Movement was able to unite thanks to these communication tactics and develop a sense of a common goal.
The next reason of the movement's success can be traced to its appealing and distinct goals

. The Movement had a clearly stated mission, which included calls for democracy, the democratization of China, and the nation's revitalization. A sizeable segment of the populace, demanding modernization and reform in the face of foreign dominance, identified with these goals.
The Movement also capitalized on a potent anti-imperialist and sense of national pride.

The 'Shandong Problem' that was viewed as a violation of Chinese interests in the Treaty of Versailles sparked a strong sense of fury and served as the Movement's unifying cause. The participants shared rage against foreign imperialism, and the need for national self-determination was a potent unifying force.
What was the May Fourth Movement Significance & Impact on Post World War 1 China?
The success of the May 4th Movement left a long-lasting influence on Chinese politics and society. The movement produced an intellectual and cultural awakening that significantly changed Chinese values and thought. Some major political and social reforms in China that are still cherished and recognised as attributes to the May 4 movement are-
Anti-Imperialist and anti-Warlord Feelings: The Movement stoked a genuine anti-imperialist feeling among the Chinese. It stepped up the fight against foreign meddling and prepared the way for the eventual downfall of imperial control. The Movement also helped reduce the influence of warlords by exposing their corruption and incompetence, further damaging their reputation among the populace.
Founding of Communist Party in 1921: The Chinese Communist Party (CCP) was established mainly due to the May 4th Movement. Many academics and students identified with the Movement's emphasis on social justice, anti-imperialism, and the empowerment of the working class. Therefore, this Movement offered a favourable environment for the propagation of communist doctrine, resulting in the CCP's founding in 1921. The party would later be crucial in determining the course of China's development.
Anti-Japanese Sentiments: The Movement also stoked prejudice towards the Japanese, which is still present today. The Movement's hostility to the Treaty of Versailles's unfair treatment of China, particularly the transfer of German concessions in Shandong to Japan, strengthened a sense of national outrage towards that country. This attitude was the impetus for later resistance to Japanese aggression, culminating in the Sino-Japanese War (1937–1945), and the present that hate that since liberation was kept alive by CCP leaders especially Mao Zedong and Xi Jinping. 
Large-scale but not widely supported – Controversies & Criticisms of May 4th Movement
Despite its enormous support and influence, the May 4th Movement came under fire from 
several groups, notably Chinese Muslim Community and Kuomintang (KMT) – affiliated nationalists. 
The Chinese Muslims & ethnic groups were concerned about the Movement's emphasis on Westernisation and rejection of traditional values, most notably by people in Northwest China. They felt that the calls for a secular society and the adoption of modern ideas were in opposition to Islamic doctrine and cultural norms. Chinese Muslims saw the Movement as a potential danger to their identity and way of life since they connected so closely with their religious and cultural history. They were concerned that the emphasis on Westernisation might undermine their Islamic principles and push their communities to the margins.
The KMT Nationalists under the leadership of Chiang Kai-shek criticized the Movement's extremism and connection to communist philosophy. Chiang and other KMT members thought the Movement's focus on the class struggle and worker emancipation would erode social stability and impede national unity. They said that the Movement's emphasis on urban intellectuals ignored the requirements and ambitions of the rural masses, who comprised most Chinese citizens. As a danger to Chinese culture and social order, the KMT also criticized the Movement's rejection of traditional Confucian principles.
A revolution is not a dinner party, or writing an essay, or painting a picture, or doing embroidery; it cannot be so refined, so leisurely and gentle, so temperate, kind, courteous, restrained and magnanimous. A revolution is an insurrection, an act of violence by which one class overthrows another.

– Mao Zedong
Despite the criticism, it is essential to note that the May 4th Movement it must be accepted that the Chinese history underwent significant change during this Movement. It brought about substantial political, social, and cultural transformations that influenced the development of contemporary China. The Movement's legacy still impacts Chinese society today and represents youth activism, pride in one's country, and the desire for social change.