The governance of African resources, political interests, economic inclinations, cultural, and power contexts might be the most serious concern for Africans in the twenty-first century. Who is in charge of the African continent's destiny? Africa is mocked, regarded as the wastelands of civilization, where destitution is inextricably linked to the definition of what Africa is. When discussing this contentious subject, it is hard to resist mentioning the history of imperial colonialism, in which the continent was brutally subordinated to European domination. Imperialism meant that the economy of the new African political factions was dominated by white private capital. The victory of nationalist emancipation struggles did not, however, indicate the end of this paradigm.
The current world order is being reshaped by transposition in the balance of power, with China and India emerging as massive macroeconomic powerhouses attempting to situate themselves in the shifting geopolitical landscape. Such global dynamics of power reconfiguration are nowhere more obvious than in Africa, a region that has remained the exclusive domain of Western influence until recently. China and India's extensive involvement with Africa have captivated the world's attention, especially in the west, and rightly so. 
Why is it that China, the self-proclaimed advocate of the Third World, has to repeatedly justify itself against neocolonial accusations? China's increasing involvement with African states, as well as its growing aggressiveness in the global arena, has sparked a polarizing discussion about how China should see its role in Africa. China's foreign policy is characterised by neocolonial inclinations and imperialistic overtones. Academics who are critical of China's participation in Africa have defined the relationship as one of power disparity between the economic powerhouse and politically fragile African countries.
The neo-colonialist aspect of Sino-African relations is called into question by China's economic pragmatism credo, minimal concern for the wellbeing of African populations and human rights abuses, and its connection to political elites. China's prominence on the African continent is unavoidable, and it is reasonable to assume that China will always play the geopolitical game of optimizing its own national interests while challenging other countries.
Similar allegations have been raised against India. Because China has been more assertive than India in advancing its economic interests in Africa and Latin America, Beijing is a bigger threat for Western liberals than New Delhi. India, once Britain's imperial gem, has been accused of "neocolonialism" in Africa, where it has undertaken a race with China, Saudi Arabia, and others to buy up agricultural plantations and exploit cheap labour.
Hundreds of thousands of acres of farmland in Ethiopia, Kenya, Madagascar, Senegal, and Mozambique have been purchased by Indian agriculture corporations for the purpose of growing rice, sugar cane, maize, and lentils for the Indian home market. In what has been termed as a competition to China and Saudi Arabia in the new race for Africa, our government has provided soft loans as assistance to encourage overseas initiatives.
Small, family-run holdings, bullock cart transport, and armies of mediators dominate Indian agriculture. The cumbersome, inefficient method is recognised as the primary factor for a big amount of Indian produce rotting before reaching the market — estimated as an annual loss of up to £6 billion. As a result, Indian firms regard Africa as a potential location for expanding and improving agricultural production. This is distinct from the motivations of many Arab countries who purchase African land in order to grow food that their own countries are unable to cultivate. A government crackdown on non-Basmati rice exports, according to Raju Poosapati, Vice President of India's Yes Bank, has prompted Indian corporations to harvest it in Africa for export. Because there are no government subsidies for Indian farmers to produce maize animal feed at home, numerous companies are now growing maize animal feed in Africa.
Critics have referred to the phenomenon as modern-day "piracy" and "land grabbing" by nations that had previously suffered from hunger and severe food scarcity. Western groups claim, somewhat erroneously, that the struggle between China and India is analogous to the 19th-century drive for Africa between competing European colonial empires. Regardless of the parallel, India is indisputably vying with China in Africa for oil and mineral resources. Although New Delhi follows behind Beijing, it is on the same path. The World Bank's president, Paul Wolfowitz, bashed China's and India's economic policies toward Africa. Even as he rapidly backed down in the face of China's political backlash, Wolfowitz emphasised the importance of Beijing and New Delhi not repeating the US and Western blunders of sponsoring unpleasant regimes for decades, such as Mobutu Sese-in Seko's Zaire.
China and India would find the labels of neo-imperialism and neo-colonialism startling, if not revolting, after decades of perceiving themselves as victims of colonialism. Beijing and New Delhi, however, must face a new reality. Global criticism of their policies will be sharper the larger their economic and political potential to affect outcomes elsewhere in the world becomes.
Assassination of Shinzo Abe & Salman Rushdie – Know Real Facts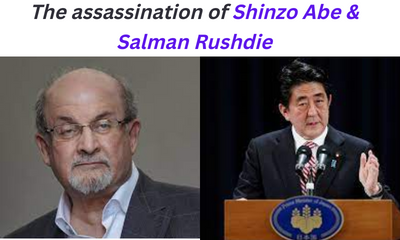 The months July and August of 2022 saw two cases of extermination to promote the fear of terrorism. One of the assassination of Shinzo Abe former Japanese Prime Minister, and another of the famous Novelist Salman Rushdie.
Shinzo Abe succumbed to a gunshot wound, whereas Rushdie's health conditions are improving and he is under medical supervision after the knife attack. However, various assassination attempt of Salman Rushdie has been made during the year.
These two terror acts force us to think about the impact of terrorism on society, the main objective of which is to create an atmosphere of fear so that citizens of the country cannot rely on their government.
This ultimately disturbs the law and order of the society, and serves the terrorists' purpose of creating a chaos.
Here we will see how these two attacks had different reasons but the objective remained the same – to stop someone from propagating his/her opinions independently, and also the factors that make attackers indulge in such acts.
Assassination Attempt of Salman Rushdie – Satanic Controversy
On 12 August 2022, Rushdie was attacked several times by a 24-year-old man Hadi Matar. The attacker's intentions can be linked to Rushdie's fourth novel, The Satanic Verses, published in 1988. Some Muslims considered the novel disrespectful towards Prophet Mohammed.
Soon after its publication, the novel sparked a 'fatwa' or a religious decree. The Iranian revolutionary leader Ayatollah Ruhollah Khomeini called for Rushdie's death in 1989. After, this various assassination attempt of Salman Rushdie has been made.
Complete conversation for Salman Rushdie Assassination:
When asked about the attack Hadi Matar said, "I don't like the person. I don't think he's a very good person. I don't like him very much". He further criticised Rushdie's work by saying, "He's someone who attacked Islam, he attacked their beliefs, the belief systems". Mr. Matar also told New York Post that he had only read 'a couple of pages' of the book and did not tell about whether the fatwa had inspired him or not.
While praising the Iranian religious leader, he stated, "I respect the Ayatollah. I think he's a great person. That's as far as I will say about that".
One can observe that the psychology of the attacker was that he simply disliked the novelist because of his work; although he read only two pages of the novel, but was rather influenced by the religious leaders and their sayings. Just, like this the assassination of Shinzo Abe has been made during this year, which we will discuss on next section.
Perceptions like these can have a long-lasting impact on future generations which can further deteriorate the situation. Violent acts like this demand proper scrutiny of the dissemination of information.
Extremists take advantage of such incidents and brainwash the young minds so that they can be used by them for their selfish purposes.
Assassination of Shinzo Abe – Complete Truth
On 8 July 2022, it was just another day of Abe's political campaign for the upcoming parliamentary elections. He was delivering a speech in Nara City, but no one is the aware about the assassination of Shinzo Abe that day. When a 41-year-old Tetsuya Yamagami shot him twice from behind from a distance of about 10 meters.
During the investigation, he confessed his intentions of killing and it was found that his motives had more to do with religious backing instead of a political reason.
It so happened that Yamagami's mother was a member of a religious group which she joined after her husband's death in 1998. She used to donate huge amounts of money as charity to the group, after the assassination of Shinzo Abe and Yamagami blames the sect for bankrupting his mother.
Confession Statement on Abe Case
The report reveal that Abe was closely associated with the sect, and wanted to take revenge against him for promoting it. "The suspect stated that he held a grudge against a particular organisation and that he committed the crime because he believed former Prime Minister Abe had a connection to it", a senior police officer in Japan's Nara region told reporters.
While the police hasn't given any clarification regarding the unidentified organization, social media in Japan has it that it could be the Unification Church.
Yamagami was unemployed, felt isolated in society, was against religious preaching and blind faith, and wanted to kill the leader of the religious organization but couldn't. One can see the psychological aspects of it that, the killer was anguished with the organisation and blamed them for his conditions and economic turmoil.
Ultimately his grudge converted into a motive of taking revenge for his loss and he did that by killing the perpetrator of the religious group, to give a message to the society and the world that one should avoid themselves from joining or contributing to such groups.
Japan has the strictest gun laws after the assassination of Shinzo Abe , so to bypass such stringent laws the killer used a handmade gun. The occurrence of such incidents in the island nation shows how much resentment the killer has and how strongly he was motivated to commit the murder.
Such incidents are eye-openers for the society that someone's freedom of belief can become others' pain, and teaches that as a society we should try to maintain a balance between them.
Two Paths to Crime
The above two accidents of assassination of Shinzo Abe, and the assassination attempt of Salman Rushdie has been terrifying for the country. First, being a part of a religious group the killer face hardship in his life, which forced him to commit the crime. In the second instance, the attacker got the impression that his religion is being targeted and that it is his responsibility to take revenge so that next time no one dares to do anything like that again.
Interpretation of things based on pre-assumed thoughts can lead to revenge, and revenge based on half-baked knowledge causes harm to the whole humanity, and not just the particular group concerned.