The governance of African resources, political interests, economic inclinations, cultural, and power contexts might be the most serious concern for Africans in the twenty-first century. Who is in charge of the African continent's destiny? Africa is mocked, regarded as the wastelands of civilization, where destitution is inextricably linked to the definition of what Africa is. When discussing this contentious subject, it is hard to resist mentioning the history of imperial colonialism, in which the continent was brutally subordinated to European domination. Imperialism meant that the economy of the new African political factions was dominated by white private capital. The victory of nationalist emancipation struggles did not, however, indicate the end of this paradigm.
The current world order is being reshaped by transposition in the balance of power, with China and India emerging as massive macroeconomic powerhouses attempting to situate themselves in the shifting geopolitical landscape. Such global dynamics of power reconfiguration are nowhere more obvious than in Africa, a region that has remained the exclusive domain of Western influence until recently. China and India's extensive involvement with Africa have captivated the world's attention, especially in the west, and rightly so. 
Why is it that China, the self-proclaimed advocate of the Third World, has to repeatedly justify itself against neocolonial accusations? China's increasing involvement with African states, as well as its growing aggressiveness in the global arena, has sparked a polarizing discussion about how China should see its role in Africa. China's foreign policy is characterised by neocolonial inclinations and imperialistic overtones. Academics who are critical of China's participation in Africa have defined the relationship as one of power disparity between the economic powerhouse and politically fragile African countries.
The neo-colonialist aspect of Sino-African relations is called into question by China's economic pragmatism credo, minimal concern for the wellbeing of African populations and human rights abuses, and its connection to political elites. China's prominence on the African continent is unavoidable, and it is reasonable to assume that China will always play the geopolitical game of optimizing its own national interests while challenging other countries.
Similar allegations have been raised against India. Because China has been more assertive than India in advancing its economic interests in Africa and Latin America, Beijing is a bigger threat for Western liberals than New Delhi. India, once Britain's imperial gem, has been accused of "neocolonialism" in Africa, where it has undertaken a race with China, Saudi Arabia, and others to buy up agricultural plantations and exploit cheap labour.
Hundreds of thousands of acres of farmland in Ethiopia, Kenya, Madagascar, Senegal, and Mozambique have been purchased by Indian agriculture corporations for the purpose of growing rice, sugar cane, maize, and lentils for the Indian home market. In what has been termed as a competition to China and Saudi Arabia in the new race for Africa, our government has provided soft loans as assistance to encourage overseas initiatives.
Small, family-run holdings, bullock cart transport, and armies of mediators dominate Indian agriculture. The cumbersome, inefficient method is recognised as the primary factor for a big amount of Indian produce rotting before reaching the market — estimated as an annual loss of up to £6 billion. As a result, Indian firms regard Africa as a potential location for expanding and improving agricultural production. This is distinct from the motivations of many Arab countries who purchase African land in order to grow food that their own countries are unable to cultivate. A government crackdown on non-Basmati rice exports, according to Raju Poosapati, Vice President of India's Yes Bank, has prompted Indian corporations to harvest it in Africa for export. Because there are no government subsidies for Indian farmers to produce maize animal feed at home, numerous companies are now growing maize animal feed in Africa.
Critics have referred to the phenomenon as modern-day "piracy" and "land grabbing" by nations that had previously suffered from hunger and severe food scarcity. Western groups claim, somewhat erroneously, that the struggle between China and India is analogous to the 19th-century drive for Africa between competing European colonial empires. Regardless of the parallel, India is indisputably vying with China in Africa for oil and mineral resources. Although New Delhi follows behind Beijing, it is on the same path. The World Bank's president, Paul Wolfowitz, bashed China's and India's economic policies toward Africa. Even as he rapidly backed down in the face of China's political backlash, Wolfowitz emphasised the importance of Beijing and New Delhi not repeating the US and Western blunders of sponsoring unpleasant regimes for decades, such as Mobutu Sese-in Seko's Zaire.
China and India would find the labels of neo-imperialism and neo-colonialism startling, if not revolting, after decades of perceiving themselves as victims of colonialism. Beijing and New Delhi, however, must face a new reality. Global criticism of their policies will be sharper the larger their economic and political potential to affect outcomes elsewhere in the world becomes.
Brutal Assault on the Brazilian Government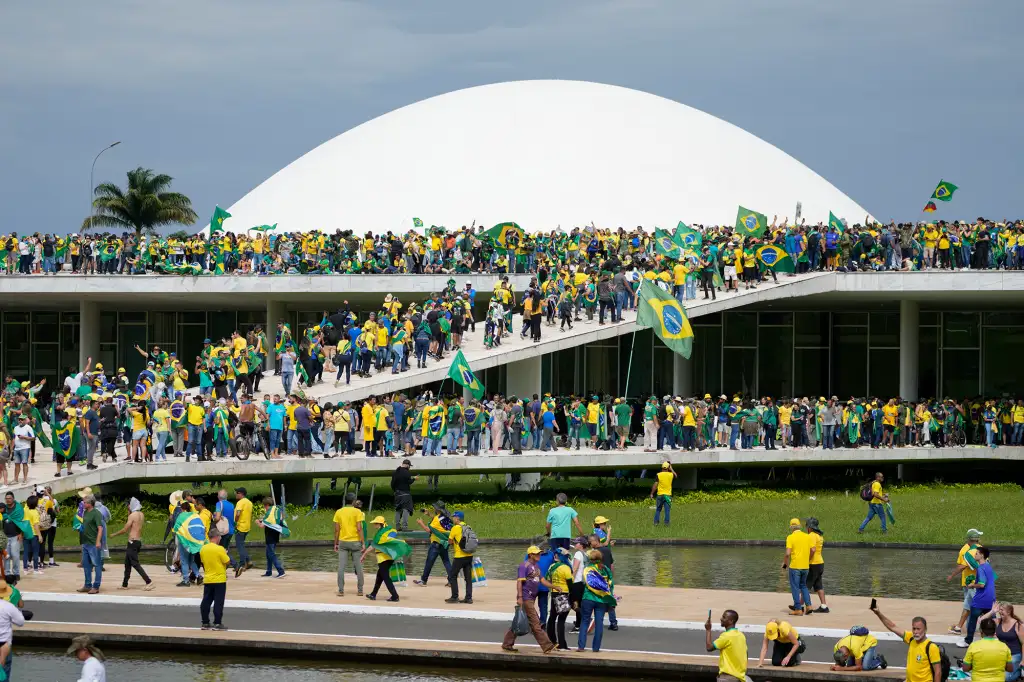 Many believed that thousands of Jair Bolsonaro's followers assaulted Congress, the presidential mansion, and the highest court in Brasilia on Sunday to start a military coup. Since President LuizInácio Lula da Silva triumphed in a closely fought runoff election on October 30, many Bolsonaro supporters have pleaded with the military to intervene. After a divisive campaign highlighting the country's bitter divisions, it was the most significant attack on Brazil's key institutions since the end of a military dictatorship and the return to democracy in the 1980s. Here is what you need to know about brutal assault on the Brazilian government.
Why was the election such a spectacular event:
This election was so dramatic because it depicted two enormous characters representing opposites in politics. Leftist Lula, a former labor union leader, is admired by those who credit him with putting policies in place that lifted millions out of poverty during his two terms in power from 2003 to 2011, but despised by those who see him as a symbol of corruption. In 2017, he was found guilty of corruption and money laundering and was given a nearly 10-year prison term. He was a 77-year-old cancer survivor who was released in 2019 following the adoption of a new detention policy by the Supreme Court. The Court later overturned his conviction on procedural grounds in 2021. Former army captain Bolsonaro, 67, has been hospitalized several times since being stabbed while campaigning in 2018. His supporters view him as a defender of traditional family values and a campaigner against corruption, which are crucial campaign issues in a predominantly conservative country. The president's opponents have referred to him as a far-right authoritarian and said he has promoted sexism, racism, and homophobia.
How did the vote count turn out:
Lula won the runoff election by a razor-thin margin of 51% to 49% over Bolsonaro. He entered office on January 1 with the promise of uniting a nation whose divides had, if anything, grown worse throughout the campaign. On the day Lula was validated, Bolsonaro supporters set fire to vehicles in the city's downtown area, and in late December, a device was discovered in a fuel truck close to the airport.
Why were Bolsonaro's followers calling for military action
Bolsonaro's supporters want the military to intervene because, during the election campaign last year, Bolsonaro and his allies spread a significant amount of false information and made snide remarks about the political process. When the country's long-established electronic voting system was attacked with unsubstantiated accusations by the then-president, his supporters began to question the validity of the results. Conflicts with the country's courts arose as a result. Even though his followers organized sizable rallies and spread conspiracies, Bolsonaro waited two days after the runoff to make an unclear speech and has never publicly admitted defeat.
After the election, What did his followers do:
In the days following the election, trucks were used to block roadways all around the nation before being removed on a court order. Then, in anticipation of a military intervention they believed Bolsonaro, who frequently talked favorably of Brazil's previous dictatorship, had hinted at in his rallies, crowds of supporters started to amass outside army headquarters across the nation. Even when Lula assumed power, hundreds still camped outside the bases.
What transpired in Brazil:
In Brasilia, On January 8, tens of thousands of rioters assaulted Congress, the presidential palace, and the Supreme Court, leaving a path of devastation with many clad in Brazilian flags or sporting the yellow and green national jersey. Historic structures were defaced, while journalists and police officers came under attack. The palaces' windows were broken by furniture being hurled through them. The doors to the closet where Judge Moraes' robes were stored were pulled off, and the justice's chairs in the highest court were thrown around. Videos online showed the vandals carrying the piece of wood bearing the justice's name as if it were a trophy. Several works of art were torn or scratched, including the well-known 20th-century painter Di Cavalcanti's painting Asmulatas.
What were people's responses to the attack:
Members of the military police began removing the rioters from the buildings after they had been free to wander for around three hours. It took another four hours for the attackers to leave the area. While in Sao Paulo to assess the effects of the recent torrential rains, Lula delivered an enraged address in which he demanded immediate intervention in the Federal District government. He accused Bolsanaro of being the reason for the disturbance and pledged to punish anyone who took part or helped finance it. After clearing the premises of the rioters, Bolsonaro denounced the "depredations and invasions of public facilities, but claimed that the incident was comparable to acts done by the left in 2013 and 2017. Both of those years saw sizable but significantly less violent public demonstrations. Bolsonaro denied Lula's accusation that he was complicit. Moraes also ordered the removal of the encampments in front of the army headquarters, which resulted in around 1,500 arrests, and suspended the Bolsonaro-supporting governor of the Federal District for 90 days at the same time.
Numerous inquiries started practically right away, and more are currently being explored. The Federal District's civil police kept track of the several people detained following the riot. The federal police and the federal highway police are looking into who may have helped Bolsonaro's supporters set up camp in front of the army headquarters for such a long time, as well as the funding of the buses that transported rioters from other states to Brasilia. To receive information about people accountable for the turmoil on January 8, the Ministry of Justice set up a dedicated email account. The municipal and federal governments are conducting internal investigations to look into potential collusion between the security officers and the vandals. It's being discussed to launch a congressional investigation in February.