Mirzapur 2 is about to release. What kept the excitement of fans alive for two years? Amazon's long term promotion strategy is a case study in itself. Let us look at it more precisely.
"Shuru majboori mein kiye the…ab maza aa raha hai".
The trend of Indian series was quite an awful affair, to be honest, three years back. Streaming platforms that made Indian series were nowhere to be seen and then came Netflix's first Indian series "Sacred Games" on June 28, 2018. "Sacred Games," was based on the 2006 novel by Vikram Chandra, a thriller set in Mumbai. This thought might resonate with you too that Jeff Bezos' Amazon is one of the most competitive companies out there. What began as a hub for books, is now expanding so rapidly that it has its tentacles in almost all possible sectors of consumption. How can Amazon(Prime) leave the Indian streaming market that is expected to reach $4 billion by 2025 (as per a report by Media Partners Asia)?
November 16, 2018, Amazon Prime got itself a season of Mirzapur and we got a cast and a story to go crazy for. The viral show and its fandom is a case study in itself. Let's look into the intricacies of how did this show create its fandom and sustained the excitement for two years!
Why so viral?
Guddu bhaiya, Kaleen Bhaiya, Munna Bhaiya, Sweety, Bablu, Golu and more, became the poster characters of the series. With memorable and top notch dialogues, on point meme templates, an excellent cast and the engaging story, Mirzapur made a debut and left its mark. This show was highly promoted and used by Amazon Prime to generate hype for the platform. A constant tease by the platform nurtured and kept the curiosity alive.
The show's launch timing was impeccable. There were only two shows that were dominating the Indian OTT market then in 2018: Sacred Games and Mirzapur. The market is sort of saturated now. Creating a similar effect with any show now will be difficult. The genre is also something that has been picked up by many shows like Asur or Paatal Lok. The content is also something that stood out in Mirzapur's case. The revenge storyline showing the edgy side of Uttar Pradesh. Unapologetically raw, something that the audience was craving.
The longer a media project takes to launch, the lesser the hype gets. Sacred games tried to cash on this hypothesis and failed miserably as compared to the success of the first season. The show was a disappointment for the fans and was subjected to a lot of criticism. Even the talented cast could not save it. The same was expressed by the cast themselves that the overarching preachy narrative drowned the interest. The hype created was lost. A lot of fans fear that Mirzapur 2 would succumb to the same. Let us see some numbers to see how the internet is reacting to the show.
How much is the hype?
Amazon Prime didn't leave a single opportunity to tease the fans for the show and the results have been exemplary.
Amazon initiated a campaign for the trailer launch too. It launched a video on YouTube for its fans on the 21st of August 2020. It later launched a video for the release date announcement on YouTube for Mirzapur 2 on 24th August, 2020. The video has over 13 million views. Since then, till 19th October 2020, the reach of Mirzapur 2 has been more than 478 million as recorded by The Wonk. The male-female ratio of this distribution is 70:30 (approximately). The main medium of hype was Twitter, followed by Youtube. This campaign was welcomed by a lot of memes, gifs, and tweet wars.
The trailer was launched on October 6, 2020. It has over 25 million views on YouTube, has around 744k views on Twitter and over 2 million views on Instagram (as per the official handles of Amazon Prime India). The trailer was accompanied by a lot of posts too. The cast and crew shared the videos and posts mentioned, on their personal handles. The trailer and its hype had a reach of 165.9 million from October 5 to October 11,2020. All the videos started trending on YouTube and twitter immediately, post the announcements.
All 'good' things come with a little bitterness. The bitterness, in this case, was the call for a ban on Mirzapur 2. This was mainly due to the involvement of the producer, Farhan Akhtar, and the show's actor, Ali Fazal (Guddu bhaiya) in anti CAA protests. Their personal involvement and opinion led to the outcry for the boycott of the show. You can read about the details here. The reach of this ban was around 15.6 million from October 5 to October 11, 2020. This constituted 75% males and 25%, females. However, this did not impact a lot of users and from an observational standpoint, the outcry for bans was dealt with by the fans effectively. 
Amazon's tease
What do you do when you complete an interesting show? You probably go out on the internet and check for the next season. This is a natural phenomenon but it is bound to fade away. But, oh boy, Mirzapur fans deserved that ode! They are fanatics who were religiously asking for another season and at a point, "Mirzapur ka next season kab aaega?" became a jam. The fans did not leave any platform!
From 22 Aug at 12:00 UTC+05:30 to 24 Aug at 12:00 UTC+05:30, Amazon Prime and Mirzapur Amazon created an event on Facebook for the fandom called "Asking MS2W One Last Time"
Don't even get me started on the beautiful meme templates that kept the fans sane for two years. There are endless pages, hashtags, tweets, posts, etc on Mirzapur memes. Amazon prime too has been seen putting the same legacy. Talk about memes and streaming platforms and you don't mention Netflix? Shame! Netflix too posted some wholesome memes and videos for the Mirzapur fandom.
The various crossover videos helped in encashing on the fanbase of other shows too. The various crossovers were:
The wait will be over on the 23rd of October. We are glad it's the weekend, aren't you? Tell us what you feel about the show now!
Why Olaf Scholz, Chancellor of Germany, is sending a message of Independence by visiting China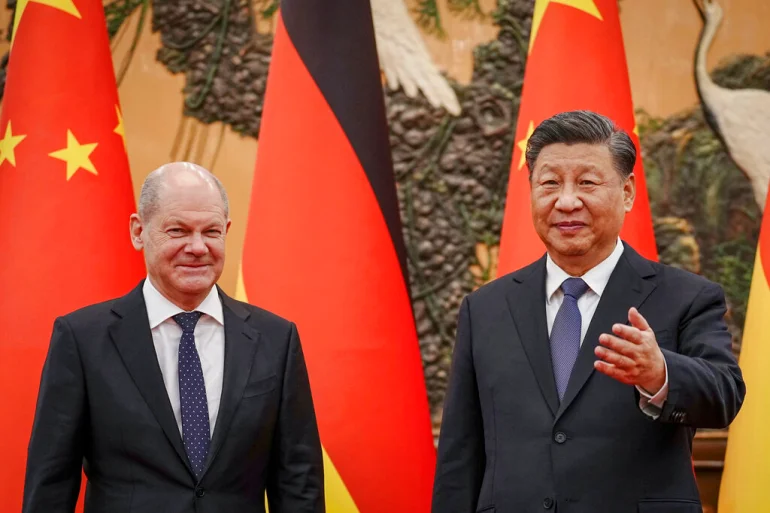 German Chancellor Olaf Scholz was the first G7 head of state to visit China since the outbreak. After the public health crisis, the world changed. The relationship between China and Germany seems to be returning to normal. Since Xi Jinping was re-crowned as the General Secretary of the Communist Party of China, Scholz is the first prominent European figure to visit China.
Nguyen PhuTrong, the head of the Vietnamese Communist Party, Shehbaz Sharif, and Samia Hassan, the president of Tanzania, arrived in Beijing before Scholz. Given that China's relations with Europe have deteriorated due to Uyghur human rights in Xinjiang and Chinese support for Russia in the Ukraine conflict, the Scholz visit last week was positive for Beijing.
Germany's biggest European economy will be even more reliant on China in the first quarter of 2022. During this time, Germany invested €10 billion in China. The amount of bilateral commerce increased by 0.9% to $173.57 billion. Imports from Germany are up 54%. The medium-term ambitions of Germany are in jeopardy due to its 1.9% growth rate.
German investment in China grew by 30% in 2022 despite the Ukraine crisis and criticism of China. A €69.5 billion railway project connecting Tianjin, in North China, and Beijing Daxing International Airport is being financed by KfW (the German state-owned development and investment bank), BASF, Hella, and Robert Bosch. For a total of $17 billion, China is purchasing 140 Airbus planes. Costco, a Chinese shipping business, was permitted to invest in Germany's busiest port, Hamburg, prior to the visit, but with a smaller share. Additionally, the arrival of Scholz coincided with polarization and deteriorating US-China ties. Due to the Ukraine conflict, Germany soon adopted a similar strategy to the US, breaking its contact with Russia.
It maintains caution regarding China because its economic interests are crucial. Scholz met with PM Modi in Berlin after starting his Asia strategy with a visit to Japan rather than China. Germany's foreign policy did not give China top priority, but it is nevertheless significant. It looks inconvenient that the visit comes right after the CCP's 20th National Congress.
Germany confronting China alone has angered Europe. Germany rejected the joint Scholz-Macron visit. The visit by Scholz and a corporate delegation demonstrates a duplication of Angela Merkel's approach. German businesses, which are already suffering from the epidemic, the energy crisis, and the break from Russia, according to the ruling SPD, cannot afford to decouple from China. The German Foreign Ministry criticizes China's human rights record and is developing a new China strategy to counter the systemic rivalry that the EU anticipated.
The Scholz visit revealed strategic independence in Germany. When viewed from the perspective of German relations with Russia, the same autonomy is apparent.
If Germany sways away for its own reasons, how will it continue to lead Europe? Scholz needed to pull many savvy rabbits out of his Beijing visit if he wanted to position Germany and potentially Europe as independent players in the inevitable US-China polarization.
Scholz provided background information for his visit in an opinion piece that was published in the FAZ the day before. Since Merkel's most recent trip to China in 2019, he admitted that the world had undergone significant upheaval. It was crucial to have a face-to-face meeting with Xi in order to address the world's unresolved problems, not because he intended to carry on as normal. China had seen a major upheaval. The German approach had to adapt as well because China had changed.
Additionally, the world had changed. Russia posed a menace that needed Chinese assistance to counter. China was reminded of its unique duty to uphold the UN Charter's ideals and exert influence over Russia as a permanent member of the UN Security Council. This is similar to what China claims about Russia in its Global Security Initiative, which it has yet to put into action. Scholz talked about the necessity of increasing Germany's partnerships and the multipolarity of the world.
Berlin works with various partners because he does not want to see blocs reemerge. China shouldn't be left alone, and a Chinese-dominated world system cannot be cozy. Germany and Europe continue to value China as a trading partner. Berlin didn't want to cut its ties with it. With China, Germany would want more parity and economic diversification. When it came to rare earth, cutting-edge technologies, or raw resources, "risky dependencies" had grown. German enterprises were developing different supply chains. China and Germany will now look for a differentiated basis for trade and investment. Instead of "protectionism and withdrawal," Germany prefers diversity and strengthening.
Scholz's fourth goal was that the disparities between China and Germany, notably those involving political and civil rights, including in Xinjiang, could not be overlooked. Scholz stated that while Germany adheres to the One-China policy, any change to Taiwan's status must be peaceful and reached via mutual consent.
Germany's China policy, according to Scholz, will be effective if it is in line with European policy. In his opinion, there were various areas where China should have a role, including dealing with the G 20, the SDGs, and other things. Before his visit, he consulted with the EU, French President Macron, and the US.
The Chinese readout supports the majority of what Scholz claimed. To preserve Germany's strategic autonomy, Xi is courting it. Despite Scholz's concerns, it stated that "there should be no self-imposed constraints or unrealistic expectations" and publicly disregarded the Taiwan and Xinjiang issues.
This visit is significant because Germany has again demonstrated its desire for strategic independence from the US. Before the Ukraine crisis, which caused them all to flee in the wake of NATO and US leadership, the German coalition and other German and European nations had this as their top priority. Europe is suffering from sanctions and a diminished energy supply due to the standoff in the Ukraine conflict. Despite resistance from within Germany and outside Europe, Germany appears prepared to continue its relationship with China. It must protect its economic growth against the ravages of conflict.