The wellness market is rapidly growing with the meditation apps acquiring a good share in it. Let's see what their collaboration and expansion have been like.
Put on the clay mask and light up that expensive scented candle now. You can even pour some Pouilly fuissé and read this. With self care booming as an essential part of the health and wellness space, meditation is catching up the lost breath from the extensive attention hunger economy. Seen "The Social Dilemma" on Netflix? You must have raged about how social media thrives on those seconds of dopamine rush but doesn't Netflix just give you five seconds to decide to jump to another episode or not? Attention is money and it is getting toxic for many. Meditation apps/videos/coaches are trying to somewhat fix this.
Scope:
The global mindfulness meditation apps market accounted for US $ 153.6 million in 2019 and is estimated to be US$ 341.9 million by 2029 and is anticipated to register a compound annual growth rate of 8.3%. A lot of studies have reported 2019 to 2026 as the forecast period to estimate the market size for mindfulness meditation apps. These years are crucial and from an observational standpoint the graph is rising. Look around you, a lot of your friends and family might have started meditating only this year or especially during the lockdown. Interestingly there have been mixed responses on whether one would like to pay for the same or not. Let's look at that a little later through the course of this article.
Meditation Market:
Meditation apps in the Indian ecosystem can be/are segregated in terms of operating system: Android and IOS and in terms of payment: paid or free.
We talked to a few Indians in their early 20s and 30s and the most common sources that they use for guided meditation are: Headspace app, Calm app, Cure.fit app, Youtube videos from various channels and art of living sessions. Looking at each section type precisely:
Apps:
They are available both in paid and free versions. The top five apps upon doing a simple search according to Google Play Store are:
Simple Habit: Meditation,Sleep
Meditation Plus: music,timer,relax
Let's meditate: Meditate, Relax & sleep
Sadhguru – Yoga, Meditation & Spirituality
Headspace: Meditation & Sleep
Most teenagers use free apps or trial versions of apps for this because of the availability of free content out there that they can use. However one of the individuals who use a paid version says, "I used Headspace for two weeks and I just knew that I had to buy it. The app lets me keep streaks, whenever I cross a landmark, I am awarded and it keeps a data of the total time I meditated. That works for me as I am able to see growth and it makes me happy. They have these small clips and videos on mindfulness in the paid version, that personally I don't mind paying for. I have a stressful schedule and anything that can keep me away from stress is perfect."
There has been an increase in the downloads of wellness apps during the pandemic. stress from work from home is great but one cannot deny that the lockdown did give individuals a space to focus on themselves. As reported by Sensor Tower, "Downloads of Top English-Language Mental Wellness Apps Surged by 2 Million in April Amid COVID-19 Pandemic". This number would have gone up subsequently or atleast would have been much higher than what it was in 2019. April 2020's top performers by downloads were dominated by meditation apps, with Calm placing at No. 1 with 3.9 million downloads, Headspace at No. 2 with 1.5 million installs, and Meditopia at No. 3 with 1.4 million.
(You can check the per day downloads for these apps here: Calm, Headspace & Meditopia). Combined, the top ten mental wellness apps accumulated close to 10 million downloads by April.
YouTube videos:
The biggest benefit that users find here is that it is hassle free. The videos are easily comparable and one doesn't need to download anything extra. There are live 24×7 videos that you can tune in anytime. The comment box is usually very positive where people engage with each other. The apps that are listed above, most of them stream on YouTube too. One can find a wide range of spiritual gurus like Sadhguru or Gurudev Sri Sri Ravishankar too on the platform. A lot of people also follow Deepak Chopra and have seen quite a difference in their functioning.
Gurus or Meditation experts:
There are a lot of individual mentors too that have grown and now are actively participating in the wellness industry. With everything moving online, it has become more and more easier for experts to reach out to the audience. There were countless number of meditation sessions that took place over zoom call and Instagram Live.
Brands Collaborations:
Brands have started recognising this wellness trend and the 2020 lockdown was just an added cherry to this case.
Snapchat collaborated with Headspace to launch a new Headspace mini feature on the app. These are miniature apps made by third-party developers that run inside of Snapchat to create more social experiences among friends. Existing meditations on the Headspace Mini included, "Just Breathe," "Get out of a funk," "Kick the panic," and "Me time." On the account of World Mental Health Day, the company announced, "Choose Kindness" and "Take on the School Year". As reported in its first month of being live, over 5 million Snapchat Users engaged with the Headspace Mini, showing the interest of the users to engage with mental wellness tools.
Meditation apps are not only limited to simple guided meditations now. HBO Max is hoping to build on the success of these apps with the launch of a new show, loosely built around Calm's sleep Stories series. The cast comprise Mahershala Ali, Idris Elba, Oscar Isaac, Priyanka Chopra Jonas, Nicole Kidman, Zoë Kravitz, Lucy Liu, Cillian Murphy, Keanu Reeves, and Kate Winslet.
"Calm started life as a meditation app but the brand has evolved far beyond that," Calm co-founder and co-CEO Michael Acton Smith said in a release. You can watch the trailer here.
These apps are expanding and are getting a lot of brands, influencers and professionals on board. They are trying their level best to expand their activities. A lot of meditators too have stated that they like to combine meditation with some journaling, physical exercise or a conscious walk/run. Take care of your mental health!
May Fourth Movement at Tiananmen Square- China's Awakening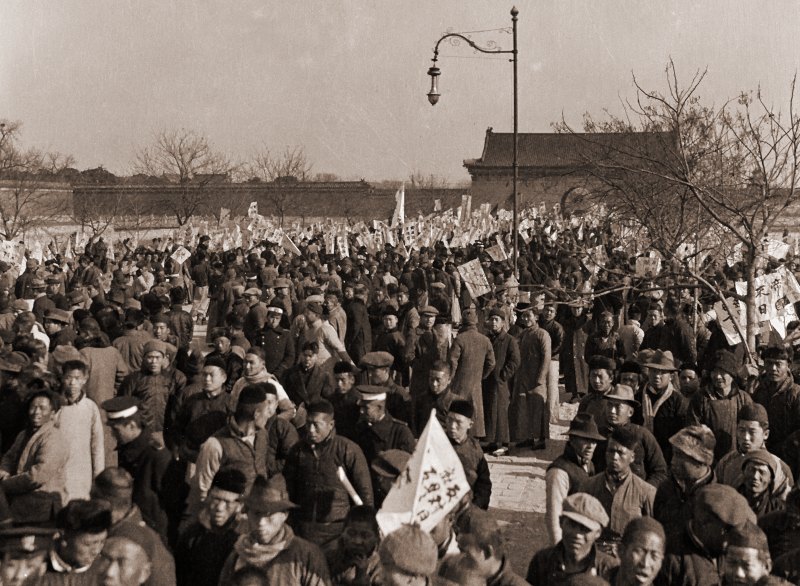 Early in the 20th century, China had a significant socio-political and intellectual movement known as the May 4th Movement, often called the New Culture Movement. It gained support from a wide range of intellectuals, laborers, and business people as it migrated from Beijing to other significant Chinese cities with demands to abandon ancient Confucian principles and to adopt the Western ideals of democracy, freedom, and equality instead. 
While aiming to imbibe the modern thought, these protesters demanded that foreign imperialism be ceased and control be given back to the Chinese. By challenging long-standing conventions and paving the way for a more progressive and open society, this Movement had a significant impact on Chinese intellectual and cultural history.
What Happened on May 4th 1919? 
On May 4, 1919 Chinese students started a series of demonstrations in Beijing, notably in Tiananmen Square. They took to the streets to protest and express their dissatisfaction with the government. Gradually this movement spread to parts of Shanghai and Guangzhou, making it a large-scale student protest. 
What was the Reason of the Student Protest on May 4, 1919?  
First, The Treaty of Versailles & Shandong Problem – The discussion of the Treaty caused much resentment over how China was being treated during the post-World War I by Western powers, especially with regards to Shandong. The German concessions in Shandong were not returned to China but instead were given to Japan. Intellectuals and students in China therefore could not help but be patriotic and anti-imperialist.
Second, existing sociocultural problems in the Chinese society – Disillusionment with traditional Chinese culture and values were growing among Chinese intellectuals and students. Discontentment with existing and belief on the new concepts and philosophies, especially those acquired from the West, were sought to replace these established principles. Thus, fostering science, democracy, and individuality became very important.
What Made May Fourth Movement so Successful?
The Movement's ability to win widespread support from various facets of society was one of the main factors in its success.

Unlike any previous protests in China, the

May 4

Movement

was organised and led by students and intellectuals. They planned gatherings, marches, demonstrations, printed newspapers, and pamphlets to disseminate their views and unite participants. It was this initiative that attracted more people to join, including workers, business people and warlords. This increased the movement's power, and the government was pressured to respond to its demands thanks to this wide-ranging support.
Utilizing new media and communication channels effectively was another key.

Students published their ideas through newspapers, journals, and speeches to get support from the public. They also built relationships with activists and intellectuals who shared their views in other places, which helped the cause extend outside of Beijing. The Movement was able to unite thanks to these communication tactics and develop a sense of a common goal.
The next reason of the movement's success can be traced to its appealing and distinct goals

. The Movement had a clearly stated mission, which included calls for democracy, the democratization of China, and the nation's revitalization. A sizeable segment of the populace, demanding modernization and reform in the face of foreign dominance, identified with these goals.
The Movement also capitalized on a potent anti-imperialist and sense of national pride.

The 'Shandong Problem' that was viewed as a violation of Chinese interests in the Treaty of Versailles sparked a strong sense of fury and served as the Movement's unifying cause. The participants shared rage against foreign imperialism, and the need for national self-determination was a potent unifying force.
What was the May Fourth Movement Significance & Impact on Post World War 1 China?
The success of the May 4th Movement left a long-lasting influence on Chinese politics and society. The movement produced an intellectual and cultural awakening that significantly changed Chinese values and thought. Some major political and social reforms in China that are still cherished and recognised as attributes to the May 4 movement are-
Anti-Imperialist and anti-Warlord Feelings: The Movement stoked a genuine anti-imperialist feeling among the Chinese. It stepped up the fight against foreign meddling and prepared the way for the eventual downfall of imperial control. The Movement also helped reduce the influence of warlords by exposing their corruption and incompetence, further damaging their reputation among the populace.
Founding of Communist Party in 1921: The Chinese Communist Party (CCP) was established mainly due to the May 4th Movement. Many academics and students identified with the Movement's emphasis on social justice, anti-imperialism, and the empowerment of the working class. Therefore, this Movement offered a favourable environment for the propagation of communist doctrine, resulting in the CCP's founding in 1921. The party would later be crucial in determining the course of China's development.
Anti-Japanese Sentiments: The Movement also stoked prejudice towards the Japanese, which is still present today. The Movement's hostility to the Treaty of Versailles's unfair treatment of China, particularly the transfer of German concessions in Shandong to Japan, strengthened a sense of national outrage towards that country. This attitude was the impetus for later resistance to Japanese aggression, culminating in the Sino-Japanese War (1937–1945), and the present that hate that since liberation was kept alive by CCP leaders especially Mao Zedong and Xi Jinping. 
Large-scale but not widely supported – Controversies & Criticisms of May 4th Movement
Despite its enormous support and influence, the May 4th Movement came under fire from 
several groups, notably Chinese Muslim Community and Kuomintang (KMT) – affiliated nationalists. 
The Chinese Muslims & ethnic groups were concerned about the Movement's emphasis on Westernisation and rejection of traditional values, most notably by people in Northwest China. They felt that the calls for a secular society and the adoption of modern ideas were in opposition to Islamic doctrine and cultural norms. Chinese Muslims saw the Movement as a potential danger to their identity and way of life since they connected so closely with their religious and cultural history. They were concerned that the emphasis on Westernisation might undermine their Islamic principles and push their communities to the margins.
The KMT Nationalists under the leadership of Chiang Kai-shek criticized the Movement's extremism and connection to communist philosophy. Chiang and other KMT members thought the Movement's focus on the class struggle and worker emancipation would erode social stability and impede national unity. They said that the Movement's emphasis on urban intellectuals ignored the requirements and ambitions of the rural masses, who comprised most Chinese citizens. As a danger to Chinese culture and social order, the KMT also criticized the Movement's rejection of traditional Confucian principles.
A revolution is not a dinner party, or writing an essay, or painting a picture, or doing embroidery; it cannot be so refined, so leisurely and gentle, so temperate, kind, courteous, restrained and magnanimous. A revolution is an insurrection, an act of violence by which one class overthrows another.

– Mao Zedong
Despite the criticism, it is essential to note that the May 4th Movement it must be accepted that the Chinese history underwent significant change during this Movement. It brought about substantial political, social, and cultural transformations that influenced the development of contemporary China. The Movement's legacy still impacts Chinese society today and represents youth activism, pride in one's country, and the desire for social change.