The wellness market is rapidly growing with the meditation apps acquiring a good share in it. Let's see what their collaboration and expansion have been like.
Put on the clay mask and light up that expensive scented candle now. You can even pour some Pouilly fuissé and read this. With self care booming as an essential part of the health and wellness space, meditation is catching up the lost breath from the extensive attention hunger economy. Seen "The Social Dilemma" on Netflix? You must have raged about how social media thrives on those seconds of dopamine rush but doesn't Netflix just give you five seconds to decide to jump to another episode or not? Attention is money and it is getting toxic for many. Meditation apps/videos/coaches are trying to somewhat fix this.
Scope:
The global mindfulness meditation apps market accounted for US $ 153.6 million in 2019 and is estimated to be US$ 341.9 million by 2029 and is anticipated to register a compound annual growth rate of 8.3%. A lot of studies have reported 2019 to 2026 as the forecast period to estimate the market size for mindfulness meditation apps. These years are crucial and from an observational standpoint the graph is rising. Look around you, a lot of your friends and family might have started meditating only this year or especially during the lockdown. Interestingly there have been mixed responses on whether one would like to pay for the same or not. Let's look at that a little later through the course of this article.
Meditation Market:
Meditation apps in the Indian ecosystem can be/are segregated in terms of operating system: Android and IOS and in terms of payment: paid or free.
We talked to a few Indians in their early 20s and 30s and the most common sources that they use for guided meditation are: Headspace app, Calm app, Cure.fit app, Youtube videos from various channels and art of living sessions. Looking at each section type precisely:
Apps:
They are available both in paid and free versions. The top five apps upon doing a simple search according to Google Play Store are:
Simple Habit: Meditation,Sleep
Meditation Plus: music,timer,relax
Let's meditate: Meditate, Relax & sleep
Sadhguru – Yoga, Meditation & Spirituality
Headspace: Meditation & Sleep
Most teenagers use free apps or trial versions of apps for this because of the availability of free content out there that they can use. However one of the individuals who use a paid version says, "I used Headspace for two weeks and I just knew that I had to buy it. The app lets me keep streaks, whenever I cross a landmark, I am awarded and it keeps a data of the total time I meditated. That works for me as I am able to see growth and it makes me happy. They have these small clips and videos on mindfulness in the paid version, that personally I don't mind paying for. I have a stressful schedule and anything that can keep me away from stress is perfect."
There has been an increase in the downloads of wellness apps during the pandemic. stress from work from home is great but one cannot deny that the lockdown did give individuals a space to focus on themselves. As reported by Sensor Tower, "Downloads of Top English-Language Mental Wellness Apps Surged by 2 Million in April Amid COVID-19 Pandemic". This number would have gone up subsequently or atleast would have been much higher than what it was in 2019. April 2020's top performers by downloads were dominated by meditation apps, with Calm placing at No. 1 with 3.9 million downloads, Headspace at No. 2 with 1.5 million installs, and Meditopia at No. 3 with 1.4 million.
(You can check the per day downloads for these apps here: Calm, Headspace & Meditopia). Combined, the top ten mental wellness apps accumulated close to 10 million downloads by April.
YouTube videos:
The biggest benefit that users find here is that it is hassle free. The videos are easily comparable and one doesn't need to download anything extra. There are live 24×7 videos that you can tune in anytime. The comment box is usually very positive where people engage with each other. The apps that are listed above, most of them stream on YouTube too. One can find a wide range of spiritual gurus like Sadhguru or Gurudev Sri Sri Ravishankar too on the platform. A lot of people also follow Deepak Chopra and have seen quite a difference in their functioning.
Gurus or Meditation experts:
There are a lot of individual mentors too that have grown and now are actively participating in the wellness industry. With everything moving online, it has become more and more easier for experts to reach out to the audience. There were countless number of meditation sessions that took place over zoom call and Instagram Live.
Brands Collaborations:
Brands have started recognising this wellness trend and the 2020 lockdown was just an added cherry to this case.
Snapchat collaborated with Headspace to launch a new Headspace mini feature on the app. These are miniature apps made by third-party developers that run inside of Snapchat to create more social experiences among friends. Existing meditations on the Headspace Mini included, "Just Breathe," "Get out of a funk," "Kick the panic," and "Me time." On the account of World Mental Health Day, the company announced, "Choose Kindness" and "Take on the School Year". As reported in its first month of being live, over 5 million Snapchat Users engaged with the Headspace Mini, showing the interest of the users to engage with mental wellness tools.
Meditation apps are not only limited to simple guided meditations now. HBO Max is hoping to build on the success of these apps with the launch of a new show, loosely built around Calm's sleep Stories series. The cast comprise Mahershala Ali, Idris Elba, Oscar Isaac, Priyanka Chopra Jonas, Nicole Kidman, Zoë Kravitz, Lucy Liu, Cillian Murphy, Keanu Reeves, and Kate Winslet.
"Calm started life as a meditation app but the brand has evolved far beyond that," Calm co-founder and co-CEO Michael Acton Smith said in a release. You can watch the trailer here.
These apps are expanding and are getting a lot of brands, influencers and professionals on board. They are trying their level best to expand their activities. A lot of meditators too have stated that they like to combine meditation with some journaling, physical exercise or a conscious walk/run. Take care of your mental health!
Assassination of Shinzo Abe & Salman Rushdie – Know Real Facts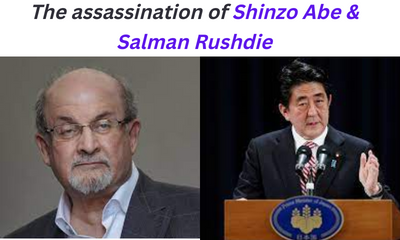 The months July and August of 2022 saw two cases of extermination to promote the fear of terrorism. One of the assassination of Shinzo Abe former Japanese Prime Minister, and another of the famous Novelist Salman Rushdie.
Shinzo Abe succumbed to a gunshot wound, whereas Rushdie's health conditions are improving and he is under medical supervision after the knife attack. However, various assassination attempt of Salman Rushdie has been made during the year.
These two terror acts force us to think about the impact of terrorism on society, the main objective of which is to create an atmosphere of fear so that citizens of the country cannot rely on their government.
This ultimately disturbs the law and order of the society, and serves the terrorists' purpose of creating a chaos.
Here we will see how these two attacks had different reasons but the objective remained the same – to stop someone from propagating his/her opinions independently, and also the factors that make attackers indulge in such acts.
Assassination Attempt of Salman Rushdie – Satanic Controversy
On 12 August 2022, Rushdie was attacked several times by a 24-year-old man Hadi Matar. The attacker's intentions can be linked to Rushdie's fourth novel, The Satanic Verses, published in 1988. Some Muslims considered the novel disrespectful towards Prophet Mohammed.
Soon after its publication, the novel sparked a 'fatwa' or a religious decree. The Iranian revolutionary leader Ayatollah Ruhollah Khomeini called for Rushdie's death in 1989. After, this various assassination attempt of Salman Rushdie has been made.
Complete conversation for Salman Rushdie Assassination:
When asked about the attack Hadi Matar said, "I don't like the person. I don't think he's a very good person. I don't like him very much". He further criticised Rushdie's work by saying, "He's someone who attacked Islam, he attacked their beliefs, the belief systems". Mr. Matar also told New York Post that he had only read 'a couple of pages' of the book and did not tell about whether the fatwa had inspired him or not.
While praising the Iranian religious leader, he stated, "I respect the Ayatollah. I think he's a great person. That's as far as I will say about that".
One can observe that the psychology of the attacker was that he simply disliked the novelist because of his work; although he read only two pages of the novel, but was rather influenced by the religious leaders and their sayings. Just, like this the assassination of Shinzo Abe has been made during this year, which we will discuss on next section.
Perceptions like these can have a long-lasting impact on future generations which can further deteriorate the situation. Violent acts like this demand proper scrutiny of the dissemination of information.
Extremists take advantage of such incidents and brainwash the young minds so that they can be used by them for their selfish purposes.
Assassination of Shinzo Abe – Complete Truth
On 8 July 2022, it was just another day of Abe's political campaign for the upcoming parliamentary elections. He was delivering a speech in Nara City, but no one is the aware about the assassination of Shinzo Abe that day. When a 41-year-old Tetsuya Yamagami shot him twice from behind from a distance of about 10 meters.
During the investigation, he confessed his intentions of killing and it was found that his motives had more to do with religious backing instead of a political reason.
It so happened that Yamagami's mother was a member of a religious group which she joined after her husband's death in 1998. She used to donate huge amounts of money as charity to the group, after the assassination of Shinzo Abe and Yamagami blames the sect for bankrupting his mother.
Confession Statement on Abe Case
The report reveal that Abe was closely associated with the sect, and wanted to take revenge against him for promoting it. "The suspect stated that he held a grudge against a particular organisation and that he committed the crime because he believed former Prime Minister Abe had a connection to it", a senior police officer in Japan's Nara region told reporters.
While the police hasn't given any clarification regarding the unidentified organization, social media in Japan has it that it could be the Unification Church.
Yamagami was unemployed, felt isolated in society, was against religious preaching and blind faith, and wanted to kill the leader of the religious organization but couldn't. One can see the psychological aspects of it that, the killer was anguished with the organisation and blamed them for his conditions and economic turmoil.
Ultimately his grudge converted into a motive of taking revenge for his loss and he did that by killing the perpetrator of the religious group, to give a message to the society and the world that one should avoid themselves from joining or contributing to such groups.
Japan has the strictest gun laws after the assassination of Shinzo Abe , so to bypass such stringent laws the killer used a handmade gun. The occurrence of such incidents in the island nation shows how much resentment the killer has and how strongly he was motivated to commit the murder.
Such incidents are eye-openers for the society that someone's freedom of belief can become others' pain, and teaches that as a society we should try to maintain a balance between them.
Two Paths to Crime
The above two accidents of assassination of Shinzo Abe, and the assassination attempt of Salman Rushdie has been terrifying for the country. First, being a part of a religious group the killer face hardship in his life, which forced him to commit the crime. In the second instance, the attacker got the impression that his religion is being targeted and that it is his responsibility to take revenge so that next time no one dares to do anything like that again.
Interpretation of things based on pre-assumed thoughts can lead to revenge, and revenge based on half-baked knowledge causes harm to the whole humanity, and not just the particular group concerned.