The center banned 59 Chinese apps in India 2020. Including the popular ones such as TikTok, WeChat, Camscanner and UC browser.
This decision to Ban Chinese apps came after the Indo-China Galwan Valley border clash, on June 15 in Ladakh which cost 20 casualties for the Indian Army.
Within minutes of the decision, the Indian government's TikTok account 'MyGov', which had 1.1 million followers, was banned or disabled.
In a statement released, the government said that the decision to ban Chinese apps was taken, "in view of the information available that they are engaged in activities which are prejudicial to the sovereignty and integrity of India, defense, the security of the state, and public order".
The move by India comes amid a countrywide call from traders and civil organizations to boycott Chinese imports. India banned 59 Chinese apps.
Chinese app named "TikTok" is immensely popular among Indian youth and the most downloaded app in India. TikTok India head, Nikhil Gandhi said," The government of India has issued an interim order for the blocking of 59 apps, including TikTok and we are in the process of complying with it. We have been invited to meet with concerned government stakeholders for an opportunity to respond and submit clarifications. TikTok continues to comply with all data privacy and security requirements under Indian law and has not shared any information on our users in India with any foreign government, including the Chinese Government. Further, if we are requested to in the future we would not do so. We place the highest importance on user privacy and integrity."
Hence, TikTok has been removed from both Google Play store and Apple App store.
Here is the list of Indian apps alternative to Chinese apps which you can use.
TikTok, Helo, Vigo Video, Vmate, U Video and Kwai are video making apps which are banned.
These are several Indian alternatives for shot video making platforms:
Roposo
Mitron
Chingari
Bolo Indya
Baidu translate app is also banned in India
App alternative:
Google Translate
Hi Translate
Messaging apps We Meet and We Chat were also banned in India
App alternatives:
Facebook
Instagram
WhatsApp
Virutal party apps have become famous during the lockdown. Chinese party app Hago Play with new friends banned in India
App alternatives:
House party
Authorities banned file sharing apps Shareit, Xender, ES File Explorer.
App alternatives:
Files Go
Send anywhere
Google Drive
Dropbox
Jio Switch
Smart share
Authorities banned browsing apps like UC browser, DC browser, CM browser & APUS Browser.
App alternatives:
Google Chrome
Mozilla Firefox
Jio Browser
Authorities banned Mobile Legends
App alternatives:
Legends of Legends
PUBG
India banned famous CamScanner
App alternatives:
Adobe scan
Microsoft Office lens
Photo Scan
DU battery saver app banned in India
App alternatives:
Battery Saver
Charge Optimizer
News apps Newsdog, UC News, QQ Newsfeed banned in India
Google News 3)Inshorts
Apple News
President Joe Biden's Conversation with the Cambodian Prime Minister Hun Sen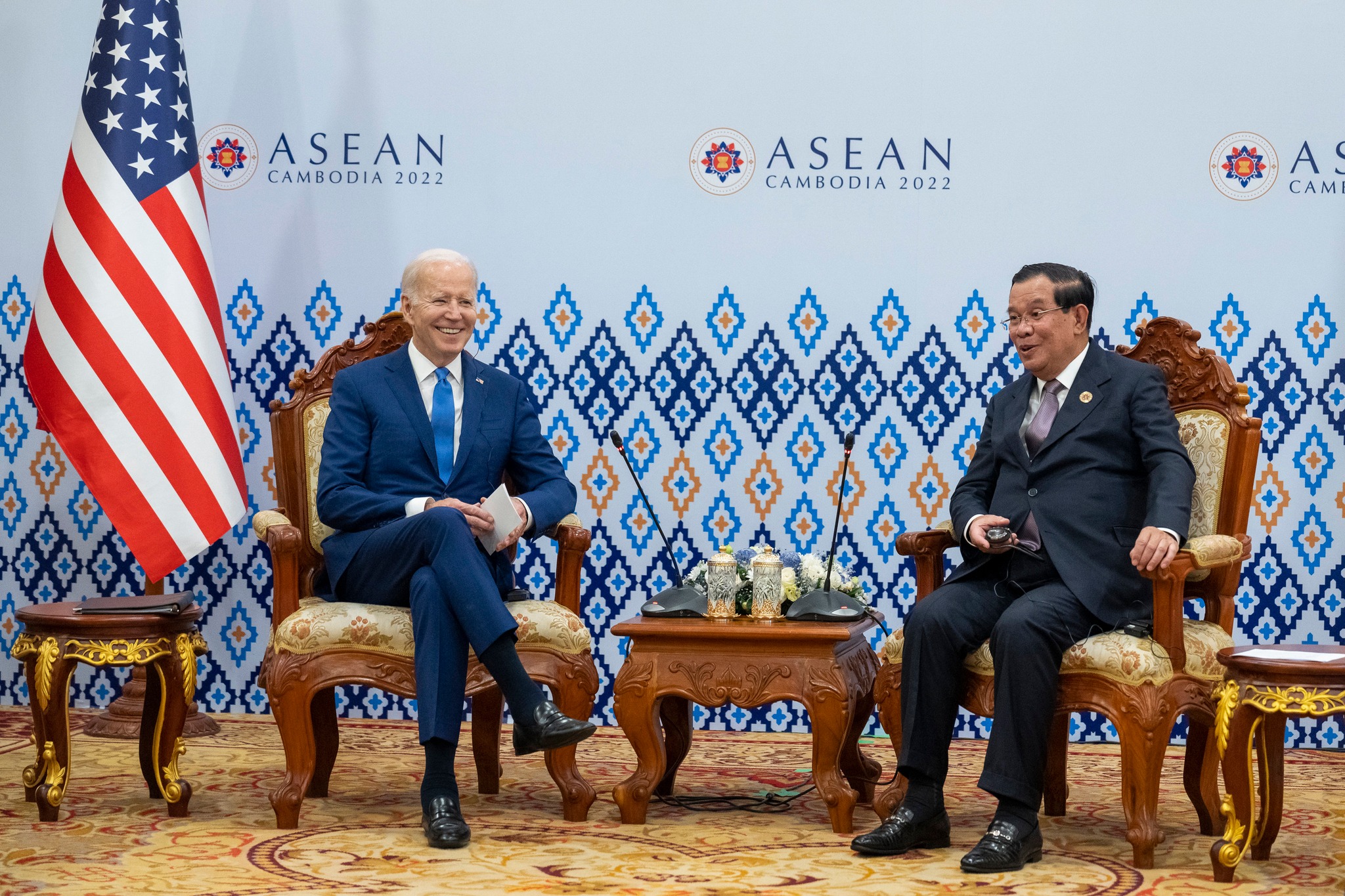 President Joe Biden landed in Cambodia on Saturday and supported the ASEAN nations. Before the eagerly anticipated Group of 20 summits next week in Indonesia, where Biden will meet with Xi for the first time in person since he took office, there will be a weekend of meetings in Cambodia. Before meeting with Xi, the president can engage with US allies at the ASEAN summits and the East Asia Summit on Sunday, both in Phnom Penh.
The US-ASEAN Comprehensive Strategic Partnership, which, according to Biden, "will tackle the biggest issues of our time, from climate to health security, defend against the significant threats to rule-based order and threats to the rule of law, and build an Indo-Pacific that's free and open, stable and prosperous, resilient and secure," was announced as "another critical step" toward building on the group's progress during his remarks at the summit. He cited a budget proposal for $850 million in support for Southeast Asia while praising the US's current financial commitments to ASEAN.
"This is my third journey and third summit, my second in person." The value reflects the United States' commitment to our relationship with ASEAN and our dedication to the region's centrality. The core of the Indo-Pacific strategy of my administration is ASEAN. In his opening remarks to the meeting, Biden said, "And we continue to reinforce our resolve to work in lockstep with an empowered, united ASEAN."
To build on the ASEAN leaders' conference in Washington earlier this year, the president's first meeting in Cambodia was with Prime Minister Hun Sen of Cambodia.
From the beginning of his presidency, Biden "was intent on elevating our engagement in the Indo-Pacific," according to national security adviser Jake Sullivan, and his attendance at the ASEAN and East Asia summits this weekend will highlight his accomplishments to date, including the Indo-Pacific Economic Framework unveiled earlier this year and security partnership initiatives.
"He's coming into this series of summits with that track record of success and purpose behind him, and he wants to be able to use the next 36 hours to build on that foundation to move American engagement forward, as well as to deliver several actual, practical initiatives," Sullivan said.
New initiatives on maritime cooperation, internet connectivity, and economic investment are some of these valuable measures, according to Sullivan. He added that Biden will soon begin a new maritime initiative that will "focus on using radio frequencies from commercial satellites to be able to track dark shipping, illegal and unregulated fishing, and also to improve the capacity of the countries of the region to respond to disasters and humanitarian crises."
Further, he added, Biden will also emphasize a "forward-deployed posture" toward regional defense to demonstrate that the US is actively pursuing security cooperation.
Biden also mentioned a brand-new US-ASEAN electric car infrastructure program during his speech.
He described the project as "a collaborative effort to build an integrated electric car ecosystem in Southeast Asia, enabling the region to achieve sustainable energy, economic growth, and ambitious emissions reduction targets."
Discussions on coordination "to continue to impose costs and build pressure on the junta" will also be centered on Myanmar, which was the subject of a February 2021 coup that ousted the country's democratically elected government.
Key Highlights
Concerns raised by Biden regarding Chinese activity at the Cambodian Ream Naval Base. The president expressed concern over the circumstances at Ream Naval Base and emphasized the value of complete transparency regarding the PRC (China's) military activities there.
The US President congratulated Cambodia's Prime Minister for backing Ukraine at the UN and spoke about the turmoil in military-ruled Myanmar.
President Biden also conveyed his gratitude to Cambodia for supporting resolutions at the UN to defend Ukraine from the brutal assault of Russia.
He thanked Cambodia for holding the ASEAN helm through a trying year.
The leaders "reflection on the historic US-ASEAN Special Summit's success in Washington, DC and applauded plans to establish a US-ASEAN Comprehensive Strategic Partnership at the annual US-ASEAN Summit later that day."
Along with the ASEAN Five Point Consensus, they also discussed the crisis in Burma and ASEAN's reaction, highlighting the international community's crucial role in restoring of democracy and stability in Burma.
In addition, Biden urged releasing activists like Seng Theory and a dual US-Cambodia citizen arrested on politically motivated allegations. The commitment of the United States to the Cambodian people and their goals for a more wealthy, democratic, and independent nation was reaffirmed by President Biden.