Amidst advertisers announced pulling ads from social media platform Facebook, company CEO Mark Zuckerberg announced its new Facebook content moderation policies to tackle hate and misinformation effectively.
Nearly 100 companies announced that they are pulling ads from Facebook, industry big players like Verizon also announced a retraction. Even global goods consumer giant Unilever, on Friday, came out with the decision to boycott advertising on facebook.
Later on Friday, Zuckerberg announced Facebook content moderation policies on a Facebook live stream. He talked about the platform's commitment towards freedom of expression and his stand against hate or anything which incites violence. He added that Facebook is ready to combat hate and misinformation, no matter where it comes from.
Companies announced to boycott advertising on Facebook & criticized Facebook for its failed attempt to contain the prevailing false information and racist content on the platform. The US-based civil groups started a campaign against Facebook this month called 'Stop Hate for Profit'. Companies like Honda Motor Co. and Hershey's joined the ad boycott campaign.
In the wake of national-wide protests in the US against racial inequality. After the killing of unarmed African-American George Floyd in Minneapolis brought few prominent civil rights groups together, like the National Association for the Advancement of Colored People (NAACP), Sleeping Giants, Free Press, Anti-Defamation League (ADL), and Common Sense Media, Color of Change accused Facebook showed fewer efforts to control the racist content on its platform.
These groups urged businesses to remove ads from facebook and Instagram. "Facebook allowed incitement to violence against protesters fighting for racial justice in America in the wake of George Floyd, Breonna Taylor, Tony McDade, Ahmaud Arbery, Rayshard Brooks and so many others," according to a statement by the civil group on the campaign website.
When prominent brands like the US ice-cream manufacture Ben & Jerry's, movie giant Magnolia Pictures, and outdoor adventures brand Northface joined, the movement gained more attention.
Campaign organizers released a list of content moderation recommendations for Facebook to fight the online hate-mongering on the platform. Recommendations like providing more support to people who are the target of racism, antisemitism, religious discrimination, and hate; increasing safety in private groups on Facebook; also stop generating ad revenue from false and harmful information.
With giants like Unilever, Verizon, and Levis withdrawing their ads, there are hopes of other companies join the protest; the campaign is now confident that Facebook will respond to their content moderation proposal.
Facebook revenue is highly dependent on the ads shown on its platform. The annual revenue stands at $70 billion, of which 99 percent comes from advertising. After Unilever came out with its decision to pull out its ads, Facebook's share fell by 8.3 percent.
President Joe Biden's Conversation with the Cambodian Prime Minister Hun Sen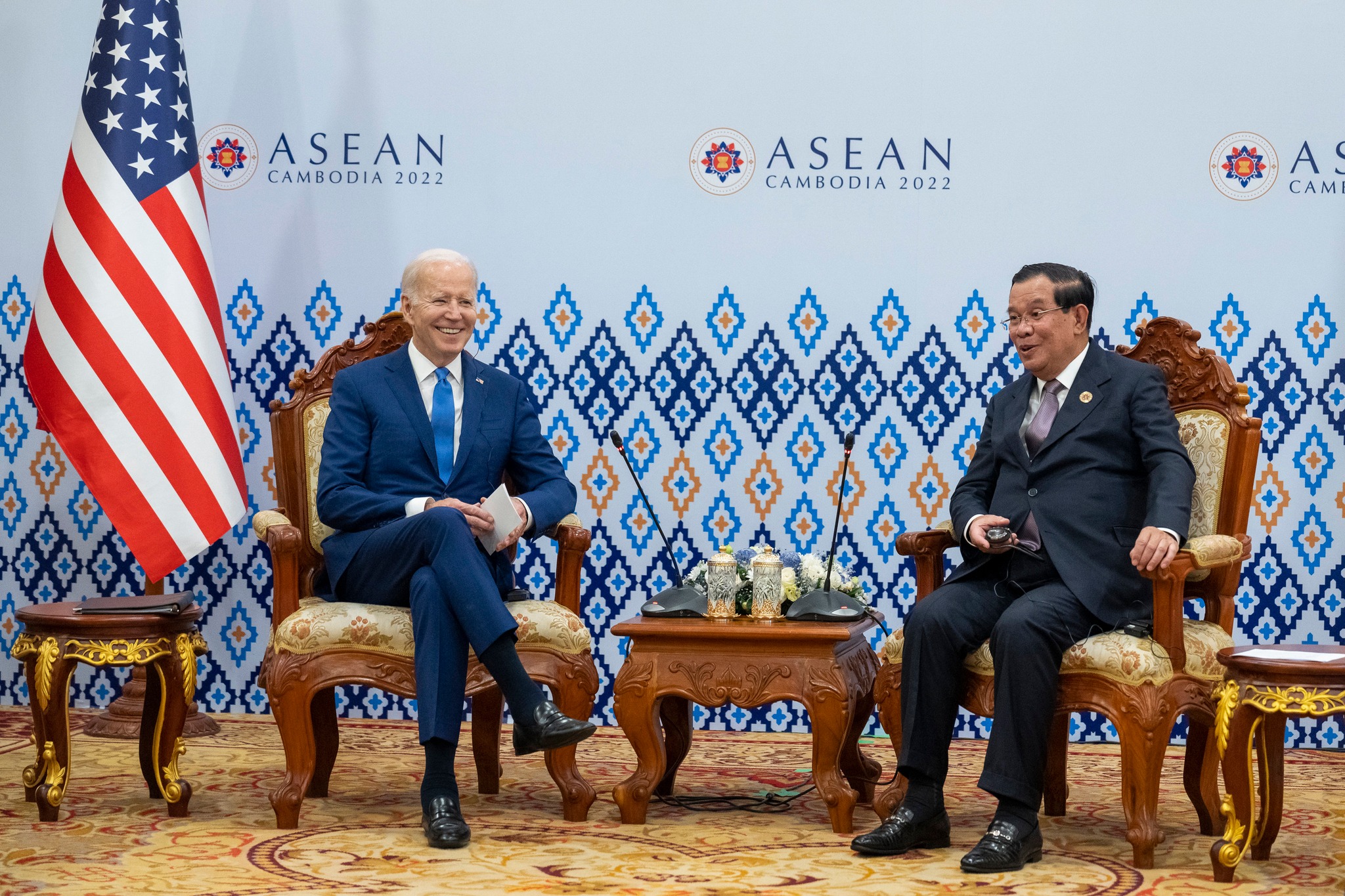 President Joe Biden landed in Cambodia on Saturday and supported the ASEAN nations. Before the eagerly anticipated Group of 20 summits next week in Indonesia, where Biden will meet with Xi for the first time in person since he took office, there will be a weekend of meetings in Cambodia. Before meeting with Xi, the president can engage with US allies at the ASEAN summits and the East Asia Summit on Sunday, both in Phnom Penh.
The US-ASEAN Comprehensive Strategic Partnership, which, according to Biden, "will tackle the biggest issues of our time, from climate to health security, defend against the significant threats to rule-based order and threats to the rule of law, and build an Indo-Pacific that's free and open, stable and prosperous, resilient and secure," was announced as "another critical step" toward building on the group's progress during his remarks at the summit. He cited a budget proposal for $850 million in support for Southeast Asia while praising the US's current financial commitments to ASEAN.
"This is my third journey and third summit, my second in person." The value reflects the United States' commitment to our relationship with ASEAN and our dedication to the region's centrality. The core of the Indo-Pacific strategy of my administration is ASEAN. In his opening remarks to the meeting, Biden said, "And we continue to reinforce our resolve to work in lockstep with an empowered, united ASEAN."
To build on the ASEAN leaders' conference in Washington earlier this year, the president's first meeting in Cambodia was with Prime Minister Hun Sen of Cambodia.
From the beginning of his presidency, Biden "was intent on elevating our engagement in the Indo-Pacific," according to national security adviser Jake Sullivan, and his attendance at the ASEAN and East Asia summits this weekend will highlight his accomplishments to date, including the Indo-Pacific Economic Framework unveiled earlier this year and security partnership initiatives.
"He's coming into this series of summits with that track record of success and purpose behind him, and he wants to be able to use the next 36 hours to build on that foundation to move American engagement forward, as well as to deliver several actual, practical initiatives," Sullivan said.
New initiatives on maritime cooperation, internet connectivity, and economic investment are some of these valuable measures, according to Sullivan. He added that Biden will soon begin a new maritime initiative that will "focus on using radio frequencies from commercial satellites to be able to track dark shipping, illegal and unregulated fishing, and also to improve the capacity of the countries of the region to respond to disasters and humanitarian crises."
Further, he added, Biden will also emphasize a "forward-deployed posture" toward regional defense to demonstrate that the US is actively pursuing security cooperation.
Biden also mentioned a brand-new US-ASEAN electric car infrastructure program during his speech.
He described the project as "a collaborative effort to build an integrated electric car ecosystem in Southeast Asia, enabling the region to achieve sustainable energy, economic growth, and ambitious emissions reduction targets."
Discussions on coordination "to continue to impose costs and build pressure on the junta" will also be centered on Myanmar, which was the subject of a February 2021 coup that ousted the country's democratically elected government.
Key Highlights
Concerns raised by Biden regarding Chinese activity at the Cambodian Ream Naval Base. The president expressed concern over the circumstances at Ream Naval Base and emphasized the value of complete transparency regarding the PRC (China's) military activities there.
The US President congratulated Cambodia's Prime Minister for backing Ukraine at the UN and spoke about the turmoil in military-ruled Myanmar.
President Biden also conveyed his gratitude to Cambodia for supporting resolutions at the UN to defend Ukraine from the brutal assault of Russia.
He thanked Cambodia for holding the ASEAN helm through a trying year.
The leaders "reflection on the historic US-ASEAN Special Summit's success in Washington, DC and applauded plans to establish a US-ASEAN Comprehensive Strategic Partnership at the annual US-ASEAN Summit later that day."
Along with the ASEAN Five Point Consensus, they also discussed the crisis in Burma and ASEAN's reaction, highlighting the international community's crucial role in restoring of democracy and stability in Burma.
In addition, Biden urged releasing activists like Seng Theory and a dual US-Cambodia citizen arrested on politically motivated allegations. The commitment of the United States to the Cambodian people and their goals for a more wealthy, democratic, and independent nation was reaffirmed by President Biden.