The business community is never considered an ally of the planet. But certain brands like H&M, Ikea, Adidas, and Burger King embraced circular economy so that nothing becomes a waste and an end of something can be transformed into a new beginning.
Have you ever heard about the circular economy? If yes! Then the possible question that arises is – what exactly circular economy is and how it helps us in reducing waste? It might not be wrong if I say that the saying – one person's trash is another person's treasure – is undeniably true in the case of circular economy. This kind of economy demands a radical change in the perspectives of people and companies when it comes to dealing with lack of resources, environmental impact, and value creation of available assets.
A circular economy basically takes the production processes into consideration and outlines how to reuse, repair, and recycle items, thus increasing sustainable manufacturing and consumption of resources. It usually works on a new model of production and utilisation of goods and services associated with sustainability through the take-make-dispose model of consumption.
By reusing and recycling, plus repurposing and selling on items that have already outlived their initial use. A circular economy lets the resources stay in the economy for as long as possible, by easing the pressure on the environment, simultaneously it also helps in the creation of jobs and maintaining economic activity.
The business community is never considered as an ally of the planet, but at the same time, it has a significant role to play in the protection and destruction of the environment. Today, when coronavirus pandemic has challenged various companies and brands to do more to support their communities while bracing against economic disturbance, many refused to let their sustainability ambitions fall by the wayside.
But there are still some organisations and brands that in their bid to protect the environment believe in the creation of a circular economy so that nothing becomes a waste.
1. Adidas launches its fully recyclable sneaker:
It seems like shoes are getting more and more specific these days. Adidas shoes are known for their innovation and customer satisfaction. But this time, the sports brand has a range of footwear designed with recycling in mind. The sportswear giant in October 2020 launched a fully recyclable sustainable running shoe as part of its 'Made to be Remade' project.
Adidas now has its fully recyclable version of its UltraBoost running shoe, made from a single material without glue. The company describes the UltraBoost Loop as the shoe customers will never own, but instead can return them once they are 'finished' with them.
UltraBoost DNA Loop is not just a shoe, it's a movement. It's a shoe that defines a better future where it can be remade and the end can be made the beginning. Not only this but in the year 2019, the footwear giant also sold 15 million pairs of sneakers made with plastic collected from beaches and coastlines in partnership with Parley for the Oceans.
2. Burger King tests reusable packaging:
Burger King is planning to test reusable containers this year as part of its efforts to reduce waste. Through this reusable packaging, Burger King is trying to cut the sustainability challenge that the take-away meal packaging possesses on the environment.
The reusable containers and cups, for now, will be introduced at selective Burger King outlets in New York, Portland, and Tokyo. The fast-food giant is planning to add more cities following its first three locations in its bid to reduce the amount of waste the organisation is generating.
3. Ikea buys back your old furniture for resale:
Ikea approximately a month ago, rolled a large furniture buy-back program for its customers that allows customers to sell back their used furniture to Ikea stores around the world in exchange for store credit. This new initiative aims to help reduce the number of home furnishing products usually thrown out. The program is part of IKEA's push to promote the company's efforts to reach its 2030 climate targets.
4. Food waste and other materials gathered in H&M's new collection:
H&M in order to achieve its goal to source exclusively sustainable materials by 2030 and become "climate positive" by 2040, takes recycling to a new level with a line of clothing and accessories created from materials, including food waste and other stuff, that had been destined for the trash bin.
May Fourth Movement at Tiananmen Square- China's Awakening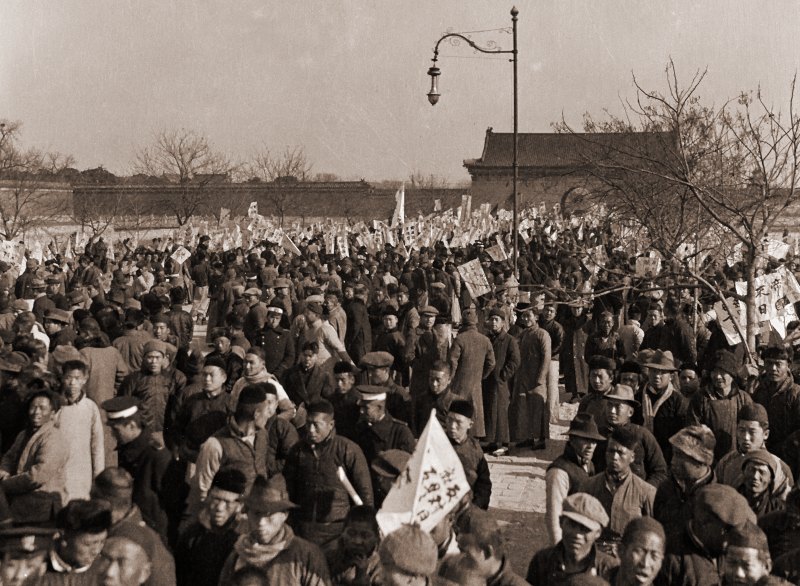 Early in the 20th century, China had a significant socio-political and intellectual movement known as the May 4th Movement, often called the New Culture Movement. It gained support from a wide range of intellectuals, laborers, and business people as it migrated from Beijing to other significant Chinese cities with demands to abandon ancient Confucian principles and to adopt the Western ideals of democracy, freedom, and equality instead. 
While aiming to imbibe the modern thought, these protesters demanded that foreign imperialism be ceased and control be given back to the Chinese. By challenging long-standing conventions and paving the way for a more progressive and open society, this Movement had a significant impact on Chinese intellectual and cultural history.
What Happened on May 4th 1919? 
On May 4, 1919 Chinese students started a series of demonstrations in Beijing, notably in Tiananmen Square. They took to the streets to protest and express their dissatisfaction with the government. Gradually this movement spread to parts of Shanghai and Guangzhou, making it a large-scale student protest. 
What was the Reason of the Student Protest on May 4, 1919?  
First, The Treaty of Versailles & Shandong Problem – The discussion of the Treaty caused much resentment over how China was being treated during the post-World War I by Western powers, especially with regards to Shandong. The German concessions in Shandong were not returned to China but instead were given to Japan. Intellectuals and students in China therefore could not help but be patriotic and anti-imperialist.
Second, existing sociocultural problems in the Chinese society – Disillusionment with traditional Chinese culture and values were growing among Chinese intellectuals and students. Discontentment with existing and belief on the new concepts and philosophies, especially those acquired from the West, were sought to replace these established principles. Thus, fostering science, democracy, and individuality became very important.
What Made May Fourth Movement so Successful?
The Movement's ability to win widespread support from various facets of society was one of the main factors in its success.

Unlike any previous protests in China, the

May 4

Movement

was organised and led by students and intellectuals. They planned gatherings, marches, demonstrations, printed newspapers, and pamphlets to disseminate their views and unite participants. It was this initiative that attracted more people to join, including workers, business people and warlords. This increased the movement's power, and the government was pressured to respond to its demands thanks to this wide-ranging support.
Utilizing new media and communication channels effectively was another key.

Students published their ideas through newspapers, journals, and speeches to get support from the public. They also built relationships with activists and intellectuals who shared their views in other places, which helped the cause extend outside of Beijing. The Movement was able to unite thanks to these communication tactics and develop a sense of a common goal.
The next reason of the movement's success can be traced to its appealing and distinct goals

. The Movement had a clearly stated mission, which included calls for democracy, the democratization of China, and the nation's revitalization. A sizeable segment of the populace, demanding modernization and reform in the face of foreign dominance, identified with these goals.
The Movement also capitalized on a potent anti-imperialist and sense of national pride.

The 'Shandong Problem' that was viewed as a violation of Chinese interests in the Treaty of Versailles sparked a strong sense of fury and served as the Movement's unifying cause. The participants shared rage against foreign imperialism, and the need for national self-determination was a potent unifying force.
What was the May Fourth Movement Significance & Impact on Post World War 1 China?
The success of the May 4th Movement left a long-lasting influence on Chinese politics and society. The movement produced an intellectual and cultural awakening that significantly changed Chinese values and thought. Some major political and social reforms in China that are still cherished and recognised as attributes to the May 4 movement are-
Anti-Imperialist and anti-Warlord Feelings: The Movement stoked a genuine anti-imperialist feeling among the Chinese. It stepped up the fight against foreign meddling and prepared the way for the eventual downfall of imperial control. The Movement also helped reduce the influence of warlords by exposing their corruption and incompetence, further damaging their reputation among the populace.
Founding of Communist Party in 1921: The Chinese Communist Party (CCP) was established mainly due to the May 4th Movement. Many academics and students identified with the Movement's emphasis on social justice, anti-imperialism, and the empowerment of the working class. Therefore, this Movement offered a favourable environment for the propagation of communist doctrine, resulting in the CCP's founding in 1921. The party would later be crucial in determining the course of China's development.
Anti-Japanese Sentiments: The Movement also stoked prejudice towards the Japanese, which is still present today. The Movement's hostility to the Treaty of Versailles's unfair treatment of China, particularly the transfer of German concessions in Shandong to Japan, strengthened a sense of national outrage towards that country. This attitude was the impetus for later resistance to Japanese aggression, culminating in the Sino-Japanese War (1937–1945), and the present that hate that since liberation was kept alive by CCP leaders especially Mao Zedong and Xi Jinping. 
Large-scale but not widely supported – Controversies & Criticisms of May 4th Movement
Despite its enormous support and influence, the May 4th Movement came under fire from 
several groups, notably Chinese Muslim Community and Kuomintang (KMT) – affiliated nationalists. 
The Chinese Muslims & ethnic groups were concerned about the Movement's emphasis on Westernisation and rejection of traditional values, most notably by people in Northwest China. They felt that the calls for a secular society and the adoption of modern ideas were in opposition to Islamic doctrine and cultural norms. Chinese Muslims saw the Movement as a potential danger to their identity and way of life since they connected so closely with their religious and cultural history. They were concerned that the emphasis on Westernisation might undermine their Islamic principles and push their communities to the margins.
The KMT Nationalists under the leadership of Chiang Kai-shek criticized the Movement's extremism and connection to communist philosophy. Chiang and other KMT members thought the Movement's focus on the class struggle and worker emancipation would erode social stability and impede national unity. They said that the Movement's emphasis on urban intellectuals ignored the requirements and ambitions of the rural masses, who comprised most Chinese citizens. As a danger to Chinese culture and social order, the KMT also criticized the Movement's rejection of traditional Confucian principles.
A revolution is not a dinner party, or writing an essay, or painting a picture, or doing embroidery; it cannot be so refined, so leisurely and gentle, so temperate, kind, courteous, restrained and magnanimous. A revolution is an insurrection, an act of violence by which one class overthrows another.

– Mao Zedong
Despite the criticism, it is essential to note that the May 4th Movement it must be accepted that the Chinese history underwent significant change during this Movement. It brought about substantial political, social, and cultural transformations that influenced the development of contemporary China. The Movement's legacy still impacts Chinese society today and represents youth activism, pride in one's country, and the desire for social change.