Discrimination against women and girls is a pervasive and long-standing problem in Indian society at all levels. Despite relatively quick economic growth, India's progress toward gender equality, as assessed by rankings such as the Gender Development Index, has been unsatisfactory.
While India's GDP has expanded by roughly 6% in the last decade, female labour force participation has dropped from 34% to 27%. The earnings disparity between men and women has remained constant at 50%. (a recent survey finds a 27 per cent gender pay gap in white-collar jobs). Crimes against women are on the rise, especially violent crimes including rapes, dowry deaths, and honour killings. These changes are concerning since, with growth, comes knowledge and income, as well as a likely decline in loyalty to conventional institutions and socially dictated gender roles that stifle women's progress.
While the Pandemic wreaked senseless havoc globally, women might b the most affected section of the populace. A growing collection of science and anecdotal data supports experienced and intuitive judgments that the pandemic shock has worsened the situation for girls and women.
Male members of the household are responsible for bringing food from the market, while female members are responsible for cooking and serving the food. Despite the fact that women prepare the food, in more than two-thirds of households, the husband, children, or elderly (particularly men) eat it first. After everyone has gotten their fill, women are the last to eat. Women believe that because males are the breadwinners of the home, they receive a higher part of the food consumed by household members. Women are no longer expected to dine last in society. The situation has improved over time, but there is still more work to be done in terms of attaining equity in intra-household food availability.
Girl child education suffers a lot due to discrimination. It is of course not marginal. Discriminations are due to poverty, child marriage, lack of safe environment in schools and limitations in teachers' training on gender-based violence. Our society is notoriously patriarchial and the education of the female counterparts in a household is often an afterthought, not a priority. In households where stable income is elusive, males are given preference for continuing their education. It is believed that he shall be the primary breadwinner and thus his education is significantly more important than the females of the family who are supposed to be limited to their roles are caregivers in their families. These decisions are often taken without the input of the women.
The world is moving towards a 'Knowledge Economy', with jobs in research and innovation becoming the channels of growth in the 21st century. However these fields continue to be male-dominated, and as per USAID (2019), only 33% workforce in research and innovation comprises female participation in South East Asia, including India. Women are severely underrepresented in engineering, physics, mathematics, information technology and computer science fields. The reason for their under-representation in STEM (birthed from discrimination and prejudice) is not because of the lack of scientific temperament or less capability in STEM. This is proven when year after year girls studying in Delhi outperform boys in their grade 10th and 12th exams.
Due to various socio-economic and cultural reasons, women face discrimination and hurdles in life. Unequal power relations render women more vulnerable on many indicators like health, workforce participation, decent livelihoods, food security, access to services etc. Globally, women constitute 50% of the world's population, but only 39% are in the workforce and only 27% reach managerial positions in work, only 25% of parliamentary seats are held up by women globally, and only 33% of research positions worldwide are held by women. Women are more undernourished than men, are paid less, have less access to health, recreation and healthcare and have less freedom of choices in leading their lives. In a world becoming more and more knowledge dominated, if women's participation in STEM is not enhanced, it will exclude more and more women and worsen the indicators. As we strive towards an equitable and holistic society, it is imperative that we also let go of such unjust notions and provide women with the previously gate-kept support and guidance.
In just Delhi, the total number of students enrolled in Pre-Primary & Primary Schools is around 20.79 lakhs, 11.23 lakhs in Middle, 7.31 Lakhs in Secondary and 4.86 Lakhs at Senior Secondary level (Source: Economic Survey of Delhi 2019-20), which also reflects a high dropout rate of girls in the senior secondary level. Every year, approximately 1.15 Lakh students register for the 12th class examination from Delhi government schools. Sadly only a few girls opt for STEM fields. Only around 10,000 girls are pursuing a STEM education at the senior secondary level in Delhi government schools. The number of girls pursuing STEM fields at higher education levels is even less.
The female labour participation rate in India is dismal, with only 20.7 per cent of women participating in the workforce, and even fewer women participating in STEM fields. According to research, women account for 43 per cent of Science, Technology, Engineering, and Mathematics (STEM) graduates in India, but just 14 per cent of STEM positions, showing a gap in the pipeline. India was placed second among the top 20 countries having the most female CEOs in the world. In India, meanwhile, the percentage of female CEOs in tech companies is a pitiful 5.01 per cent. Women make up only 14% of India's 280,000 scientists and engineers working in research and development institutes. While more women are enrolling in school and college and performing well, data reveals that they are not staying on at employment, particularly in STEM fields. This means that more education does not necessarily translate into better employment or lifestyles. Academic achievement alone will not ensure a smooth transition into the workforce or assist women in remaining employed. Women either abandon STEM careers in the middle, pursue careers in other disciplines, or leave the workforce entirely. 
It is no secret that men have founded the bulk of start-ups in India. This isn't to say that women don't want to be entrepreneurs. It's just that it's significantly more difficult for women to succeed because they face so many more obstacles than men, ranging from home limitations to a lack of money and expertise. The numbers aren't looking good. According to research, women entrepreneurs account for only 13.76 per cent of all businesses. In the Index of Women Entrepreneurs, India ranks 52nd out of 57 countries. Women are not getting the opportunity they deserve in the workplace. When they wish to go it alone, such opportunities are scarce. 
Women, unless well-educated, are handicapped by a lack of understanding of business laws. They can't seem to find the resources they need to secure finance or hire the proper people. It's not that women aren't motivated or enthusiastic about starting enterprises. However, subtle gender biases prevent them from even obtaining loans. Despite all of the progress achieved in women's rights, business is still considered a man's domain (we have often heard that men are much better with numbers than women). Because of this notion, it is more difficult for women to find male business partners or deal with their peers. The realm of entrepreneurship is much less friendly to women than the conventional workplace.
Despite all the economical, societal and biological hurdles, some women are truly taking the world by storm and their journey is certainly one to look forward to.
Falguni Nayar, Nykaa's Founder
Falguni is the founder of Nykaa.com and a well-known businesswoman in India. She launched Nykaa.com after 25 years of experience and a tremendously successful career in financial services. Falguni Nayar, an IIM Ahmedabad graduate, has developed beauty and skin care retail empire.
Divya Gokulnath, Byju's Co-founder
Byju's, an educational platform that helps students study more successfully, was co-founded by Divya. In 2019, Divya was recognised as one of Linkedin's top voices. She feels that education is one of the most effective means of shaping and moulding our children's minds. Her purpose at Byju's is to inspire her teams' passion and energy in order to fulfil BYJU'S vision of "making children fall in love with learning."
Gita Gopinath, IMF Director
Since January 21, 2022, Indian-American economist Gita Gopinath has served as the International Monetary Fund's First Deputy Managing Director. In addition to serving as co-director of the National Bureau of Economic Research's International Finance and Macroeconomics department, the Princeton alumnus has assumed the number-two leadership post at the global financial institution, replacing her prior role as Chief Economist.
Dr Soumya Swaminathan, WHO Chief Scientist
Since March 2019, the Indian paediatrician and clinical scientist has served as the World Health Organization's chief scientist. The AIIMS New Delhi alumna is known for her internationally recognised research on HIV and tuberculosis, as well as her work as a member of the Global Health Summit's high scientific panel. Throughout her career, the prominent Indian scientist has received numerous prizes, including fellowships from prestigious Indian science academies and a lifetime achievement award from the Indian Association of Applied Microbiologists.
Indra Nooyi, PepsiCo Former CEO
Indra Nooyi, arguably one of the most powerful Indian businesswomen in the world, has controlled the business industry for over a decade, serving in powerful roles such as chairperson-CEO of PepsiCo, member of Amazon boards, and the International Chamber of Commerce. From 2008 through 2017, Nooyi, a self-made business magnate, has the distinction of being consistently named among Forbes and Fortune's "World's 100 most influential women."
China Uses the Media, Universities, Companies, and Politicians in India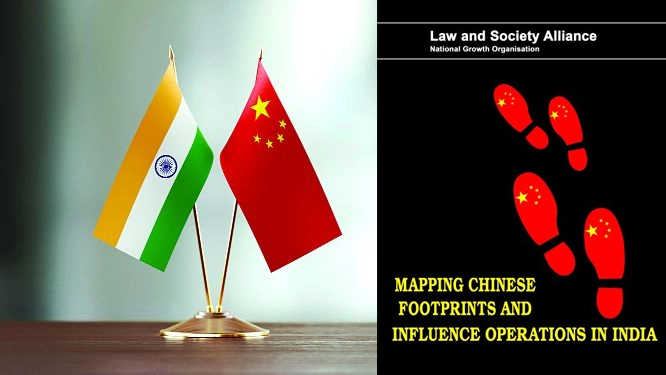 A study paper titled "Mapping Chinese Footprints and Influence Operations in India" was published online by the New Delhi-based think tank Law and Society Alliance. Following the publication of the research, several China-related professionals participated in an online discussion. The experts examined how China has purchased support for itself among academic institutions, think tanks, media outlets, trade associations, tech firms, the entertainment industry, and political parties in India to sway public opinion and undermine the country from within.
China has invested enormous sums of money in buying influence in India's film industry, universities, social institutions, research think tanks, social media, and the tech sector. The conclusion of a 76-page study report titled "Mapping Chinese Footprints and Influence Operations in India" is as follows.
Mapping Chinese Footprints and Influence Operations in India – A Summary
Chinese influence poses a severe threat to India's security and democracy, according to a report published by the Law and Society Alliance. It covers a wide range of themes and has outlined major points and strategies used by the Chinese intelligence agencies and the Chinese government to gain a strong foothold in various Indian industries, including the entertainment industry and academics.
The research also identifies the sectors and geographies where China has boosted its influence over time through smart investments. Additionally, it exposes Beijing's covert plans to sway Indian voters.
The Chinese government has been utilizing every trick in its playbook to make inroads into the Indian economy and society, whether through financial investments in the entertainment business or the socio-political sphere through Confucius Institutes. To forward its self-serving narrative and sow conflict in Indian society regarding China's activities and goals, this is being done, the research claims.
Over the past few years, China has made numerous attempts to sway Bollywood and gain traction in the Indian entertainment sector. Using cinematic co-productions, this was accomplished. Additionally, it has ensured that Bollywood adequately represents its interests, or at the very least, that they are not being hurt.
Furthermore, it has tried to regulate civil society and think tanks.
The report claims that Beijing has made an effort—and in some ways, succeeded—to penetrate deeply into India's intellectual community. It has achieved this by making kind contributions both directly and indirectly. And has been regularly facilitating exchange programs between universities and think groups. Through this program, students visit that nation at the expense of the Chinese government and unwittingly buy into Beijing's propaganda.
The fact that a well-known public management university in India's north-east offers a Post Graduate Programme for Executives (Managing Business in India and China), as part of which students are sent to Chinese universities, is one illustration of Chinese infiltration into the country's educational institutions.
The neighboring nation uses the Confucius Institute, a state-supported social foundation, as another weapon to increase its influence in Indian educational institutions. The centerpiece of its propaganda strategies has been the use of the Indian media and well-known media figures to influence civil society. Using social media and mobile applications, especially those with video capabilities, Beijing has been gently attempting to sway India's populace, as shown in several further instances in the Law and Society Alliance report.
Indian youngsters that are tech aware frequently use mobile apps for daily requirements. In addition, Chinese influence operations have attempted to control this industry, mainly through news apps. Chinese companies have made significant investments in India's top three news applications, Dailyhunt, NewsDog, and UC News, totaling several million US dollars.
China has had an impact on the tech industry in India as well. Around USD 7 billion has been spent in the Indian tech sector by the government and businesses of that nation since 2015. Chinese firms own a sizable stake in several of the biggest tech firms in India, in addition to making numerous acquisitions.
The strong reputation that Chinese telecommunications firm Huawei enjoys among Indian corporate elites and policy circles is another troubling phenomenon that has been appropriately addressed in the report. The Communist Party of India-(CPI-M) Marxist's decision not to condemn or criticize China is one of the cases in the Law and Society Alliance report.
Conclusion
The Law and Society Alliance research has demonstrated that China has significantly impacted several Indian sectors in recent years. Global superpowers, including the US, Canada, and Australia, have already taken action to lessen Beijing's influence on their communities after realizing this rising tendency.