Drone technology can help India grow its agricultural sector as it has the potential to become an element that can be helpful in green technologies.
The pandemic has changed everything, but there's one thing that remains unchanged and that's the contribution of the agriculture sector towards India's GDP. The agriculture sector is the most substantial contributor to the GDP of India. Regardless of Indian agriculture's contribution to the economy, our country is yet to enhance productivity and efficiency in the sector to reach the highest potential.
Despite being such an important sector, there are still many concerns that need to be identified and resolved. Drones has a plethora of applications in various fields and has the potential to become an element that can be helpful in green technologies.
Why India needs drones in agriculture sector?
Agriculture is currently the second-largest market for drone use. Drones are currently getting more recognition in the agriculture industry because of the diversity of uses it provided. Some experts even believe that drone technology will be the future of the agrarian community. Drones are believed to support Indian agriculture as they not only help in improving the performance of the farmers but will also encourage farmers to deal with the barriers that come in the way of healthy agricultural practices.
Benefits drone technology can provide to Indian farmers:
Drones can enhance the productivity of crops: Using drones in the agricultural fields help farmers improve production through irrigation planning, adequate monitoring of crop health, increased knowledge about soil health, and adaptation to environmental changes.


Drones can ensure safety to Indian farmers: India has varied relief features, landforms, climatic realms, and vegetation types, every state in the country provides different conditions to the farmers. Since there is so much difference in the terrain of the country, drones will be more convenient for the farmers and will ensure safety as they can spray pesticides in terrains challenging to reach, infected areas, and taller crops.


With the availability of so many sensors, drones can detect things that are beyond the visible range of human sight. Therefore, real-time, more accurate, reliable, and objective information can be derived from drones with greater detail and fewer errors.
Problems Indian farmers are facing:
Around 60 percent of the Indian population works in the agriculture industry and contributes about 18 percent to the GDP of India. Still, the sector is facing many problems. Presently, farmers are facing many problems like unavailability or high cost of labours, health problems by coming in contact with chemicals (fertilizers, pesticides, etc.), insects or animals destroying the fields, etc. In this context, drones can help farmers in avoiding the above troubles while availing the benefits of using green technology.
Locust swarms are also one of the problems that farmers are facing nowadays. Locusts are known to feed on crops, trees, and other types of plants. Recently, swarms of locusts have invaded several areas in India, including states like Madhya Pradesh, Rajasthan, and Uttar Pradesh. This invasion by locusts left hectares of land destroyed leaving farmers in these states with no choice.
In such a situation, drones can be helpful and can be used in order to protect the crop fields. Using drones to combat the locust swarms is an immediate, secure, and practical approach as they can spray pesticides to larger fields in merely a few minutes.
Drones can help Indian farmers eradicate such problems and can help them contribute to sustainable agriculture. Drone technology can bring great changes to agriculture sector. Also, the appeal of the technology has been further enhanced by the declining costs of drones.
Ways Drones are transforming agriculture:
1. Field analysis:
Drones can be fundamentally useful at the start of the crop cycle. With the help of drones, precise 3-D maps can be created that can analyse soil and aid in planning seed planting patterns.
The ability of drones to cover large ground areas in fewer minutes is a major benefit for mapping generally. Hundreds of hectares can be mapped in a day with the most sophisticated systems accurately pinpointing changes in terrain and boundary features.
2. Crop spraying:
Drones are capable of applying small quantities of pesticides or fertilizers to crops in the agricultural field. Also, because of the technological capabilities that the drone possesses, they can scan the ground and spray the correct amount of liquid, modulating distance from the ground and spraying in real-time for even coverage.
This ultimately will increase efficiency with a reduction in the amount of chemicals penetrating into the groundwater. Also, according to experts, aerial spraying can be completed up to five times faster with drones than with traditional machinery or means.
3. Weed and disease control of plants:
Drones are actually very helpful in assessing weed and disease levels in the crops. They can easily identify the areas in the crop fields where the crop is succumbed to diseases and pests. With this information in hand, farmers can protect their crops and can control the damage.
They also help in monitoring crop health and spot bacterial or fungal infections that harm the crops. Through this monitoring of crops, the farmers can have a speedy response towards protection and can save crops from further damage.
4. Irrigation process:
Drones can actually prove themselves to be highly advantageous when it comes to irrigating the crop fields. They can help farmers in identifying the parts of the field that is dry and the areas that need improvement.
President Joe Biden's Conversation with the Cambodian Prime Minister Hun Sen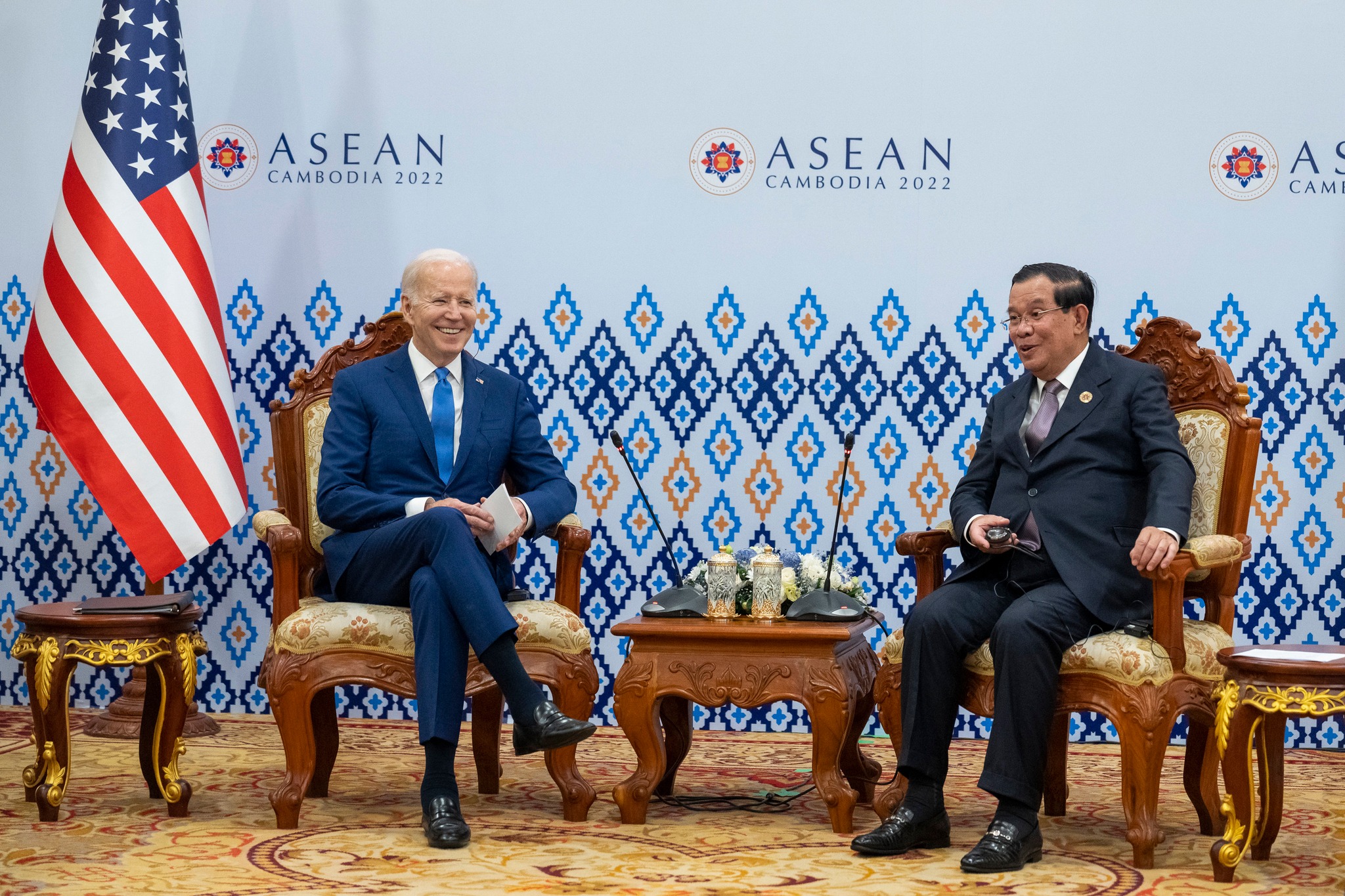 President Joe Biden landed in Cambodia on Saturday and supported the ASEAN nations. Before the eagerly anticipated Group of 20 summits next week in Indonesia, where Biden will meet with Xi for the first time in person since he took office, there will be a weekend of meetings in Cambodia. Before meeting with Xi, the president can engage with US allies at the ASEAN summits and the East Asia Summit on Sunday, both in Phnom Penh.
The US-ASEAN Comprehensive Strategic Partnership, which, according to Biden, "will tackle the biggest issues of our time, from climate to health security, defend against the significant threats to rule-based order and threats to the rule of law, and build an Indo-Pacific that's free and open, stable and prosperous, resilient and secure," was announced as "another critical step" toward building on the group's progress during his remarks at the summit. He cited a budget proposal for $850 million in support for Southeast Asia while praising the US's current financial commitments to ASEAN.
"This is my third journey and third summit, my second in person." The value reflects the United States' commitment to our relationship with ASEAN and our dedication to the region's centrality. The core of the Indo-Pacific strategy of my administration is ASEAN. In his opening remarks to the meeting, Biden said, "And we continue to reinforce our resolve to work in lockstep with an empowered, united ASEAN."
To build on the ASEAN leaders' conference in Washington earlier this year, the president's first meeting in Cambodia was with Prime Minister Hun Sen of Cambodia.
From the beginning of his presidency, Biden "was intent on elevating our engagement in the Indo-Pacific," according to national security adviser Jake Sullivan, and his attendance at the ASEAN and East Asia summits this weekend will highlight his accomplishments to date, including the Indo-Pacific Economic Framework unveiled earlier this year and security partnership initiatives.
"He's coming into this series of summits with that track record of success and purpose behind him, and he wants to be able to use the next 36 hours to build on that foundation to move American engagement forward, as well as to deliver several actual, practical initiatives," Sullivan said.
New initiatives on maritime cooperation, internet connectivity, and economic investment are some of these valuable measures, according to Sullivan. He added that Biden will soon begin a new maritime initiative that will "focus on using radio frequencies from commercial satellites to be able to track dark shipping, illegal and unregulated fishing, and also to improve the capacity of the countries of the region to respond to disasters and humanitarian crises."
Further, he added, Biden will also emphasize a "forward-deployed posture" toward regional defense to demonstrate that the US is actively pursuing security cooperation.
Biden also mentioned a brand-new US-ASEAN electric car infrastructure program during his speech.
He described the project as "a collaborative effort to build an integrated electric car ecosystem in Southeast Asia, enabling the region to achieve sustainable energy, economic growth, and ambitious emissions reduction targets."
Discussions on coordination "to continue to impose costs and build pressure on the junta" will also be centered on Myanmar, which was the subject of a February 2021 coup that ousted the country's democratically elected government.
Key Highlights
Concerns raised by Biden regarding Chinese activity at the Cambodian Ream Naval Base. The president expressed concern over the circumstances at Ream Naval Base and emphasized the value of complete transparency regarding the PRC (China's) military activities there.
The US President congratulated Cambodia's Prime Minister for backing Ukraine at the UN and spoke about the turmoil in military-ruled Myanmar.
President Biden also conveyed his gratitude to Cambodia for supporting resolutions at the UN to defend Ukraine from the brutal assault of Russia.
He thanked Cambodia for holding the ASEAN helm through a trying year.
The leaders "reflection on the historic US-ASEAN Special Summit's success in Washington, DC and applauded plans to establish a US-ASEAN Comprehensive Strategic Partnership at the annual US-ASEAN Summit later that day."
Along with the ASEAN Five Point Consensus, they also discussed the crisis in Burma and ASEAN's reaction, highlighting the international community's crucial role in restoring of democracy and stability in Burma.
In addition, Biden urged releasing activists like Seng Theory and a dual US-Cambodia citizen arrested on politically motivated allegations. The commitment of the United States to the Cambodian people and their goals for a more wealthy, democratic, and independent nation was reaffirmed by President Biden.