In March 2018, China lifted the ten-year limit, and allowed Xi to remain President for life. The autocratic nature of Xi is often compared to that of Mao. Getting the constitution changed in order to remain in power for a life term speaks volumes about Xi's power and control. This was widely anticipated along with Xi's assertive nature that could possibly result in clashes with China's neighbours. There were speculations about the affect on the domestic or internal politics, as many Chinese elites raise questions around the autocratic-communist regime.
Hu Jintao the former general secretary of the Chinese Communist Party (CCP) preceding Xi, has also been extremely strategic and assertive in terms of Indo-China relations. The China's efforts to build ports, plant debt traps around the Indian border, install naval arsenal throughout the Indian Ocean Region commonly known as the String of Pearls strategy was facilated and started when China was under Hu's reign.
On May 5 2020, a Violent clash between Indian and Chinese patrols on the northern bank of Pangong Tso lake took place, many soldiers injured on both side. In the skirmish between about 250 men, the Chinese attacked Indian patrols with nail-studded clubs
On June 12 and 13, senior Army officials from both the sides discussed de-escalation to ease border tensions. CoAS India, M.M Naravane says disengagement by both sides is taking place in a 'phased manner' along the LAC, and the situation is under control.
On June 15, Army delegations from India and China held talks again. Brigadier-ranked officers met at the Galwan Valley whereas Colonel-ranked officers met at the Hot springs in Ladakh. Later, in the evening, a skirmish took place. The violent military clash at the Ladakh LAC between India and China has come as a cause of concern for geopolitics worldwide. Few days after the violent faceoff martyring Army men on both the sides, the US intelligence came up with speculations about the Chinese commander's deliberate escalation at the LAC. According to the US intelligence assessment, a general ranked officer of the PLA authorised his forces to attack Indian troops in the Galwan valley. The senior Chinese officer's orders resulted in a brutal skirmish and a dramatic escalation of tensions between the two Asian powehouses.
Defying the US intel reports, Chinese ministries blamed India for the June 15 LAC faceoff. Following this, new satellite images surfaced on the internet on June 24, raise concerns of an increase in the number of Chinese deployments along the Galwan Valley. A Twitter handle @detresfa_, has been releasing images of the LAC since May 2020. The latest images show a massive build-up of the PLA troops.
The June 15 face-off between the two nuclear powers has been the first since 1975. India lost 20 men including a commanding officer. The PLA is said to have a casualty figure of 43.
Nepal encroachment
Nepal and India's relations turned sour after Nepal unilaterally released its new political map claiming the Indian road of Lipulekh as a part of Nepal. The said road has been under the Indian territory for over 60 years. Nepal went forward with this decision without any dialogue or consencus with India.
Days after the Sino-Indian Galwan clash, A Nepal government report accessed by ANI said that China is using increased road construction in Tibet to encroach on Nepali land and may set up border outposts in these areas in the future.The report, prepared by Survey Department of Agriculture Ministry, shows a list of 11 places, of which China has encroached on 10 places comprising about 33 hectares of Nepali land, by diverting the flow of rivers which act as a natural boundary.
"The flow of rivers is gradually receding the Nepalese territories and if it continues to remain so for some more time, it would cede the maximum portion of Nepal's land towards TAR," the document obtained by ANI states.
Chinese vessels trespassing Indian EEZs
Chinese vessels are known to trespass Indian territorial waters and devoid the Indian fisher folk of piscine resources. In June 2019, during Cyclone Vayu, Indian fishermen, alleged that the government has facilitated foreign vessels to trespass and fish in Indian waters. According to UNCLOS, foreign vessels are not permitted to enter the Exclusive Economic Zone (EEZ), in essence the expanse of 200 nautical miles, as it is reserved for the state's coast. Chinese fishing trawlers are highly equipped and it is feared that they might rob all the fish and leave the Indian fishermen insolvent. A Chinese trawler when held in the Indian waters revealed shocking details. The inspection revealed that the Chinese had a huge stock of fish endemic to Indian waters.
"The boats are equipped with 500,000-watt LED lights and illegal fishing gears. They've squid jigging equipment, purse seine and pelagic fishing nets and devices to catch dolphin — an endangered marine mammal. The crew hail from Indonesia and China and most of them do not possess valid travel documents including passports. It is said diplomatic talks are on to release the 200 odd crew members," said the federation's vice- president Joseph Xavier Kalapurackal, who is also general secretary of All Kerala Fishing Boat Operators' Association.
Even after the boycott on Chinese products post Galwan valley clash, China is minting money massively by fishing in the Southern Indian Ocean using deep sea trawlers. China is enjoying the monopoly as the Indian fisher folk is not advised to fish during high seas or contiguous zone of upto 24 nautical miles from the coast. Indian trawlers operate only till about 20 nautical miles from the coast. A total of 500 Chinese boats have been identified fishing in Indian waters; they are equipped with high-intensity underwater lights, deep sea trawling nets, and vast storage tanks. Chinese attract fish from the ocean bottom and are depleting resources from India's Exclusive Economic Zone (EEZ).
This is not the only instance where China poses as a maritime peril for India. In March 2020, a fleet of 12 Underwater Unmanned Vessels (UUV) drones were identified in the Indian Ocean Region (IOR). Reports suggest that these UUV drones were deployed since December 2019. On questioning, the Chinese defended their stance by saying that the drones were posited for studying the ocean floor. It is a great threat to India as these drones could have recorded sensitive information about Indian waters. This information might be of strategic use for China; the drones might also be used for anti-submarine warfare against India.
By Kunjan Ahluwalia
President Joe Biden's Conversation with the Cambodian Prime Minister Hun Sen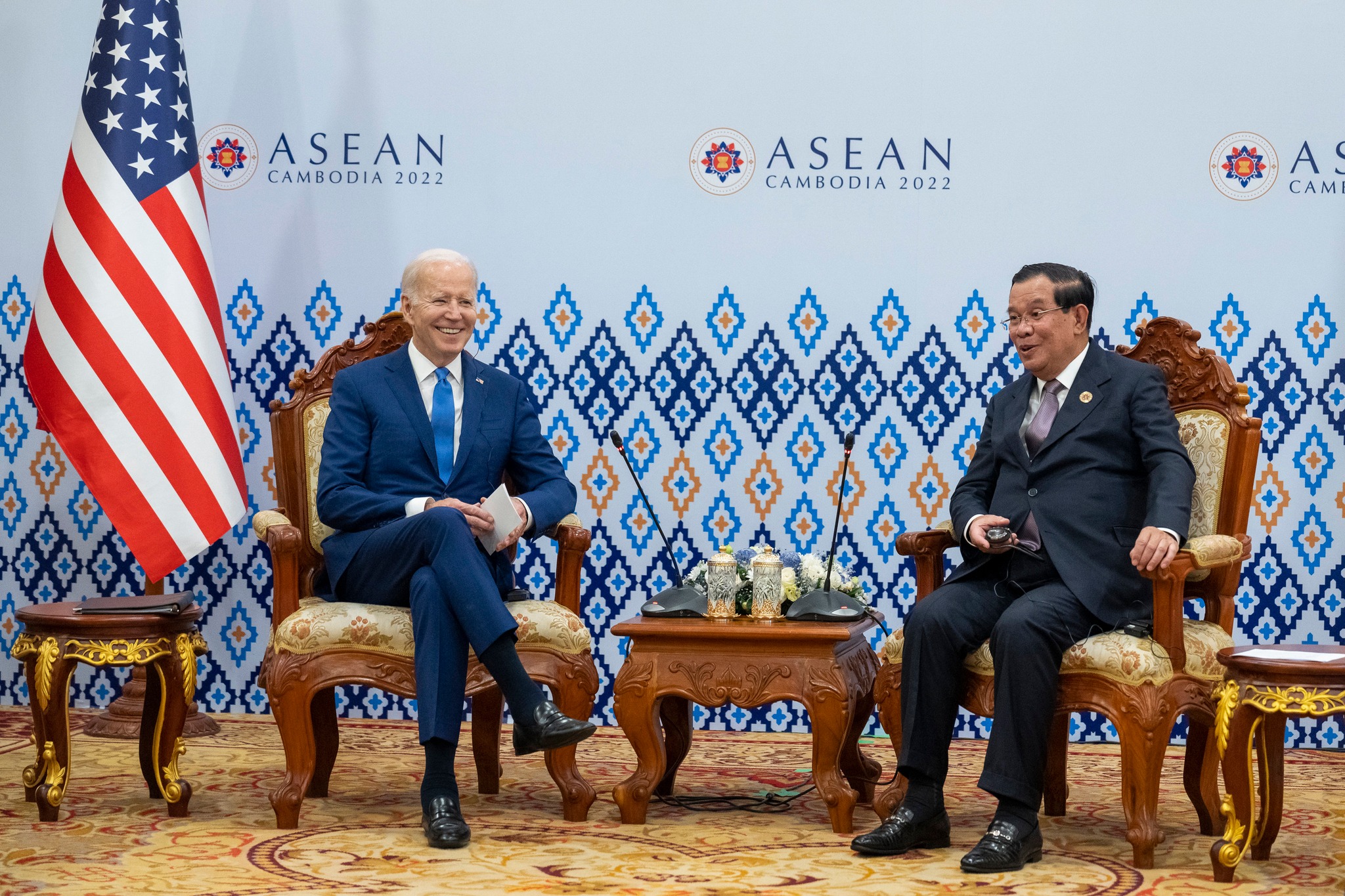 President Joe Biden landed in Cambodia on Saturday and supported the ASEAN nations. Before the eagerly anticipated Group of 20 summits next week in Indonesia, where Biden will meet with Xi for the first time in person since he took office, there will be a weekend of meetings in Cambodia. Before meeting with Xi, the president can engage with US allies at the ASEAN summits and the East Asia Summit on Sunday, both in Phnom Penh.
The US-ASEAN Comprehensive Strategic Partnership, which, according to Biden, "will tackle the biggest issues of our time, from climate to health security, defend against the significant threats to rule-based order and threats to the rule of law, and build an Indo-Pacific that's free and open, stable and prosperous, resilient and secure," was announced as "another critical step" toward building on the group's progress during his remarks at the summit. He cited a budget proposal for $850 million in support for Southeast Asia while praising the US's current financial commitments to ASEAN.
"This is my third journey and third summit, my second in person." The value reflects the United States' commitment to our relationship with ASEAN and our dedication to the region's centrality. The core of the Indo-Pacific strategy of my administration is ASEAN. In his opening remarks to the meeting, Biden said, "And we continue to reinforce our resolve to work in lockstep with an empowered, united ASEAN."
To build on the ASEAN leaders' conference in Washington earlier this year, the president's first meeting in Cambodia was with Prime Minister Hun Sen of Cambodia.
From the beginning of his presidency, Biden "was intent on elevating our engagement in the Indo-Pacific," according to national security adviser Jake Sullivan, and his attendance at the ASEAN and East Asia summits this weekend will highlight his accomplishments to date, including the Indo-Pacific Economic Framework unveiled earlier this year and security partnership initiatives.
"He's coming into this series of summits with that track record of success and purpose behind him, and he wants to be able to use the next 36 hours to build on that foundation to move American engagement forward, as well as to deliver several actual, practical initiatives," Sullivan said.
New initiatives on maritime cooperation, internet connectivity, and economic investment are some of these valuable measures, according to Sullivan. He added that Biden will soon begin a new maritime initiative that will "focus on using radio frequencies from commercial satellites to be able to track dark shipping, illegal and unregulated fishing, and also to improve the capacity of the countries of the region to respond to disasters and humanitarian crises."
Further, he added, Biden will also emphasize a "forward-deployed posture" toward regional defense to demonstrate that the US is actively pursuing security cooperation.
Biden also mentioned a brand-new US-ASEAN electric car infrastructure program during his speech.
He described the project as "a collaborative effort to build an integrated electric car ecosystem in Southeast Asia, enabling the region to achieve sustainable energy, economic growth, and ambitious emissions reduction targets."
Discussions on coordination "to continue to impose costs and build pressure on the junta" will also be centered on Myanmar, which was the subject of a February 2021 coup that ousted the country's democratically elected government.
Key Highlights
Concerns raised by Biden regarding Chinese activity at the Cambodian Ream Naval Base. The president expressed concern over the circumstances at Ream Naval Base and emphasized the value of complete transparency regarding the PRC (China's) military activities there.
The US President congratulated Cambodia's Prime Minister for backing Ukraine at the UN and spoke about the turmoil in military-ruled Myanmar.
President Biden also conveyed his gratitude to Cambodia for supporting resolutions at the UN to defend Ukraine from the brutal assault of Russia.
He thanked Cambodia for holding the ASEAN helm through a trying year.
The leaders "reflection on the historic US-ASEAN Special Summit's success in Washington, DC and applauded plans to establish a US-ASEAN Comprehensive Strategic Partnership at the annual US-ASEAN Summit later that day."
Along with the ASEAN Five Point Consensus, they also discussed the crisis in Burma and ASEAN's reaction, highlighting the international community's crucial role in restoring of democracy and stability in Burma.
In addition, Biden urged releasing activists like Seng Theory and a dual US-Cambodia citizen arrested on politically motivated allegations. The commitment of the United States to the Cambodian people and their goals for a more wealthy, democratic, and independent nation was reaffirmed by President Biden.