Now, most of the readers might be thinking if Women's day is around the corner…Ummm no! Womanhood should be celebrated every day. Nalbari, a Zila Parishad in Assam has witnessed a roaring victory on women's oppression in India. Most of the top-level posts in Nalbari district are headed by women.
According to a report by The News Mill, Assam Civil Service (ACS) officer Purabi Konwar was all set to join as the first woman deputy commissioner of the district. She was CEO of the Zila Parishad in Dhubri district prior to this. Presently, Senior ACS officer Krishna Baruah, meanwhile, is the CEO of the district Zila Parishad
IPS officer Amanjeet Kaur, who was earlier posted as the deputy commissioner of police (traffic) in Guwahati, now holds the post of Nalbari's SP. Her deputy is also a woman, Jupi Bordoloi.
Out of the seven revenue circles in the district, four are headed by women officers.
More powerful women leaders in India officers are said to be tirelessly heading the social welfare sector circle office and judiciary department — the district labour officer (Kabita Barman), district social welfare officer (Padmeswari Saikia), sub-registrar of revenue (Madhabi Kalita), sub-divisional agriculture officer (Lakhi Dutta) and others.
"This is really something we are proud of. I hope Nalbari as a district can set an example in the entire country about how a bunch of women officers are running the administration with equal elan like their male counterparts" said Devaprakash Bhagawati, a local activist.
This district is setting an example for women all over the world, but especially for those in India. If given a fair chance, a woman can lead a nation. It would be unfair to talk about equality because no gender is competing with another. But, yes empowerment, though used callously and sometimes without meaning, is sure for women to seek. Women survive a biological bloodstream every month and act as though its no big deal. A woman can run both households and offices, but still, it is her choice. A homemaker is as much hard-working as a working woman. Women need to be there for each other because sometimes nobody else is.
Indra Nooyi who is the former CEO of PepsiCo is an inspiration to many women. She is currently on the board of Amazon. She consistently features in the World's 100 most powerful women list.
Vandana Bahadur Maida, has been known as the first female panchayat head of her village. She has been making plans to build bridges and schools and solving some critical livelihood problems of her people. Nonetheless, today, such activities are a part of her daily life in Khankhandvi village of Madhya Pradesh.
Former investment banker, Arati Devi chose to leave her plush job to make a difference in her village Dhunkapara in Odisha. One of India's youngest sarpanchs, Arati is considered one of the most active ones too. Other than launching a campaign to revive traditional folk art in her village, she also ensures that the benefits of the various government schemes reaches the people who need it the most. Arati's wonderful work was recognized internationally when she was selected to be a part of International Visitors Leadership Program by the US Consulate to speak on the importance transparency and accountability in the government. Source: The Better India
Kasturi Duraisamy beacme the first women president in her village and this was her very first election. She aims to lay permanent roads in her village which is need of the hour. She aspires to ensure proper implementation of various government schemes ed She further hopes to ensure that every woman's need in her village is fulfilled. Kasturi told The News Indian Express, "As soon as elections were announced, I thought of contesting. I've seen men in my village govern, and create change. I thought this time, I could do it. I have complete support from my husband and family."
Captain Swati Raval, commanding the Air India Boeing 777, has been instrumental in bringing back stranded Indians during the COVID-19 pandemic. She is applauded for airlifting 263 Indians stranded in Rome and bringing them back to Delhi. Capt Swati Raval is the first woman pilot to operate a rescue flight.
INS Tarini's all-women crew is seen as the epitome of empowerment. The all-women Indian crew to successfully circumnavigate the globe on a 55-foot sailing vessel. The six members of Navika Sagar Parikrama during their 254-day expedition covered 22,000 nautical miles. A documentary titled 'Tarini' was jointly made by National Geographic and the Indian Navy.
Indian Army Day 2020 witnessed Indian Army's Captain Tania Shergil as the first woman parade adjutant in Army Day Parade to lead an all-men contingent. A parade adjutant is responsible for executing the parade. Captain Tania Shergill, who is an officer with Army's Corps of Signals, will also be the first woman parade adjutant for the Republic Day parade.
In 2019, Captain Bhavna Kasturi became the first woman officer to lead an all-men contingent in the Republic Day parade. Army Day is celebrated every year on January 15.
Sub Lieutenant Shivangi became first naval woman pilot and joined operational duties in the presence of top naval officials at the Kochi base. Shivangi has flown Pilatus PC 7 Mk II, Basic Trainer at AFA and completed Dornier Conversion with the Indian navy in Kochi. She would continue her training at INAS 550, the Dornier squadron at INS Garuda, to become a fully operational pilot on Maritime Reconnaissance (MR) aircraft. Source: Economic Times The Indian Navy Day is celebrated every year on December 4.
I am WOMAN, hear me roar!!!
May Fourth Movement at Tiananmen Square- China's Awakening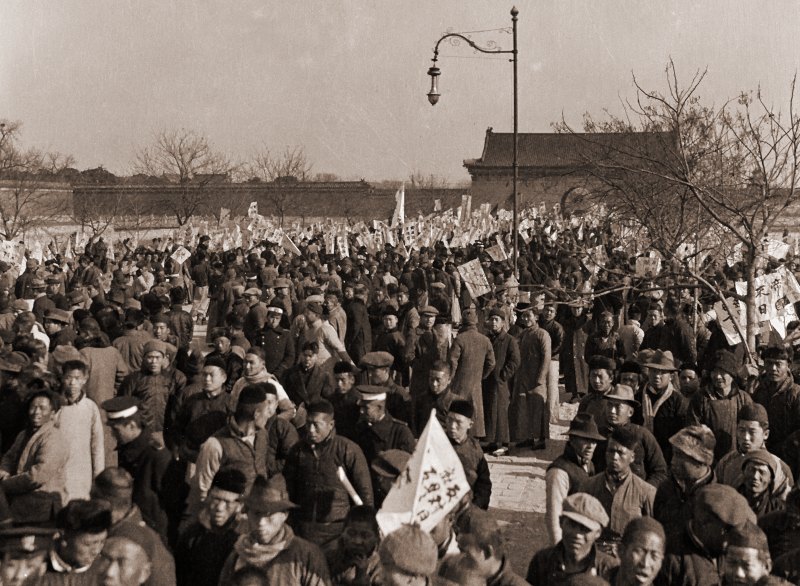 Early in the 20th century, China had a significant socio-political and intellectual movement known as the May 4th Movement, often called the New Culture Movement. It gained support from a wide range of intellectuals, laborers, and business people as it migrated from Beijing to other significant Chinese cities with demands to abandon ancient Confucian principles and to adopt the Western ideals of democracy, freedom, and equality instead. 
While aiming to imbibe the modern thought, these protesters demanded that foreign imperialism be ceased and control be given back to the Chinese. By challenging long-standing conventions and paving the way for a more progressive and open society, this Movement had a significant impact on Chinese intellectual and cultural history.
What Happened on May 4th 1919? 
On May 4, 1919 Chinese students started a series of demonstrations in Beijing, notably in Tiananmen Square. They took to the streets to protest and express their dissatisfaction with the government. Gradually this movement spread to parts of Shanghai and Guangzhou, making it a large-scale student protest. 
What was the Reason of the Student Protest on May 4, 1919?  
First, The Treaty of Versailles & Shandong Problem – The discussion of the Treaty caused much resentment over how China was being treated during the post-World War I by Western powers, especially with regards to Shandong. The German concessions in Shandong were not returned to China but instead were given to Japan. Intellectuals and students in China therefore could not help but be patriotic and anti-imperialist.
Second, existing sociocultural problems in the Chinese society – Disillusionment with traditional Chinese culture and values were growing among Chinese intellectuals and students. Discontentment with existing and belief on the new concepts and philosophies, especially those acquired from the West, were sought to replace these established principles. Thus, fostering science, democracy, and individuality became very important.
What Made May Fourth Movement so Successful?
The Movement's ability to win widespread support from various facets of society was one of the main factors in its success.

Unlike any previous protests in China, the

May 4

Movement

was organised and led by students and intellectuals. They planned gatherings, marches, demonstrations, printed newspapers, and pamphlets to disseminate their views and unite participants. It was this initiative that attracted more people to join, including workers, business people and warlords. This increased the movement's power, and the government was pressured to respond to its demands thanks to this wide-ranging support.
Utilizing new media and communication channels effectively was another key.

Students published their ideas through newspapers, journals, and speeches to get support from the public. They also built relationships with activists and intellectuals who shared their views in other places, which helped the cause extend outside of Beijing. The Movement was able to unite thanks to these communication tactics and develop a sense of a common goal.
The next reason of the movement's success can be traced to its appealing and distinct goals

. The Movement had a clearly stated mission, which included calls for democracy, the democratization of China, and the nation's revitalization. A sizeable segment of the populace, demanding modernization and reform in the face of foreign dominance, identified with these goals.
The Movement also capitalized on a potent anti-imperialist and sense of national pride.

The 'Shandong Problem' that was viewed as a violation of Chinese interests in the Treaty of Versailles sparked a strong sense of fury and served as the Movement's unifying cause. The participants shared rage against foreign imperialism, and the need for national self-determination was a potent unifying force.
What was the May Fourth Movement Significance & Impact on Post World War 1 China?
The success of the May 4th Movement left a long-lasting influence on Chinese politics and society. The movement produced an intellectual and cultural awakening that significantly changed Chinese values and thought. Some major political and social reforms in China that are still cherished and recognised as attributes to the May 4 movement are-
Anti-Imperialist and anti-Warlord Feelings: The Movement stoked a genuine anti-imperialist feeling among the Chinese. It stepped up the fight against foreign meddling and prepared the way for the eventual downfall of imperial control. The Movement also helped reduce the influence of warlords by exposing their corruption and incompetence, further damaging their reputation among the populace.
Founding of Communist Party in 1921: The Chinese Communist Party (CCP) was established mainly due to the May 4th Movement. Many academics and students identified with the Movement's emphasis on social justice, anti-imperialism, and the empowerment of the working class. Therefore, this Movement offered a favourable environment for the propagation of communist doctrine, resulting in the CCP's founding in 1921. The party would later be crucial in determining the course of China's development.
Anti-Japanese Sentiments: The Movement also stoked prejudice towards the Japanese, which is still present today. The Movement's hostility to the Treaty of Versailles's unfair treatment of China, particularly the transfer of German concessions in Shandong to Japan, strengthened a sense of national outrage towards that country. This attitude was the impetus for later resistance to Japanese aggression, culminating in the Sino-Japanese War (1937–1945), and the present that hate that since liberation was kept alive by CCP leaders especially Mao Zedong and Xi Jinping. 
Large-scale but not widely supported – Controversies & Criticisms of May 4th Movement
Despite its enormous support and influence, the May 4th Movement came under fire from 
several groups, notably Chinese Muslim Community and Kuomintang (KMT) – affiliated nationalists. 
The Chinese Muslims & ethnic groups were concerned about the Movement's emphasis on Westernisation and rejection of traditional values, most notably by people in Northwest China. They felt that the calls for a secular society and the adoption of modern ideas were in opposition to Islamic doctrine and cultural norms. Chinese Muslims saw the Movement as a potential danger to their identity and way of life since they connected so closely with their religious and cultural history. They were concerned that the emphasis on Westernisation might undermine their Islamic principles and push their communities to the margins.
The KMT Nationalists under the leadership of Chiang Kai-shek criticized the Movement's extremism and connection to communist philosophy. Chiang and other KMT members thought the Movement's focus on the class struggle and worker emancipation would erode social stability and impede national unity. They said that the Movement's emphasis on urban intellectuals ignored the requirements and ambitions of the rural masses, who comprised most Chinese citizens. As a danger to Chinese culture and social order, the KMT also criticized the Movement's rejection of traditional Confucian principles.
A revolution is not a dinner party, or writing an essay, or painting a picture, or doing embroidery; it cannot be so refined, so leisurely and gentle, so temperate, kind, courteous, restrained and magnanimous. A revolution is an insurrection, an act of violence by which one class overthrows another.

– Mao Zedong
Despite the criticism, it is essential to note that the May 4th Movement it must be accepted that the Chinese history underwent significant change during this Movement. It brought about substantial political, social, and cultural transformations that influenced the development of contemporary China. The Movement's legacy still impacts Chinese society today and represents youth activism, pride in one's country, and the desire for social change.