Now, most of the readers might be thinking if Women's day is around the corner…Ummm no! Womanhood should be celebrated every day. Nalbari, a Zila Parishad in Assam has witnessed a roaring victory on women's oppression in India. Most of the top-level posts in Nalbari district are headed by women.
According to a report by The News Mill, Assam Civil Service (ACS) officer Purabi Konwar was all set to join as the first woman deputy commissioner of the district. She was CEO of the Zila Parishad in Dhubri district prior to this. Presently, Senior ACS officer Krishna Baruah, meanwhile, is the CEO of the district Zila Parishad
IPS officer Amanjeet Kaur, who was earlier posted as the deputy commissioner of police (traffic) in Guwahati, now holds the post of Nalbari's SP. Her deputy is also a woman, Jupi Bordoloi.
Out of the seven revenue circles in the district, four are headed by women officers.
More powerful women leaders in India officers are said to be tirelessly heading the social welfare sector circle office and judiciary department — the district labour officer (Kabita Barman), district social welfare officer (Padmeswari Saikia), sub-registrar of revenue (Madhabi Kalita), sub-divisional agriculture officer (Lakhi Dutta) and others.
"This is really something we are proud of. I hope Nalbari as a district can set an example in the entire country about how a bunch of women officers are running the administration with equal elan like their male counterparts" said Devaprakash Bhagawati, a local activist.
This district is setting an example for women all over the world, but especially for those in India. If given a fair chance, a woman can lead a nation. It would be unfair to talk about equality because no gender is competing with another. But, yes empowerment, though used callously and sometimes without meaning, is sure for women to seek. Women survive a biological bloodstream every month and act as though its no big deal. A woman can run both households and offices, but still, it is her choice. A homemaker is as much hard-working as a working woman. Women need to be there for each other because sometimes nobody else is.
Indra Nooyi who is the former CEO of PepsiCo is an inspiration to many women. She is currently on the board of Amazon. She consistently features in the World's 100 most powerful women list.
Vandana Bahadur Maida, has been known as the first female panchayat head of her village. She has been making plans to build bridges and schools and solving some critical livelihood problems of her people. Nonetheless, today, such activities are a part of her daily life in Khankhandvi village of Madhya Pradesh.
Former investment banker, Arati Devi chose to leave her plush job to make a difference in her village Dhunkapara in Odisha. One of India's youngest sarpanchs, Arati is considered one of the most active ones too. Other than launching a campaign to revive traditional folk art in her village, she also ensures that the benefits of the various government schemes reaches the people who need it the most. Arati's wonderful work was recognized internationally when she was selected to be a part of International Visitors Leadership Program by the US Consulate to speak on the importance transparency and accountability in the government. Source: The Better India
Kasturi Duraisamy beacme the first women president in her village and this was her very first election. She aims to lay permanent roads in her village which is need of the hour. She aspires to ensure proper implementation of various government schemes ed She further hopes to ensure that every woman's need in her village is fulfilled. Kasturi told The News Indian Express, "As soon as elections were announced, I thought of contesting. I've seen men in my village govern, and create change. I thought this time, I could do it. I have complete support from my husband and family."
Captain Swati Raval, commanding the Air India Boeing 777, has been instrumental in bringing back stranded Indians during the COVID-19 pandemic. She is applauded for airlifting 263 Indians stranded in Rome and bringing them back to Delhi. Capt Swati Raval is the first woman pilot to operate a rescue flight.
INS Tarini's all-women crew is seen as the epitome of empowerment. The all-women Indian crew to successfully circumnavigate the globe on a 55-foot sailing vessel. The six members of Navika Sagar Parikrama during their 254-day expedition covered 22,000 nautical miles. A documentary titled 'Tarini' was jointly made by National Geographic and the Indian Navy.
Indian Army Day 2020 witnessed Indian Army's Captain Tania Shergil as the first woman parade adjutant in Army Day Parade to lead an all-men contingent. A parade adjutant is responsible for executing the parade. Captain Tania Shergill, who is an officer with Army's Corps of Signals, will also be the first woman parade adjutant for the Republic Day parade.
In 2019, Captain Bhavna Kasturi became the first woman officer to lead an all-men contingent in the Republic Day parade. Army Day is celebrated every year on January 15.
Sub Lieutenant Shivangi became first naval woman pilot and joined operational duties in the presence of top naval officials at the Kochi base. Shivangi has flown Pilatus PC 7 Mk II, Basic Trainer at AFA and completed Dornier Conversion with the Indian navy in Kochi. She would continue her training at INAS 550, the Dornier squadron at INS Garuda, to become a fully operational pilot on Maritime Reconnaissance (MR) aircraft. Source: Economic Times The Indian Navy Day is celebrated every year on December 4.
I am WOMAN, hear me roar!!!
Assassination of Shinzo Abe & Salman Rushdie – Know Real Facts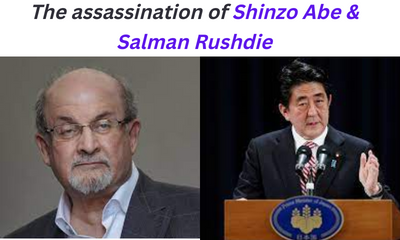 The months July and August of 2022 saw two cases of extermination to promote the fear of terrorism. One of the assassination of Shinzo Abe former Japanese Prime Minister, and another of the famous Novelist Salman Rushdie.
Shinzo Abe succumbed to a gunshot wound, whereas Rushdie's health conditions are improving and he is under medical supervision after the knife attack. However, various assassination attempt of Salman Rushdie has been made during the year.
These two terror acts force us to think about the impact of terrorism on society, the main objective of which is to create an atmosphere of fear so that citizens of the country cannot rely on their government.
This ultimately disturbs the law and order of the society, and serves the terrorists' purpose of creating a chaos.
Here we will see how these two attacks had different reasons but the objective remained the same – to stop someone from propagating his/her opinions independently, and also the factors that make attackers indulge in such acts.
Assassination Attempt of Salman Rushdie – Satanic Controversy
On 12 August 2022, Rushdie was attacked several times by a 24-year-old man Hadi Matar. The attacker's intentions can be linked to Rushdie's fourth novel, The Satanic Verses, published in 1988. Some Muslims considered the novel disrespectful towards Prophet Mohammed.
Soon after its publication, the novel sparked a 'fatwa' or a religious decree. The Iranian revolutionary leader Ayatollah Ruhollah Khomeini called for Rushdie's death in 1989. After, this various assassination attempt of Salman Rushdie has been made.
Complete conversation for Salman Rushdie Assassination:
When asked about the attack Hadi Matar said, "I don't like the person. I don't think he's a very good person. I don't like him very much". He further criticised Rushdie's work by saying, "He's someone who attacked Islam, he attacked their beliefs, the belief systems". Mr. Matar also told New York Post that he had only read 'a couple of pages' of the book and did not tell about whether the fatwa had inspired him or not.
While praising the Iranian religious leader, he stated, "I respect the Ayatollah. I think he's a great person. That's as far as I will say about that".
One can observe that the psychology of the attacker was that he simply disliked the novelist because of his work; although he read only two pages of the novel, but was rather influenced by the religious leaders and their sayings. Just, like this the assassination of Shinzo Abe has been made during this year, which we will discuss on next section.
Perceptions like these can have a long-lasting impact on future generations which can further deteriorate the situation. Violent acts like this demand proper scrutiny of the dissemination of information.
Extremists take advantage of such incidents and brainwash the young minds so that they can be used by them for their selfish purposes.
Assassination of Shinzo Abe – Complete Truth
On 8 July 2022, it was just another day of Abe's political campaign for the upcoming parliamentary elections. He was delivering a speech in Nara City, but no one is the aware about the assassination of Shinzo Abe that day. When a 41-year-old Tetsuya Yamagami shot him twice from behind from a distance of about 10 meters.
During the investigation, he confessed his intentions of killing and it was found that his motives had more to do with religious backing instead of a political reason.
It so happened that Yamagami's mother was a member of a religious group which she joined after her husband's death in 1998. She used to donate huge amounts of money as charity to the group, after the assassination of Shinzo Abe and Yamagami blames the sect for bankrupting his mother.
Confession Statement on Abe Case
The report reveal that Abe was closely associated with the sect, and wanted to take revenge against him for promoting it. "The suspect stated that he held a grudge against a particular organisation and that he committed the crime because he believed former Prime Minister Abe had a connection to it", a senior police officer in Japan's Nara region told reporters.
While the police hasn't given any clarification regarding the unidentified organization, social media in Japan has it that it could be the Unification Church.
Yamagami was unemployed, felt isolated in society, was against religious preaching and blind faith, and wanted to kill the leader of the religious organization but couldn't. One can see the psychological aspects of it that, the killer was anguished with the organisation and blamed them for his conditions and economic turmoil.
Ultimately his grudge converted into a motive of taking revenge for his loss and he did that by killing the perpetrator of the religious group, to give a message to the society and the world that one should avoid themselves from joining or contributing to such groups.
Japan has the strictest gun laws after the assassination of Shinzo Abe , so to bypass such stringent laws the killer used a handmade gun. The occurrence of such incidents in the island nation shows how much resentment the killer has and how strongly he was motivated to commit the murder.
Such incidents are eye-openers for the society that someone's freedom of belief can become others' pain, and teaches that as a society we should try to maintain a balance between them.
Two Paths to Crime
The above two accidents of assassination of Shinzo Abe, and the assassination attempt of Salman Rushdie has been terrifying for the country. First, being a part of a religious group the killer face hardship in his life, which forced him to commit the crime. In the second instance, the attacker got the impression that his religion is being targeted and that it is his responsibility to take revenge so that next time no one dares to do anything like that again.
Interpretation of things based on pre-assumed thoughts can lead to revenge, and revenge based on half-baked knowledge causes harm to the whole humanity, and not just the particular group concerned.