With the announcement of the Nobel Prize in chemistry 2020, the debate of under-representation of women in Nobel Prizes is back.
The 2020 Nobel Prize for went to Scientists Emmanuelle Charpentier and Jennifer Doudna for the development of a method for genome editing that has revolutionised science by providing a way to alter DNA. It is a historic first for women in Nobel Prize as it is for the first time a Nobel science prize is given to more than one woman, but no men, in a specific category. 
If calculated with precision, it can be clearly outlined that since the inception of the Nobel prize in 1901, it has happened for around 169 times that multiple men and no women in a specific category have won the Nobel prize. In the last 120 years of Nobel prizes in medicine, physics, and chemistry, prizes were awarded 599 times to men and only 23 times to women.
The Nobel Prize in Economic Sciences have been awarded to women 57 times between 1901 and 2020. Only one woman, Marie Curie, has been honoured twice, with the 1903 Nobel Prize in physics and the 1911 Nobel Prize in chemistry. This means that 56 women in total have been awarded the Nobel Prize between 1901 and 2020.
Two female scientists made history:
Emmanuelle Charpentier and Jennifer Doudna are the first two women to share the prize, which honours their work on the technology of genome editing. The award smashed records and made scientific history as the only science Nobel ever won by two women.
Charpentier, who is French, and Doudna, an American, become the sixth and seventh women to win a Nobel Prize for chemistry. They discovered one of gene technology's sharpest tools: the CRISPR/Cas9 genetic scissors. Using these, researchers can change the DNA of animals, plants, and micro-organisms with extremely high precision.
In an interview with reporters after the award was announced, Charpentier said that while she considers herself a scientist first, she is happy and a bit shocked that two women won the Nobel. "I think it's very important for women to see a clear path. I think the fact that Jennifer Doudna and I were awarded this prize today can provide a very strong message for young girls," she said.
While Doudna said, "I'm proud of my gender. I think it's great, especially for younger women, to see this and to see that women's work can be recognized as much as men's."
5 innovative women in history who won Nobel Prize in Chemistry:
The Nobel Prize in chemistry is the most prestigious and highly regarded prize a chemist may receive in their lifetime. Since its commencement in 1901, it has been awarded to a total of 184 chemists, but only five of these Nobel Laureates are women. Let's take a look at those women who created their space in this male-dominated area:
1. Marie Curie
Marie Curie, no doubt, is the most widely known chemist. Born as Maria Salomea Skłodowska in Warsaw in 1867, she studied at the Sorbonne University in Paris, where she met Pierre Curie, who later became her husband and her colleague in the field of radioactivity.
Curie was awarded the Nobel Prize in chemistry in 1911 for her discovery of the radioactive elements radium and polonium. This was not her first Nobel Prize, however, and she received the award in physics in 1903, along with her husband and Henri Becquerel, in recognition of their research into radioactivity.
2. Irène Joliot-Curie
Irène Joliot-Curie was the daughter of Marie Curie. Irène was primed to be a scientist from a young age. She also served as a nurse radiographer during the First World War. She was awarded the Nobel Prize in chemistry in 1935 with her husband Frederick Joliot-Curie for their synthesis of new artificial radioactive elements.
3. Dorothy Hodgkin
Another chemist who was interested in the use of X-rays was Dorothy Hodgkin. Hodgkin was awarded the Nobel Prize in chemistry in 1964 for her work in the determination of the structures of biomolecules important to life. Her work changed the way we treat bacterial infections and led to the generation of many penicillin-derived antibiotics.
4. Ada E. Yonath
Ada E. Yonath was awarded the prize in 2009, around 45 years after Hodgkin was awarded her Nobel Prize in chemistry. She was awarded the prize for studies of the structure and function of the ribosome, a vital subunit found in cells. As ribosomes are made up of hundreds of thousands of atoms, many scientists dismissed Yonath's attempt to solve their structure, a task they deemed impossible.
5. Frances Arnold
Frances Arnold was awarded the prize in 2018, along with Sir Gregory Winter and George Smith for their production of new enzymes and antibodies by directed evolution. Arnold established a method of tailoring enzymes so that they can carry out their function more efficiently, or carry out new functions altogether.
Only 2 women till now have been awarded Nobel Prize in economics:
On November 27, 1895, Alfred Nobel signed his last will and testament, giving the largest share of his fortune to a series of prizes in Physics, Chemistry, Physiology or Medicine, Literature and Peace the Nobel Prizes. And in 1968, Sveriges Riksbank (Sweden's central bank) established The Sveriges Riksbank Prize in Economic Sciences in Memory of Alfred Nobel.
Since the inception of the Nobel prize in economics in 1969, only two women till now have been able to win the Nobel in economics. Elinor Ostrom in 2009, was the first woman to win a Nobel Prize in economics for her contribution to analysing of economic governance, especially the commons.
It was then after a decade when another female economist Esther Duflo bagged the Nobel Prize in economics in 2019 for her experimental approach to alleviating global poverty. She was awarded the Nobel in economics along with two co-researchers Abhijit Banerjee (her husband) and Michael Kremer. Duflo was only the second woman to win the Nobel in economics but was also the youngest person (at the age of 46) to win in this category.
Nobel prizes' diversity problem:
The Royal Swedish Academy of Sciences and the Nobel Assembly at the Karolinska Institute are in charge of selecting the Nobel winners for chemistry and physics, and for medicine, respectively. In 2019, nominations have asked nominators to consider diversity in gender, geography, and topic.
It is seen that efforts to diversify Nobel winners are slow going. The ratio between males and females in Nobel Laureates is still highly imbalanced. Though women make up more than half of the general population, they too count as an under-represented group in many STEM disciplines.
If deeper looked into the fact, there were no Black or female award recipients in physics, chemistry, or medicine at the December 2019 Nobel ceremonies.
There are many reasons for these dismal numbers. Though it is truly said that it's important to remember that the Nobel Prize is awarded for discoveries and inventions. Still, there is an important need to celebrate each and every innovative mind that benefits society and the world, regardless of any discrimination.
May Fourth Movement at Tiananmen Square- China's Awakening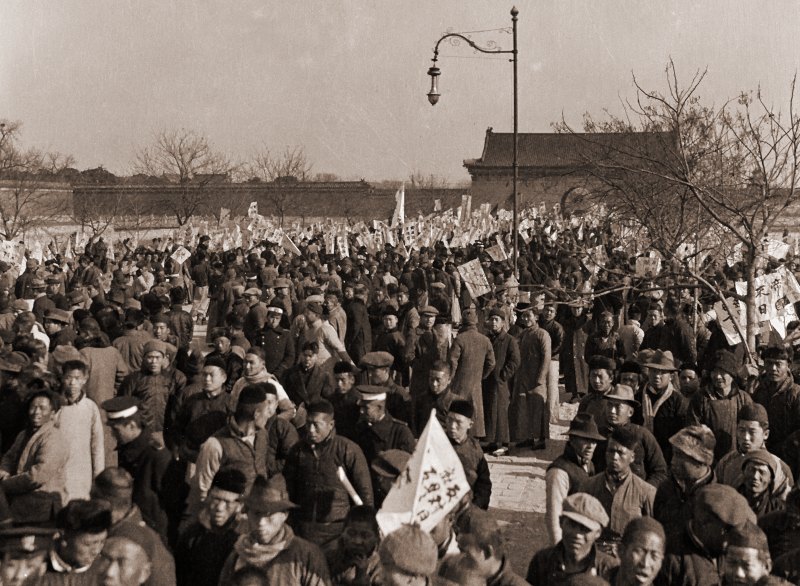 Early in the 20th century, China had a significant socio-political and intellectual movement known as the May 4th Movement, often called the New Culture Movement. It gained support from a wide range of intellectuals, laborers, and business people as it migrated from Beijing to other significant Chinese cities with demands to abandon ancient Confucian principles and to adopt the Western ideals of democracy, freedom, and equality instead. 
While aiming to imbibe the modern thought, these protesters demanded that foreign imperialism be ceased and control be given back to the Chinese. By challenging long-standing conventions and paving the way for a more progressive and open society, this Movement had a significant impact on Chinese intellectual and cultural history.
What Happened on May 4th 1919? 
On May 4, 1919 Chinese students started a series of demonstrations in Beijing, notably in Tiananmen Square. They took to the streets to protest and express their dissatisfaction with the government. Gradually this movement spread to parts of Shanghai and Guangzhou, making it a large-scale student protest. 
What was the Reason of the Student Protest on May 4, 1919?  
First, The Treaty of Versailles & Shandong Problem – The discussion of the Treaty caused much resentment over how China was being treated during the post-World War I by Western powers, especially with regards to Shandong. The German concessions in Shandong were not returned to China but instead were given to Japan. Intellectuals and students in China therefore could not help but be patriotic and anti-imperialist.
Second, existing sociocultural problems in the Chinese society – Disillusionment with traditional Chinese culture and values were growing among Chinese intellectuals and students. Discontentment with existing and belief on the new concepts and philosophies, especially those acquired from the West, were sought to replace these established principles. Thus, fostering science, democracy, and individuality became very important.
What Made May Fourth Movement so Successful?
The Movement's ability to win widespread support from various facets of society was one of the main factors in its success.

Unlike any previous protests in China, the

May 4

Movement

was organised and led by students and intellectuals. They planned gatherings, marches, demonstrations, printed newspapers, and pamphlets to disseminate their views and unite participants. It was this initiative that attracted more people to join, including workers, business people and warlords. This increased the movement's power, and the government was pressured to respond to its demands thanks to this wide-ranging support.
Utilizing new media and communication channels effectively was another key.

Students published their ideas through newspapers, journals, and speeches to get support from the public. They also built relationships with activists and intellectuals who shared their views in other places, which helped the cause extend outside of Beijing. The Movement was able to unite thanks to these communication tactics and develop a sense of a common goal.
The next reason of the movement's success can be traced to its appealing and distinct goals

. The Movement had a clearly stated mission, which included calls for democracy, the democratization of China, and the nation's revitalization. A sizeable segment of the populace, demanding modernization and reform in the face of foreign dominance, identified with these goals.
The Movement also capitalized on a potent anti-imperialist and sense of national pride.

The 'Shandong Problem' that was viewed as a violation of Chinese interests in the Treaty of Versailles sparked a strong sense of fury and served as the Movement's unifying cause. The participants shared rage against foreign imperialism, and the need for national self-determination was a potent unifying force.
What was the May Fourth Movement Significance & Impact on Post World War 1 China?
The success of the May 4th Movement left a long-lasting influence on Chinese politics and society. The movement produced an intellectual and cultural awakening that significantly changed Chinese values and thought. Some major political and social reforms in China that are still cherished and recognised as attributes to the May 4 movement are-
Anti-Imperialist and anti-Warlord Feelings: The Movement stoked a genuine anti-imperialist feeling among the Chinese. It stepped up the fight against foreign meddling and prepared the way for the eventual downfall of imperial control. The Movement also helped reduce the influence of warlords by exposing their corruption and incompetence, further damaging their reputation among the populace.
Founding of Communist Party in 1921: The Chinese Communist Party (CCP) was established mainly due to the May 4th Movement. Many academics and students identified with the Movement's emphasis on social justice, anti-imperialism, and the empowerment of the working class. Therefore, this Movement offered a favourable environment for the propagation of communist doctrine, resulting in the CCP's founding in 1921. The party would later be crucial in determining the course of China's development.
Anti-Japanese Sentiments: The Movement also stoked prejudice towards the Japanese, which is still present today. The Movement's hostility to the Treaty of Versailles's unfair treatment of China, particularly the transfer of German concessions in Shandong to Japan, strengthened a sense of national outrage towards that country. This attitude was the impetus for later resistance to Japanese aggression, culminating in the Sino-Japanese War (1937–1945), and the present that hate that since liberation was kept alive by CCP leaders especially Mao Zedong and Xi Jinping. 
Large-scale but not widely supported – Controversies & Criticisms of May 4th Movement
Despite its enormous support and influence, the May 4th Movement came under fire from 
several groups, notably Chinese Muslim Community and Kuomintang (KMT) – affiliated nationalists. 
The Chinese Muslims & ethnic groups were concerned about the Movement's emphasis on Westernisation and rejection of traditional values, most notably by people in Northwest China. They felt that the calls for a secular society and the adoption of modern ideas were in opposition to Islamic doctrine and cultural norms. Chinese Muslims saw the Movement as a potential danger to their identity and way of life since they connected so closely with their religious and cultural history. They were concerned that the emphasis on Westernisation might undermine their Islamic principles and push their communities to the margins.
The KMT Nationalists under the leadership of Chiang Kai-shek criticized the Movement's extremism and connection to communist philosophy. Chiang and other KMT members thought the Movement's focus on the class struggle and worker emancipation would erode social stability and impede national unity. They said that the Movement's emphasis on urban intellectuals ignored the requirements and ambitions of the rural masses, who comprised most Chinese citizens. As a danger to Chinese culture and social order, the KMT also criticized the Movement's rejection of traditional Confucian principles.
A revolution is not a dinner party, or writing an essay, or painting a picture, or doing embroidery; it cannot be so refined, so leisurely and gentle, so temperate, kind, courteous, restrained and magnanimous. A revolution is an insurrection, an act of violence by which one class overthrows another.

– Mao Zedong
Despite the criticism, it is essential to note that the May 4th Movement it must be accepted that the Chinese history underwent significant change during this Movement. It brought about substantial political, social, and cultural transformations that influenced the development of contemporary China. The Movement's legacy still impacts Chinese society today and represents youth activism, pride in one's country, and the desire for social change.