Introduction
India's tactical vulnerabilities have grown in tandem with its technology deficiencies, posing serious danger. India's counterinsurgency capabilities could be revolutionized by disruptive technical breakthroughs. With the emergence of a China-Pakistan axis and the possibility of Pakistan intentionally leaking disruptive technology to its non-state affiliates, Indian defence strategists must think ahead.
Chief of Defence Staff Bipin Rawat explained that India's ambition to become a regional superpower cannot rely on borrowed power and that the country's battles must be won with domestic weapons and technology. India's potential to manufacture defence equipment is limited due to the fragmented nature of its defence commercial industrial environment.
The insidious nature of information and the rapid speed of technology change is redefining the fundamental nature of conflict, allowing for novel non-contact warfare especially. However, the optimum solutions must be identified through acquisitions, streamlining or up-gradation of legacy systems, and indigenous manufacture, all while bearing in mind India's macroeconomic characteristics and socioeconomic demands.
Artificial intelligence, robotics, nanotechnology, advanced analytics, drones, autonomous drone systems, aerospace militarization, cyber operations, quantum telecommunications, and social media propaganda are all contributing to new dangers that are further challenging the security ecosystem lately.
Use of Artificial Intelligence
Several technological advances and their expected courses have presented armed forces throughout the world with a wide range of alternatives and domains to strengthen their operations over the previous decade. Several major technologies are at the forefront of these breakthroughs, and they constitute a serious disruption in current military assets. Artificial Intelligence may be the most well-known and rapidly evolving field with significant disruption potential.
Using a hybrid of surveying, pattern recognition, scanning, and strategizing, AI technology can be used in combat to assess vast data and expedite judgement. AI can provide a foundation for the military to optimize immediate reactions to cyber assaults, conventional bombardments, and other sorts of electronic volleys due to its distinctive and dynamic algorithms.
AI's implementation in automation to produce smarter autonomous Unmanned Vehicles has been one of the most discussed extensions of AI. They have a wide range of applications in warfare, from decreasing losses to gathering intelligence, monitoring systems, and reconnaissance (ISR) in the most extreme weather circumstances. Drone swarms, which allow a huge group of drones to work in concert to conduct a myriad of complicated military manoeuvres, have been developed by industry leaders.
Swarm Drones
The Indian Army, Navy, and Air Force have inked various major contracts over Rs 500 crore in the realm of drone technology in less than two weeks, with a focus on Indian enterprises amid Prime Minister Narendra Modi's push for adopting innovative battle technologies. In addition to counter-drone technologies, the Services have signed deals for the purchase of kamikaze drones or hovering weapons to swarm drones with both kill and reconnaissance capability. All contracts are being inked under the emergency procurement process. This is because the procedure is quicker, according to sources, and the goal right now is to help indigenous enterprises while they work on improved models.
The Army has also acquired over 100 tactical Indo-Israel kamikaze drones, which were employed in the Azerbaijan-Armenia conflict, to strengthen its operating efficiency along Pakistan's and China's frontiers. These drones will be constructed in Bengaluru by a strategic alliance between Israel's Elbit System and India's Alpha Design, which is now part of the Adani Group, and will be delivered in a year. The Navy has also placed an enormous order for highly specialised drones with an Indian joint venture firm.
What Exactly are Swarm Drones?
The drones are being released as a swarm, which is a technique known as swarm drone technology. These drones are not only lightweight and inexpensive, but they also have high-tech AI, making them crucial in upcoming combat. Swarm drones can cause chaos since they are used in deceptive warfare, radar systems and air defence systems are often unable to detect the numerous drones, mistaking them for a single large entity.
With a range of 50 kilometres and the capacity to strike targets from a distance of 500 metres, these drones can make significant advances behind enemy trenches. The UAV has a parent drone with a child drone attached that fires and then self-destruct after striking the mark.
These drones use AI and integrated responsive processors to carry out automatic, stochastic sonic operations to the target location. It is powered by satellite signals that are updated on a regular basis. These drones can also be used to drop food, medication, ammo, or any other necessary supplies to troops in regions that are cut off from supply routes. 
Moving Forward
Despite the fact that researchers have cautioned that these disruptive technologies should not be deemed the "magic elixir" in military readiness, it is evident that their procurement might give the state a competitive edge in the arena.
The integration of Quantum technology in the military strata would be a step deeper into the future and at the leading edge of technological disruption. China is at the forefront of this breakthrough, which has a lot of potential once it is actually realised. Its military implementation in quantum key exchange, quantum crypto algorithms, and quantum sensing threaten to change the military landscape fundamentally. Once developed, this technology is expected to equip the military with a hack-resistant communication system as well as unrivalled computational resources on the battleground.
Despite these tremendous technological developments, the DRDO continues to be mired in the creation of more traditional kinds of technology, amidst a slew of challenges such as delays, underbudgeting, and obsolete technology. While India's missile, cyber, and space programmes have made significant progress before, a change in tactics may be required to strategically rise to the demands posed by rapidly evolving disruptive technologies.
It is apparent that domestic manufacture of such technology is still a critical aspect in their military application. Because a large percentage of these innovations emerge from commercial enterprises and can eventually be translated and used to growing military needs due to their dual-use nature, it is critical for the administration to foster an ecosystem receptive to such innovation As a consequence, for endogenous ingenuity and realistic technical advancement, a civil-military partnership is essential.
Climate Crisis; Cries Asia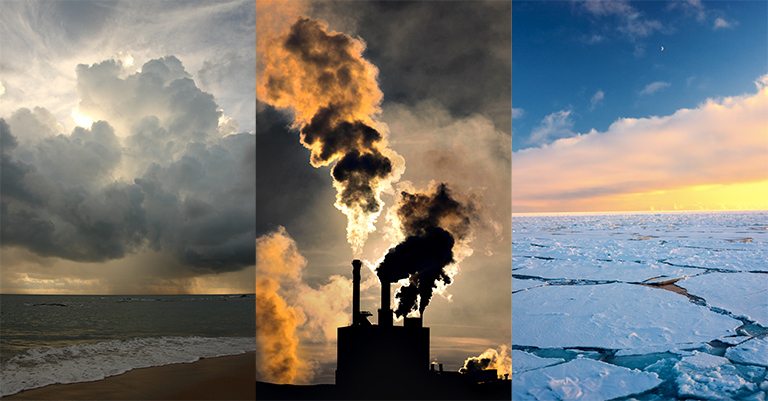 By 2050, regions of Asia may see rising average temperatures, deadly heatwaves, extreme precipitation events, catastrophic hurricanes, drought, and water supply problems (see figure below). The GDP of Asia is threatened by global warming, accounting for more than two-thirds of the total yearly global GDP at danger. According to McKinsey & Company's Climate Risk and Response in Asia report, countries in Frontier Asia (Bangladesh, India, and Pakistan) and Emerging Asia (Cambodia, Indonesia, Laos, Malaysia, Myanmar, the Philippines, Thailand, and Vietnam) are the most vulnerable to climate change consequences.
Climate change consequences are predicted to be less severe in advanced Asia (Australia, Japan, New Zealand, and South Korea) and China, which is a separate category. In fact, increased crop yields are predicted to constitute a net agricultural benefit from climate change in these countries. However, owing to more frequent extreme precipitation events and typhoons in many locations, hazards to infrastructure and supply systems will increase in these countries, which is especially critical given China's significance in global supply chains.
Warming has a significant impact on what is known as Natural Capital. By 2050, the glacial mass will have decreased by up to 40%, fisheries harvests may have decreased by half, and 90 per cent of coral reefs would have suffered significant degradation. Rising temperatures and deadly heatwaves have an impact on livability and effective working hours in key Asian countries, with up to 10% of daylight work hours likely to be lost by mid-century.
The paper by McKinsey & Company discusses possible solutions to this massive problem. They point out that, thankfully, Asia is ideally positioned to handle these issues and seize the benefits that come with efficiently managing climate risks — if they choose to do so. Many Asian countries are still developing their infrastructure and metropolitan centres. This gives the region an opportunity to make sure that whatever is built is more robust and capable of withstanding the increased hazards of climate change.
The paper by McKinsey & Company discusses possible solutions to this massive problem. They point out that, thankfully, Asia is ideally positioned to handle these issues and seize the benefits that come with efficiently managing climate risks — if they choose to do so. Many Asian countries are still developing their infrastructure and metropolitan centres. This gives the region an opportunity to make sure that whatever is built is more robust and capable of withstanding the increased hazards of climate change.
As the Himalayan glaciers have receded, the annual melting water supply used to feed farmland in India's Ladakh area has decreased. A system was devised to store meltwater in massive standing structures, allowing for year-round irrigation. However, without major decarbonization, these initiatives are likely to fail. Asia is responsible for about half of all greenhouse gas emissions. The research examines the transition from coal to renewables, which includes a combination of solar and wind power with battery storage, as well as rewards to coal asset owners for retiring assets before they reach the end of their useful lives.
These tactics have not proven to be very effective in the real world, and they consume a lot of energy. For everything, the amount of renewables required to reach these goals would require more steel than China now produces, and that doesn't include renewables to make green hydrogen to decarbonize steel manufacturing. Leading Asia through the challenges of a warming planet is a huge task, but one that is just as important as leading the rest of the globe to the same objective.