Introduction
India's tactical vulnerabilities have grown in tandem with its technology deficiencies, posing serious danger. India's counterinsurgency capabilities could be revolutionized by disruptive technical breakthroughs. With the emergence of a China-Pakistan axis and the possibility of Pakistan intentionally leaking disruptive technology to its non-state affiliates, Indian defence strategists must think ahead.
Chief of Defence Staff Bipin Rawat explained that India's ambition to become a regional superpower cannot rely on borrowed power and that the country's battles must be won with domestic weapons and technology. India's potential to manufacture defence equipment is limited due to the fragmented nature of its defence commercial industrial environment.
The insidious nature of information and the rapid speed of technology change is redefining the fundamental nature of conflict, allowing for novel non-contact warfare especially. However, the optimum solutions must be identified through acquisitions, streamlining or up-gradation of legacy systems, and indigenous manufacture, all while bearing in mind India's macroeconomic characteristics and socioeconomic demands.
Artificial intelligence, robotics, nanotechnology, advanced analytics, drones, autonomous drone systems, aerospace militarization, cyber operations, quantum telecommunications, and social media propaganda are all contributing to new dangers that are further challenging the security ecosystem lately.
Use of Artificial Intelligence
Several technological advances and their expected courses have presented armed forces throughout the world with a wide range of alternatives and domains to strengthen their operations over the previous decade. Several major technologies are at the forefront of these breakthroughs, and they constitute a serious disruption in current military assets. Artificial Intelligence may be the most well-known and rapidly evolving field with significant disruption potential.
Using a hybrid of surveying, pattern recognition, scanning, and strategizing, AI technology can be used in combat to assess vast data and expedite judgement. AI can provide a foundation for the military to optimize immediate reactions to cyber assaults, conventional bombardments, and other sorts of electronic volleys due to its distinctive and dynamic algorithms.
AI's implementation in automation to produce smarter autonomous Unmanned Vehicles has been one of the most discussed extensions of AI. They have a wide range of applications in warfare, from decreasing losses to gathering intelligence, monitoring systems, and reconnaissance (ISR) in the most extreme weather circumstances. Drone swarms, which allow a huge group of drones to work in concert to conduct a myriad of complicated military manoeuvres, have been developed by industry leaders.
Swarm Drones
The Indian Army, Navy, and Air Force have inked various major contracts over Rs 500 crore in the realm of drone technology in less than two weeks, with a focus on Indian enterprises amid Prime Minister Narendra Modi's push for adopting innovative battle technologies. In addition to counter-drone technologies, the Services have signed deals for the purchase of kamikaze drones or hovering weapons to swarm drones with both kill and reconnaissance capability. All contracts are being inked under the emergency procurement process. This is because the procedure is quicker, according to sources, and the goal right now is to help indigenous enterprises while they work on improved models.
The Army has also acquired over 100 tactical Indo-Israel kamikaze drones, which were employed in the Azerbaijan-Armenia conflict, to strengthen its operating efficiency along Pakistan's and China's frontiers. These drones will be constructed in Bengaluru by a strategic alliance between Israel's Elbit System and India's Alpha Design, which is now part of the Adani Group, and will be delivered in a year. The Navy has also placed an enormous order for highly specialised drones with an Indian joint venture firm.
What Exactly are Swarm Drones?
The drones are being released as a swarm, which is a technique known as swarm drone technology. These drones are not only lightweight and inexpensive, but they also have high-tech AI, making them crucial in upcoming combat. Swarm drones can cause chaos since they are used in deceptive warfare, radar systems and air defence systems are often unable to detect the numerous drones, mistaking them for a single large entity.
With a range of 50 kilometres and the capacity to strike targets from a distance of 500 metres, these drones can make significant advances behind enemy trenches. The UAV has a parent drone with a child drone attached that fires and then self-destruct after striking the mark.
These drones use AI and integrated responsive processors to carry out automatic, stochastic sonic operations to the target location. It is powered by satellite signals that are updated on a regular basis. These drones can also be used to drop food, medication, ammo, or any other necessary supplies to troops in regions that are cut off from supply routes. 
Moving Forward
Despite the fact that researchers have cautioned that these disruptive technologies should not be deemed the "magic elixir" in military readiness, it is evident that their procurement might give the state a competitive edge in the arena.
The integration of Quantum technology in the military strata would be a step deeper into the future and at the leading edge of technological disruption. China is at the forefront of this breakthrough, which has a lot of potential once it is actually realised. Its military implementation in quantum key exchange, quantum crypto algorithms, and quantum sensing threaten to change the military landscape fundamentally. Once developed, this technology is expected to equip the military with a hack-resistant communication system as well as unrivalled computational resources on the battleground.
Despite these tremendous technological developments, the DRDO continues to be mired in the creation of more traditional kinds of technology, amidst a slew of challenges such as delays, underbudgeting, and obsolete technology. While India's missile, cyber, and space programmes have made significant progress before, a change in tactics may be required to strategically rise to the demands posed by rapidly evolving disruptive technologies.
It is apparent that domestic manufacture of such technology is still a critical aspect in their military application. Because a large percentage of these innovations emerge from commercial enterprises and can eventually be translated and used to growing military needs due to their dual-use nature, it is critical for the administration to foster an ecosystem receptive to such innovation As a consequence, for endogenous ingenuity and realistic technical advancement, a civil-military partnership is essential.
Conflict, COVID and Climate Crisis: Major Risks of our Time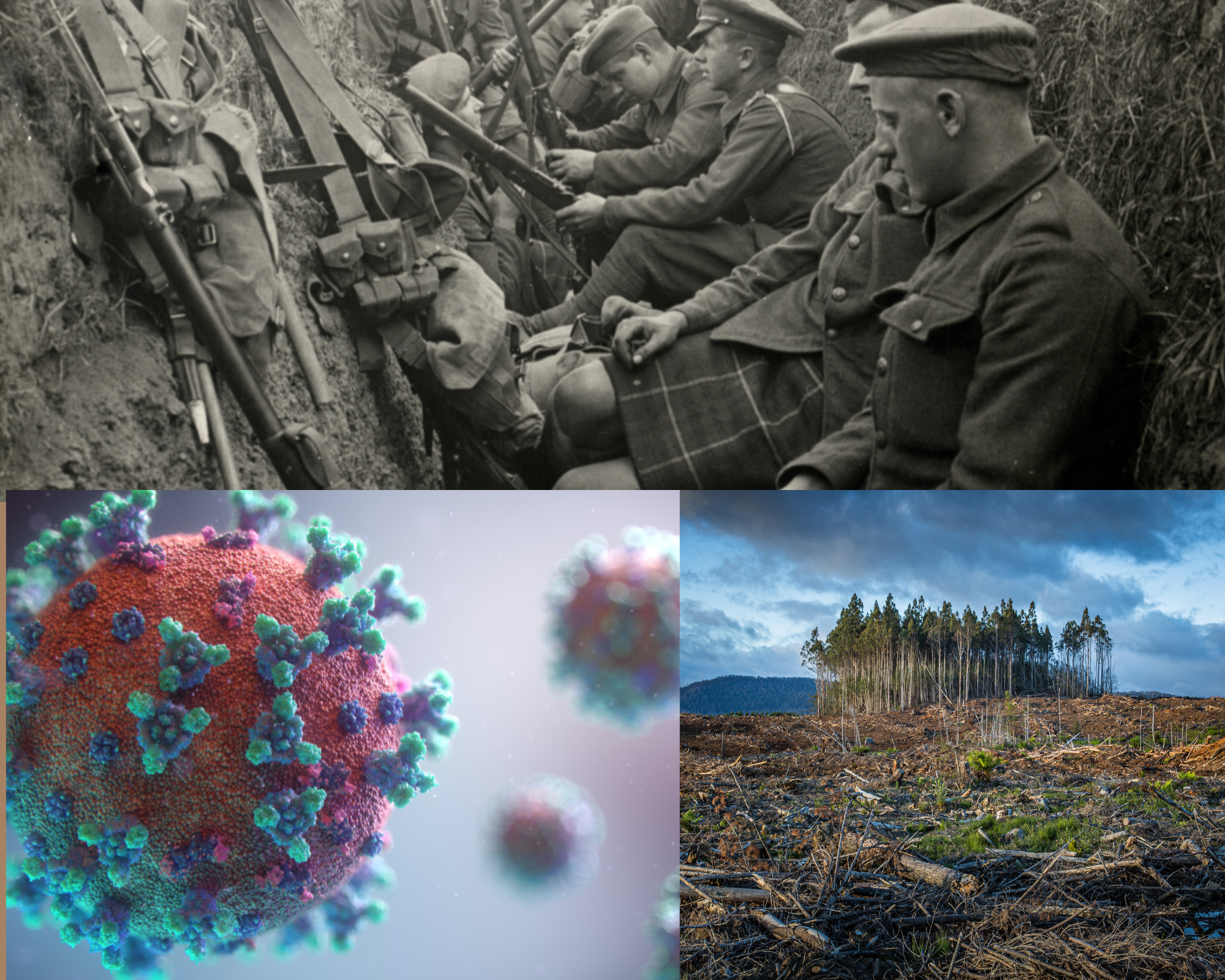 Conflict, COVID and Climate Crisis: Major Risks of our Time
'If anything kills over 10 million people in the next few decades, it's most likely to be a highly infectious virus rather than a war. Not missiles but microbes……' words spoken by Bill Gates in 2015 at Ted Talks proved true, especially in the wake of the COVID pandemic that brought the world to a stand-still. Killing millions of people within two years with tons of collateral damage in areas of health, economy, national security, etc. has shaken the world to its core. But is it just the microbes over missiles that are going to cause mayhem, or a combined effort of both, catalyzed with cyber-catastrophe? The current Russia-Ukraine conflict, Taliban take-over in Afghanistan, the Worst Emergency crisis in Sri Lanka, and the never-ending Israel-Palestine war – these all point towards intensified armed-conflict chaos around the world. On the other hand, the worsening climate crisis is further aching the world manifold. The Australian Wildfires in 2020, East Africa droughts in 2011, 2017 and 2019, regular cloud bursts, and the melting of icebergs in Antarctica are a few of many natural disasters that beg for climate action. But the newest addition to the list of challenges for survival is cyber-warfare. During COVID lockdown, even large-scale businesses and industries moved online for their survival. This transition was never expected to be as sudden as it did during these troubled times. As a result, the move was made out of fear and fright rather than undergoing due diligence which is the general practice when shoring a business from stores to wires. Hence, the threats of cyber-attacks and other associated risks have further escalated. The increased threats required improved IT security thereby leading to a substantial number of corporate entities signing up for consultancies that offer digital dependency in business processes. This even led to a sharp increase of $20 Billion in the cyber-insurance sector between 2020-2025, which is almost triple to what it was. The market is anticipated to grow even more strongly with the additional momentum gained from digitalization. Munich Re, an insurance company that provides coverage for cyber risks has experienced meteoric growth in this sector gaining a share of 10% of the total market, making it one of the world's leading insurers.
 Multi-Dimensional Crisis
The Doomsday clock is stuck at 100 seconds to midnight. The world seems to be inching towards a civilization-ending apocalypse. Rising conflict, worsening climate change, and never-ending microbe attacks have the world hanging by a very thin thread of hope, perseverance, of resilience. While a larger section of the world wants to live in a world free of war, the power concentration sadly is inversely proportional to the mammoth population. Even a minimalistic endeavor of having a healthy family, working just enough to put food on the table and have access to quality education for children, seems bleak. But is it really the end or is it just a prolonged halt looking forward to an update?
The World Economic Forum has stressed ongoing and upcoming challenges created by cyber fraudsters, climate change, and space technology. As per the Global Risks Report, 2022 released on January 11, cyber security and space technology were listed as the most emerging risk sectors for the global economy followed by the existing pandemic. Cyberthreats are in no way a particular-sector-centric threat. It has the potential to affect entire civilizations as we live in a time where there is absolutely no connection-deficit. Everyone is connected with everything and vice-versa. And hence, cyber threats are growing faster than society's ability to effectively prevent and manage them. The rise of cryptocurrencies has given birth to a new breed of online dacoits, resulting in an increased number of malware and ransomware attacks.
What can be done?
It is a race. A race between what trumps what. Ever since the lockdown around the world has been lifted, inter-state wars and conflicts have dominated the attention of decision-makers. Needless to say, the pandemic is by no means over. Similarly, the climate-associated risks are piling up and it remains the largest and most complex existential challenge of our time that warrants unparalleled action. Evidently, vaccination is on roll and has proved to be effective against the invisible enemy, and hence one needs to understand the gravity of 7 million deaths where air pollution has been a major contributor. A heating world, in general, is detrimental to human health and thus, significant obstruction to a thriving society. While a total of 110 countries are now monitoring the quality of air their population breathes, it's simply not enough. The deterrent theory of removing factories and industries and adapting the primitive way of living is also impossible, especially in the urbanized world. Hence preserving nature and also concentrating on all-around economic development seems oxymoronic and ironical.
But, technological advancements during the wake of COVID have hinted that if ideas are shared and transcended beyond boundaries, there is hope. A simple instance of Tesla championing the sector of electric automobiles has prompted even a developing country like India to work in the furtherance of completely replacing fossil fuels with an alternative transformative source thereby resulting in an increase in electric vehicle production. A hybrid power strategy is inadvertently the need of the hour today. But how much does a country like India which promises a good mix of bright sun and wind along its coasts, requires resources to make the shift to Net Zero. Setting up hybrid power plants is also cost efficient as the plants share common equipment, electronics, and storage, as a dedicated hybrid plant can work round-the-clock with only sporadic recourse to storage.
The aforementioned mechanism is just one facet of a multi-dimensional resolution that the world warrants. The national leaders of countries can no longer lament and find nonchalant advisory bodies to pin their blames act. Furthermore, the citizens are also to be self-monitored. Citizens cannot resort to unveiling a red carpet for a government that completely negates the existence of climate change and cyber security. Rather, the citizens are to hold the constitutional entities accountable, answerable, and liable for negligence and poor performance.
Conclusion
Peace underpins all that is good in our society. But with each passing day, a realization of sorts that 'peace' is in short supply, resurfaces itself. The horrors of Covid have shown the world, that no matter how technologically advanced, monetarily rich, and systematically sustainable it looks, it is as vulnerable as one can be. The only upside that one can perceive from the horrifying pandemic, is that the loss of millions of lives and trillion dollars have only waken up the world from its deep slumber. Digitalization and globalization may have brought the world close, but the shrunk world is failing to realize that, with great inter-connectedness comes great interdependencies. And thus, the multi-dimensional crisis is not an individual but collective responsibility.