The 1971 Bangladesh Liberation War enunciated a great deal of force, strength and valour from both India and Bangladesh Forces. Numerous overt operations were launched between 4th December and 17th December which led to one of the mightiest military victories in modern history. Amidst different operations and protocols launched by the military, Operation Trident and Operation Python were the ones that broke the back of the Pakistani Navy during the war.
Progression of Operations Trident and Python
India was just recovering from the debacle of the 1965 war and hadn't anticipated a war within just next 6 years. However, to India's utter shock and surprise, a gradual sequence of atrocities in Easter province of Pakistan (now Bangladesh) scaled up to a massive genocide. Consequently, a large number of the absconded migrants from Pakistan took refuge in India and the then Prime Minister Indira Gandhi, further legitimised the refuge and ordered for instatement of proper refugee camps. This was the first domino which alerted Pakistan of India's indirect involvement in the tense situations concerning Bangladesh. To salt the wounds even further, Indian army also assisted the migrant Bangladeshi force 'Mukti Bahini' whilst PM Indira Gandhi toured across the world, garnering support from all leading countries. This was the first psychological attack on Pakistan.
Pakistan could not hold it any longer and as a result waged an attack on the Indian airfields. This led to an official declaration of war between India and Pakistan. The six Indian airfields were completely destroyed which prompted India to get rid of their defensive corset donned in the 1965 war and test their newly imported Soviet-made Osa class anti-ship missiles. Hence, the Indian Navy formed a 'Karachi Strike Group' and launched Operation Trident in the afternoon of December 4, 1971. The Strike Group was set for its mission.
Operation Trident consisted of three missile boats (INS Nirghat, Nipat and Veer) and two Petya class ships (INS Katchall and Kiltan). The plan was to assist the missile boats and unleash them at dark close to Karachi and carry out the missile carnage. Even after half-a-century of the attack, historians and military experts could not believe that such an ambitious, covert and sublime up-close attack was successfully executed. This exceedingly daring raid resulted in the sinking of PNS Khaiber, PNS Muhafiz, MV Venus Challenger and demolished the Kemari oil refinery.
Without losing momentum and dropping the upper hand, Operation Python was immediately followed after Operation Trident on December 8. Op. Python caused further destructions of Pakistani assets and mayhem in Pakistan Armed Forces. The ships that caused carnage namely as INS Vinash, INS Trishul and INS Talwar severely damaged PNS Dacca, MV Harmattan, MV Gulf Star. In addition, Kemari Oil filed in Karachi was also set ablaze on fire. Both the operations were hugely successful. Consequent to these projects and owing to the devastation caused, Pakistani Navy had to withdraw their ships inside the harbour and ordered de-ammunition. As a result, the maritime war in the western front was curtained within five days of commencement of the hostilities.
Conclusion
The endearing success of Op. Trident is celebrated as Navy Day each year. The Indian Navy was lauded all across. Admiral Gorshkov of the Soviet Navy remarked that the Russians themselves had never envisaged this role of the missile boats. India's meticulous planning and aggressive mindset along with months of dedicated training and exercises went a long way in ensuring success of the operation. PM Indira Gandhi's unflinching robust trust in Sam Manekshaw (Chief of Army Staff) and efforts in maintaining the stability of the country during a national crisis as that of war, is truly remarkable. However, the monumental feat. would be incomplete if it does not include the role of the men involved in naval planning and acquisition. Admiral AK Chatterjee and his team that helped in procuring the small missile boats from Soviet Union, to Admiral SM (Charles) Nanda, the Navy Chief who anchored the 'bombings of Karachi' and the entire Navy deserves the greatest of bows.
The Killer Squadron and the courageous exploits of the Indian Navy remain ingrained in our collective memory. Operation Trident and Operation Python turned out to be one of the biggest reasons for the  featured win and significantly contributed to the Liberation of Bangladesh.   
When a Chinese Spy Balloon Made UFOs, a Matter of Grave Concern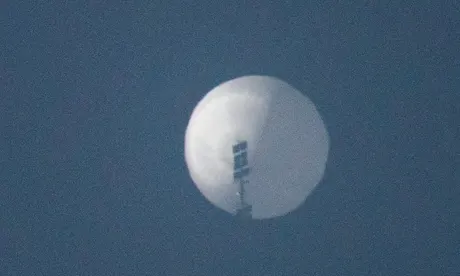 A year back, if someone told you that they spotted a "mysterious looking, white, balloon-shaped object" in the sky…you would have probably rubbished it, right? But what about today…how would you react to a news of 'mysterious balloons in the sky'? With a lot of concern, I presume…and rightly so! In this article we have discussed the incident of Chinese Spy Balloon aka Unidentified Flying Object.
From January 28 to February 4 this year, a giant white balloon was sighted across various parts of the North American airspace. This balloon, that was said to have traveled across South Korea, Japan, Alaska, Canada, and the contiguous United States, was later accepted by the Chinese government to be one of theirs – a Chinese 'Meteorological' Balloon that had drifted off-course due to the westerlies.
"The airship is from China. It is a civilian airship used for research, mainly meteorological, purposes. Affected by the Westerlies and with limited self-steering capability, the airship deviated far from its planned course."

– Chinese Foreign Ministry Spokesperson's Remarks on the Spy Balloon on 03 Feb 2023
But the American and Canadian intelligence services had different opinions – they claimed that the balloon was an instrument of surveillance which were endangering peace and security of these nations. On February 3, USA's Department of Defense reported that a second Chinese balloon was flying over Latin America, which China also claimed as its own. Following orders from U.S. President Joe Biden, the US Air Force shot down the balloon on February 4 in the Atlantic Ocean off the coast of South Carolina. 
But peace was not restored. The spy balloon incident has opened the pandora's box and the intelligence agencies now find themselves thinking on many fronts.
Before we dive into this, let's talk about China's "Civil-Military Fusion" program, under with such emerging technology is being developed.
China's National Strategy of Civil-Military Fusion (CMF)
"China encourages joint building and utilization of military and civilian infrastructure, joint exploration of the sea, outer space and air, and shared use of such resources as surveying and mapping, navigation, meteorology and frequency spectra. Accordingly, military and civilian resources can be more compatible, complementary and mutually accessible."

– China's Military Strategy, May 2015
To fulfill the Chinese goal of becoming a "world class military" by 2049, the Chinese government accelerated its program of CMF in 2015. Under this program, advanced technologies like Quantum Computing, AI, Big Data, nuclear, space and near-space technologies would be developed by exploiting both civilian and military capabilities. The importance of this Military Civilian Development Program can be identified by the fact that the President of the country, Xi Jinping, himself controls and oversees its progress. 
But why has the CCP government opted for this civilian-owned militarily empowered program? The reason is quite simple – 
If Caught – The government has the option to claim innocence by citing civilian–error and proving that there is no relation to the government or military. 
If Successful – The government successfully has access to the sensitive data of adversary and may weaponize this information as and when required for their benefit.
Now let's take another look at the Chinese Foreign Ministry Spokesperson's Remarks on the Spy Balloon –
"The airship is from China. It is a civilian airship used for research, mainly meteorological, purposes."
There should be no doubt that China's recent 'meteorological' balloons are a by-product of it's Civilian-Military Fusion program. The claim that the balloon's purpose was to spy on military installations in the Pacific region, cannot and should not be swiftly rejected. 
In the past few weeks, the North American Aerospace Defense Command has shot down four objects, and there are rumors of another balloon floating over the Middle East. What was once claimed to be a "civilian airship used for research, mainly meteorological, purposes", is now recognized as a component of a vast surveillance program.
Regardless of the quantity or caliber of the balloon's data gathered while flying over the United States, the controversy surrounding it has grown into an international incident, with multiple claims of similar "UFO" sightings all over the world – Japan, India, Taiwan, Colombia and list goes on.
What damage could the China's Spy Balloon inflict on the countries? Should we be bothered?
Let's answer the 2nd question first, should the spying balloon matter to us? 
YES, it definitely should. 
 It is no surprise that most members of Generation Z are unconcerned about data privacy, since they are so accustomed to being watched. In fact, a prevailing thought during a discussion about the balloon was, "Oh, the U.S. probably has comparable programs in China." The idea of a foreign competitor power gathering surveillance data on them therefore doesn't seem that terrifying to young people since. 
But, let's not forget this balloon was flying over the country's military areas, significant bases and important sites. 
Now let's come to the first question, what is the extent of damage that this balloon could cause? – Well, for this we leave you with two opinions to deliberate and make your own judgement.
Opinion 1
First, the chances of electronic surveillance to identify and possibly disrupt sensitive military communications cannot be ruled out at all. Second, is the possibility of cyber espionage or sabotage. With the cyber-skills and hacker army available with China's People's Liberation Army (PLA), it is a possible that this 'balloon-voyage' was a mere precursor to a full-fledged hybrid war. Third, the spy balloon could be a test, aimed to establish the reaction ability and potential of intelligence agencies worldwide. 
Opinion 2
Human brain is wired in a way to look at a shocking event with fear and assume that worst has happened. Therefore, had the Chinese diplomat in USA immediately met POTUS to explain China's position and taken strict (and public) against the civilian owners of this balloon, the matter would have been resolved peacefully without USAF interference. Diplomatic dialogue, should have been China's response, and not escalating the situation with threats – let's be clear 'cold-war' scenario, does more damage than good.
What's Next For China & USA Relations?
Chinese spy balloon illegal intrusion into USA's airspace has further deteriorated relations between the two countries. With Secretary of State Antony Blinken indefinitely postponing his trip to China, all prospects for a detente between the two superpowers seems to be eliminated. 
The incident has also heightened tensions and has accelerated alliance formation, not very different from the pre-Cold war era of USA and USSR!
"I believe in evidence. I believe in observation, measurement, and reasoning, confirmed by independent observers. I'll believe anything, no matter how wild and ridiculous, if there is evidence for it. The wilder and more ridiculous something is, however, the firmer and more solid the evidence will have to be."

-Isaac Asimov