With the rising number of coronavirus cases, there was also an upsurge seen in the growth of big vegetables during the worldwide lockdown.
This year empty shelves at the supermarkets have led to a rush on seed supplies as people start planting fruits and vegetables in their homes and backyards. While people were struggling to find food at grocery stores during the pandemic, there were many people who started to feel that growing vegetables at home will be a great idea. In this way, people started to grow their home garden with vegetables and fruits in order to kill their boredom.
People around the world are turning to gardening as a soothing, family-friendly hobby that also eases concerns over food security as the pandemic has slowed down the harvesting and distribution of some crops.
But apart from this tradition of maintaining your own kitchen garden, many people have in the world possesses a passion that involves growing of giant vegetables and presenting them at various competitions. This love for horticulture has led to many giant vegetable competitions that present jaw-dropping vegetables.
This year as the pandemic surges, most horticultural shows got cancelled, leaving growers of supersized vegetables very little opportunity to show off their produce. As the shows were cancelled, the growers of these giant vegetables were unable to showcase their products to the world. But it is important to note that they have still grown them.
Growers have little opportunity to show off their giant vegetables:
While the pandemic might have stopped many from showing their grown vegetables, it did not stop them from growing them.
Canna, a plant nutrient company, took its Giant Vegetable Championships on tour after the Malvern Autumn Show was cancelled, while the National Vegetable Society (NVS) moved some of its competitions online. Growers could enter the competition by photographing their exhibit and submitting it via email.
Holly Bolus, from Canna, said to BBC, "We wanted to make sure that growers still have the chance to showcase their hard work despite all the usual shows being cancelled."
Each year, giant vegetables competitions used to see a quite unbelievable array of giant fruit and vegetables. There are many vegetable growers who wanted to participate in competitions like this every year. Vegetable growers like Nottinghamshire's Joe Atherton, who holds five world records took some of his giant vegetables to The Grow Show: On Tour in Mansfield to display them in front of the judges. With this opportunity, he is quite happy as he believes that he can set his sixth world record.
Mr. Atherton, in an interview with BBC said, "it was the only competition he would attend this year due to the pandemic."
Other than records why do people grow large vegetables?
Many gardeners enjoy the competition of growing the largest vegetables, fruits, and flowers. As these gargantuan veggies don't happen by accident; they take planning and care. To compete seriously with the seasoned giant vegetable growers, it is important to put considerable effort into the soil, choice of site, and correct gardening technique.
The Giant Vegetable Competition this year held during the pandemic has also witnessed interest from several first-time giant vegetable growers. Dominic Driscoll, from Wingerworth, Derbyshire, grew a 22 Kg cabbage in his allotment during the lockdown. He also said, "I don't usually do giant vegetables. I do the show vegetables where they look nice, rather than oversized, but I got the seeds and thought I'd give it a go."
Many people enjoy growing these giant vegetables. They believe that the process of growing vegetables and fruits is full of thrill and excitement. There are also few online giant vegetable groups, who saw this pandemic as a chance for growers from all over the world to connect via social media.
Gardening boom during pandemic:
During this pandemic and quarantine, a large population of the world expanded their gardens. Though food supplies are totally secure, people are finding it productive to grow vegetables at home, in their own gardens. They believe that this growing of vegetables on their own is helping them to connect with nature.
Crisis gardening is not new. Concerns about food security led to the Victory Garden Movement during WWI and WWII; seed retailers and greenhouses also saw sales spikes during the Great Recession.
There's no better feeling than getting outside in the sun and soil. Gardening is a great form of exercise and it also helps in improving mental health. These are the main reasons people found gardening as an important activity during the worldwide lockdowns.
President Joe Biden's Conversation with the Cambodian Prime Minister Hun Sen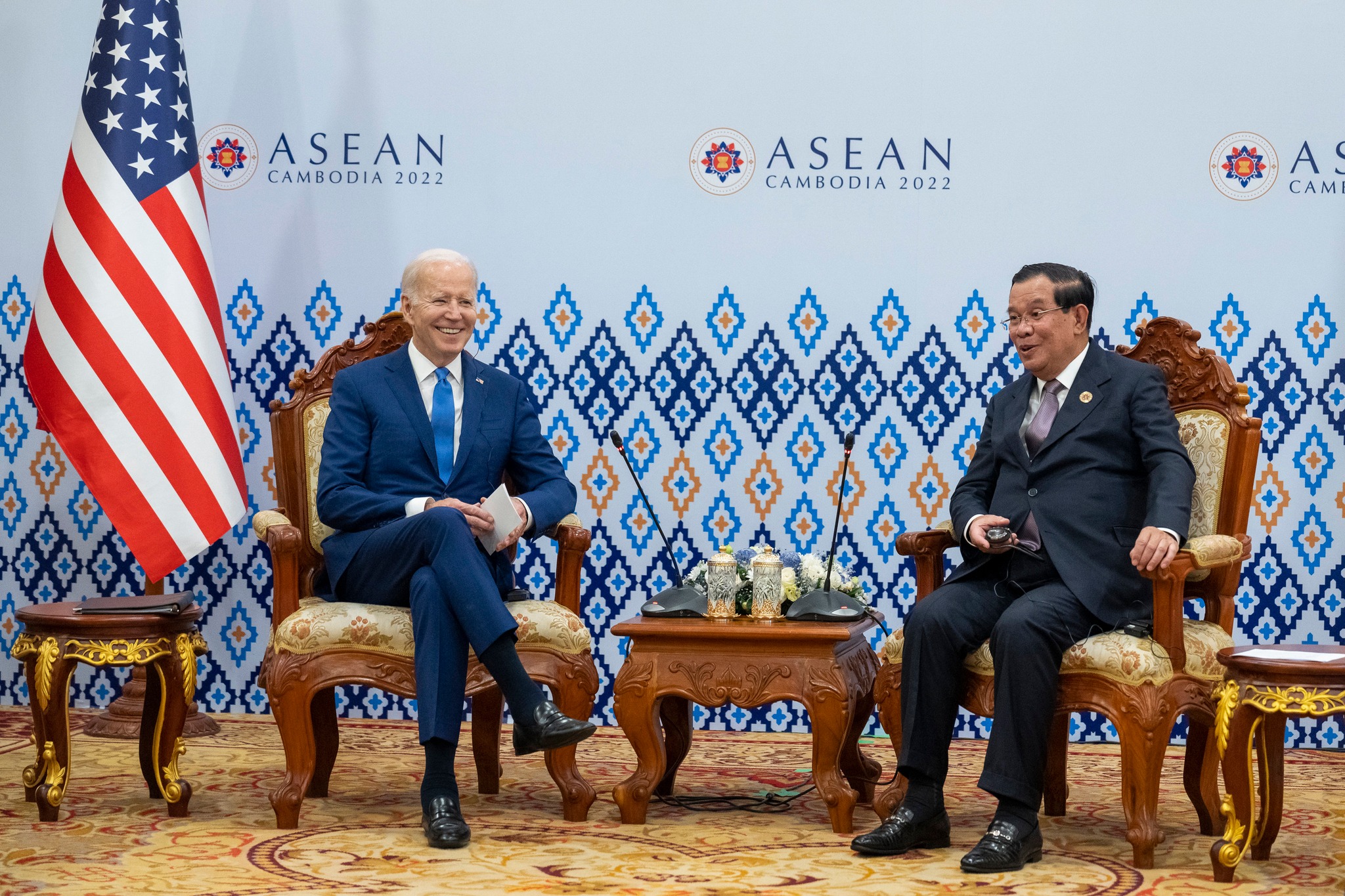 President Joe Biden landed in Cambodia on Saturday and supported the ASEAN nations. Before the eagerly anticipated Group of 20 summits next week in Indonesia, where Biden will meet with Xi for the first time in person since he took office, there will be a weekend of meetings in Cambodia. Before meeting with Xi, the president can engage with US allies at the ASEAN summits and the East Asia Summit on Sunday, both in Phnom Penh.
The US-ASEAN Comprehensive Strategic Partnership, which, according to Biden, "will tackle the biggest issues of our time, from climate to health security, defend against the significant threats to rule-based order and threats to the rule of law, and build an Indo-Pacific that's free and open, stable and prosperous, resilient and secure," was announced as "another critical step" toward building on the group's progress during his remarks at the summit. He cited a budget proposal for $850 million in support for Southeast Asia while praising the US's current financial commitments to ASEAN.
"This is my third journey and third summit, my second in person." The value reflects the United States' commitment to our relationship with ASEAN and our dedication to the region's centrality. The core of the Indo-Pacific strategy of my administration is ASEAN. In his opening remarks to the meeting, Biden said, "And we continue to reinforce our resolve to work in lockstep with an empowered, united ASEAN."
To build on the ASEAN leaders' conference in Washington earlier this year, the president's first meeting in Cambodia was with Prime Minister Hun Sen of Cambodia.
From the beginning of his presidency, Biden "was intent on elevating our engagement in the Indo-Pacific," according to national security adviser Jake Sullivan, and his attendance at the ASEAN and East Asia summits this weekend will highlight his accomplishments to date, including the Indo-Pacific Economic Framework unveiled earlier this year and security partnership initiatives.
"He's coming into this series of summits with that track record of success and purpose behind him, and he wants to be able to use the next 36 hours to build on that foundation to move American engagement forward, as well as to deliver several actual, practical initiatives," Sullivan said.
New initiatives on maritime cooperation, internet connectivity, and economic investment are some of these valuable measures, according to Sullivan. He added that Biden will soon begin a new maritime initiative that will "focus on using radio frequencies from commercial satellites to be able to track dark shipping, illegal and unregulated fishing, and also to improve the capacity of the countries of the region to respond to disasters and humanitarian crises."
Further, he added, Biden will also emphasize a "forward-deployed posture" toward regional defense to demonstrate that the US is actively pursuing security cooperation.
Biden also mentioned a brand-new US-ASEAN electric car infrastructure program during his speech.
He described the project as "a collaborative effort to build an integrated electric car ecosystem in Southeast Asia, enabling the region to achieve sustainable energy, economic growth, and ambitious emissions reduction targets."
Discussions on coordination "to continue to impose costs and build pressure on the junta" will also be centered on Myanmar, which was the subject of a February 2021 coup that ousted the country's democratically elected government.
Key Highlights
Concerns raised by Biden regarding Chinese activity at the Cambodian Ream Naval Base. The president expressed concern over the circumstances at Ream Naval Base and emphasized the value of complete transparency regarding the PRC (China's) military activities there.
The US President congratulated Cambodia's Prime Minister for backing Ukraine at the UN and spoke about the turmoil in military-ruled Myanmar.
President Biden also conveyed his gratitude to Cambodia for supporting resolutions at the UN to defend Ukraine from the brutal assault of Russia.
He thanked Cambodia for holding the ASEAN helm through a trying year.
The leaders "reflection on the historic US-ASEAN Special Summit's success in Washington, DC and applauded plans to establish a US-ASEAN Comprehensive Strategic Partnership at the annual US-ASEAN Summit later that day."
Along with the ASEAN Five Point Consensus, they also discussed the crisis in Burma and ASEAN's reaction, highlighting the international community's crucial role in restoring of democracy and stability in Burma.
In addition, Biden urged releasing activists like Seng Theory and a dual US-Cambodia citizen arrested on politically motivated allegations. The commitment of the United States to the Cambodian people and their goals for a more wealthy, democratic, and independent nation was reaffirmed by President Biden.