Here are some controversial and objectionable advertisements which didn't go well with the audience.
Some debate that political and religious conversations are black holes to development. There has been a lot of chatter that entrepreneurship is possibly the solution to all our social needs and that corporations can actually bring about significant changes.
But, what about when brands are problematic. Problematic in terms of their content. Content that can actually cause a lot of harm. 
Well, a lot of it is also perception. Let's take a look at some controversial advertisements or campaigns and see if the creators forgot their moral compasses.
Surf Excel
Anything remotely that touches on communal aspects is a very tricky topic in India. Not even going to get started on the whole recent Tanishq ad scene. I am sure you remember this Holi ad as there was a lot of hue and cry around it. Angry netizens started trending "Boycott Surf Excel" on various platforms. People even scaled it to the level of love jihad. There was also discomfort when the colours of Holi were mentioned as daag meaning stains to go with the brand tagline: Daag Ache Hai. You can check the advertisement here:
Ford
Distasteful. Sometimes you look at an ad and wonder, "What is going inside their head?" The picture shows a couple of women bound and gagged in the trunk of a Ford, apparently meant to show how one can leave their "worries" behind. The car is being driven by former Italian Prime Minister Silvio Berlusconi. The ad garnered a lot of outrage in India and the authorities issued an apology regarding the same. Reportedly concerned employees were fired regarding this issue.
Kurl-on
Cashing on someone else's hardship is sort of problematic. This ad by Kurl-on showcases how the Nobel laureate, Malala Yousafzai "bounced back" from the terror attack through the Kurl-on mattresses. This ad not only ridicules the person's suffering but also is very insensitive. The ad released online was taken down immediately as it sparked heated controversy. The spokesperson of Ogilvy & Mather also condemned this and apologised for the same.
Kent RO
This year in May, when sanitation advisories were emerging, a lot of brands decided to advertise their products on the same lines. In Kent RO's controversial ad, they showed a pair of hands kneading the dough with the caption, "Are you allowing your maid to knead atta dough by hand? Her hands may be infected.  Choose KENT Atta & Bread Maker for hands-free kneading of dough. Let automation take care of hygiene this time! Don't compromise on health and Purity." 
The ad got called out of course. The ad was very elitist and classist. People objected to the usage of the word maid too as it was found derogatory. As criticisms mounted on social media, Kent RO withdrew the advert and issued an apology.
WhiteHat jr.
WhiteHat Jr. advertises a lot and there is no denying that their ads do set unrealistic expectations amongst a lot. They advertise about kids learning to code. Many parents felt that the brand message led to putting unnecessary pressure on kids. Hence, complaints against it started rolling out. Based on the feedback on social media and also complaints that were made to the Advertising Standards Council of India (ASCI) and reviewed by them, the brand has pulled back the ads and also is reviewing its marketing campaigns and communication.
Pan Bahar
Indians were shocked to see Pierce Brosnan, one of the most popular faces of James Bond, in an advertisement for Pan Bahar. It is a brand that sells tobacco-related products. He was seen consuming the product while fighting and doing the various stunts in the ad. As much as there was amusement, it was accompanied by a lot of criticism. Indians accused the celebrity of being irresponsible and advertising a product that is known to cause cancer. Later, Brosnan said that he was not associated with the brand and that he did not know that he was advertising a tobacco brand as the product mentioned mouth freshener. Surrogate marketing can be tricky and draws a whole separate debate in itself.
Jack and Jones
If only there was a limit to sexism in this world. The ad featured Ranveer Singh carrying a girl in a very not-so appropriate manner with an objectionable dialogue: 'Don't Hold Back, Take Your Work Home'. Ranveer Singh faced a lot of criticism for the ad. The ad was very inappropriate as it propagated sexism and objectification. Ranveer apologised about the ad and said that he did not know about the punchline during the photoshoot. How long before influencers and celebrities start taking accountability.
There are several more ads that are much beyond the horror described in the article. Most of the controversial ads have a communal, sexist, and raunchy tone. Keep on the lookout for problematic advertisements and make sure to call them out! 
Assassination of Shinzo Abe & Salman Rushdie – Know Real Facts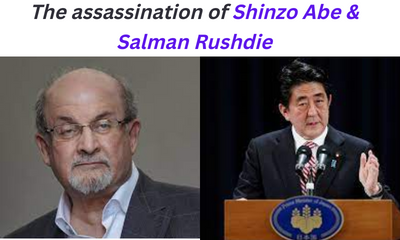 The months July and August of 2022 saw two cases of extermination to promote the fear of terrorism. One of the assassination of Shinzo Abe former Japanese Prime Minister, and another of the famous Novelist Salman Rushdie.
Shinzo Abe succumbed to a gunshot wound, whereas Rushdie's health conditions are improving and he is under medical supervision after the knife attack. However, various assassination attempt of Salman Rushdie has been made during the year.
These two terror acts force us to think about the impact of terrorism on society, the main objective of which is to create an atmosphere of fear so that citizens of the country cannot rely on their government.
This ultimately disturbs the law and order of the society, and serves the terrorists' purpose of creating a chaos.
Here we will see how these two attacks had different reasons but the objective remained the same – to stop someone from propagating his/her opinions independently, and also the factors that make attackers indulge in such acts.
Assassination Attempt of Salman Rushdie – Satanic Controversy
On 12 August 2022, Rushdie was attacked several times by a 24-year-old man Hadi Matar. The attacker's intentions can be linked to Rushdie's fourth novel, The Satanic Verses, published in 1988. Some Muslims considered the novel disrespectful towards Prophet Mohammed.
Soon after its publication, the novel sparked a 'fatwa' or a religious decree. The Iranian revolutionary leader Ayatollah Ruhollah Khomeini called for Rushdie's death in 1989. After, this various assassination attempt of Salman Rushdie has been made.
Complete conversation for Salman Rushdie Assassination:
When asked about the attack Hadi Matar said, "I don't like the person. I don't think he's a very good person. I don't like him very much". He further criticised Rushdie's work by saying, "He's someone who attacked Islam, he attacked their beliefs, the belief systems". Mr. Matar also told New York Post that he had only read 'a couple of pages' of the book and did not tell about whether the fatwa had inspired him or not.
While praising the Iranian religious leader, he stated, "I respect the Ayatollah. I think he's a great person. That's as far as I will say about that".
One can observe that the psychology of the attacker was that he simply disliked the novelist because of his work; although he read only two pages of the novel, but was rather influenced by the religious leaders and their sayings. Just, like this the assassination of Shinzo Abe has been made during this year, which we will discuss on next section.
Perceptions like these can have a long-lasting impact on future generations which can further deteriorate the situation. Violent acts like this demand proper scrutiny of the dissemination of information.
Extremists take advantage of such incidents and brainwash the young minds so that they can be used by them for their selfish purposes.
Assassination of Shinzo Abe – Complete Truth
On 8 July 2022, it was just another day of Abe's political campaign for the upcoming parliamentary elections. He was delivering a speech in Nara City, but no one is the aware about the assassination of Shinzo Abe that day. When a 41-year-old Tetsuya Yamagami shot him twice from behind from a distance of about 10 meters.
During the investigation, he confessed his intentions of killing and it was found that his motives had more to do with religious backing instead of a political reason.
It so happened that Yamagami's mother was a member of a religious group which she joined after her husband's death in 1998. She used to donate huge amounts of money as charity to the group, after the assassination of Shinzo Abe and Yamagami blames the sect for bankrupting his mother.
Confession Statement on Abe Case
The report reveal that Abe was closely associated with the sect, and wanted to take revenge against him for promoting it. "The suspect stated that he held a grudge against a particular organisation and that he committed the crime because he believed former Prime Minister Abe had a connection to it", a senior police officer in Japan's Nara region told reporters.
While the police hasn't given any clarification regarding the unidentified organization, social media in Japan has it that it could be the Unification Church.
Yamagami was unemployed, felt isolated in society, was against religious preaching and blind faith, and wanted to kill the leader of the religious organization but couldn't. One can see the psychological aspects of it that, the killer was anguished with the organisation and blamed them for his conditions and economic turmoil.
Ultimately his grudge converted into a motive of taking revenge for his loss and he did that by killing the perpetrator of the religious group, to give a message to the society and the world that one should avoid themselves from joining or contributing to such groups.
Japan has the strictest gun laws after the assassination of Shinzo Abe , so to bypass such stringent laws the killer used a handmade gun. The occurrence of such incidents in the island nation shows how much resentment the killer has and how strongly he was motivated to commit the murder.
Such incidents are eye-openers for the society that someone's freedom of belief can become others' pain, and teaches that as a society we should try to maintain a balance between them.
Two Paths to Crime
The above two accidents of assassination of Shinzo Abe, and the assassination attempt of Salman Rushdie has been terrifying for the country. First, being a part of a religious group the killer face hardship in his life, which forced him to commit the crime. In the second instance, the attacker got the impression that his religion is being targeted and that it is his responsibility to take revenge so that next time no one dares to do anything like that again.
Interpretation of things based on pre-assumed thoughts can lead to revenge, and revenge based on half-baked knowledge causes harm to the whole humanity, and not just the particular group concerned.