Researchers have been vouching for mushroom made bricks that can be used in constructing our future homes. Although the experiments are at initial stage, but there have been several other products like chairs and artefacts that were made using mycelium construction technique.
After a respite from pollution due to lockdowns across the world, the problem of severe pollution still remains quite prevalent. Heavy construction activities are known to be one of the leading factors for this. Taking cognizance of this serious concern and to tackle climate change, research efforts have been strengthened on the whole new concept of manufacturing bricks from mushrooms.
Although the research and experiment levels are at their initial stage, if scientists get the required success, these mushroom blocks can help bring a major breakthrough in the construction industry. In addition to this, they will also assist architects and engineers to help fight global warming. Construction activities across the world account for over 10 percent of global carbon-dioxide emissions.
Currently, the technique entails the making of a brick from mushrooms which are a type of fungi and are easily available almost anywhere in the world. Subsequently, the material used for manufacturing bricks and ultimately buildings is made from mycelium-fungal network from which mushrooms grow and thrive.
In the hindsight, mycelium has proven to be quite biodegradable, less harmful, durable, non-toxic and waterproof in the long run. Along with that, it also leads to less emissions of carbon-dioxide while mitigating the problem of waste management and that of landfills.
What is mycelium and how useful it is?
Mycelium is usually a vegetative tissue of fungus through which it can absorb nutrients. While fungus grows on dead organic matter, it can easily recycle such matter further utilising them in the environment itself. In addition to that, fungal mycelium poses great insulation properties along with being ecologically responsible and cost competitive.
Further, the bricks which are made of such materials are composite in nature. They remain spongy and comparatively softer towards the core while being denser and harder towards the outer skin. Due to this reason, they can easily handle large amounts of compression while being shatter-resistant.
Apart from that, many designers also use mycelium to make cloth hats, canoes and eco-friendly coffins. They can also replace polyurethane in the future. Philip Ross in San Francisco is one such artist who grows mushrooms which are used for making molds, chairs and stools.
Pros and Cons
One of the reasons as to why mycelium technology is being emphasised upon is that it can grow faster and can biome light weight while being low-cost for most of the time. When two live mycelium bricks are placed adjacent to each other, they subsequently form a joining bond among each other while they spread together in the specific area.
Several disadvantages pertaining to mycelium panels and bricks are that their water resistance decreases with increase in humidity. Also, they start decomposing in mere six weeks on coming in contact with the ground. But if maintained properly they can have a lifespan of upto 20 years. Moreover, they start to decay if constantly exposed to fast changing weather conditions.
Production of mycelium material
As far as production of such a material is concerned, the substrate is initially attacked or inoculated by mycelium. The substrate is often composed of cardboard, woodchip waste, rice and wheat husks, sawdust etc. Thereafter, it is left to take a shape in the presence of molds. For that purpose, a smooth and transparent material is preferred for the molds.
The container is often air-tight with a small hole for the exchange of gases. There they are let to incubate for a fixed amount of time. The incubation period depends on the type of mushrooms, humidity and temperature. The optimal temperature for this process remains 25 degrees Celsius. Finally the process is terminated by increasing the temperature to 70-90 degrees Celsius and required mycelium product is produced.
Assassination of Shinzo Abe & Salman Rushdie – Know Real Facts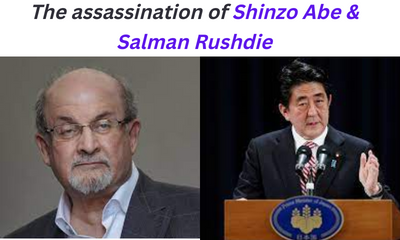 The months July and August of 2022 saw two cases of extermination to promote the fear of terrorism. One of the assassination of Shinzo Abe former Japanese Prime Minister, and another of the famous Novelist Salman Rushdie.
Shinzo Abe succumbed to a gunshot wound, whereas Rushdie's health conditions are improving and he is under medical supervision after the knife attack. However, various assassination attempt of Salman Rushdie has been made during the year.
These two terror acts force us to think about the impact of terrorism on society, the main objective of which is to create an atmosphere of fear so that citizens of the country cannot rely on their government.
This ultimately disturbs the law and order of the society, and serves the terrorists' purpose of creating a chaos.
Here we will see how these two attacks had different reasons but the objective remained the same – to stop someone from propagating his/her opinions independently, and also the factors that make attackers indulge in such acts.
Assassination Attempt of Salman Rushdie – Satanic Controversy
On 12 August 2022, Rushdie was attacked several times by a 24-year-old man Hadi Matar. The attacker's intentions can be linked to Rushdie's fourth novel, The Satanic Verses, published in 1988. Some Muslims considered the novel disrespectful towards Prophet Mohammed.
Soon after its publication, the novel sparked a 'fatwa' or a religious decree. The Iranian revolutionary leader Ayatollah Ruhollah Khomeini called for Rushdie's death in 1989. After, this various assassination attempt of Salman Rushdie has been made.
Complete conversation for Salman Rushdie Assassination:
When asked about the attack Hadi Matar said, "I don't like the person. I don't think he's a very good person. I don't like him very much". He further criticised Rushdie's work by saying, "He's someone who attacked Islam, he attacked their beliefs, the belief systems". Mr. Matar also told New York Post that he had only read 'a couple of pages' of the book and did not tell about whether the fatwa had inspired him or not.
While praising the Iranian religious leader, he stated, "I respect the Ayatollah. I think he's a great person. That's as far as I will say about that".
One can observe that the psychology of the attacker was that he simply disliked the novelist because of his work; although he read only two pages of the novel, but was rather influenced by the religious leaders and their sayings. Just, like this the assassination of Shinzo Abe has been made during this year, which we will discuss on next section.
Perceptions like these can have a long-lasting impact on future generations which can further deteriorate the situation. Violent acts like this demand proper scrutiny of the dissemination of information.
Extremists take advantage of such incidents and brainwash the young minds so that they can be used by them for their selfish purposes.
Assassination of Shinzo Abe – Complete Truth
On 8 July 2022, it was just another day of Abe's political campaign for the upcoming parliamentary elections. He was delivering a speech in Nara City, but no one is the aware about the assassination of Shinzo Abe that day. When a 41-year-old Tetsuya Yamagami shot him twice from behind from a distance of about 10 meters.
During the investigation, he confessed his intentions of killing and it was found that his motives had more to do with religious backing instead of a political reason.
It so happened that Yamagami's mother was a member of a religious group which she joined after her husband's death in 1998. She used to donate huge amounts of money as charity to the group, after the assassination of Shinzo Abe and Yamagami blames the sect for bankrupting his mother.
Confession Statement on Abe Case
The report reveal that Abe was closely associated with the sect, and wanted to take revenge against him for promoting it. "The suspect stated that he held a grudge against a particular organisation and that he committed the crime because he believed former Prime Minister Abe had a connection to it", a senior police officer in Japan's Nara region told reporters.
While the police hasn't given any clarification regarding the unidentified organization, social media in Japan has it that it could be the Unification Church.
Yamagami was unemployed, felt isolated in society, was against religious preaching and blind faith, and wanted to kill the leader of the religious organization but couldn't. One can see the psychological aspects of it that, the killer was anguished with the organisation and blamed them for his conditions and economic turmoil.
Ultimately his grudge converted into a motive of taking revenge for his loss and he did that by killing the perpetrator of the religious group, to give a message to the society and the world that one should avoid themselves from joining or contributing to such groups.
Japan has the strictest gun laws after the assassination of Shinzo Abe , so to bypass such stringent laws the killer used a handmade gun. The occurrence of such incidents in the island nation shows how much resentment the killer has and how strongly he was motivated to commit the murder.
Such incidents are eye-openers for the society that someone's freedom of belief can become others' pain, and teaches that as a society we should try to maintain a balance between them.
Two Paths to Crime
The above two accidents of assassination of Shinzo Abe, and the assassination attempt of Salman Rushdie has been terrifying for the country. First, being a part of a religious group the killer face hardship in his life, which forced him to commit the crime. In the second instance, the attacker got the impression that his religion is being targeted and that it is his responsibility to take revenge so that next time no one dares to do anything like that again.
Interpretation of things based on pre-assumed thoughts can lead to revenge, and revenge based on half-baked knowledge causes harm to the whole humanity, and not just the particular group concerned.