Researchers have been vouching for mushroom made bricks that can be used in constructing our future homes. Although the experiments are at initial stage, but there have been several other products like chairs and artefacts that were made using mycelium construction technique.
After a respite from pollution due to lockdowns across the world, the problem of severe pollution still remains quite prevalent. Heavy construction activities are known to be one of the leading factors for this. Taking cognizance of this serious concern and to tackle climate change, research efforts have been strengthened on the whole new concept of manufacturing bricks from mushrooms.
Although the research and experiment levels are at their initial stage, if scientists get the required success, these mushroom blocks can help bring a major breakthrough in the construction industry. In addition to this, they will also assist architects and engineers to help fight global warming. Construction activities across the world account for over 10 percent of global carbon-dioxide emissions.
Currently, the technique entails the making of a brick from mushrooms which are a type of fungi and are easily available almost anywhere in the world. Subsequently, the material used for manufacturing bricks and ultimately buildings is made from mycelium-fungal network from which mushrooms grow and thrive.
In the hindsight, mycelium has proven to be quite biodegradable, less harmful, durable, non-toxic and waterproof in the long run. Along with that, it also leads to less emissions of carbon-dioxide while mitigating the problem of waste management and that of landfills.
What is mycelium and how useful it is?
Mycelium is usually a vegetative tissue of fungus through which it can absorb nutrients. While fungus grows on dead organic matter, it can easily recycle such matter further utilising them in the environment itself. In addition to that, fungal mycelium poses great insulation properties along with being ecologically responsible and cost competitive.
Further, the bricks which are made of such materials are composite in nature. They remain spongy and comparatively softer towards the core while being denser and harder towards the outer skin. Due to this reason, they can easily handle large amounts of compression while being shatter-resistant.
Apart from that, many designers also use mycelium to make cloth hats, canoes and eco-friendly coffins. They can also replace polyurethane in the future. Philip Ross in San Francisco is one such artist who grows mushrooms which are used for making molds, chairs and stools.
Pros and Cons
One of the reasons as to why mycelium technology is being emphasised upon is that it can grow faster and can biome light weight while being low-cost for most of the time. When two live mycelium bricks are placed adjacent to each other, they subsequently form a joining bond among each other while they spread together in the specific area.
Several disadvantages pertaining to mycelium panels and bricks are that their water resistance decreases with increase in humidity. Also, they start decomposing in mere six weeks on coming in contact with the ground. But if maintained properly they can have a lifespan of upto 20 years. Moreover, they start to decay if constantly exposed to fast changing weather conditions.
Production of mycelium material
As far as production of such a material is concerned, the substrate is initially attacked or inoculated by mycelium. The substrate is often composed of cardboard, woodchip waste, rice and wheat husks, sawdust etc. Thereafter, it is left to take a shape in the presence of molds. For that purpose, a smooth and transparent material is preferred for the molds.
The container is often air-tight with a small hole for the exchange of gases. There they are let to incubate for a fixed amount of time. The incubation period depends on the type of mushrooms, humidity and temperature. The optimal temperature for this process remains 25 degrees Celsius. Finally the process is terminated by increasing the temperature to 70-90 degrees Celsius and required mycelium product is produced.
Brutal Assault on the Brazilian Government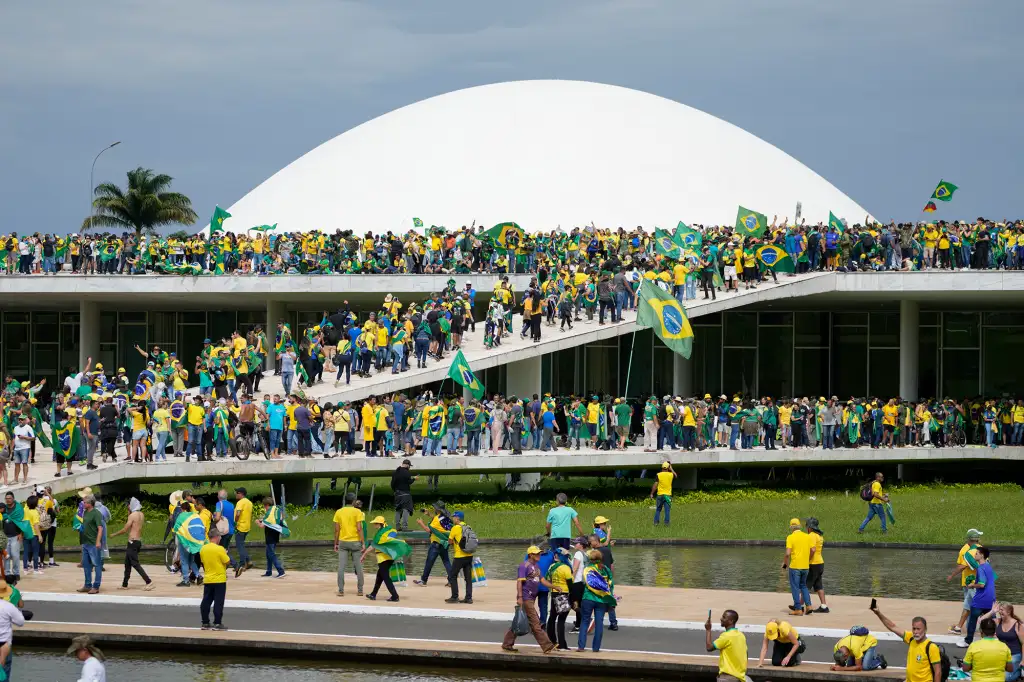 Many believed that thousands of Jair Bolsonaro's followers assaulted Congress, the presidential mansion, and the highest court in Brasilia on Sunday to start a military coup. Since President LuizInácio Lula da Silva triumphed in a closely fought runoff election on October 30, many Bolsonaro supporters have pleaded with the military to intervene. After a divisive campaign highlighting the country's bitter divisions, it was the most significant attack on Brazil's key institutions since the end of a military dictatorship and the return to democracy in the 1980s. Here is what you need to know about brutal assault on the Brazilian government.
Why was the election such a spectacular event:
This election was so dramatic because it depicted two enormous characters representing opposites in politics. Leftist Lula, a former labor union leader, is admired by those who credit him with putting policies in place that lifted millions out of poverty during his two terms in power from 2003 to 2011, but despised by those who see him as a symbol of corruption. In 2017, he was found guilty of corruption and money laundering and was given a nearly 10-year prison term. He was a 77-year-old cancer survivor who was released in 2019 following the adoption of a new detention policy by the Supreme Court. The Court later overturned his conviction on procedural grounds in 2021. Former army captain Bolsonaro, 67, has been hospitalized several times since being stabbed while campaigning in 2018. His supporters view him as a defender of traditional family values and a campaigner against corruption, which are crucial campaign issues in a predominantly conservative country. The president's opponents have referred to him as a far-right authoritarian and said he has promoted sexism, racism, and homophobia.
How did the vote count turn out:
Lula won the runoff election by a razor-thin margin of 51% to 49% over Bolsonaro. He entered office on January 1 with the promise of uniting a nation whose divides had, if anything, grown worse throughout the campaign. On the day Lula was validated, Bolsonaro supporters set fire to vehicles in the city's downtown area, and in late December, a device was discovered in a fuel truck close to the airport.
Why were Bolsonaro's followers calling for military action
Bolsonaro's supporters want the military to intervene because, during the election campaign last year, Bolsonaro and his allies spread a significant amount of false information and made snide remarks about the political process. When the country's long-established electronic voting system was attacked with unsubstantiated accusations by the then-president, his supporters began to question the validity of the results. Conflicts with the country's courts arose as a result. Even though his followers organized sizable rallies and spread conspiracies, Bolsonaro waited two days after the runoff to make an unclear speech and has never publicly admitted defeat.
After the election, What did his followers do:
In the days following the election, trucks were used to block roadways all around the nation before being removed on a court order. Then, in anticipation of a military intervention they believed Bolsonaro, who frequently talked favorably of Brazil's previous dictatorship, had hinted at in his rallies, crowds of supporters started to amass outside army headquarters across the nation. Even when Lula assumed power, hundreds still camped outside the bases.
What transpired in Brazil:
In Brasilia, On January 8, tens of thousands of rioters assaulted Congress, the presidential palace, and the Supreme Court, leaving a path of devastation with many clad in Brazilian flags or sporting the yellow and green national jersey. Historic structures were defaced, while journalists and police officers came under attack. The palaces' windows were broken by furniture being hurled through them. The doors to the closet where Judge Moraes' robes were stored were pulled off, and the justice's chairs in the highest court were thrown around. Videos online showed the vandals carrying the piece of wood bearing the justice's name as if it were a trophy. Several works of art were torn or scratched, including the well-known 20th-century painter Di Cavalcanti's painting Asmulatas.
What were people's responses to the attack:
Members of the military police began removing the rioters from the buildings after they had been free to wander for around three hours. It took another four hours for the attackers to leave the area. While in Sao Paulo to assess the effects of the recent torrential rains, Lula delivered an enraged address in which he demanded immediate intervention in the Federal District government. He accused Bolsanaro of being the reason for the disturbance and pledged to punish anyone who took part or helped finance it. After clearing the premises of the rioters, Bolsonaro denounced the "depredations and invasions of public facilities, but claimed that the incident was comparable to acts done by the left in 2013 and 2017. Both of those years saw sizable but significantly less violent public demonstrations. Bolsonaro denied Lula's accusation that he was complicit. Moraes also ordered the removal of the encampments in front of the army headquarters, which resulted in around 1,500 arrests, and suspended the Bolsonaro-supporting governor of the Federal District for 90 days at the same time.
Numerous inquiries started practically right away, and more are currently being explored. The Federal District's civil police kept track of the several people detained following the riot. The federal police and the federal highway police are looking into who may have helped Bolsonaro's supporters set up camp in front of the army headquarters for such a long time, as well as the funding of the buses that transported rioters from other states to Brasilia. To receive information about people accountable for the turmoil on January 8, the Ministry of Justice set up a dedicated email account. The municipal and federal governments are conducting internal investigations to look into potential collusion between the security officers and the vandals. It's being discussed to launch a congressional investigation in February.