Google is facing a new anti-trust challenge in India, one of its key markets, and is accused of abusing its dominance with AndroidTV in the smart television market.
Alphabet Inc's Google is facing a new antitrust case in India in which the US tech giant is alleged to have abused its Android operating system's position in the smart television market. A fresh complaint has been filed with the Competition Commission of India (CCI), accusing the US-based tech major of abusing its dominant market position in smart television operating systems.
The case is Google's fourth major antitrust challenge in India, since 2018. The Competition Commission of India (CCI) has since June been looking into allegations that Google engages in anti-competitive practices by creating barriers for firms wanting to use or develop modified versions of Android for smart TVs, such as Amazon Fire TV's operating system.
The case has been filed by two antitrust lawyers, Kshitiz Arya and Purushottam Anand. Both the lawyers filed the complaint against Google with CCI in the first week of June.
The latest case alleges that Google's agreements with companies such as Xiaomi and TV manufacturer, TCL India effectively stop them from using both the Android system and a modified version of it on different devices they make.
For example, if you are a TV maker and you want to use Google's operating system on your TV, before giving the licence to you, they sign an agreement with you which essentially restricts you from getting into an agreement with any forked or modified Android developer, irrespective of the device being manufactured.
Unlike Indian court cases, filings and details of cases reviewed by the CCI are not disclosed publicly. The antitrust watchdog could order a wider investigation against Google if it finds merit in the allegations, or throw out the case completely.
Why Google indulges in anti-competitive practices?
It has been noticed that smart TVs or Wi-Fi enabled TVs with apps for streaming services like Netflix and YouTube, have become increasingly popular in India in recent times. According to research data, around 8 Million smart TV sets were sold in India in 2019 and three in five smart TVs sold in India were based on Google's Android system, which also powers nearly 99 percent of India's half a billion-smartphone user base.
Google has demonstrated anti-competitive behaviour by using a series of anti-competitive contracts that push people to rely on Google search when using phones or smart TVs with the Android operating system. Google often requires manufacturers of smartphones and smart TVs to pre-install and give default status to Google's own apps in order to build its dominant status in the market.
Already facing heat in India
Recently, app developers and entrepreneurs in India came together to protest against Google's Play Store billing policy. The Indian app makers are demanding a national app store alternative to Google Play. The move was taken to end Google's monopoly in India over Play Store. This call for an alternative started shortly after the company announced a 30 percent fee for the apps that are there on Google Play but are not using Google's billing system. 
Google reaches more internet users than any other firm in India and commands 99 percent of India's smartphone market. In most international markets, Apple and Google together form a duopoly when it comes to app distribution, but the situation is quite different in India. The Indian smartphone market majorly runs on android phones, and therefore solely relies on the Play Store giving Google a monopoly in the market.
The move by Indian entrepreneurs came into force in light of the way the company misuses its dominance and pulls several Indian apps from the Play Store. Paytm was amongst the key Indian apps that were recently pulled from the Google Play. Swiggy and Zomato are also continuously receiving notices from Google for not complying with their Play Store policies. The practice of sending notices to app developers to comply with Google Play's policies is in place for quite some time by Google now, and this has led to Indian app developers demanding an Indian version of the Play Store.
"Search Bias case"
In 2018, the CCI fined Google 1.36 Billion rupees ($18.5 Million) for "search bias," but a firm's appeal against that is pending. The CCI last year also started probing Google for allegedly misusing its dominant position to reduce the ability of smartphone makers to opt for alternate versions of its Android system.
Earlier this year also, the CCI started reviewing a case alleging that Google abuses its market position to unfairly promote its mobile payments app in the country.
Google also faces anti-trust challenges in US and China
Not only in India, but Google also faces new antitrust challenges in the United States, and a potential antitrust probe in China as well. The company is alleged to be misusing its monopoly in the online search and marketing industry in the US. Google is accused of creating an "ecosystem of interlocking monopolies" – which it has maintained through anti-competitive practices in the country.
A Big Tech anti-trust report from top Democratic congressional lawmakers in the US suggested that not only Google, but the other three biggest tech giants including Amazon, Apple, and Facebook are also engaged in a range of anti-competitive behaviour.
Assassination of Shinzo Abe & Salman Rushdie – Know Real Facts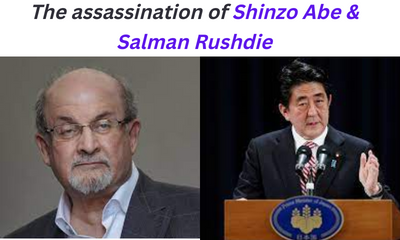 The months July and August of 2022 saw two cases of extermination to promote the fear of terrorism. One of the assassination of Shinzo Abe former Japanese Prime Minister, and another of the famous Novelist Salman Rushdie.
Shinzo Abe succumbed to a gunshot wound, whereas Rushdie's health conditions are improving and he is under medical supervision after the knife attack. However, various assassination attempt of Salman Rushdie has been made during the year.
These two terror acts force us to think about the impact of terrorism on society, the main objective of which is to create an atmosphere of fear so that citizens of the country cannot rely on their government.
This ultimately disturbs the law and order of the society, and serves the terrorists' purpose of creating a chaos.
Here we will see how these two attacks had different reasons but the objective remained the same – to stop someone from propagating his/her opinions independently, and also the factors that make attackers indulge in such acts.
Assassination Attempt of Salman Rushdie – Satanic Controversy
On 12 August 2022, Rushdie was attacked several times by a 24-year-old man Hadi Matar. The attacker's intentions can be linked to Rushdie's fourth novel, The Satanic Verses, published in 1988. Some Muslims considered the novel disrespectful towards Prophet Mohammed.
Soon after its publication, the novel sparked a 'fatwa' or a religious decree. The Iranian revolutionary leader Ayatollah Ruhollah Khomeini called for Rushdie's death in 1989. After, this various assassination attempt of Salman Rushdie has been made.
Complete conversation for Salman Rushdie Assassination:
When asked about the attack Hadi Matar said, "I don't like the person. I don't think he's a very good person. I don't like him very much". He further criticised Rushdie's work by saying, "He's someone who attacked Islam, he attacked their beliefs, the belief systems". Mr. Matar also told New York Post that he had only read 'a couple of pages' of the book and did not tell about whether the fatwa had inspired him or not.
While praising the Iranian religious leader, he stated, "I respect the Ayatollah. I think he's a great person. That's as far as I will say about that".
One can observe that the psychology of the attacker was that he simply disliked the novelist because of his work; although he read only two pages of the novel, but was rather influenced by the religious leaders and their sayings. Just, like this the assassination of Shinzo Abe has been made during this year, which we will discuss on next section.
Perceptions like these can have a long-lasting impact on future generations which can further deteriorate the situation. Violent acts like this demand proper scrutiny of the dissemination of information.
Extremists take advantage of such incidents and brainwash the young minds so that they can be used by them for their selfish purposes.
Assassination of Shinzo Abe – Complete Truth
On 8 July 2022, it was just another day of Abe's political campaign for the upcoming parliamentary elections. He was delivering a speech in Nara City, but no one is the aware about the assassination of Shinzo Abe that day. When a 41-year-old Tetsuya Yamagami shot him twice from behind from a distance of about 10 meters.
During the investigation, he confessed his intentions of killing and it was found that his motives had more to do with religious backing instead of a political reason.
It so happened that Yamagami's mother was a member of a religious group which she joined after her husband's death in 1998. She used to donate huge amounts of money as charity to the group, after the assassination of Shinzo Abe and Yamagami blames the sect for bankrupting his mother.
Confession Statement on Abe Case
The report reveal that Abe was closely associated with the sect, and wanted to take revenge against him for promoting it. "The suspect stated that he held a grudge against a particular organisation and that he committed the crime because he believed former Prime Minister Abe had a connection to it", a senior police officer in Japan's Nara region told reporters.
While the police hasn't given any clarification regarding the unidentified organization, social media in Japan has it that it could be the Unification Church.
Yamagami was unemployed, felt isolated in society, was against religious preaching and blind faith, and wanted to kill the leader of the religious organization but couldn't. One can see the psychological aspects of it that, the killer was anguished with the organisation and blamed them for his conditions and economic turmoil.
Ultimately his grudge converted into a motive of taking revenge for his loss and he did that by killing the perpetrator of the religious group, to give a message to the society and the world that one should avoid themselves from joining or contributing to such groups.
Japan has the strictest gun laws after the assassination of Shinzo Abe , so to bypass such stringent laws the killer used a handmade gun. The occurrence of such incidents in the island nation shows how much resentment the killer has and how strongly he was motivated to commit the murder.
Such incidents are eye-openers for the society that someone's freedom of belief can become others' pain, and teaches that as a society we should try to maintain a balance between them.
Two Paths to Crime
The above two accidents of assassination of Shinzo Abe, and the assassination attempt of Salman Rushdie has been terrifying for the country. First, being a part of a religious group the killer face hardship in his life, which forced him to commit the crime. In the second instance, the attacker got the impression that his religion is being targeted and that it is his responsibility to take revenge so that next time no one dares to do anything like that again.
Interpretation of things based on pre-assumed thoughts can lead to revenge, and revenge based on half-baked knowledge causes harm to the whole humanity, and not just the particular group concerned.