Tesla just revealed that it has manufactured and shipped 4,99,550 electric vehicles in 2020 and fell short by just 0.5 percent while there was 36 percent increase in sales of the vehicles as compared to previous year.
It's a new year and we all might have taken a resolution to meet our goals and targets but like every time, the monster of procrastination seems to hit us and then we become mere couch-potatoes badly missing on our targeted set of goals. That's why there's a lot to learn and take inspiration from Tesla which has yet again amused us by achieving a milestone this time.
Tesla just revealed that it has manufactured and shipped 4,99,550 electric vehicles in 2020 and fell short by just 0.5 percent. Now that seems to be an impeccably perfect record, isn't it?  Tesla's CEO Elon Musk said that while the company aspired to ship 5,00,000 vehicles in 2020 it could able to complete almost 99.91 percent of its already set target.
There was a 36 percent increase in sales of the vehicles as compared to the previous year while on a quarterly basis the company saw a surge of around 30 percent increase in its sales in comparison with the last quarter which clocked at 1,80,570. Sifting through the quarterly data, there has been a constant increase in the sales of the vehicles as Tesla delivered 88,400 vehicles in Q1, 90,650 in Q2, and 139,300 during Q3 which eventually helped in boosting up the company's stock price in the market.
This milestone, especially in a year marred with a series of unforeseen and unfortunate events and circumstances, is not a mean feat to achieve. Despite that Elon Musk led Tesla has fulfilled its commitment of manufacturing as many electric vehicles as they can for a cleaner future ahead. Earlier, Tesla decided the goal of manufacturing one million vehicles in a year but sensing the ground reality, the company brought it down to half a million.
Delving into sales figures and manufacturing strategy of the company, Tesla could able to complete its target of half a million largely by increasing the production and by launching new model of its mid-sized SUV along with bringing up its new factory online in China. As far as sales are concerned the company was able to sell 57,039 Model S and X vehicles the last year. Besides that, Model 3 and Model Y sales stood at 442,511 for the year.
Pertaining to a commendable goal of its company, Tesla CEO Elon Musk also affirmed that the company was able to reach such a milestone in just five years. As per various sources, it is also claimed that five years ago, the company was producing just 600 vehicles annually, and now Tesla could do that within the course of three days. Further, Tesla reiterated as to how the company didn't bend or cut-short its target despite adversarial challenges posed due to the pandemic.
Tesla's goal of 500,000 vehicles has exceeded the manufacturing capacity of companies like Volkswagen more than by double and as a consequence of it, the company's share price has skyrocketed by more than 700 percent over the course of last year while it did incur huge profits across the span of five consecutive quarters. Further, in the future, the company aspires to be the epicenter of electric vehicle manufacturing primarily in Europe and Asia as competition intensifies in the US with growing investment.
President Joe Biden's Conversation with the Cambodian Prime Minister Hun Sen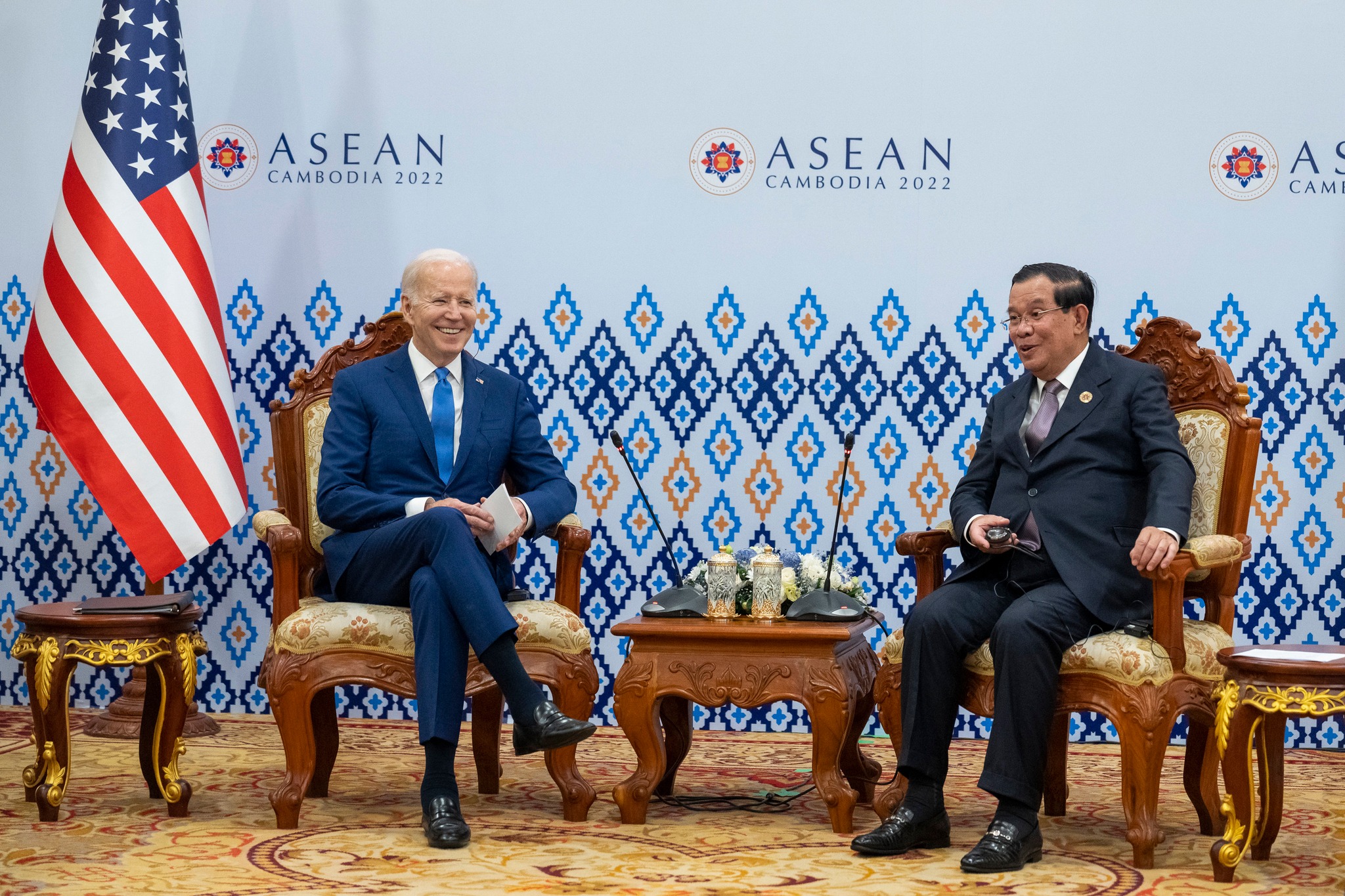 President Joe Biden landed in Cambodia on Saturday and supported the ASEAN nations. Before the eagerly anticipated Group of 20 summits next week in Indonesia, where Biden will meet with Xi for the first time in person since he took office, there will be a weekend of meetings in Cambodia. Before meeting with Xi, the president can engage with US allies at the ASEAN summits and the East Asia Summit on Sunday, both in Phnom Penh.
The US-ASEAN Comprehensive Strategic Partnership, which, according to Biden, "will tackle the biggest issues of our time, from climate to health security, defend against the significant threats to rule-based order and threats to the rule of law, and build an Indo-Pacific that's free and open, stable and prosperous, resilient and secure," was announced as "another critical step" toward building on the group's progress during his remarks at the summit. He cited a budget proposal for $850 million in support for Southeast Asia while praising the US's current financial commitments to ASEAN.
"This is my third journey and third summit, my second in person." The value reflects the United States' commitment to our relationship with ASEAN and our dedication to the region's centrality. The core of the Indo-Pacific strategy of my administration is ASEAN. In his opening remarks to the meeting, Biden said, "And we continue to reinforce our resolve to work in lockstep with an empowered, united ASEAN."
To build on the ASEAN leaders' conference in Washington earlier this year, the president's first meeting in Cambodia was with Prime Minister Hun Sen of Cambodia.
From the beginning of his presidency, Biden "was intent on elevating our engagement in the Indo-Pacific," according to national security adviser Jake Sullivan, and his attendance at the ASEAN and East Asia summits this weekend will highlight his accomplishments to date, including the Indo-Pacific Economic Framework unveiled earlier this year and security partnership initiatives.
"He's coming into this series of summits with that track record of success and purpose behind him, and he wants to be able to use the next 36 hours to build on that foundation to move American engagement forward, as well as to deliver several actual, practical initiatives," Sullivan said.
New initiatives on maritime cooperation, internet connectivity, and economic investment are some of these valuable measures, according to Sullivan. He added that Biden will soon begin a new maritime initiative that will "focus on using radio frequencies from commercial satellites to be able to track dark shipping, illegal and unregulated fishing, and also to improve the capacity of the countries of the region to respond to disasters and humanitarian crises."
Further, he added, Biden will also emphasize a "forward-deployed posture" toward regional defense to demonstrate that the US is actively pursuing security cooperation.
Biden also mentioned a brand-new US-ASEAN electric car infrastructure program during his speech.
He described the project as "a collaborative effort to build an integrated electric car ecosystem in Southeast Asia, enabling the region to achieve sustainable energy, economic growth, and ambitious emissions reduction targets."
Discussions on coordination "to continue to impose costs and build pressure on the junta" will also be centered on Myanmar, which was the subject of a February 2021 coup that ousted the country's democratically elected government.
Key Highlights
Concerns raised by Biden regarding Chinese activity at the Cambodian Ream Naval Base. The president expressed concern over the circumstances at Ream Naval Base and emphasized the value of complete transparency regarding the PRC (China's) military activities there.
The US President congratulated Cambodia's Prime Minister for backing Ukraine at the UN and spoke about the turmoil in military-ruled Myanmar.
President Biden also conveyed his gratitude to Cambodia for supporting resolutions at the UN to defend Ukraine from the brutal assault of Russia.
He thanked Cambodia for holding the ASEAN helm through a trying year.
The leaders "reflection on the historic US-ASEAN Special Summit's success in Washington, DC and applauded plans to establish a US-ASEAN Comprehensive Strategic Partnership at the annual US-ASEAN Summit later that day."
Along with the ASEAN Five Point Consensus, they also discussed the crisis in Burma and ASEAN's reaction, highlighting the international community's crucial role in restoring of democracy and stability in Burma.
In addition, Biden urged releasing activists like Seng Theory and a dual US-Cambodia citizen arrested on politically motivated allegations. The commitment of the United States to the Cambodian people and their goals for a more wealthy, democratic, and independent nation was reaffirmed by President Biden.