In today's fast evolving, dynamic and economically competitive world, it is a proven fact that mutual cooperation and friendly relations with neighbouring countries is a prerequisite for fostering growth and development. With this thought in mind, India too has maintained a healthy geo-political balance in the Indian Ocean Region (IOR). India's vision of Security and Growth for All in the Region (SAGAR) is in line with ensuring a stable and friendly neighbourhood, capable of handling all contingencies ranging from man-made to natural disasters. 
Among the various friendly neighbours of India, Maldives is one that has been an area of immense cooperation and mutual interest. And while the past few years have seen a see-saw in relations, India's steady and sustained efforts in providing economic, medical and military assistance to Maldives in the past decade and especially during the COVID pandemic are worthy of discussion. 
"India has always been the Maldives' closest ally and trusted neighbour, extending constant and consistent support to the people of Maldives on all fronts." 
– statement by Maldives government
The previous Maldivian government under President Abdulla Yameen (who since his presidential tenure has been fighting allegations for bribes and money laundering) was heavily tilted towards China. However, China's Sri Lankan debt trap and the increased presence of Chinese submarines in Maldivian waters created fear, alertness and disquiet in Maldives, leading them to look towards other regional powers like India, for partnership and investment. After President Ibrahim Mohamed Solih assumed office in November 2018, Maldives has shown immense goodwill and keen interest in cooperating with India in several areas of joint efforts. 
Maldives and India's shared past goes long back – Be it India's pro-active approach to defeating a coup attempt on the Maldivian government in 1988, or establishing medical complex and academic institutes in 1995/96, or their assistance and efforts during the 2004 Tsunami crisis, 2014 Male water crisis or even the very recent Covid-19 pandemic – none of these have gone unnoticed. India's timely health and humanitarian assistance in the form of visits by teams of doctors and specialists to assist Maldives in Covid-19 preparedness, donations of vaccines and essential medicines, food aid etc have garnered lot of respect and appreciation for India and her military forces. Amidst the Covid pandemic, India also extended an urgent financial assistance of $250 million (soft loan) to Maldives along with series of economic and financial initiatives, to revive Maldivian economy and provide budgetary cushion to their dwindling revenues which are primarily driven by tourism. 
There have been additional developmental projects like – the $500 million Greater Male Connectivity Project (GMCP), which will connect Male with three neighbouring islands by construction of a bridge and causeway link spanning 6.7 km; the creation of an air bubble with Maldives to facilitate movement of people from both sides for employment, tourism and medical emergencies; the direct cargo ferry service between the two nations to enhance sea connectivity, provide predictability in supplies and reduce logistics cost for India-Maldives trade – which would boost tourism and therefore the economy of Maldives. Both countries have recently also signed a $50 million Line of Credit (LoC) agreement and an agreement to develop Maldives National Defence Force Coast Guard to boost maritime and disaster relief capabilities of the nation and enhance regional maritime security, combat terrorism and control illegal activities on sea. 
The new momentum in high-level exchanges and diplomatic visits including Maldives Defence minister's recent six-day visit to India, leave no question on the importance that both countries place on this relationship. The cultural-educational exchanges, developing and grooming of Maldivian cricket and cricketers, cooperating in the field of energy efficiency and renewable energy, conducting joint-workshops with religious scholars of Maldives and liaising on various issues like hydrography, customs capacity building, disaster management, health etc – all these initiatives under India's 'Neighbourhood First' policy have strengthened maritime ties and long-standing friendship between the two nations. 
With shared ethnic and religious ties, over time both India and Maldives have been able to foster a relationship that is motivated by common goals of economic growth and progress. However, this deepening in relation has also attracted negative propaganda by other nations who have been trying to force their presence in the Indian Ocean Region (IOR). With the support of various individuals with vested interests these nations have been spreading online campaigns against India and Maldives. Although such campaigns will not discourage the strengthening relationship between the two countries but yes, it might delay development in Maldives. 
"The Government firmly believes that these views are not the sentiments of the general public, but rather that of a small group of individuals with the objective of tarnishing the country's long-standing cordial ties with India…The cooperation and support provided by the Government of India, specifically on issues of maritime security, is aimed at strengthening the strategic partnership between the two countries and to ensure the safety and stability of the Indian Ocean region"
– Maldivian Foreign Ministry statement about the online anti-India campaign 
As maritime nations of IOR which are barely 70 nautical miles apart and which share historical, cultures and linguistic ties, the relations between India and Maldives calls for joint constructive efforts. With close understanding and cooperation not only will there be development for both nations but this will also ensure prosperity and peace amongst all littorals in the region. So what better time than now to ensure this, when the world is recovering from the devastating pandemic and every nation is looking for honest, supportive and true partnerships. 
When a Chinese Spy Balloon Made UFOs, a Matter of Grave Concern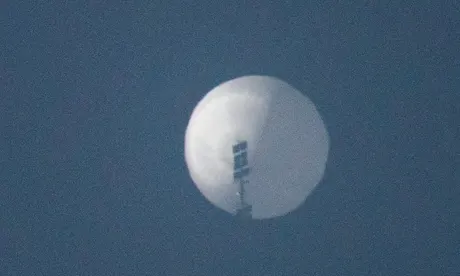 A year back, if someone told you that they spotted a "mysterious looking, white, balloon-shaped object" in the sky…you would have probably rubbished it, right? But what about today…how would you react to a news of 'mysterious balloons in the sky'? With a lot of concern, I presume…and rightly so! In this article we have discussed the incident of Chinese Spy Balloon aka Unidentified Flying Object.
From January 28 to February 4 this year, a giant white balloon was sighted across various parts of the North American airspace. This balloon, that was said to have traveled across South Korea, Japan, Alaska, Canada, and the contiguous United States, was later accepted by the Chinese government to be one of theirs – a Chinese 'Meteorological' Balloon that had drifted off-course due to the westerlies.
"The airship is from China. It is a civilian airship used for research, mainly meteorological, purposes. Affected by the Westerlies and with limited self-steering capability, the airship deviated far from its planned course."

– Chinese Foreign Ministry Spokesperson's Remarks on the Spy Balloon on 03 Feb 2023
But the American and Canadian intelligence services had different opinions – they claimed that the balloon was an instrument of surveillance which were endangering peace and security of these nations. On February 3, USA's Department of Defense reported that a second Chinese balloon was flying over Latin America, which China also claimed as its own. Following orders from U.S. President Joe Biden, the US Air Force shot down the balloon on February 4 in the Atlantic Ocean off the coast of South Carolina. 
But peace was not restored. The spy balloon incident has opened the pandora's box and the intelligence agencies now find themselves thinking on many fronts.
Before we dive into this, let's talk about China's "Civil-Military Fusion" program, under with such emerging technology is being developed.
China's National Strategy of Civil-Military Fusion (CMF)
"China encourages joint building and utilization of military and civilian infrastructure, joint exploration of the sea, outer space and air, and shared use of such resources as surveying and mapping, navigation, meteorology and frequency spectra. Accordingly, military and civilian resources can be more compatible, complementary and mutually accessible."

– China's Military Strategy, May 2015
To fulfill the Chinese goal of becoming a "world class military" by 2049, the Chinese government accelerated its program of CMF in 2015. Under this program, advanced technologies like Quantum Computing, AI, Big Data, nuclear, space and near-space technologies would be developed by exploiting both civilian and military capabilities. The importance of this Military Civilian Development Program can be identified by the fact that the President of the country, Xi Jinping, himself controls and oversees its progress. 
But why has the CCP government opted for this civilian-owned militarily empowered program? The reason is quite simple – 
If Caught – The government has the option to claim innocence by citing civilian–error and proving that there is no relation to the government or military. 
If Successful – The government successfully has access to the sensitive data of adversary and may weaponize this information as and when required for their benefit.
Now let's take another look at the Chinese Foreign Ministry Spokesperson's Remarks on the Spy Balloon –
"The airship is from China. It is a civilian airship used for research, mainly meteorological, purposes."
There should be no doubt that China's recent 'meteorological' balloons are a by-product of it's Civilian-Military Fusion program. The claim that the balloon's purpose was to spy on military installations in the Pacific region, cannot and should not be swiftly rejected. 
In the past few weeks, the North American Aerospace Defense Command has shot down four objects, and there are rumors of another balloon floating over the Middle East. What was once claimed to be a "civilian airship used for research, mainly meteorological, purposes", is now recognized as a component of a vast surveillance program.
Regardless of the quantity or caliber of the balloon's data gathered while flying over the United States, the controversy surrounding it has grown into an international incident, with multiple claims of similar "UFO" sightings all over the world – Japan, India, Taiwan, Colombia and list goes on.
What damage could the China's Spy Balloon inflict on the countries? Should we be bothered?
Let's answer the 2nd question first, should the spying balloon matter to us? 
YES, it definitely should. 
 It is no surprise that most members of Generation Z are unconcerned about data privacy, since they are so accustomed to being watched. In fact, a prevailing thought during a discussion about the balloon was, "Oh, the U.S. probably has comparable programs in China." The idea of a foreign competitor power gathering surveillance data on them therefore doesn't seem that terrifying to young people since. 
But, let's not forget this balloon was flying over the country's military areas, significant bases and important sites. 
Now let's come to the first question, what is the extent of damage that this balloon could cause? – Well, for this we leave you with two opinions to deliberate and make your own judgement.
Opinion 1
First, the chances of electronic surveillance to identify and possibly disrupt sensitive military communications cannot be ruled out at all. Second, is the possibility of cyber espionage or sabotage. With the cyber-skills and hacker army available with China's People's Liberation Army (PLA), it is a possible that this 'balloon-voyage' was a mere precursor to a full-fledged hybrid war. Third, the spy balloon could be a test, aimed to establish the reaction ability and potential of intelligence agencies worldwide. 
Opinion 2
Human brain is wired in a way to look at a shocking event with fear and assume that worst has happened. Therefore, had the Chinese diplomat in USA immediately met POTUS to explain China's position and taken strict (and public) against the civilian owners of this balloon, the matter would have been resolved peacefully without USAF interference. Diplomatic dialogue, should have been China's response, and not escalating the situation with threats – let's be clear 'cold-war' scenario, does more damage than good.
What's Next For China & USA Relations?
Chinese spy balloon illegal intrusion into USA's airspace has further deteriorated relations between the two countries. With Secretary of State Antony Blinken indefinitely postponing his trip to China, all prospects for a detente between the two superpowers seems to be eliminated. 
The incident has also heightened tensions and has accelerated alliance formation, not very different from the pre-Cold war era of USA and USSR!
"I believe in evidence. I believe in observation, measurement, and reasoning, confirmed by independent observers. I'll believe anything, no matter how wild and ridiculous, if there is evidence for it. The wilder and more ridiculous something is, however, the firmer and more solid the evidence will have to be."

-Isaac Asimov