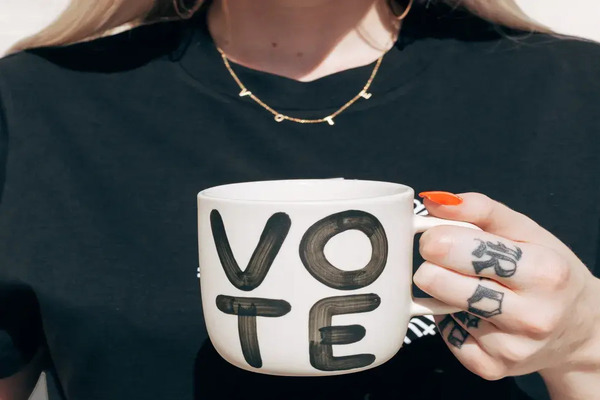 Politics back in Fashion: How Fashion Brands are encouraging people to vote in US presidential election 2020?
Several major fashion brands have launched initiatives or released collection that aims to encourage people to exercise their voting rights.
With less than a month left before the 2020 presidential election in the United States, several major fashion brands and designers are working to encourage their customers to vote. In the wake of the US election campaign, 'vote' merchandise has emerged as the latest trend. Several fashion brands are bringing out products, from t-shirts to masks, customised to feature "vote" slogans, to do their bit in encouraging young people to exercise their voting rights.
As November 3 inches closer, the fashion and beauty brands are playing a significant role in encouraging people to come out and vote, and make a difference.
Though fashion had traditionally stayed away from politics, fearful that demonstrating any leaning, conservative or liberal, would alienate swathes of potential customers. But, in the eight years of the Obama administration, the fashion industry came off really well in the US as Michelle Obama used her position to raise the profile of American designers, both by wearing a wide variety of brands and by hosting a fashion education workshop at the White House.
It's important to note that during the campaign of presidential election 2020, Michelle Obama apart from her powerful speech, at the Democratic National Convention, drew everybody's attention towards her "VOTE necklace." The stunning, custom-made accessory instantly made headlines for its message. Designed by Chari Cuthbert, it triggered frenzied searches with keywords like "Michelle Obama necklace" and "vote necklace".
Why fashion brands are asking you to vote?
"For democracy to work, people have to vote. The greatest threat to democracy is apathy."
According to Pew Research Centre, "Only 56 percent of the voting-age population cast their ballot in the 2016 US presidential election, which is low compared to the most nation." But with a vocal and growing cohort of young fashion consumers, it is expected by the companies and brands to take ethical stands. The brands are not only encouraging their consumers to vote but are also providing paid holidays on Election Day to their employees so that they can go and vote.
Patagonia like in 2016 and 2018 will once again close its doors on Election Day this November. The company for the first is also offering its employees up to four days off to train and serve as poll workers to help mitigate the nationwide shortage. Other than Patagonia, brands like Levi's, Old Navy, Target, and Warby Parker are also proving their employees a paid holiday on the day of the election.
Above and beyond raising voter turnout, the brands inspiring employees and consumers to represent their values through the act of voting demonstrates that they have the principles for which they stand. This in the future will help brands to drift the "belief-driven" customer base towards them.
Companies and brands promoting vote merchandise
Many organisations have teamed up for their initiatives such as Rock the Vote, I Am a Voter, and When We All Vote. While many fashion brands have designed limited-edition collections or pieces inspired by the election to encourage the young population to vote this election.
Stakes are higher than ever this election in November. Low voter turnout, particularly among young voters, coupled with a predicted shortage of election poll workers due to the Covid-19 crisis have prompted many companies and brands to promote people cast their votes in this presidential election.
Levi's, the much-loved denim brand, recently launched a VOTE PSA (public service announcement) with Hailey Baldwin, apart from other A-listers and activists. Additionally, Levi's brand has teamed up with Rock the Vote to provide voting-centric content to users, leveraging its Instagram platform to feature celebrities, activists, and non-profit leaders. They have launched tees and hoodies with the word 'vote' and other customisable options featuring phrases like "Don't Just – About it, Vote About It."
Banana Republic released face masks that read "Vote for a Better Republic" as part of their voter registration initiative. The brand is teaming with Rock the Vote to provide voter educational tools to prepare for the election. Apart from Banana Republic, accessories brand, Baublebar is working with I Am a Voter for the voting initiative and released a retro-inspired flower pendant necklace that reads "Watch Out I Vote."
Not just jewellery and clothes, even footwear brands like Naturalizer are entering into collaborations for making "vote" merchandise. The brand teamed with Rebecca Lee Funk, founder of the activist network The Outrage, to launch a limited-edition boot featuring the word "vote".
Patagonia has most recently gathered the most attention by using provocative tags on its Road to Regenerative Stand Up shorts that read, "Vote the A-Holes Out." The brand is known for its political activism in past and doesn't hesitate to leverage its brand to call for change around environmental issues.
Other than clothing and accessories brands, dating site OkCupid released a new Voter 2020 badge for users to include on their profiles. The company also publicised new research on the voting preferences of its users, including the statistic that registered voters are 85 percent more likely to get a match on the site.
Playing off the upvote/downvote system, Reddit shared that, although its content received an average of 165 million votes each day, the 2016 Presidential election only saw 140.1 million votes. The company launched an initiative called "Up the Vote" featuring an "Ask Me Anything" series on voting rights, laws and processes, special activations on National Voter Registration Day, and Vote Early Day including a silly video promoting a banana for President.
Pernod Ricard's Absolut Vodka brand launched a campaign "Vote First, Drink Second." Apart from this, five hundred thousand Jones Soda limited edition cream soda bottles were rolled out in September as part of their Vote 2020 series. The bottles feature a series of voting-themed label designs as well as a QR code on the back that enables online voter registration with a driver's license or state identification card.
There are almost around or even more than 40 brands who are urging people to get out and vote.
Assassination of Shinzo Abe & Salman Rushdie – Know Real Facts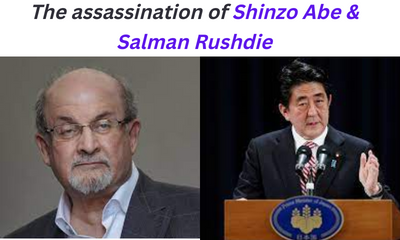 The months July and August of 2022 saw two cases of extermination to promote the fear of terrorism. One of the assassination of Shinzo Abe former Japanese Prime Minister, and another of the famous Novelist Salman Rushdie.
Shinzo Abe succumbed to a gunshot wound, whereas Rushdie's health conditions are improving and he is under medical supervision after the knife attack. However, various assassination attempt of Salman Rushdie has been made during the year.
These two terror acts force us to think about the impact of terrorism on society, the main objective of which is to create an atmosphere of fear so that citizens of the country cannot rely on their government.
This ultimately disturbs the law and order of the society, and serves the terrorists' purpose of creating a chaos.
Here we will see how these two attacks had different reasons but the objective remained the same – to stop someone from propagating his/her opinions independently, and also the factors that make attackers indulge in such acts.
Assassination Attempt of Salman Rushdie – Satanic Controversy
On 12 August 2022, Rushdie was attacked several times by a 24-year-old man Hadi Matar. The attacker's intentions can be linked to Rushdie's fourth novel, The Satanic Verses, published in 1988. Some Muslims considered the novel disrespectful towards Prophet Mohammed.
Soon after its publication, the novel sparked a 'fatwa' or a religious decree. The Iranian revolutionary leader Ayatollah Ruhollah Khomeini called for Rushdie's death in 1989. After, this various assassination attempt of Salman Rushdie has been made.
Complete conversation for Salman Rushdie Assassination:
When asked about the attack Hadi Matar said, "I don't like the person. I don't think he's a very good person. I don't like him very much". He further criticised Rushdie's work by saying, "He's someone who attacked Islam, he attacked their beliefs, the belief systems". Mr. Matar also told New York Post that he had only read 'a couple of pages' of the book and did not tell about whether the fatwa had inspired him or not.
While praising the Iranian religious leader, he stated, "I respect the Ayatollah. I think he's a great person. That's as far as I will say about that".
One can observe that the psychology of the attacker was that he simply disliked the novelist because of his work; although he read only two pages of the novel, but was rather influenced by the religious leaders and their sayings. Just, like this the assassination of Shinzo Abe has been made during this year, which we will discuss on next section.
Perceptions like these can have a long-lasting impact on future generations which can further deteriorate the situation. Violent acts like this demand proper scrutiny of the dissemination of information.
Extremists take advantage of such incidents and brainwash the young minds so that they can be used by them for their selfish purposes.
Assassination of Shinzo Abe – Complete Truth
On 8 July 2022, it was just another day of Abe's political campaign for the upcoming parliamentary elections. He was delivering a speech in Nara City, but no one is the aware about the assassination of Shinzo Abe that day. When a 41-year-old Tetsuya Yamagami shot him twice from behind from a distance of about 10 meters.
During the investigation, he confessed his intentions of killing and it was found that his motives had more to do with religious backing instead of a political reason.
It so happened that Yamagami's mother was a member of a religious group which she joined after her husband's death in 1998. She used to donate huge amounts of money as charity to the group, after the assassination of Shinzo Abe and Yamagami blames the sect for bankrupting his mother.
Confession Statement on Abe Case
The report reveal that Abe was closely associated with the sect, and wanted to take revenge against him for promoting it. "The suspect stated that he held a grudge against a particular organisation and that he committed the crime because he believed former Prime Minister Abe had a connection to it", a senior police officer in Japan's Nara region told reporters.
While the police hasn't given any clarification regarding the unidentified organization, social media in Japan has it that it could be the Unification Church.
Yamagami was unemployed, felt isolated in society, was against religious preaching and blind faith, and wanted to kill the leader of the religious organization but couldn't. One can see the psychological aspects of it that, the killer was anguished with the organisation and blamed them for his conditions and economic turmoil.
Ultimately his grudge converted into a motive of taking revenge for his loss and he did that by killing the perpetrator of the religious group, to give a message to the society and the world that one should avoid themselves from joining or contributing to such groups.
Japan has the strictest gun laws after the assassination of Shinzo Abe , so to bypass such stringent laws the killer used a handmade gun. The occurrence of such incidents in the island nation shows how much resentment the killer has and how strongly he was motivated to commit the murder.
Such incidents are eye-openers for the society that someone's freedom of belief can become others' pain, and teaches that as a society we should try to maintain a balance between them.
Two Paths to Crime
The above two accidents of assassination of Shinzo Abe, and the assassination attempt of Salman Rushdie has been terrifying for the country. First, being a part of a religious group the killer face hardship in his life, which forced him to commit the crime. In the second instance, the attacker got the impression that his religion is being targeted and that it is his responsibility to take revenge so that next time no one dares to do anything like that again.
Interpretation of things based on pre-assumed thoughts can lead to revenge, and revenge based on half-baked knowledge causes harm to the whole humanity, and not just the particular group concerned.