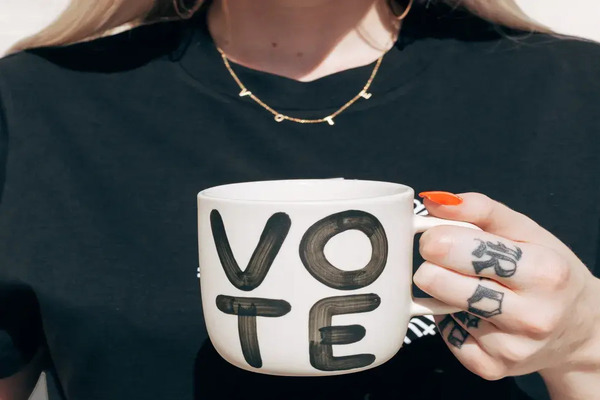 Politics back in Fashion: How Fashion Brands are encouraging people to vote in US presidential election 2020?
Several major fashion brands have launched initiatives or released collection that aims to encourage people to exercise their voting rights.
With less than a month left before the 2020 presidential election in the United States, several major fashion brands and designers are working to encourage their customers to vote. In the wake of the US election campaign, 'vote' merchandise has emerged as the latest trend. Several fashion brands are bringing out products, from t-shirts to masks, customised to feature "vote" slogans, to do their bit in encouraging young people to exercise their voting rights.
As November 3 inches closer, the fashion and beauty brands are playing a significant role in encouraging people to come out and vote, and make a difference.
Though fashion had traditionally stayed away from politics, fearful that demonstrating any leaning, conservative or liberal, would alienate swathes of potential customers. But, in the eight years of the Obama administration, the fashion industry came off really well in the US as Michelle Obama used her position to raise the profile of American designers, both by wearing a wide variety of brands and by hosting a fashion education workshop at the White House.
It's important to note that during the campaign of presidential election 2020, Michelle Obama apart from her powerful speech, at the Democratic National Convention, drew everybody's attention towards her "VOTE necklace." The stunning, custom-made accessory instantly made headlines for its message. Designed by Chari Cuthbert, it triggered frenzied searches with keywords like "Michelle Obama necklace" and "vote necklace".
Why fashion brands are asking you to vote?
"For democracy to work, people have to vote. The greatest threat to democracy is apathy."
According to Pew Research Centre, "Only 56 percent of the voting-age population cast their ballot in the 2016 US presidential election, which is low compared to the most nation." But with a vocal and growing cohort of young fashion consumers, it is expected by the companies and brands to take ethical stands. The brands are not only encouraging their consumers to vote but are also providing paid holidays on Election Day to their employees so that they can go and vote.
Patagonia like in 2016 and 2018 will once again close its doors on Election Day this November. The company for the first is also offering its employees up to four days off to train and serve as poll workers to help mitigate the nationwide shortage. Other than Patagonia, brands like Levi's, Old Navy, Target, and Warby Parker are also proving their employees a paid holiday on the day of the election.
Above and beyond raising voter turnout, the brands inspiring employees and consumers to represent their values through the act of voting demonstrates that they have the principles for which they stand. This in the future will help brands to drift the "belief-driven" customer base towards them.
Companies and brands promoting vote merchandise
Many organisations have teamed up for their initiatives such as Rock the Vote, I Am a Voter, and When We All Vote. While many fashion brands have designed limited-edition collections or pieces inspired by the election to encourage the young population to vote this election.
Stakes are higher than ever this election in November. Low voter turnout, particularly among young voters, coupled with a predicted shortage of election poll workers due to the Covid-19 crisis have prompted many companies and brands to promote people cast their votes in this presidential election.
Levi's, the much-loved denim brand, recently launched a VOTE PSA (public service announcement) with Hailey Baldwin, apart from other A-listers and activists. Additionally, Levi's brand has teamed up with Rock the Vote to provide voting-centric content to users, leveraging its Instagram platform to feature celebrities, activists, and non-profit leaders. They have launched tees and hoodies with the word 'vote' and other customisable options featuring phrases like "Don't Just – About it, Vote About It."
Banana Republic released face masks that read "Vote for a Better Republic" as part of their voter registration initiative. The brand is teaming with Rock the Vote to provide voter educational tools to prepare for the election. Apart from Banana Republic, accessories brand, Baublebar is working with I Am a Voter for the voting initiative and released a retro-inspired flower pendant necklace that reads "Watch Out I Vote."
Not just jewellery and clothes, even footwear brands like Naturalizer are entering into collaborations for making "vote" merchandise. The brand teamed with Rebecca Lee Funk, founder of the activist network The Outrage, to launch a limited-edition boot featuring the word "vote".
Patagonia has most recently gathered the most attention by using provocative tags on its Road to Regenerative Stand Up shorts that read, "Vote the A-Holes Out." The brand is known for its political activism in past and doesn't hesitate to leverage its brand to call for change around environmental issues.
Other than clothing and accessories brands, dating site OkCupid released a new Voter 2020 badge for users to include on their profiles. The company also publicised new research on the voting preferences of its users, including the statistic that registered voters are 85 percent more likely to get a match on the site.
Playing off the upvote/downvote system, Reddit shared that, although its content received an average of 165 million votes each day, the 2016 Presidential election only saw 140.1 million votes. The company launched an initiative called "Up the Vote" featuring an "Ask Me Anything" series on voting rights, laws and processes, special activations on National Voter Registration Day, and Vote Early Day including a silly video promoting a banana for President.
Pernod Ricard's Absolut Vodka brand launched a campaign "Vote First, Drink Second." Apart from this, five hundred thousand Jones Soda limited edition cream soda bottles were rolled out in September as part of their Vote 2020 series. The bottles feature a series of voting-themed label designs as well as a QR code on the back that enables online voter registration with a driver's license or state identification card.
There are almost around or even more than 40 brands who are urging people to get out and vote.
Brutal Assault on the Brazilian Government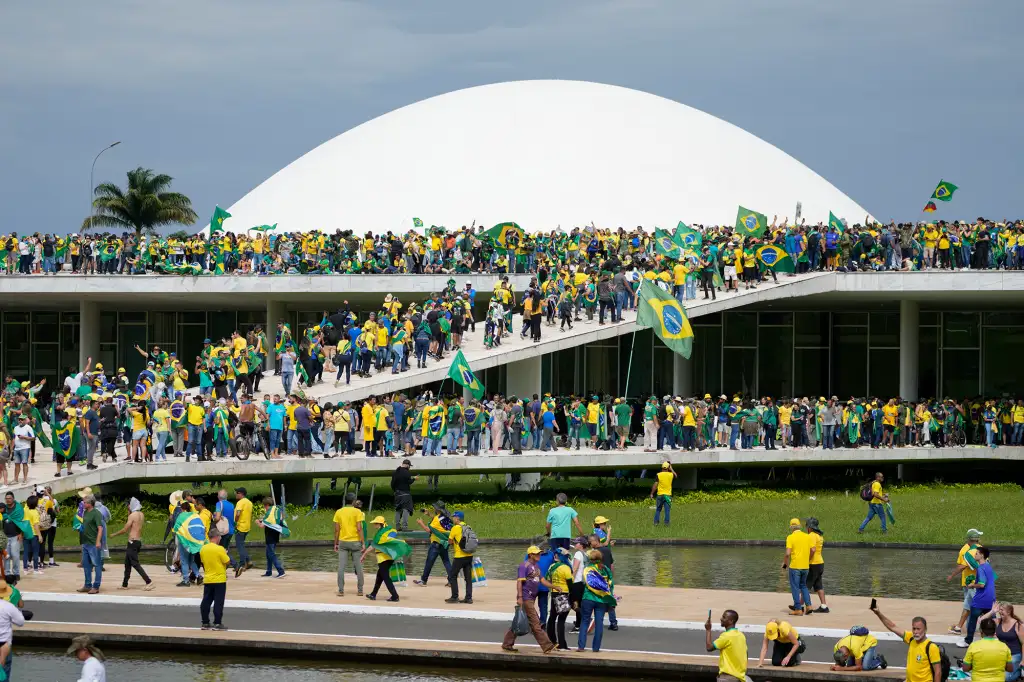 Many believed that thousands of Jair Bolsonaro's followers assaulted Congress, the presidential mansion, and the highest court in Brasilia on Sunday to start a military coup. Since President LuizInácio Lula da Silva triumphed in a closely fought runoff election on October 30, many Bolsonaro supporters have pleaded with the military to intervene. After a divisive campaign highlighting the country's bitter divisions, it was the most significant attack on Brazil's key institutions since the end of a military dictatorship and the return to democracy in the 1980s. Here is what you need to know about brutal assault on the Brazilian government.
Why was the election such a spectacular event:
This election was so dramatic because it depicted two enormous characters representing opposites in politics. Leftist Lula, a former labor union leader, is admired by those who credit him with putting policies in place that lifted millions out of poverty during his two terms in power from 2003 to 2011, but despised by those who see him as a symbol of corruption. In 2017, he was found guilty of corruption and money laundering and was given a nearly 10-year prison term. He was a 77-year-old cancer survivor who was released in 2019 following the adoption of a new detention policy by the Supreme Court. The Court later overturned his conviction on procedural grounds in 2021. Former army captain Bolsonaro, 67, has been hospitalized several times since being stabbed while campaigning in 2018. His supporters view him as a defender of traditional family values and a campaigner against corruption, which are crucial campaign issues in a predominantly conservative country. The president's opponents have referred to him as a far-right authoritarian and said he has promoted sexism, racism, and homophobia.
How did the vote count turn out:
Lula won the runoff election by a razor-thin margin of 51% to 49% over Bolsonaro. He entered office on January 1 with the promise of uniting a nation whose divides had, if anything, grown worse throughout the campaign. On the day Lula was validated, Bolsonaro supporters set fire to vehicles in the city's downtown area, and in late December, a device was discovered in a fuel truck close to the airport.
Why were Bolsonaro's followers calling for military action
Bolsonaro's supporters want the military to intervene because, during the election campaign last year, Bolsonaro and his allies spread a significant amount of false information and made snide remarks about the political process. When the country's long-established electronic voting system was attacked with unsubstantiated accusations by the then-president, his supporters began to question the validity of the results. Conflicts with the country's courts arose as a result. Even though his followers organized sizable rallies and spread conspiracies, Bolsonaro waited two days after the runoff to make an unclear speech and has never publicly admitted defeat.
After the election, What did his followers do:
In the days following the election, trucks were used to block roadways all around the nation before being removed on a court order. Then, in anticipation of a military intervention they believed Bolsonaro, who frequently talked favorably of Brazil's previous dictatorship, had hinted at in his rallies, crowds of supporters started to amass outside army headquarters across the nation. Even when Lula assumed power, hundreds still camped outside the bases.
What transpired in Brazil:
In Brasilia, On January 8, tens of thousands of rioters assaulted Congress, the presidential palace, and the Supreme Court, leaving a path of devastation with many clad in Brazilian flags or sporting the yellow and green national jersey. Historic structures were defaced, while journalists and police officers came under attack. The palaces' windows were broken by furniture being hurled through them. The doors to the closet where Judge Moraes' robes were stored were pulled off, and the justice's chairs in the highest court were thrown around. Videos online showed the vandals carrying the piece of wood bearing the justice's name as if it were a trophy. Several works of art were torn or scratched, including the well-known 20th-century painter Di Cavalcanti's painting Asmulatas.
What were people's responses to the attack:
Members of the military police began removing the rioters from the buildings after they had been free to wander for around three hours. It took another four hours for the attackers to leave the area. While in Sao Paulo to assess the effects of the recent torrential rains, Lula delivered an enraged address in which he demanded immediate intervention in the Federal District government. He accused Bolsanaro of being the reason for the disturbance and pledged to punish anyone who took part or helped finance it. After clearing the premises of the rioters, Bolsonaro denounced the "depredations and invasions of public facilities, but claimed that the incident was comparable to acts done by the left in 2013 and 2017. Both of those years saw sizable but significantly less violent public demonstrations. Bolsonaro denied Lula's accusation that he was complicit. Moraes also ordered the removal of the encampments in front of the army headquarters, which resulted in around 1,500 arrests, and suspended the Bolsonaro-supporting governor of the Federal District for 90 days at the same time.
Numerous inquiries started practically right away, and more are currently being explored. The Federal District's civil police kept track of the several people detained following the riot. The federal police and the federal highway police are looking into who may have helped Bolsonaro's supporters set up camp in front of the army headquarters for such a long time, as well as the funding of the buses that transported rioters from other states to Brasilia. To receive information about people accountable for the turmoil on January 8, the Ministry of Justice set up a dedicated email account. The municipal and federal governments are conducting internal investigations to look into potential collusion between the security officers and the vandals. It's being discussed to launch a congressional investigation in February.