A Pakistani nuclear physicist, Pervez Amirali Hoodbhoy, has written an in-depth article giving us a grasp of the educational reforms under Imran Khan's regime. The highlight of the article is the huge volume of religious material in the newly introduced Single National Curriculum (SNC) in Pakistan schools. While many argue that such a reform shall welcome unity amongst the students, Hoodbhoy sheds light on other peculiarities. He revealed that the SNC system is focussed on fuelling young minds with ideology-based education rather than the acquisition of basic skills.
Primitive Educational Infrastructure
Various media reports revealed that Pakistan's educational infrastructure is in a dilapidated condition. A BBC report interviewed students from Pakistan who discussed the plight they witnessed during the COVID-19 pandemic – Atiq Ali, an economics student at Karachi's Institute of Business Administration, returned to his hometown of Turbat, where there's no wireless internet or 3G/4G coverage after his university shut down. Now, every morning, he rides his motorcycle an hour out of town, braving temperatures up to 50 degrees Celsius, to download lectures at a friend's house. "It's just a lot of effort to get there," Ali says in a phone interview. "And then sometimes there is no power, sometimes the internet goes down." 
While access to education was already a problem in Pakistan – 22.8 million of Pakistan's over 70 million children are out of school – the coronavirus outbreak has exposed its profound technological inequities. Over 50 million school and university-going Pakistanis now risk falling behind, says Umbreen Arif, a top education advisor for Pakistan's central government.
Accusations by the Opposition  
Recently, Pakistan Peoples' Party (PPP) Chairman Bilawal Bhutto-Zardari alleged that Imran Khan's ruling Pakistan Tehreek-e-Insaf (PTI) has an anti-education agenda. He took to the social media website Twitter and said that the ruling party's consistent assault on Higher Education Commission (HEC) funding is having very real consequences at a time when medical universities are at the frontline battling Covid-19.
The Nexus
Mr. Hoodbhoy further explained the nexus between the Madressahs and the government establishment. He explains how educated holy men are welcomed by the Pakistani government- to teach in regular schools as paid teachers. Hoodbhoy elucidated the true meaning of the SNC system in Pakistani schools.
The Pakistani nuclear physicist also wrote: A column-by-column comparison with two major madressah systems — Tanzeemul Madaris and Rabtaul Madaris — reveals a shocking fact. Ordinary schools will henceforth impose more rote learning than even these madrassahs. With normal schoolteachers being under-equipped religiously, SNC calls for summoning an army of madrassah-educated holy men — hafiz's and qaris — as paid teachers inside schools. How this will affect the general ambiance and the safety of students is an open question.
The push for a uniform national curriculum idea derives from three flawed assumptions:
First: It is false that quality differences between Pakistan's various education streams stem from pursuing different curricula. When teaching any secular subject such as geography, social studies or science, all streams have to cover the same topics. While details and emphases obviously differ, each must deal with exactly seven continents and water being H2O.
Instead, learning differentials arise because students experience very different teaching methods and are evaluated using entirely different criteria. So, for example, a local examination board will typically ask a mathematics student to name the inventor of logarithms whereas an 'O'-level student must actually use logarithms to solve some problem. The modern world expects students to reason their way through a question, not parrot facts.
Second: It is false that a hefty dose of piety will somehow equalise students at Aitchison College and your run-of-the-mill neighbourhood school. The legendary Mahmood and Ayyaz prayed in the same suff (prayer line) and established a commonality without ending their master-slave relationship. Similarly, rich and poor schools will remain worlds apart unless equalised through school infrastructure, well-trained teachers, high quality textbooks and internet access. How the needed resources will be generated is anybody's guess. Under PTI, defence is the only sector seeing increases instead of cuts.
Third: It is false that school systems belonging to the modern world can be brought onto the same page as madressahs. Modern education rests squarely upon critical thinking, and success/failure is determined in relation to problem solving and worldly knowledge. Madressah education goals are important but different. They seek a more religiously observant student and a better life after death. Understandably, critical thinking is unwelcome.
Strong Focus on Religious Education
According to Pakistan's Ministry of Federal Education and Professional Training, the SNC is: In line with the vision of the Honourable Prime Minister and the manifesto of the present government of strengthening the nation, progress of activities towards the development of a Single National Curriculum have gained impressive momentum. The aim of the Single National Curriculum is to have a fair and equal opportunity for all children of Pakistan to receive a high quality education.
Hoodbhoy also sheds light upon the unwavering importance that the PTI government is giving to religious education over regular education. He says that, the Punjab government has made teaching of the Holy Quran compulsory at the college and university level. Without passing the required examination no student will be able to get a BA, BSc, BE, ME, MA, MSc, MPhil, PhD or medical degree. Even the Zia regime did not have such blanket requirements. To get a university teaching job in the 1980s, you had to name all the wives of the Holy Prophet (PBUH) and recite some difficult religious passages such as Dua-i-Qunoot. Still, students could get degrees without that. That option is now closed.
Assassination of Shinzo Abe & Salman Rushdie – Know Real Facts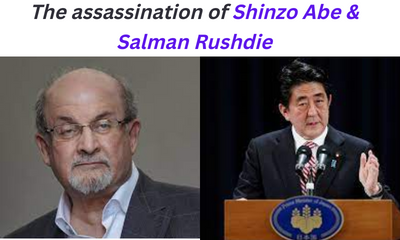 The months July and August of 2022 saw two cases of extermination to promote the fear of terrorism. One of the assassination of Shinzo Abe former Japanese Prime Minister, and another of the famous Novelist Salman Rushdie.
Shinzo Abe succumbed to a gunshot wound, whereas Rushdie's health conditions are improving and he is under medical supervision after the knife attack. However, various assassination attempt of Salman Rushdie has been made during the year.
These two terror acts force us to think about the impact of terrorism on society, the main objective of which is to create an atmosphere of fear so that citizens of the country cannot rely on their government.
This ultimately disturbs the law and order of the society, and serves the terrorists' purpose of creating a chaos.
Here we will see how these two attacks had different reasons but the objective remained the same – to stop someone from propagating his/her opinions independently, and also the factors that make attackers indulge in such acts.
Assassination Attempt of Salman Rushdie – Satanic Controversy
On 12 August 2022, Rushdie was attacked several times by a 24-year-old man Hadi Matar. The attacker's intentions can be linked to Rushdie's fourth novel, The Satanic Verses, published in 1988. Some Muslims considered the novel disrespectful towards Prophet Mohammed.
Soon after its publication, the novel sparked a 'fatwa' or a religious decree. The Iranian revolutionary leader Ayatollah Ruhollah Khomeini called for Rushdie's death in 1989. After, this various assassination attempt of Salman Rushdie has been made.
Complete conversation for Salman Rushdie Assassination:
When asked about the attack Hadi Matar said, "I don't like the person. I don't think he's a very good person. I don't like him very much". He further criticised Rushdie's work by saying, "He's someone who attacked Islam, he attacked their beliefs, the belief systems". Mr. Matar also told New York Post that he had only read 'a couple of pages' of the book and did not tell about whether the fatwa had inspired him or not.
While praising the Iranian religious leader, he stated, "I respect the Ayatollah. I think he's a great person. That's as far as I will say about that".
One can observe that the psychology of the attacker was that he simply disliked the novelist because of his work; although he read only two pages of the novel, but was rather influenced by the religious leaders and their sayings. Just, like this the assassination of Shinzo Abe has been made during this year, which we will discuss on next section.
Perceptions like these can have a long-lasting impact on future generations which can further deteriorate the situation. Violent acts like this demand proper scrutiny of the dissemination of information.
Extremists take advantage of such incidents and brainwash the young minds so that they can be used by them for their selfish purposes.
Assassination of Shinzo Abe – Complete Truth
On 8 July 2022, it was just another day of Abe's political campaign for the upcoming parliamentary elections. He was delivering a speech in Nara City, but no one is the aware about the assassination of Shinzo Abe that day. When a 41-year-old Tetsuya Yamagami shot him twice from behind from a distance of about 10 meters.
During the investigation, he confessed his intentions of killing and it was found that his motives had more to do with religious backing instead of a political reason.
It so happened that Yamagami's mother was a member of a religious group which she joined after her husband's death in 1998. She used to donate huge amounts of money as charity to the group, after the assassination of Shinzo Abe and Yamagami blames the sect for bankrupting his mother.
Confession Statement on Abe Case
The report reveal that Abe was closely associated with the sect, and wanted to take revenge against him for promoting it. "The suspect stated that he held a grudge against a particular organisation and that he committed the crime because he believed former Prime Minister Abe had a connection to it", a senior police officer in Japan's Nara region told reporters.
While the police hasn't given any clarification regarding the unidentified organization, social media in Japan has it that it could be the Unification Church.
Yamagami was unemployed, felt isolated in society, was against religious preaching and blind faith, and wanted to kill the leader of the religious organization but couldn't. One can see the psychological aspects of it that, the killer was anguished with the organisation and blamed them for his conditions and economic turmoil.
Ultimately his grudge converted into a motive of taking revenge for his loss and he did that by killing the perpetrator of the religious group, to give a message to the society and the world that one should avoid themselves from joining or contributing to such groups.
Japan has the strictest gun laws after the assassination of Shinzo Abe , so to bypass such stringent laws the killer used a handmade gun. The occurrence of such incidents in the island nation shows how much resentment the killer has and how strongly he was motivated to commit the murder.
Such incidents are eye-openers for the society that someone's freedom of belief can become others' pain, and teaches that as a society we should try to maintain a balance between them.
Two Paths to Crime
The above two accidents of assassination of Shinzo Abe, and the assassination attempt of Salman Rushdie has been terrifying for the country. First, being a part of a religious group the killer face hardship in his life, which forced him to commit the crime. In the second instance, the attacker got the impression that his religion is being targeted and that it is his responsibility to take revenge so that next time no one dares to do anything like that again.
Interpretation of things based on pre-assumed thoughts can lead to revenge, and revenge based on half-baked knowledge causes harm to the whole humanity, and not just the particular group concerned.