A Pakistani nuclear physicist, Pervez Amirali Hoodbhoy, has written an in-depth article giving us a grasp of the educational reforms under Imran Khan's regime. The highlight of the article is the huge volume of religious material in the newly introduced Single National Curriculum (SNC) in Pakistan schools. While many argue that such a reform shall welcome unity amongst the students, Hoodbhoy sheds light on other peculiarities. He revealed that the SNC system is focussed on fuelling young minds with ideology-based education rather than the acquisition of basic skills.
Primitive Educational Infrastructure
Various media reports revealed that Pakistan's educational infrastructure is in a dilapidated condition. A BBC report interviewed students from Pakistan who discussed the plight they witnessed during the COVID-19 pandemic – Atiq Ali, an economics student at Karachi's Institute of Business Administration, returned to his hometown of Turbat, where there's no wireless internet or 3G/4G coverage after his university shut down. Now, every morning, he rides his motorcycle an hour out of town, braving temperatures up to 50 degrees Celsius, to download lectures at a friend's house. "It's just a lot of effort to get there," Ali says in a phone interview. "And then sometimes there is no power, sometimes the internet goes down." 
While access to education was already a problem in Pakistan – 22.8 million of Pakistan's over 70 million children are out of school – the coronavirus outbreak has exposed its profound technological inequities. Over 50 million school and university-going Pakistanis now risk falling behind, says Umbreen Arif, a top education advisor for Pakistan's central government.
Accusations by the Opposition  
Recently, Pakistan Peoples' Party (PPP) Chairman Bilawal Bhutto-Zardari alleged that Imran Khan's ruling Pakistan Tehreek-e-Insaf (PTI) has an anti-education agenda. He took to the social media website Twitter and said that the ruling party's consistent assault on Higher Education Commission (HEC) funding is having very real consequences at a time when medical universities are at the frontline battling Covid-19.
The Nexus
Mr. Hoodbhoy further explained the nexus between the Madressahs and the government establishment. He explains how educated holy men are welcomed by the Pakistani government- to teach in regular schools as paid teachers. Hoodbhoy elucidated the true meaning of the SNC system in Pakistani schools.
The Pakistani nuclear physicist also wrote: A column-by-column comparison with two major madressah systems — Tanzeemul Madaris and Rabtaul Madaris — reveals a shocking fact. Ordinary schools will henceforth impose more rote learning than even these madrassahs. With normal schoolteachers being under-equipped religiously, SNC calls for summoning an army of madrassah-educated holy men — hafiz's and qaris — as paid teachers inside schools. How this will affect the general ambiance and the safety of students is an open question.
The push for a uniform national curriculum idea derives from three flawed assumptions:
First: It is false that quality differences between Pakistan's various education streams stem from pursuing different curricula. When teaching any secular subject such as geography, social studies or science, all streams have to cover the same topics. While details and emphases obviously differ, each must deal with exactly seven continents and water being H2O.
Instead, learning differentials arise because students experience very different teaching methods and are evaluated using entirely different criteria. So, for example, a local examination board will typically ask a mathematics student to name the inventor of logarithms whereas an 'O'-level student must actually use logarithms to solve some problem. The modern world expects students to reason their way through a question, not parrot facts.
Second: It is false that a hefty dose of piety will somehow equalise students at Aitchison College and your run-of-the-mill neighbourhood school. The legendary Mahmood and Ayyaz prayed in the same suff (prayer line) and established a commonality without ending their master-slave relationship. Similarly, rich and poor schools will remain worlds apart unless equalised through school infrastructure, well-trained teachers, high quality textbooks and internet access. How the needed resources will be generated is anybody's guess. Under PTI, defence is the only sector seeing increases instead of cuts.
Third: It is false that school systems belonging to the modern world can be brought onto the same page as madressahs. Modern education rests squarely upon critical thinking, and success/failure is determined in relation to problem solving and worldly knowledge. Madressah education goals are important but different. They seek a more religiously observant student and a better life after death. Understandably, critical thinking is unwelcome.
Strong Focus on Religious Education
According to Pakistan's Ministry of Federal Education and Professional Training, the SNC is: In line with the vision of the Honourable Prime Minister and the manifesto of the present government of strengthening the nation, progress of activities towards the development of a Single National Curriculum have gained impressive momentum. The aim of the Single National Curriculum is to have a fair and equal opportunity for all children of Pakistan to receive a high quality education.
Hoodbhoy also sheds light upon the unwavering importance that the PTI government is giving to religious education over regular education. He says that, the Punjab government has made teaching of the Holy Quran compulsory at the college and university level. Without passing the required examination no student will be able to get a BA, BSc, BE, ME, MA, MSc, MPhil, PhD or medical degree. Even the Zia regime did not have such blanket requirements. To get a university teaching job in the 1980s, you had to name all the wives of the Holy Prophet (PBUH) and recite some difficult religious passages such as Dua-i-Qunoot. Still, students could get degrees without that. That option is now closed.
Brutal Assault on the Brazilian Government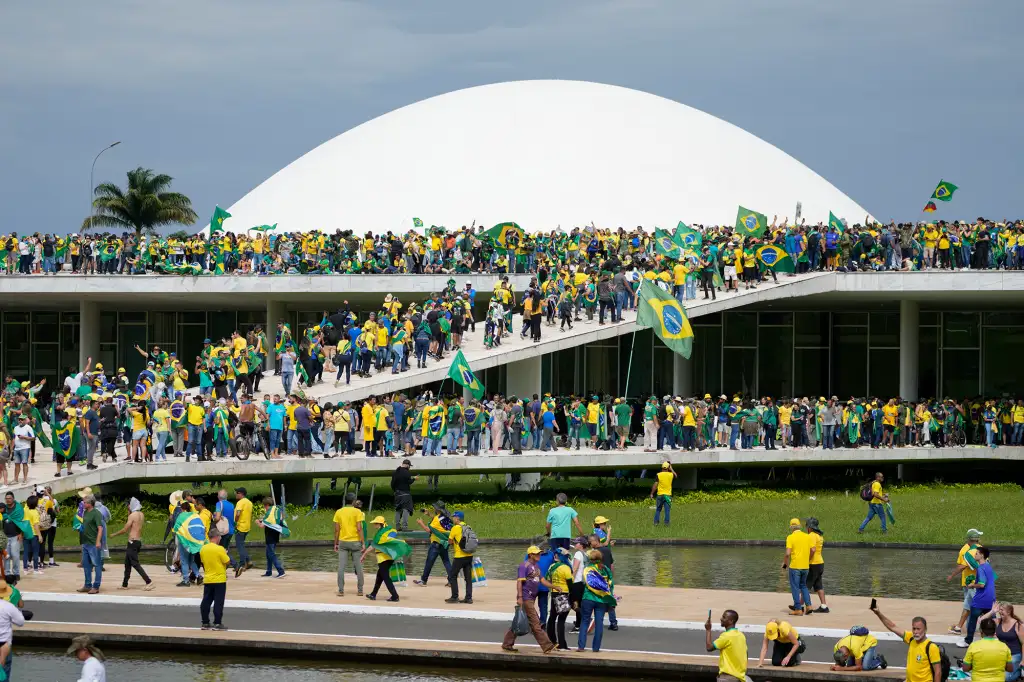 Many believed that thousands of Jair Bolsonaro's followers assaulted Congress, the presidential mansion, and the highest court in Brasilia on Sunday to start a military coup. Since President LuizInácio Lula da Silva triumphed in a closely fought runoff election on October 30, many Bolsonaro supporters have pleaded with the military to intervene. After a divisive campaign highlighting the country's bitter divisions, it was the most significant attack on Brazil's key institutions since the end of a military dictatorship and the return to democracy in the 1980s. Here is what you need to know about brutal assault on the Brazilian government.
Why was the election such a spectacular event:
This election was so dramatic because it depicted two enormous characters representing opposites in politics. Leftist Lula, a former labor union leader, is admired by those who credit him with putting policies in place that lifted millions out of poverty during his two terms in power from 2003 to 2011, but despised by those who see him as a symbol of corruption. In 2017, he was found guilty of corruption and money laundering and was given a nearly 10-year prison term. He was a 77-year-old cancer survivor who was released in 2019 following the adoption of a new detention policy by the Supreme Court. The Court later overturned his conviction on procedural grounds in 2021. Former army captain Bolsonaro, 67, has been hospitalized several times since being stabbed while campaigning in 2018. His supporters view him as a defender of traditional family values and a campaigner against corruption, which are crucial campaign issues in a predominantly conservative country. The president's opponents have referred to him as a far-right authoritarian and said he has promoted sexism, racism, and homophobia.
How did the vote count turn out:
Lula won the runoff election by a razor-thin margin of 51% to 49% over Bolsonaro. He entered office on January 1 with the promise of uniting a nation whose divides had, if anything, grown worse throughout the campaign. On the day Lula was validated, Bolsonaro supporters set fire to vehicles in the city's downtown area, and in late December, a device was discovered in a fuel truck close to the airport.
Why were Bolsonaro's followers calling for military action
Bolsonaro's supporters want the military to intervene because, during the election campaign last year, Bolsonaro and his allies spread a significant amount of false information and made snide remarks about the political process. When the country's long-established electronic voting system was attacked with unsubstantiated accusations by the then-president, his supporters began to question the validity of the results. Conflicts with the country's courts arose as a result. Even though his followers organized sizable rallies and spread conspiracies, Bolsonaro waited two days after the runoff to make an unclear speech and has never publicly admitted defeat.
After the election, What did his followers do:
In the days following the election, trucks were used to block roadways all around the nation before being removed on a court order. Then, in anticipation of a military intervention they believed Bolsonaro, who frequently talked favorably of Brazil's previous dictatorship, had hinted at in his rallies, crowds of supporters started to amass outside army headquarters across the nation. Even when Lula assumed power, hundreds still camped outside the bases.
What transpired in Brazil:
In Brasilia, On January 8, tens of thousands of rioters assaulted Congress, the presidential palace, and the Supreme Court, leaving a path of devastation with many clad in Brazilian flags or sporting the yellow and green national jersey. Historic structures were defaced, while journalists and police officers came under attack. The palaces' windows were broken by furniture being hurled through them. The doors to the closet where Judge Moraes' robes were stored were pulled off, and the justice's chairs in the highest court were thrown around. Videos online showed the vandals carrying the piece of wood bearing the justice's name as if it were a trophy. Several works of art were torn or scratched, including the well-known 20th-century painter Di Cavalcanti's painting Asmulatas.
What were people's responses to the attack:
Members of the military police began removing the rioters from the buildings after they had been free to wander for around three hours. It took another four hours for the attackers to leave the area. While in Sao Paulo to assess the effects of the recent torrential rains, Lula delivered an enraged address in which he demanded immediate intervention in the Federal District government. He accused Bolsanaro of being the reason for the disturbance and pledged to punish anyone who took part or helped finance it. After clearing the premises of the rioters, Bolsonaro denounced the "depredations and invasions of public facilities, but claimed that the incident was comparable to acts done by the left in 2013 and 2017. Both of those years saw sizable but significantly less violent public demonstrations. Bolsonaro denied Lula's accusation that he was complicit. Moraes also ordered the removal of the encampments in front of the army headquarters, which resulted in around 1,500 arrests, and suspended the Bolsonaro-supporting governor of the Federal District for 90 days at the same time.
Numerous inquiries started practically right away, and more are currently being explored. The Federal District's civil police kept track of the several people detained following the riot. The federal police and the federal highway police are looking into who may have helped Bolsonaro's supporters set up camp in front of the army headquarters for such a long time, as well as the funding of the buses that transported rioters from other states to Brasilia. To receive information about people accountable for the turmoil on January 8, the Ministry of Justice set up a dedicated email account. The municipal and federal governments are conducting internal investigations to look into potential collusion between the security officers and the vandals. It's being discussed to launch a congressional investigation in February.