A Pakistani nuclear physicist, Pervez Amirali Hoodbhoy, has written an in-depth article giving us a grasp of the educational reforms under Imran Khan's regime. The highlight of the article is the huge volume of religious material in the newly introduced Single National Curriculum (SNC) in Pakistan schools. While many argue that such a reform shall welcome unity amongst the students, Hoodbhoy sheds light on other peculiarities. He revealed that the SNC system is focussed on fuelling young minds with ideology-based education rather than the acquisition of basic skills.
Primitive Educational Infrastructure
Various media reports revealed that Pakistan's educational infrastructure is in a dilapidated condition. A BBC report interviewed students from Pakistan who discussed the plight they witnessed during the COVID-19 pandemic – Atiq Ali, an economics student at Karachi's Institute of Business Administration, returned to his hometown of Turbat, where there's no wireless internet or 3G/4G coverage after his university shut down. Now, every morning, he rides his motorcycle an hour out of town, braving temperatures up to 50 degrees Celsius, to download lectures at a friend's house. "It's just a lot of effort to get there," Ali says in a phone interview. "And then sometimes there is no power, sometimes the internet goes down." 
While access to education was already a problem in Pakistan – 22.8 million of Pakistan's over 70 million children are out of school – the coronavirus outbreak has exposed its profound technological inequities. Over 50 million school and university-going Pakistanis now risk falling behind, says Umbreen Arif, a top education advisor for Pakistan's central government.
Accusations by the Opposition  
Recently, Pakistan Peoples' Party (PPP) Chairman Bilawal Bhutto-Zardari alleged that Imran Khan's ruling Pakistan Tehreek-e-Insaf (PTI) has an anti-education agenda. He took to the social media website Twitter and said that the ruling party's consistent assault on Higher Education Commission (HEC) funding is having very real consequences at a time when medical universities are at the frontline battling Covid-19.
The Nexus
Mr. Hoodbhoy further explained the nexus between the Madressahs and the government establishment. He explains how educated holy men are welcomed by the Pakistani government- to teach in regular schools as paid teachers. Hoodbhoy elucidated the true meaning of the SNC system in Pakistani schools.
The Pakistani nuclear physicist also wrote: A column-by-column comparison with two major madressah systems — Tanzeemul Madaris and Rabtaul Madaris — reveals a shocking fact. Ordinary schools will henceforth impose more rote learning than even these madrassahs. With normal schoolteachers being under-equipped religiously, SNC calls for summoning an army of madrassah-educated holy men — hafiz's and qaris — as paid teachers inside schools. How this will affect the general ambiance and the safety of students is an open question.
The push for a uniform national curriculum idea derives from three flawed assumptions:
First: It is false that quality differences between Pakistan's various education streams stem from pursuing different curricula. When teaching any secular subject such as geography, social studies or science, all streams have to cover the same topics. While details and emphases obviously differ, each must deal with exactly seven continents and water being H2O.
Instead, learning differentials arise because students experience very different teaching methods and are evaluated using entirely different criteria. So, for example, a local examination board will typically ask a mathematics student to name the inventor of logarithms whereas an 'O'-level student must actually use logarithms to solve some problem. The modern world expects students to reason their way through a question, not parrot facts.
Second: It is false that a hefty dose of piety will somehow equalise students at Aitchison College and your run-of-the-mill neighbourhood school. The legendary Mahmood and Ayyaz prayed in the same suff (prayer line) and established a commonality without ending their master-slave relationship. Similarly, rich and poor schools will remain worlds apart unless equalised through school infrastructure, well-trained teachers, high quality textbooks and internet access. How the needed resources will be generated is anybody's guess. Under PTI, defence is the only sector seeing increases instead of cuts.
Third: It is false that school systems belonging to the modern world can be brought onto the same page as madressahs. Modern education rests squarely upon critical thinking, and success/failure is determined in relation to problem solving and worldly knowledge. Madressah education goals are important but different. They seek a more religiously observant student and a better life after death. Understandably, critical thinking is unwelcome.
Strong Focus on Religious Education
According to Pakistan's Ministry of Federal Education and Professional Training, the SNC is: In line with the vision of the Honourable Prime Minister and the manifesto of the present government of strengthening the nation, progress of activities towards the development of a Single National Curriculum have gained impressive momentum. The aim of the Single National Curriculum is to have a fair and equal opportunity for all children of Pakistan to receive a high quality education.
Hoodbhoy also sheds light upon the unwavering importance that the PTI government is giving to religious education over regular education. He says that, the Punjab government has made teaching of the Holy Quran compulsory at the college and university level. Without passing the required examination no student will be able to get a BA, BSc, BE, ME, MA, MSc, MPhil, PhD or medical degree. Even the Zia regime did not have such blanket requirements. To get a university teaching job in the 1980s, you had to name all the wives of the Holy Prophet (PBUH) and recite some difficult religious passages such as Dua-i-Qunoot. Still, students could get degrees without that. That option is now closed.
May Fourth Movement at Tiananmen Square- China's Awakening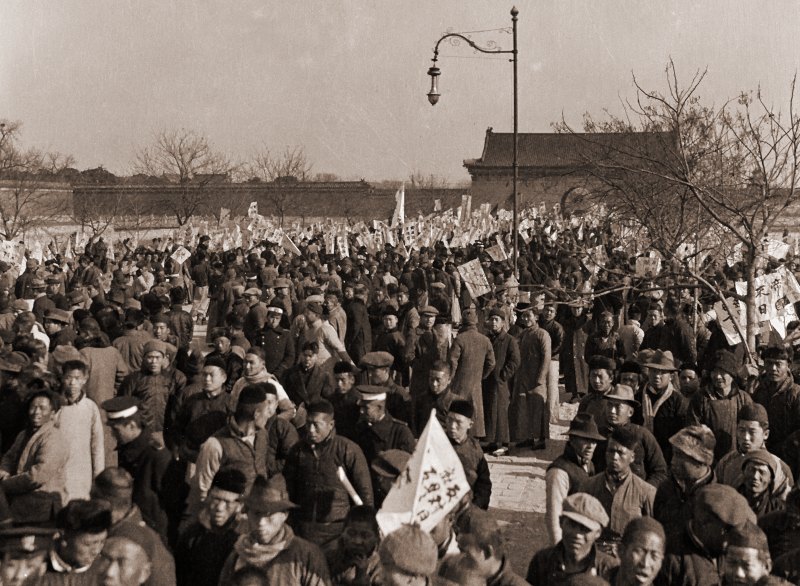 Early in the 20th century, China had a significant socio-political and intellectual movement known as the May 4th Movement, often called the New Culture Movement. It gained support from a wide range of intellectuals, laborers, and business people as it migrated from Beijing to other significant Chinese cities with demands to abandon ancient Confucian principles and to adopt the Western ideals of democracy, freedom, and equality instead. 
While aiming to imbibe the modern thought, these protesters demanded that foreign imperialism be ceased and control be given back to the Chinese. By challenging long-standing conventions and paving the way for a more progressive and open society, this Movement had a significant impact on Chinese intellectual and cultural history.
What Happened on May 4th 1919? 
On May 4, 1919 Chinese students started a series of demonstrations in Beijing, notably in Tiananmen Square. They took to the streets to protest and express their dissatisfaction with the government. Gradually this movement spread to parts of Shanghai and Guangzhou, making it a large-scale student protest. 
What was the Reason of the Student Protest on May 4, 1919?  
First, The Treaty of Versailles & Shandong Problem – The discussion of the Treaty caused much resentment over how China was being treated during the post-World War I by Western powers, especially with regards to Shandong. The German concessions in Shandong were not returned to China but instead were given to Japan. Intellectuals and students in China therefore could not help but be patriotic and anti-imperialist.
Second, existing sociocultural problems in the Chinese society – Disillusionment with traditional Chinese culture and values were growing among Chinese intellectuals and students. Discontentment with existing and belief on the new concepts and philosophies, especially those acquired from the West, were sought to replace these established principles. Thus, fostering science, democracy, and individuality became very important.
What Made May Fourth Movement so Successful?
The Movement's ability to win widespread support from various facets of society was one of the main factors in its success.

Unlike any previous protests in China, the

May 4

Movement

was organised and led by students and intellectuals. They planned gatherings, marches, demonstrations, printed newspapers, and pamphlets to disseminate their views and unite participants. It was this initiative that attracted more people to join, including workers, business people and warlords. This increased the movement's power, and the government was pressured to respond to its demands thanks to this wide-ranging support.
Utilizing new media and communication channels effectively was another key.

Students published their ideas through newspapers, journals, and speeches to get support from the public. They also built relationships with activists and intellectuals who shared their views in other places, which helped the cause extend outside of Beijing. The Movement was able to unite thanks to these communication tactics and develop a sense of a common goal.
The next reason of the movement's success can be traced to its appealing and distinct goals

. The Movement had a clearly stated mission, which included calls for democracy, the democratization of China, and the nation's revitalization. A sizeable segment of the populace, demanding modernization and reform in the face of foreign dominance, identified with these goals.
The Movement also capitalized on a potent anti-imperialist and sense of national pride.

The 'Shandong Problem' that was viewed as a violation of Chinese interests in the Treaty of Versailles sparked a strong sense of fury and served as the Movement's unifying cause. The participants shared rage against foreign imperialism, and the need for national self-determination was a potent unifying force.
What was the May Fourth Movement Significance & Impact on Post World War 1 China?
The success of the May 4th Movement left a long-lasting influence on Chinese politics and society. The movement produced an intellectual and cultural awakening that significantly changed Chinese values and thought. Some major political and social reforms in China that are still cherished and recognised as attributes to the May 4 movement are-
Anti-Imperialist and anti-Warlord Feelings: The Movement stoked a genuine anti-imperialist feeling among the Chinese. It stepped up the fight against foreign meddling and prepared the way for the eventual downfall of imperial control. The Movement also helped reduce the influence of warlords by exposing their corruption and incompetence, further damaging their reputation among the populace.
Founding of Communist Party in 1921: The Chinese Communist Party (CCP) was established mainly due to the May 4th Movement. Many academics and students identified with the Movement's emphasis on social justice, anti-imperialism, and the empowerment of the working class. Therefore, this Movement offered a favourable environment for the propagation of communist doctrine, resulting in the CCP's founding in 1921. The party would later be crucial in determining the course of China's development.
Anti-Japanese Sentiments: The Movement also stoked prejudice towards the Japanese, which is still present today. The Movement's hostility to the Treaty of Versailles's unfair treatment of China, particularly the transfer of German concessions in Shandong to Japan, strengthened a sense of national outrage towards that country. This attitude was the impetus for later resistance to Japanese aggression, culminating in the Sino-Japanese War (1937–1945), and the present that hate that since liberation was kept alive by CCP leaders especially Mao Zedong and Xi Jinping. 
Large-scale but not widely supported – Controversies & Criticisms of May 4th Movement
Despite its enormous support and influence, the May 4th Movement came under fire from 
several groups, notably Chinese Muslim Community and Kuomintang (KMT) – affiliated nationalists. 
The Chinese Muslims & ethnic groups were concerned about the Movement's emphasis on Westernisation and rejection of traditional values, most notably by people in Northwest China. They felt that the calls for a secular society and the adoption of modern ideas were in opposition to Islamic doctrine and cultural norms. Chinese Muslims saw the Movement as a potential danger to their identity and way of life since they connected so closely with their religious and cultural history. They were concerned that the emphasis on Westernisation might undermine their Islamic principles and push their communities to the margins.
The KMT Nationalists under the leadership of Chiang Kai-shek criticized the Movement's extremism and connection to communist philosophy. Chiang and other KMT members thought the Movement's focus on the class struggle and worker emancipation would erode social stability and impede national unity. They said that the Movement's emphasis on urban intellectuals ignored the requirements and ambitions of the rural masses, who comprised most Chinese citizens. As a danger to Chinese culture and social order, the KMT also criticized the Movement's rejection of traditional Confucian principles.
A revolution is not a dinner party, or writing an essay, or painting a picture, or doing embroidery; it cannot be so refined, so leisurely and gentle, so temperate, kind, courteous, restrained and magnanimous. A revolution is an insurrection, an act of violence by which one class overthrows another.

– Mao Zedong
Despite the criticism, it is essential to note that the May 4th Movement it must be accepted that the Chinese history underwent significant change during this Movement. It brought about substantial political, social, and cultural transformations that influenced the development of contemporary China. The Movement's legacy still impacts Chinese society today and represents youth activism, pride in one's country, and the desire for social change.