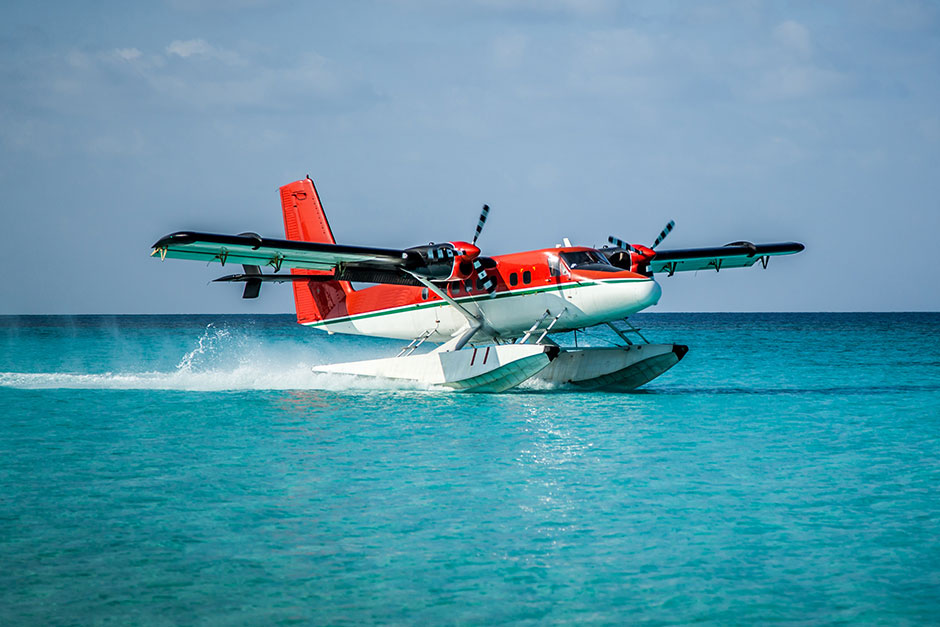 Navigating future of tourism in India. Now you can fly to Statue of Unity with India's first-ever seaplane
PM Modi on Oct 31 launched the first-ever seaplane service in India that will operate between Statue of Unity and Sabarmati Riverfront in Ahmedabad.
On October 31, the 146th birth anniversary of Sardar Vallabhbhai Patel, India witnessed its first-ever seaplane service in Gujarat. The service is aimed at revolutionising the country's regional connectivity that will offer air movement from Sabarmati Riverfront in Ahmedabad to Statue of Unity in Kevadia in Gujarat. Prime Minister Narendra Modi inaugurated the service by boarding the twin-engine plane from near Sardar Sarovar Dam to mark the birth anniversary of Sardar Patel.
The initiation of this 19-seater seaplane service between the Sabarmati riverfront and Kevadia is a part of the Indian government's UDAN scheme (Ude Desh ka Aam Naagrik) and is aimed to promote tourism in the country. Through the inauguration of the new service, Prime Minister Modi offered an option to fly onboard a seaplane to tourists arriving in Gujarat from various parts of the world.
The seaplane flights will be operated by SpiceJet's fully-owned subsidiary, Spice Shuttle. Initially, SpiceJet will operate two daily round-trip flights on the Ahmedabad-Kevadia route. Also, SpiceJet will be using a 15-seater Twin Otter 300 aircraft for these flights from Sabarmati Riverfront in Ahmedabad to Statue of Unity.
Twin Otter 300 is one of the most widely used aircraft the world over and is also one of the most versatile and safe aircraft. The aircraft is also well-known for its reliability, rugged construction, incredible short take-off and landing capabilities, payload capacity, and excellent external visibility.
What actually is a seaplane?
With fixed wings, a seaplane is the amalgamation of the properties of the speed and utility properties of an airplane and a boat, respectively. A seaplane is a fixed-winged airplane designed for taking off and landing on water. There are mainly two types of seaplane: Flying boats (often called hull seaplanes) and floatplanes.
Seaplanes that can also take off and land on airfields are in a subclass called amphibious aircraft, or amphibians. Seaplanes sometimes are also called hydroplanes. Seaplanes can land on both small water bodies and short airstrips.
The use of seaplanes gradually lessened after World War II, partially because of the investments in airports during the war as America and Europe were carpeted with concrete runways suitable for large passenger jets for military reasons. In the 21st century, seaplanes maintained its few uses, air transport around archipelagos, and access to undeveloped or roadless areas, some of which have numerous lakes.
SpiceJet will operate the service:
According to the reports, SpiceJet will operate a 19-seater plane service in Gujarat between the Sabarmati riverfront and Statue of Unity, which will be able to accommodate 14 passengers. SpiceJet has entered into a contract with a French company, which overtook the original Japanese manufacturer of 10-14-seater seaplanes.
It has also been reported that SpiceJet has been conducting trials with different models of seaplanes in Mumbai since last year. For the venture, SpiceJet is in the process of procuring a seaplane from the Maldives. SpiceJet was conducting seaplane trials in India since 2017. Under phase one, trials of the landplane were conducted in Nagpur and Guwahati, while the second phase involved the amphibious aircraft, for which trials were held at Mumbai's Girgaum Chowpatty.
The service will be provided with incentives and benefits under the central government's UDAN scheme. The scheme is being implemented as per a tripartite agreement between the Gujarat government, the Ministry of Civil Aviation, and the Airports Authority of India (AAI).
SpiceJet has secured around 18 seaplane routes under the UDAN scheme for seaplane operations. Apart from this particular project, regions in the North-East, Uttarakhand, Uttar Pradesh, Andhra Pradesh, Rajasthan, Maharashtra, Andaman, Lakshadweep, and other coastal areas are also a few destinations that are being evaluated for such seaplane operations.
SpiceJet has wet-leased the aircraft from the Maldives Island Aviation Services, a wholly government-owned entity, which means that both the aircraft and its crew belong to a foreign entity. The aircraft also bears a Maldivian registration code, 8Q ISC.
The chief officer of SpiceJet's seaplane department, Assam's Santanu Kalita is the man who has been behind the country's first seaplane project. Kalita played a key role in getting the maiden seaplane service of India off the ground in Kevadia, Gujarat.
The seaplane travel:
The seaplane will cut travel time and improve connectivity between the Sabarmati Riverfront in Ahmedabad and the Statue of Unity in Kevadia, which is approximately 90 km from Vadodara, 150 km from Surat, and 200 km from Ahmedabad. The distance of 200 km between Ahmedabad to Kevadia takes four hours by road, but with the arrival of the new service of seaplane by SpiceJet, the four-hour time travel has shortened now to 30 minutes.
The Twin Otter 300 seaplane leased by SpiceJet can be hired at Rs 4,800 per person. As per the reports, there will be four flights a day between Ahmedabad and Kevadia on each side, which means four arrivals and four departures.
Which other countries operate seaplanes?
India is not the first country to use seaplanes to increase its tourism. Seaplanes by multiple airline carriers are operational in many countries like the Philippines, Canada, Australia, the United States, Finland, the United Kingdom, Sri Lanka, Fiji, New Zealand, Papua New Guinea, United Arab Emirates, Italy, Maldives, and Hongkong.
The service is used by a lot of countries because seaplane operations are unique and require a mini-ecosystem of their own. But with the arrival of seaplanes in India, there also comes a challenge of biodiversity. As seaplane operations are integrated with existing natural water bodies, ecological challenges come to the forefront. The seaplane operations require proper planning for their implication and therefore India should proceed with precision regarding seaplane projects.
Assassination of Shinzo Abe & Salman Rushdie – Know Real Facts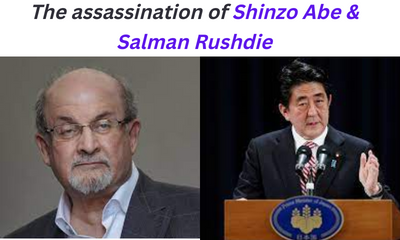 The months July and August of 2022 saw two cases of extermination to promote the fear of terrorism. One of the assassination of Shinzo Abe former Japanese Prime Minister, and another of the famous Novelist Salman Rushdie.
Shinzo Abe succumbed to a gunshot wound, whereas Rushdie's health conditions are improving and he is under medical supervision after the knife attack. However, various assassination attempt of Salman Rushdie has been made during the year.
These two terror acts force us to think about the impact of terrorism on society, the main objective of which is to create an atmosphere of fear so that citizens of the country cannot rely on their government.
This ultimately disturbs the law and order of the society, and serves the terrorists' purpose of creating a chaos.
Here we will see how these two attacks had different reasons but the objective remained the same – to stop someone from propagating his/her opinions independently, and also the factors that make attackers indulge in such acts.
Assassination Attempt of Salman Rushdie – Satanic Controversy
On 12 August 2022, Rushdie was attacked several times by a 24-year-old man Hadi Matar. The attacker's intentions can be linked to Rushdie's fourth novel, The Satanic Verses, published in 1988. Some Muslims considered the novel disrespectful towards Prophet Mohammed.
Soon after its publication, the novel sparked a 'fatwa' or a religious decree. The Iranian revolutionary leader Ayatollah Ruhollah Khomeini called for Rushdie's death in 1989. After, this various assassination attempt of Salman Rushdie has been made.
Complete conversation for Salman Rushdie Assassination:
When asked about the attack Hadi Matar said, "I don't like the person. I don't think he's a very good person. I don't like him very much". He further criticised Rushdie's work by saying, "He's someone who attacked Islam, he attacked their beliefs, the belief systems". Mr. Matar also told New York Post that he had only read 'a couple of pages' of the book and did not tell about whether the fatwa had inspired him or not.
While praising the Iranian religious leader, he stated, "I respect the Ayatollah. I think he's a great person. That's as far as I will say about that".
One can observe that the psychology of the attacker was that he simply disliked the novelist because of his work; although he read only two pages of the novel, but was rather influenced by the religious leaders and their sayings. Just, like this the assassination of Shinzo Abe has been made during this year, which we will discuss on next section.
Perceptions like these can have a long-lasting impact on future generations which can further deteriorate the situation. Violent acts like this demand proper scrutiny of the dissemination of information.
Extremists take advantage of such incidents and brainwash the young minds so that they can be used by them for their selfish purposes.
Assassination of Shinzo Abe – Complete Truth
On 8 July 2022, it was just another day of Abe's political campaign for the upcoming parliamentary elections. He was delivering a speech in Nara City, but no one is the aware about the assassination of Shinzo Abe that day. When a 41-year-old Tetsuya Yamagami shot him twice from behind from a distance of about 10 meters.
During the investigation, he confessed his intentions of killing and it was found that his motives had more to do with religious backing instead of a political reason.
It so happened that Yamagami's mother was a member of a religious group which she joined after her husband's death in 1998. She used to donate huge amounts of money as charity to the group, after the assassination of Shinzo Abe and Yamagami blames the sect for bankrupting his mother.
Confession Statement on Abe Case
The report reveal that Abe was closely associated with the sect, and wanted to take revenge against him for promoting it. "The suspect stated that he held a grudge against a particular organisation and that he committed the crime because he believed former Prime Minister Abe had a connection to it", a senior police officer in Japan's Nara region told reporters.
While the police hasn't given any clarification regarding the unidentified organization, social media in Japan has it that it could be the Unification Church.
Yamagami was unemployed, felt isolated in society, was against religious preaching and blind faith, and wanted to kill the leader of the religious organization but couldn't. One can see the psychological aspects of it that, the killer was anguished with the organisation and blamed them for his conditions and economic turmoil.
Ultimately his grudge converted into a motive of taking revenge for his loss and he did that by killing the perpetrator of the religious group, to give a message to the society and the world that one should avoid themselves from joining or contributing to such groups.
Japan has the strictest gun laws after the assassination of Shinzo Abe , so to bypass such stringent laws the killer used a handmade gun. The occurrence of such incidents in the island nation shows how much resentment the killer has and how strongly he was motivated to commit the murder.
Such incidents are eye-openers for the society that someone's freedom of belief can become others' pain, and teaches that as a society we should try to maintain a balance between them.
Two Paths to Crime
The above two accidents of assassination of Shinzo Abe, and the assassination attempt of Salman Rushdie has been terrifying for the country. First, being a part of a religious group the killer face hardship in his life, which forced him to commit the crime. In the second instance, the attacker got the impression that his religion is being targeted and that it is his responsibility to take revenge so that next time no one dares to do anything like that again.
Interpretation of things based on pre-assumed thoughts can lead to revenge, and revenge based on half-baked knowledge causes harm to the whole humanity, and not just the particular group concerned.