The philosophy of Swamiji and the ideals for which he lived and worked could be a great source of inspiration for the Indian youth. So on this youth day, here we list some of the most valuable lessons sermonised by Swami Vivekananda that continues to embellish our lives.
India is one such nation in the world which has a significant youth population and that's the biggest and the most useful asset of our country. But the hustle-bustle and the turmoil of this unusually complex world that seemingly mires all our lives can often make us go through a maze of hardships where we tend to forget our crucial life values.
Since 1984, the birthday of Swami Vivekananda is observed as National Youth Day whose life draws many youth values that have consistently inspired generations across the span of time. In a nutshell, the philosophy of Swamiji and the ideals for which he lived and worked could be a great source of inspiration for the Indian youth. So on this youth day, here we list some of the most valuable lessons sermonised by Vivekananda that continue to embellish our lives.
1. Always have humility
Once when Swami Vivekananda tried to correct a person speaking in wrong English, the man retorted him saying that he cannot correct him as English is his mother tongue. But, Swamiji humbly replied that he knows the use of the language as he has learned it rather than attaining it from siblings.
So, at times when people ask us question while we try to correct them, there should always be a sense of humility in our replies and answers.
2. Being curious is advantageous
Swamiji often use to ask his mentor if he has seen his god or not? In return, Ramkrishna retorted that he has seen the god just like he is watching him and that the god is present everywhere. The essential life lesson that is derived from this is that curiosity often leads us to get some of the most wholesome and holistic answers and results.
3. Being kind and compassionate
In this cruel and eccentric world, it's very difficult to depict the values of kindness and compassion. But we can exhibit small acts of kindness around our loved ones and friends while encouraging humanistic values by praising their good deeds and qualities. Swamiji also emphasised that the precious values of kindness and compassion are innate and inherent within each one of us.
4. Should always encourage unity
Our words are often our tool as far as building relationships are concerned. Therefore, purity of speech along with pristine words is the most precious prerequisite for maintain cordial relations with myriad people. We should always remember that it is our words that may either build or break our relations with friends and siblings.
5. Having humour is being intelligent
Swami Vivekananda often said that intelligence has the ability to turn every conflict into humour because humour has another sign of intelligence it can help overcome the conflicting situation. Moreover, humour can easily make us overcome some of the most dramatic and adversarial circumstances in our lives.
6. Respecting our culture and beliefs
When a British man once said to Swami Vivekananda that Indian's clothing sense is quite uncivilised, then he retorted saying that in our culture character builds a man instead of cloths. This reference makes a lot of significance as every culture and tradition is a melting pot of uniqueness in itself and having a sense of respect for them will further encourage their sustenance in the future.
President Joe Biden's Conversation with the Cambodian Prime Minister Hun Sen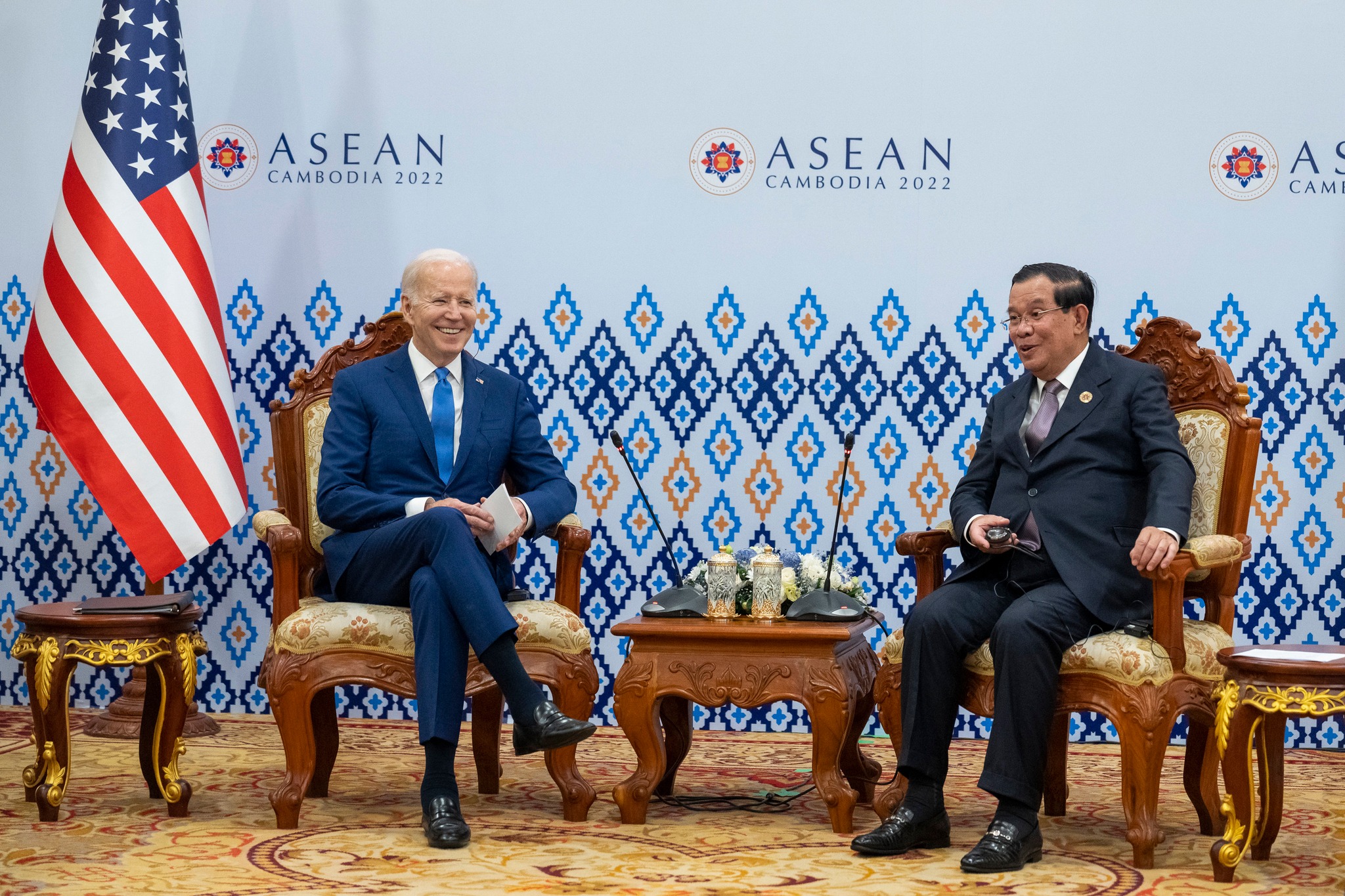 President Joe Biden landed in Cambodia on Saturday and supported the ASEAN nations. Before the eagerly anticipated Group of 20 summits next week in Indonesia, where Biden will meet with Xi for the first time in person since he took office, there will be a weekend of meetings in Cambodia. Before meeting with Xi, the president can engage with US allies at the ASEAN summits and the East Asia Summit on Sunday, both in Phnom Penh.
The US-ASEAN Comprehensive Strategic Partnership, which, according to Biden, "will tackle the biggest issues of our time, from climate to health security, defend against the significant threats to rule-based order and threats to the rule of law, and build an Indo-Pacific that's free and open, stable and prosperous, resilient and secure," was announced as "another critical step" toward building on the group's progress during his remarks at the summit. He cited a budget proposal for $850 million in support for Southeast Asia while praising the US's current financial commitments to ASEAN.
"This is my third journey and third summit, my second in person." The value reflects the United States' commitment to our relationship with ASEAN and our dedication to the region's centrality. The core of the Indo-Pacific strategy of my administration is ASEAN. In his opening remarks to the meeting, Biden said, "And we continue to reinforce our resolve to work in lockstep with an empowered, united ASEAN."
To build on the ASEAN leaders' conference in Washington earlier this year, the president's first meeting in Cambodia was with Prime Minister Hun Sen of Cambodia.
From the beginning of his presidency, Biden "was intent on elevating our engagement in the Indo-Pacific," according to national security adviser Jake Sullivan, and his attendance at the ASEAN and East Asia summits this weekend will highlight his accomplishments to date, including the Indo-Pacific Economic Framework unveiled earlier this year and security partnership initiatives.
"He's coming into this series of summits with that track record of success and purpose behind him, and he wants to be able to use the next 36 hours to build on that foundation to move American engagement forward, as well as to deliver several actual, practical initiatives," Sullivan said.
New initiatives on maritime cooperation, internet connectivity, and economic investment are some of these valuable measures, according to Sullivan. He added that Biden will soon begin a new maritime initiative that will "focus on using radio frequencies from commercial satellites to be able to track dark shipping, illegal and unregulated fishing, and also to improve the capacity of the countries of the region to respond to disasters and humanitarian crises."
Further, he added, Biden will also emphasize a "forward-deployed posture" toward regional defense to demonstrate that the US is actively pursuing security cooperation.
Biden also mentioned a brand-new US-ASEAN electric car infrastructure program during his speech.
He described the project as "a collaborative effort to build an integrated electric car ecosystem in Southeast Asia, enabling the region to achieve sustainable energy, economic growth, and ambitious emissions reduction targets."
Discussions on coordination "to continue to impose costs and build pressure on the junta" will also be centered on Myanmar, which was the subject of a February 2021 coup that ousted the country's democratically elected government.
Key Highlights
Concerns raised by Biden regarding Chinese activity at the Cambodian Ream Naval Base. The president expressed concern over the circumstances at Ream Naval Base and emphasized the value of complete transparency regarding the PRC (China's) military activities there.
The US President congratulated Cambodia's Prime Minister for backing Ukraine at the UN and spoke about the turmoil in military-ruled Myanmar.
President Biden also conveyed his gratitude to Cambodia for supporting resolutions at the UN to defend Ukraine from the brutal assault of Russia.
He thanked Cambodia for holding the ASEAN helm through a trying year.
The leaders "reflection on the historic US-ASEAN Special Summit's success in Washington, DC and applauded plans to establish a US-ASEAN Comprehensive Strategic Partnership at the annual US-ASEAN Summit later that day."
Along with the ASEAN Five Point Consensus, they also discussed the crisis in Burma and ASEAN's reaction, highlighting the international community's crucial role in restoring of democracy and stability in Burma.
In addition, Biden urged releasing activists like Seng Theory and a dual US-Cambodia citizen arrested on politically motivated allegations. The commitment of the United States to the Cambodian people and their goals for a more wealthy, democratic, and independent nation was reaffirmed by President Biden.