The movie Axone directed by Nicholas Kharkongor sheds light upon the prevalence of cultural intolerance in India. There has been tremendous uproar and controversy over images of dogs being tied up in gunny sacks for trade. The images surfaced on various social media platforms and groups, which demanded Nagaland to bans dog meat in sale for human consumption. Various people started online petitions urging people to sign a petition for banning on dog meat in sale and consumption
Culturally, the tribes of Nagaland relish dog meat, and it came as a huge blow to them when the Nagaland government bans sale of dog meat consumption in the state.
"The Nagaland bans dog meat, both cooked and uncooked in commercial import and trading of dogs in dog market.
Appreciate the wise decision taken by the State's Cabinet," Nagaland's Chief Secretary, Temjen Toy tweeted.
Animal rights activists and organizations like the Federation of Indian Animal Protection Organisation (FIAPO) and People for the Ethical Treatment of Animals (PETA) actively urged the Nagaland government to impose an immediate ban on the sale, trade, import and consumption of dog meat across the state. While the ban is already in place across most parts of India, the dog meat ban is significant for the Nagaland government, as it is a delicacy in some parts of northeastern India.
Indian politician Maneka Gandhi also urged the Nagaland government to look into the issue. She appealed to the government after receiving photographs of the trade from a Nagaland-based animal protection group. Her intervention led to more than 1,25,000 people writing to the Nagaland government, urging the authorities to ban dog meat trade.
According to the Humane Society International (HSI) which has opposed the sale of dog meat for many years now, an estimated 30,000 dogs a year are smuggled into Nagaland, where they are sold in live markets and "beaten to death with wooden clubs."
East Mojo, A Guwahati-based media house has expressed the other side of the ban, as they reported It is in the last few centuries to last six decades that commercialization and interface with mainstream societies (colonialism, AFSPA, racism, etc) exposed them to learn about greed and violence in ways which cause irreparable damages to culture, custom, and identity. This greed and cruelty attribute which is now attached to dog meat consumption is also an import from mainstream societies for another round of assault on their existences.
AFSPA was extended in Nagaland a few days ago; coronavirus-related racism still continues, or the Northeast concerns on CAA, etc, do not evoke any degree of empathy and support from animal activists or dog lovers, but they are very vocal when it comes to racism issue related to Black Lives Matter movement. The moral high ground they are at in the name of empathy for dogs, scribbled hate and racist comments against Naga tribes in several posts on social media. The concern towards dog for its meat consumption is hypocritical with crocodile tears while they attribute Naga tribes to be cruel and disgusting for dog meat consumption.
We as a nation should respect the cultural diversity and pluralistic strength we possess. It is best to weigh all parameters when revolting against or showing support for a cause. In the digital age and the COVID-19 lockdown, armchair activism and social media misinformation have risen tremendously. We cannot be hypocrites to our own people. A vegan person protests all kinds of animal cruelty (bans of dog meet) whereas most of us are selective when it comes to animal rights. The people who appealed for a ban on dog meat should be fair enough to impose a ban on slaughter of beef, pork, chicken, mutton, etc! The live trade and slaughter of any animal are gut-wrenching and disgusting to witness. The cultural association with consumption of particular meat is not stressed upon by today's keyboard activists.
Equality for all, or none at all! 
By Kunjan Ahluwalia
President Joe Biden's Conversation with the Cambodian Prime Minister Hun Sen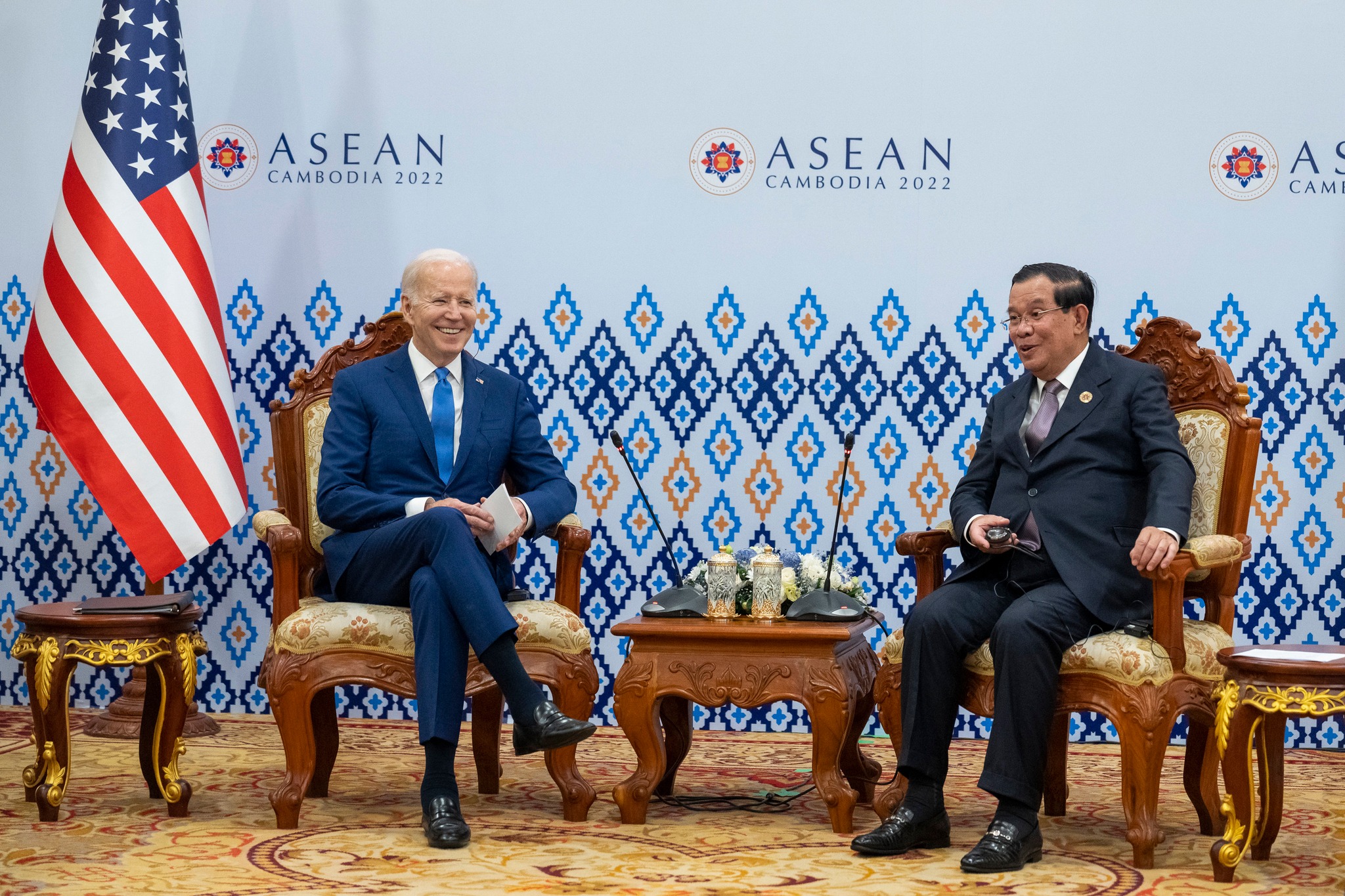 President Joe Biden landed in Cambodia on Saturday and supported the ASEAN nations. Before the eagerly anticipated Group of 20 summits next week in Indonesia, where Biden will meet with Xi for the first time in person since he took office, there will be a weekend of meetings in Cambodia. Before meeting with Xi, the president can engage with US allies at the ASEAN summits and the East Asia Summit on Sunday, both in Phnom Penh.
The US-ASEAN Comprehensive Strategic Partnership, which, according to Biden, "will tackle the biggest issues of our time, from climate to health security, defend against the significant threats to rule-based order and threats to the rule of law, and build an Indo-Pacific that's free and open, stable and prosperous, resilient and secure," was announced as "another critical step" toward building on the group's progress during his remarks at the summit. He cited a budget proposal for $850 million in support for Southeast Asia while praising the US's current financial commitments to ASEAN.
"This is my third journey and third summit, my second in person." The value reflects the United States' commitment to our relationship with ASEAN and our dedication to the region's centrality. The core of the Indo-Pacific strategy of my administration is ASEAN. In his opening remarks to the meeting, Biden said, "And we continue to reinforce our resolve to work in lockstep with an empowered, united ASEAN."
To build on the ASEAN leaders' conference in Washington earlier this year, the president's first meeting in Cambodia was with Prime Minister Hun Sen of Cambodia.
From the beginning of his presidency, Biden "was intent on elevating our engagement in the Indo-Pacific," according to national security adviser Jake Sullivan, and his attendance at the ASEAN and East Asia summits this weekend will highlight his accomplishments to date, including the Indo-Pacific Economic Framework unveiled earlier this year and security partnership initiatives.
"He's coming into this series of summits with that track record of success and purpose behind him, and he wants to be able to use the next 36 hours to build on that foundation to move American engagement forward, as well as to deliver several actual, practical initiatives," Sullivan said.
New initiatives on maritime cooperation, internet connectivity, and economic investment are some of these valuable measures, according to Sullivan. He added that Biden will soon begin a new maritime initiative that will "focus on using radio frequencies from commercial satellites to be able to track dark shipping, illegal and unregulated fishing, and also to improve the capacity of the countries of the region to respond to disasters and humanitarian crises."
Further, he added, Biden will also emphasize a "forward-deployed posture" toward regional defense to demonstrate that the US is actively pursuing security cooperation.
Biden also mentioned a brand-new US-ASEAN electric car infrastructure program during his speech.
He described the project as "a collaborative effort to build an integrated electric car ecosystem in Southeast Asia, enabling the region to achieve sustainable energy, economic growth, and ambitious emissions reduction targets."
Discussions on coordination "to continue to impose costs and build pressure on the junta" will also be centered on Myanmar, which was the subject of a February 2021 coup that ousted the country's democratically elected government.
Key Highlights
Concerns raised by Biden regarding Chinese activity at the Cambodian Ream Naval Base. The president expressed concern over the circumstances at Ream Naval Base and emphasized the value of complete transparency regarding the PRC (China's) military activities there.
The US President congratulated Cambodia's Prime Minister for backing Ukraine at the UN and spoke about the turmoil in military-ruled Myanmar.
President Biden also conveyed his gratitude to Cambodia for supporting resolutions at the UN to defend Ukraine from the brutal assault of Russia.
He thanked Cambodia for holding the ASEAN helm through a trying year.
The leaders "reflection on the historic US-ASEAN Special Summit's success in Washington, DC and applauded plans to establish a US-ASEAN Comprehensive Strategic Partnership at the annual US-ASEAN Summit later that day."
Along with the ASEAN Five Point Consensus, they also discussed the crisis in Burma and ASEAN's reaction, highlighting the international community's crucial role in restoring of democracy and stability in Burma.
In addition, Biden urged releasing activists like Seng Theory and a dual US-Cambodia citizen arrested on politically motivated allegations. The commitment of the United States to the Cambodian people and their goals for a more wealthy, democratic, and independent nation was reaffirmed by President Biden.