The movie Axone directed by Nicholas Kharkongor sheds light upon the prevalence of cultural intolerance in India. There has been tremendous uproar and controversy over images of dogs being tied up in gunny sacks for trade. The images surfaced on various social media platforms and groups, which demanded Nagaland to bans dog meat in sale for human consumption. Various people started online petitions urging people to sign a petition for banning on dog meat in sale and consumption
Culturally, the tribes of Nagaland relish dog meat, and it came as a huge blow to them when the Nagaland government bans sale of dog meat consumption in the state.
"The Nagaland bans dog meat, both cooked and uncooked in commercial import and trading of dogs in dog market.
Appreciate the wise decision taken by the State's Cabinet," Nagaland's Chief Secretary, Temjen Toy tweeted.
Animal rights activists and organizations like the Federation of Indian Animal Protection Organisation (FIAPO) and People for the Ethical Treatment of Animals (PETA) actively urged the Nagaland government to impose an immediate ban on the sale, trade, import and consumption of dog meat across the state. While the ban is already in place across most parts of India, the dog meat ban is significant for the Nagaland government, as it is a delicacy in some parts of northeastern India.
Indian politician Maneka Gandhi also urged the Nagaland government to look into the issue. She appealed to the government after receiving photographs of the trade from a Nagaland-based animal protection group. Her intervention led to more than 1,25,000 people writing to the Nagaland government, urging the authorities to ban dog meat trade.
According to the Humane Society International (HSI) which has opposed the sale of dog meat for many years now, an estimated 30,000 dogs a year are smuggled into Nagaland, where they are sold in live markets and "beaten to death with wooden clubs."
East Mojo, A Guwahati-based media house has expressed the other side of the ban, as they reported It is in the last few centuries to last six decades that commercialization and interface with mainstream societies (colonialism, AFSPA, racism, etc) exposed them to learn about greed and violence in ways which cause irreparable damages to culture, custom, and identity. This greed and cruelty attribute which is now attached to dog meat consumption is also an import from mainstream societies for another round of assault on their existences.
AFSPA was extended in Nagaland a few days ago; coronavirus-related racism still continues, or the Northeast concerns on CAA, etc, do not evoke any degree of empathy and support from animal activists or dog lovers, but they are very vocal when it comes to racism issue related to Black Lives Matter movement. The moral high ground they are at in the name of empathy for dogs, scribbled hate and racist comments against Naga tribes in several posts on social media. The concern towards dog for its meat consumption is hypocritical with crocodile tears while they attribute Naga tribes to be cruel and disgusting for dog meat consumption.
We as a nation should respect the cultural diversity and pluralistic strength we possess. It is best to weigh all parameters when revolting against or showing support for a cause. In the digital age and the COVID-19 lockdown, armchair activism and social media misinformation have risen tremendously. We cannot be hypocrites to our own people. A vegan person protests all kinds of animal cruelty (bans of dog meet) whereas most of us are selective when it comes to animal rights. The people who appealed for a ban on dog meat should be fair enough to impose a ban on slaughter of beef, pork, chicken, mutton, etc! The live trade and slaughter of any animal are gut-wrenching and disgusting to witness. The cultural association with consumption of particular meat is not stressed upon by today's keyboard activists.
Equality for all, or none at all! 
By Kunjan Ahluwalia
G20 Summit & All That You Need To Know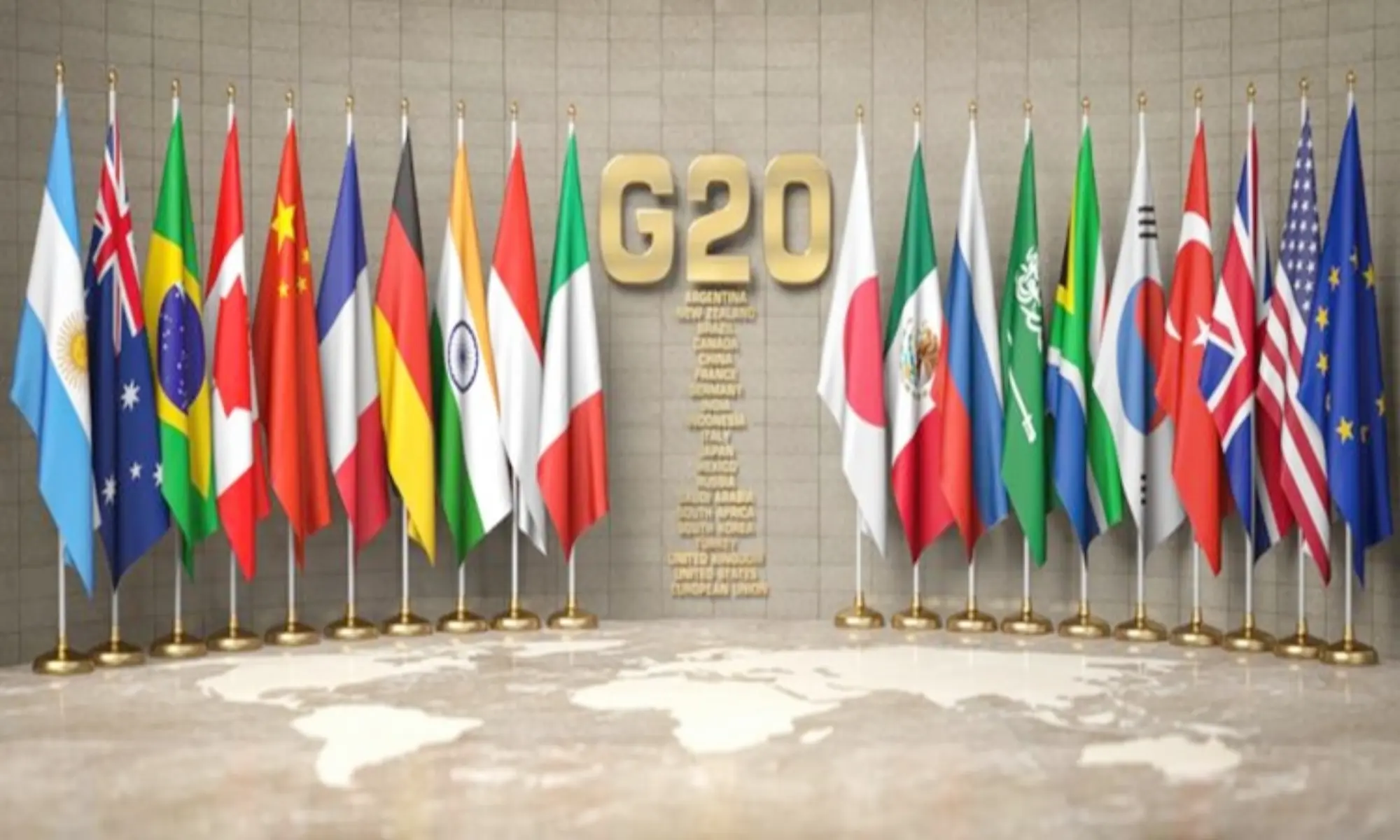 The G20 summit represents a significant portion of the global economy, accounting for around 85% of global gross domestic product (GDP), 80% of global trade, and two-thirds of the world's population. As a result, decisions made within the G20 can have far-reaching impacts on global economic policies and international relations.
What is the G-20?
Found in 1999, the Group of Twenty, or G20, is a global organization with 20 member nations. It was established in response to the financial crisis of the late 1990s and to bring together significant economies to discuss policy coordination and collaboration. It offers a stage for talks on problems related to the financial system's stability, sustainable development, and global economic issues. But over the years it has become a significant platform for leaders to discuss and act on critical global issues like poverty, inequality and climate change.
Which countries form the G-20?
Argentina, Australia, Brazil, Canada, China, France, Germany, India, Indonesia, Italy, Japan, Mexico, Russia, Saudi Arabia, South Africa, South Korea, Turkey, the United Kingdom, and the United States comprise the G20. The European Union is also a member and is represented by the European Commission and the European Central Bank.
Heads of state or government, finance ministers, and central bank governors gather at the G20's yearly meetings to conduct business. Discussions and negotiations aimed at promoting investment, international trade, financial regulation, and economic growth are the main topics of the sessions. Meetings of the finance ministers and central bank governors are held throughout the year in addition to the official summits to discuss ongoing economic challenges.
What is the Significance of G20 organisation and the G20 Summit?
Globally speaking, the G20 is essential in promoting cooperation among its members and tackling global economic and financial issues. It acts as a forum for discussion, collaboration, and coordination to support global economic stability and sustainable development. The G20 represents a significant portion of the global economy, accounting for around 85% of global gross domestic product (GDP), 80% of global trade, and two-thirds of the world's population. As a result, decisions made within the G20 can have far-reaching impacts on global economic policies and international relations.
The G20 summit brings together leaders from the G20 member countries to discuss and decide on various global economic concerns. However, it is the meaningful conversations between the sherpas of these nations that is vital for policy and decision making. 
Who are the G20 Sherpas?
During the G20 process, the senior officials and diplomats who attend/represent the G20 meetings on behalf of their nation's head of state or government are called as Sherpas. G20 Sherpas set the agenda, negotiate positions, and promote dialogue among the members.
Before the summit, sherpas frequently hold many rounds of discussions. These conversations touch on various issues, including financial stability, trade, investment, development, climate change, and other urgent global issues. The primary goal of these meetings is to identify areas of agreement, create consensus, and create cooperative strategies to deal with global economic difficulties. Sherpas hold in-depth discussions with their counterparts, examining various policy choices, sharing information, and attempting to reach a consensus on important topics.
Since each nation brings unique interests, priorities, and views, the conversations between the sherpas are intricate. To make sure that the outcomes of the G20 summit represent a broad consensus among the member countries, these discussions may require reaching concessions, settling disputes, and negotiating delicate problems. Sherpas bring together the priorities and viewpoints of the participating nations through these meetings, identify areas requiring group effort, and lay out potential solutions or policy suggestions for the summit's leaders to consider.
Sherpas are crucial in determining the G20 summit's agenda and results. As a result of their work, joint declarations, action plans, and pledges are created and approved by the leaders at the summit.
The conversations between the sherpas are a vital forum for communication, collaboration, and consensus-building among the G20 member nations. They are crucial in determining the summit's course and results, helping to make sure that the G20 addresses the world's economic concerns and promotes equitable and sustainable growth on a global scale.
India's G-20 Presidency
From December 1, 2022, through November 30, 2023, India will be the G20's president. In September of this year, the final New Delhi Summit will have 43 heads of delegation, the most ever to attend a G20 summit.
The slogan of this year's G20 Summit under the Indian Presidency is "Vasudhaiva Kutumbakam," which translates to "One Earth, One Family."
What is on agenda in the 2023 G-20 Summit?
Climate Finance, Life, and Green Development

Fast, Inclusive, and Resilient Growth 

Increasing SDGs progress

Digital Public Infrastructure and Technological Change

21st century's multilateral institutions

Women driving development
Behind the Scenes at G20
Before the summit in Kashmir (from 22 – 24 May), China raised a protest against the conduct of the G20 tourism working group conference being conducted in the Indian State. 
China's decision is most likely the result of Pakistan's concerns, a close ally who stated that the G20 summits were intended to support India's "illegal occupation" of Jammu and Kashmir. Meanwhile dismissing such ill-founded concerns of the Chinese side, India reiterated that all her states and union territories were hosting the G20 Summit 2023 in India.
However, as India continues to garner more goodwill and support from the G20 leaders, and China continues to lose standing in international global forums, it become a permanent absentee from such global summits soon.