The two-nation theory has been directly linked to India's partition. Sir Syed Ahmad Khan, a 19th-century Muslim modernist and reformer, used the term "two nations," which may have had something to do with the formation of the All India Muslim League in 1906, which was formed to preserve "Muslim interests, amid neglect and under-representation."
Sir Muhammad Iqbal, a poet and philosopher, proposed an autonomous new state in "northwestern India for Indian Muslims" on December 29, 1930. "A Muslim in one country has considerably more sympathies with a Muslim in another country than with a non-Muslim living in the same country," Muhammad Ali Jinnah said. As a result, "the socially right notion of Indian Muslims as a country may not be racially correct." These viewpoints were only part of certain material prior to 1940, and they were not as important as they are now. These viewpoints were the result of the British aim of keeping Hindus and Muslims apart in order to maintain internal peace in India. However, there are secret documents that indicate the Western countries' grand strategy. Pakistan was formed more as a result of the growing Cold War's geostrategic imperatives than the two-nation idea.
Why Pakistan Exists
The Cold War between the Soviet Union and the United States had already begun in 1947. Over two centuries, the USSR has vowed to advance south through Afghanistan and Pakistan in order to reach the Arabian Sea's warm waters (Indian Ocean). As they governed the world through their colonies, the British had always feared this menace. After 1945, the US assumed the role of world hegemon, and the security danger posed by Russia to the globe became a challenge to the US. After World War II ended in 1945, it seemed obvious that India would gain independence.
The withdrawal of the British Army from India would allow the Soviet war machine to invade the subcontinent. India had made it clear to Western nations that its security will be indigenous, not outsourced. India was unwilling to place its military under foreign command. The geostrategic hole could only be filled if the Allies established a buffer zone and controlled it with a native force. Because the British had failed to conquer Afghanistan three times, it was ruled out. The only option to break the impasse was to construct a British or American-controlled zone outside of India in the North West. The British Indian Army will provide the security personnel for this corridor. And it was Jinnah and the two-nation idea that carried out this approach.
Pakistan Army and the State
The US boosted the Pakistan Army in response to the threat posed by the Soviet Union. As a result, the Pakistan Army was given advanced equipment. Because it believed it was a vital component in global politics, the army grew powerful, and the generals began to look down on politicians, wanting their own strategic space. Pakistan's political-strategic arena has shrunk to the point where a military coup was unavoidable.
In order to control greater assets, the army ignored the growth of the people. To justify its existence, it transformed Pakistan into a security-seeking state (over-emphasizing the threat from India), with a strong army seen as a requirement for the country's survival. Pakistan's first military coup occurred early in the country's history, when President Iskander Mirza violated the Constitution and imposed martial law on October 27, 1958, appointing General Ayyub Khan as the top martial law administrator. Ayub Khan deposed Iskander Mirza thirteen days later. That was Pakistan's final glimpse of democracy. Pakistan's army has maintained control after this occurrence. Since then, they have been in charge of the defence and foreign affairs portfolios. The Pakistani army is primarily responsible for dealing with external threats, although it is also active in domestic matters.
Pakistan Army and Nationalism
Pakistan's formation as a nation-state was a hastily conceived concept based on religious ideology. Nationalism was founded on religion. The well-connected, powerful class that flourished under British tutelage were more secular at the time of independence, and religion was a governing element for them, thus there was no sense of nationalism. They saw Partition as an opportunity and seized possession of all the riches and assets that were loosely claimed, amassing vast sums of money in Pakistan's early years. This evolved into the feudal system that today governs Pakistan. This class desired to protect their money, so they built an army and recruited officers of their choosing, resulting in a symbiotic link between wealth and security. This expanded the army's involvement in domestic politics. "The army's image of itself, its domestic role, and Pakistan's strategic environment will be the most crucial determinants in moulding Pakistan's fate," Stephen Cohen wrote in 2004.
In its inherited splendour, the Pakistan military imitated a colonial authority in its own country, alienating the people. General Zia-ul Haq attempted to restore communication with the people of Pakistan through Islam, which he saw as a great unifier. In the name of religion, he expected the people to willingly give up their few resources to support the army. (This sparked religious fervour in Pakistan.) Every Pakistan Army chief has frequently stated that Islam is their philosophy. These chiefs' logic has been to achieve some level of national cohesion and attract support in the never-ending battle with India. The Pakistan Army has squandered the people's resources by launching four useless and destructive wars against India, none of which have resulted in a victory and the loss of East Pakistan. The Indus Valley was undivided into India's most fertile and rich region. It's depressing to see how bad things have gotten.
The Pakistan Army's most catastrophic blunder, which dates back to 1947, is its ties to terrorism. It has created an unethical terrorist force that it refers to as a strategic asset. Poor families with religious motives urge jihadis to commit terrorist attacks. The army has mastered the art of using terror to some extent. Brigadier S.K. Malik's book Quranic Concept of War explains the use of terror very well. General Zia-ul Haq ordered that all officers in the Pakistan Army carry the book. Terrorism has utility for a while, but when it turns against you, it nearly always becomes a liability. Pakistan is struggling to maintain control of this force and is now facing international sanctions.
Pakistan has had a string of unfortunate incidents. Its revisionist policies are driving the country into bankruptcy. And its efforts to maintain the state's security are jeopardising the state's integrity, if not its existence.
The Military Regime Conundrum
The need to curb the expansionist state's involvement in grassroots administration has made 'Western' academics cry themselves hoarse. However, in Pakistan, you do not have to be concerned about this. Indeed, some analysts argue that power must be established first in emerging countries before it can be curtailed later because the sheer amount of what is expected of the state effectively demands ad hoc decision-making. Long-term structural reforms are largely ignored. And the voters respond entirely to the brave, unselfish monarchs who, every now and then, descend from their thrones to deliver momentary gratification before returning to their abodes.
As a result, massive administrative vacuums persist in Pakistan, leaving everyone at the mercy of malicious forces. Natural and man-made disasters periodically show the shortcomings of our civilian systems, and we continue to rely on the military's excellent performance in times of crisis. The administration's problems are exacerbated by even more severe political instability. Ineffective politicians rush about in vain, attempting to restore some order and method to the chaos that they helped to create. Understandably, they are worried about re-election, but we appear to be stuck with a particularly bad bunch who have entirely abandoned the very people who elect them.
Perhaps, in the spirit of forgiveness, politicians seek out possibilities that will only benefit them personally. After all, the wealthy people in Pakistan are either directly involved in politics or allied with one political party or another for a reason. In order to sustain a condition of permanent upheaval – and with it, the necessity for an antidote to this mess – instability has also been produced through covert ways. Because of the elected leaders' poor performance, there is always enough ammunition for this activity.
Frequently, politicians and political parties' poor performance allows the security establishment to quietly sneak a few measures here and there to suggest what should be done to address the situation. Because repairing the situation would require severe decisions (which Pakistani politicians despise), the populace feels that only the military could truly clean up the country. Politicians and bureaucrats stammer and stumble in volatile times, and the dominoes fall where they may.
The curious relation between Art and Communism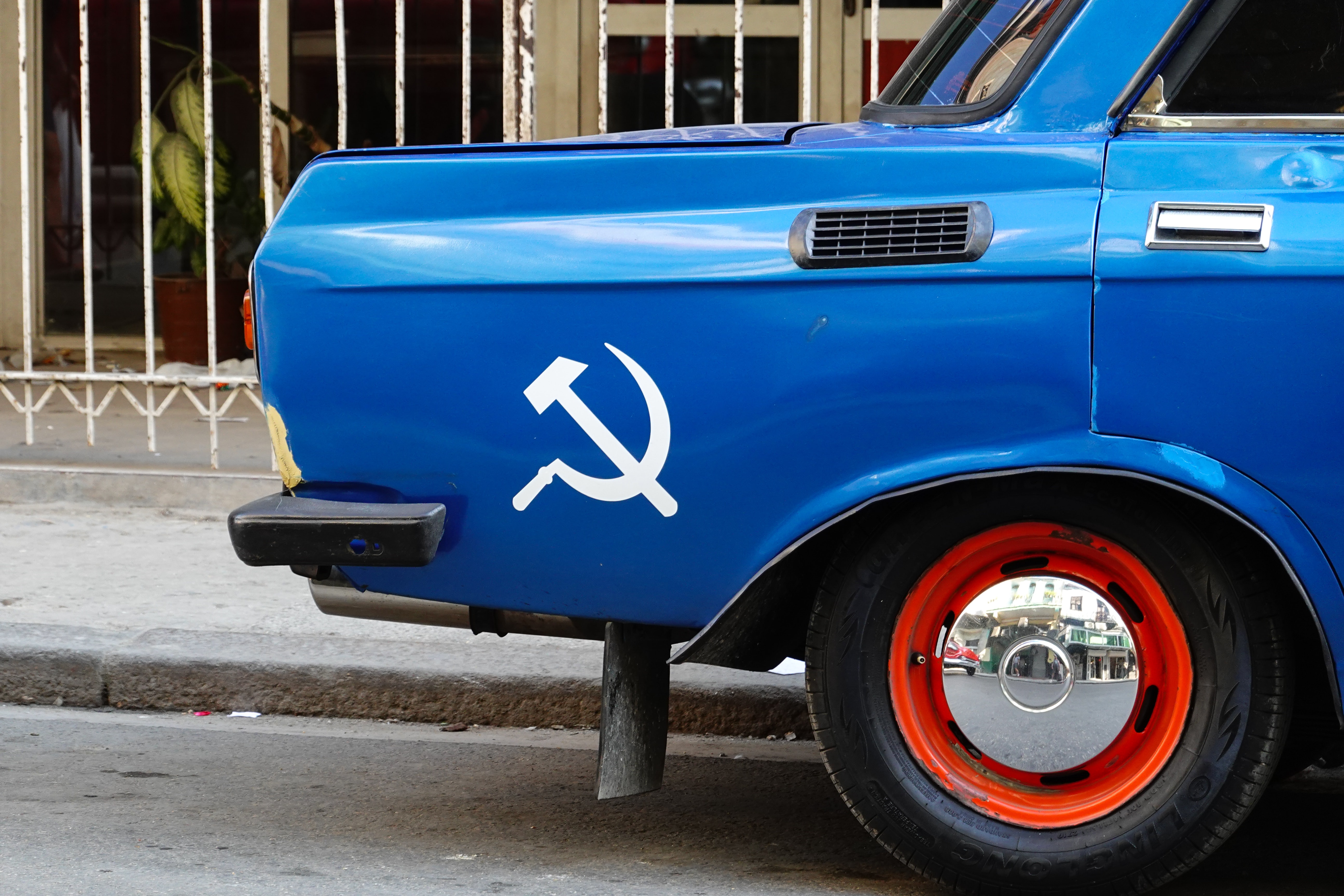 The philosophy of 'art for art's sake' is a relatively newer concept, introduced and later developed during the early 19th century. However, historically art was meant to drive a purpose or further an agenda, or just simply project a pre-conceived social notion or message to the viewers. Artists mostly relied on patrons and the art that was put out was often commissioned for a specific aim and objective. The 'historical museums and art displays where today's public can see and understand art are only a recent development. In the past, art remained an aristocratic gig and it was only at a public location, usually religious or political function where the masses could also enjoy 'high art'. Hence, shaping art to serve a political narrative is not a novel idea. The Communists however took this idea of serving art to another level by exerting more influence and control and keeping a more intrusive approach. However, it is imperative to establish that if it weren't for the communists and their active participation in the field of art, the world may not have had such a modernized concept of mass production of images and words as it proudly reflects today. The number of Communist-centric art and artifacts flourished post the regimes of Russia under Stalin (1922-1953) and China under Mao (1949-1956). Though there have been many pieces of literature on art and culture during the mentioned timeline, the comparison between the two regimes presents a very striking image of "Communist Art".
Rise of Communism
The foundations of socialism were already laid during the French Revolution although the Communist Manifesto by Marx and Engels was written much later in 1848. The Marx version of Communism is the solution to history's riddle and is the "positive transcendence of private property…it is the genuine resolution of the conflict between man and nature and between man and man –the true resolution of the strife between existence and essence, between objectification and self-confirmation, between freedom and necessity, between the individual and the species." While Marx and Engels rambled upon the fundamentals and their individual interpretations of Communism, none of them produced an official or informal theory on aesthetics, art, and literature being aligned to a particular ideology. No comments regarding art and its social implications were made in reference to the artist or the audience.
The ideas of Marx were adopted by Lenin and later passed on to Stalin and Mao. However, like any idea, theory, principle or even religion distorts in the realm of changing society and civilization, the named leader's implementation of Communism was contrastingly different from what Marx preached. Hence the ideology did not exactly translate into its natural form on the ground. The practice of the ideology never matched its theory as its implementation was entirely dependent on a multitude of human actions and decisions. So, when an ideology is handicapped and is presented without its physical manifestation, it inevitably falls in the hands of idiosyncratic personalities of the leaders who shaped Marxist Communism into mutated versions: Stalinism and Maoism.
Communism is a very seducing and enticing concept. So, when Joseph Stalin and Mao Zedong, in Russia and China respectively picked it and molded it into a tool to simply overthrow the traditional and imperialist regimes, the concept became even more exciting. Communism, therefore, emerged victorious post the fall of Imperial Regimes by the devastating wars, the people welcomed them and the ideas of 'communism' were appreciated. However, the ideas that people embraced were in fact masking the true nature of these communist dealers as it ultimately took an authoritarian outlook in no time. So while people anticipated a change in the basic system of governance from that of Imperial Regimes, they unwittingly fell into another authoritarian regime and have been under its control for decades.
It is shocking to see that while both the countries, Russia and China are presently the flag bearer of Communism, the concept is foreign to both. The concept emerged from Western Europe and was a tertiary concept or an alien ideology to both. The concept, therefore, was bound to have been amended, molded, and altered to suit the needs of Russian and Chinese regimes. The original idea only served the cause of blinding people by offering a lucrative concept so that it can later be shaped into a profitable deal for dictators like Mao and Stalin and fetch them unfettered powers. Therefore, much like any paradigm shift in the world, Communism also rose through invariable back-stabbing, misrepresentation and misappropriation of a great deal of information and news against the public.
Stalinism, Maoism and Art
It is important to see the diversity of art and artistic practices before the said named leaders came into being. The type of art that was not most associated with Communism, did not just completely align itself to the political narrative. It was a gradual process of shaping and controlling the artists and in extension, the art. However, even before the advent of Communism, the art worlds especially in China and Russia were anything but unanimous.
The beginning of the 20th century in Russia saw a bright sunrise to modern and Avant-grade art. Artists like Malevich and Kandinsky confidently rose and approached the Dias. They proposed radical new ideas concerning the aesthetics and the purpose of art. While some artists followed those ideas, some aspired to push forth the envelope even further. But, all of them shared a common view of rejecting realism. The artists unanimously saw the idea of communist ideas as the shaper of the Russian society and were equally excited to chip in their two cents through their literary and artistic work. The artists were so hyped that they even joined state-run organizations as they 'believed; that they must serve the regime as it facilitated artistic freedom. The then Minister of Culture, Anatolii Lunacharskii provided the required resources for the development of new museums and established art studios and schools. The regime was so hugely invested in the art and its effect on the society that academies that rejected the idea of Avant-grade art were shut down. While this appeared to be an uphill for the art and artists, no one noticed that the whole cultural system, including museums, schools, publications, and even public decoration were brought under the government control whilst everyone stood in awe of the glittering gold.
However, the aesthetics of government-sponsored lucrative deals could not overpower the authentic concerns and creative differences which were bound to bud up between the artists. Consequently, the privileged place of Avant-grade art began to lose its ground. It is however true that numerous wonderful and great artistic stances flourished concurrently during this short period, some of them even shaping to become mass movements drawn on traditional aesthetics. As modern grade art began to wane, the group of artists proposed the idea of Productionism to replace Constructivism. They opined that autonomous artists are reactionary and cannot be caged within the political sphere. Therefore, these arts should not be given a free canvas and must become the colleagues of scholars, engineers, and administrators as it would restrict to the social reality controlled by concrete political forces i.e., the Communist Party. The artists however remained adamant in aiming to project the 'What can be' rather than projecting the 'How affected they are' as they believed that the latter connotation was the one which would catapult them and their artifacts into fame and positive audience response. This idea was in strict contravention to Stalin's idea of art and aesthetic and therefore the Avant-grade movements were brought to a screeching halt.
Art in China also went through a similar trend. It also covered a similar journey from the muddle of styles and ideas, a large part of them being radical, to the art of prescribed aesthetics and purpose. Unlike Russia, China was influenced by Western art, both modern and traditional, in the 20th century. China switched to oil paint, leaving the traditional elite of art done mostly in ink. Numerous artists went to Europe and Japan and were exposed to new art practices such as painting still life and figure nudes. Artists were influenced by traditional European Art like that of the Renaissance and were equally perplexed by modern painters like Matisse or Picasso. As a result, many Chinese artists wanted to incorporate and integrate European practices into Chinese art, while some wanted to reform the whole Chinese-artistic discipline form within. This practice of incorporating and adapting newer paradigms with reference to art and literature continued into the 1930s as Chinese art transformed, reformed, pushed forward, and then explored itself in its whole entirety.
However, the same period saw a rise in a certain Modern Woodcut Movement led by Lu Xun. Hugely influenced by the Soviet Prophecy of Avant-grade art that leads to the destruction of the old, he inclined towards the realist school as well. Although he believed that art should not only be limited to a revolutionary message, he encouraged the idea of combining art with politics. In pursuance of combining art and politics together, he spread ideas in China by translating numerous Russian texts stressing realism art and the concept of Productionism. This eventually saw a rise of numerous woodcut groups creating rebellious art and organizing exhibitions exhibiting the same. Soon, the Sino-Chinese War happened and the relations with the outside world were significantly cut down, invariably giving rise to the realist school of art in China, running parallel with Russia.