Extensive list of mental health matters phone lines to reach out to, they will help you!
Kunjan Ahluwalia
Speaking to a mental health professional should not be a stigma anymore. We live in a fast-paced world where we often lose track of our thoughts and the need to address them. It's true that only you are responsible for your life, but reaching out to someone who can help and guide you through a difficult time is a safer bet. According to the MINDS Foundation, a person takes their own life every 40 seconds. 1 in 4 of us will experience mental ill-health. Today, we are in dire need to collectively accept mental health matters as a priority, and be welcoming and kind to one another.
Speaking to The Wonk, Astha Ahluwalia, Partner & Chief Psychologist, Clinical Psychologist at Reboot Wellness said,
"Making a client feel safe in a therapeutic setting is extremely important. The way you greet the clients, address them. When we deal with someone who is even remotely suicidal or is even enquiring about suicide, we immediately inform her/his family, partner or social circle, and we are obligated to do so. There are many clients from the LGBTQA community as well, and to deal with such clients we need to be open and accepting first; because if a client is sitting in front of you, s/he obviously needs to be heard. It's pivotal to reassure and comfort your client, I believe."
60 Million Indians suffer from mental illness. 130,000 Indians commit suicide every year. 1 in 3 homeless individuals suffer from a mental illness.
~ The Banyan
There are various mental health organisations that extend help when you are in need, some of which are as follows:
Since 2011, MINDS has been focused on community-level systemic change. Through close collaboration with local stakeholders including: teachers, village & community leaders, local governments, and clinicians—they have been able to continuously modify their programs to deliver a human-centered approach to mental health care. They are committed to eliminating the stigma surrounding mental illness through education, training, and providing access to cost-effective, high-quality care.
Since 1993, The Banyan has developed a variety of holistic mental health solutions that address multifaceted components of distress that those with mental health issues face. They aim to create replicable & sustainable models of care that address the interconnected elements of mental ill-health. This includes emergency and acute medical, psychiatric, psychological, and social care offered through our street-based services, hospital settings, shelter-based services, community-based outpatient care and inclusive long term care options for persons with high support needs.
Emergency Care and Recovery Centre
Address: 6th Main Road, Mogappair Eri Scheme, Mogappair West, Chennai – 600037
Phone: +91 9677121099
Their dedicated team of psychologists and psychiatrists bring together clinical proficiency and human compassion to create a safe, trustworthy and non-judgemental space for you to open up. They believe in following progressive principles and a personalized approach to help people navigate through difficult times in their lives at their own pace, and in their own way.
They also extend help through Online Counselling, Clinical assessments, and Online relationship counselling sessions.
Address: 7 Nathupur Road, Ground Floor,Near Neelkanth Hospital, DLF Phase III, Gurugram Haryana-122002.
appointments@reboot-wellness.com
Phone no: 09718383805
White Swan Foundation for Mental Health matters is a not-for-profit organization that offers knowledge services in the area of mental health. They aim to provide patients, caregivers, and others with well-researched content that will help them make informed decisions on how to deal with mental health issues. The White Swan Foundation team aims to also collaborate with like-minded individuals and organizations across the world to bring to you the best-in-class knowledge on mental health.
https://www.whiteswanfoundation.org/about-us/connect-with-us
In 1974, AIIMH and Mental Hospital were amalgamated, giving birth to the National Institute of Mental Health and Neuro Sciences (NIMHANS). With this, the legacy of Dr. Govindaswamy to implement a multidisciplinary approach by integrating mental health and neurosciences turned into a reality.
Manas Foundation is a national, non-profit working with diverse communities of women, men, adolescents, and children. They innovate plug-in models to embed mental health seamlessly within health, education and residential homes for care and protection. Their journey of almost two decades paved the way for us to pioneer a comprehensive approach integrating mental health and gender justice. This model engages men at scale to bring a positive shift in attitudes and practices towards gender equality and ending violence against women.
The Live Love Laugh Foundation was founded in 2015 by Deepika Padukone. Stemming from the founder's core belief that that no life should be lost because of mental illness, The Live Love Laugh Foundation (TLLLF) aims to give hope to every person experiencing stress, anxiety and depression (SAD). TLLLF's programmes and initiatives encompass mental health awareness and de-stigmatization of mental illness.
Some organisations to reach out to: Yes, they will listen to us 🙂
The MINDS Foundation – You can reach us directly via call or WhatsApp at +919033837227 24 hours a day, 7 days a week. E-mail us at info@mindsfoundation.org
The Samaritans Mumbai – 022 6464 3267, 022 6565 3267, 022 6565 3247. Email: samaritans.helpline@gmail.com
Arpita Suicide Prevention Helpline is one of the services of Arpita Foundation.10 AM – 05 PM | 080 23655557 Email: arpita.helpline@gmail.com
iCall – iCALL is a service from Tata Institute of Social Sciences (TISS), run by trained mental health professionals. Phone: 022-25521111 | 08 AM – 10 PM | Monday to Saturday | Email: icall@tiss.edu
Parivarthan – Parivarthan Counselling, Training & Research Centre is a registered, non-profit society that provides services in the field of mental health. Phone: +91 7676 602 602 | 10 AM – 10 PM | Monday to Friday | http://www.parivarthan.org
Sahai – Sahai is a service provided by the Medico Pastoral Association (MPA). MPA is a 51 years old psychosocial rehabilitation home for people with mental health issues. Phone: 080 – 25497777 | 10 AM – 05 PM | Monday to Saturday | Proficient with: हिंदी, English. Email: sahaihelpline@gmail.com
Sumaitri – Sumaitri is a crisis intervention centre for the depressed, distressed and suicidal. Phone: 011-23389090 | 02 PM – 10 PM | Monday to Friday | 10 AM – 10 PM | Saturday & Sunday. Email: feelingsuicidal@sumaitri.net
Sneha – Sneha is a suicide prevention organisation that offers unconditional emotional support for the depressed, desperate and the suicidal. 24 Hours | Monday to Sunday. Phone: 044-24640050 | 08 AM – 10 PM | 044-24640060 Email: help@snehaindia.org
Lifeline – Lifeline Foundation is a suicide prevention NGO based in Kolkata and conducts various outreach programs across the city. Phone: 033-24637401 | 10 AM – 06 PM | 033-24637432. Proficient with: বাঙালি, हिंदी, English. Email: lifelinekolkata@gmail.com
COOJ – COOJ Mental Health Foundation (COOJ) works towards promoting mental health in Goa. E-Counselling: Youmatterbycooj@gmail.com Phone: 0832-2252525 | 01 PM – 07 PM | Monday to Friday Proficient with: English
Roshni – Roshni Trust provides free and confidential service to the depressed & the suicidal. 11 AM – 09 PM | Monday to Saturday | Proficient with: తెలుగు, اردو, हिंदी, English Email: roshnihelp@gmail.com Phone: 040-66202001
Samaritans Mumbai– Call Samaritans Mumbai if you are disturbed, stressed, depressed or suicidal |03 PM – 09 PM | Monday to Saturday|Phone: +91 84229 84528 | Proficient with: मराठी, हिंदी, English Email: talk2samaritans@gmail.com
Roshni – You can reach out to Roshni,Telangana.| Phone: 040 790 464|E-mail – help@roshnihyd.org |Address – 1-8-303/48/21 Kalavathy Nivas, Sindhi Colony S.P. Road, Secunderabad 500003
BipolarIndia – Online and Offline Peer Support for Patients & Caregivers http://www.BipolarIndia.org, Mumbai | Please fill the contact form and you'll hear from us shortly https://www.bipolarindia.com/contact-us/
iCALL -A telephone and email based counseling service run by the Tata Institute of Social Sciences (TISS), Mumbai which offers psychosocial support, information and referral to people in emotional, psychological distress across age groups, gender and sexual identities, geographies and issues through a team of trained and qualified counsellors |Monday to Saturday from 8 am to 10 pm | Phone: 022-2552111 | Email: icall@tiss.edu |. For more details, visit http://www.icallhelpline.org
By Kunjan Ahluwalia
The problem with 'What I eat in a day' videos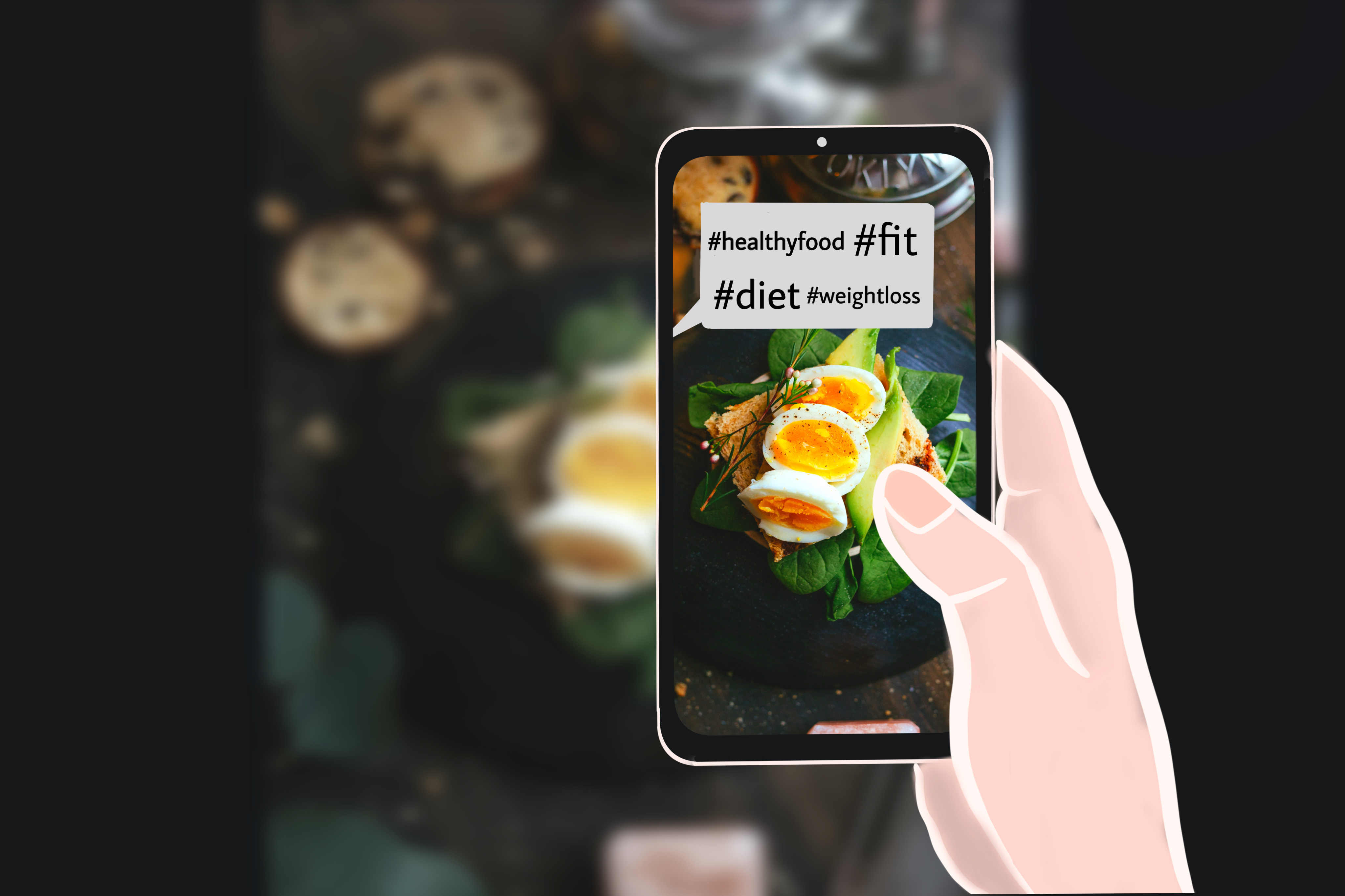 Exploring the harmful side of 'what I eat in a day' videos, with the pertinent question being – Is this content really healthy?
Let me start by asking a very simple question to you – What's 'what I eat in a day' videos for you? Let me guess – 'Doodh chodh do, dahi chodh do, ghee chodh do, atta chodh do, just don't eat anything' – at least, these videos on the face perpetuate this very idea of starving yourself to death if in any case, you want the so-called healthy, attractive or slim body. Right?
But you know what scares me the most – the idea that following a particular diet plan that just worked for a specific person will work for everyone on the planet. Honestly speaking, these trends in a sense are a bit problematic, why? Because most of us are now following a sedentary lifestyle with the lowest levels of physical activity, and watching these videos will give us the idea that following the same meal plan might help us achieve similar outcomes.
With every thumbs-up and thumbs-down on our screen, there's one thing common with these 'what I eat in a day' videos, and that's their thumbnails. Almost every time, I come across these videos online, the image of an extremely delicious-looking salad appears, but right next to it, there mostly appears an image of a woman wearing either a sports bra or a swimsuit making it just obvious that by eating this specific meal plan, you too are going to attain the same body structure.
Don't you think that meal plans are getting shared too much nowadays? Nonetheless, this craze of 'what I eat in a day' videos is hitting an all-time high in terms of its viewer tally.  However, some scroll down after watching these pseudo-professional nutrition tips without thinking of it much, but some on the other are obsessed with these videos and often fall for such diet plans which is alarming.
It is unquestionably true that today's generation is easily persuadable and which is why this leading 'what I eat in a day' content by many influencers and celebrities has increased the concerns of many health experts and nutritionists about its dangers as they believe that these videos made on misleading and incorrect information may encourage disordered eating which can lead to unfavourable outcomes. 
"I have seen a lot of celebrities, social media influencers and quacks post about such trends to engage their audience and influence them. Honestly, it's a wrong practice and misguides everyone. A large number of the young population receive inspiration from these videos which often leads to crash dieting and adverse health outcomes. Frankly speaking, there is no fixed meal or food that needs to be taken throughout the day, it keeps on changing and ultimately variety is needed. There has to be sustainability," said Margi Mankad, a Nutritionist based in Pune.
Most important! Differentiate between an Influencer & an Expert
"Just like brushing your teeth doesn't make you a dentist. Similarly, losing weight or having a healthy lifestyle does not make you a Nutritionist. This might sound weird, but it's true. Viewers need to understand that these meal plan videos will not only mislead them but will also not provide them with the benefits they are looking for. It's like blind leading the blind," said Aesha Mehta, Health Coach at GOQii technologies and Research assistant at Lilavati Hospital, Mumbai.
You will be misguided from your intention if you gain knowledge from unprofessional nutrition guidance. It is, therefore, important and necessary to have legitimate solid advice promoted by professionals as diet plans need to involve the right nutrition content and direction.
"What if a doctor prescribes a wrong medication to the patient? The patient will of course suffer and will have adverse health outcomes. Similar is the case with 'food'," Mankad said. "Incorrect practices may lead a person towards extreme weight-loss, being deficient in essential vitamins and minerals, and will ultimately decrease their quality of life."
Remember! Every 'body' is different, 'genes' have a role to play
It is important to note that these 'what I eat in a day' videos simply put out the message that following the same meal plan may lead any person to lose weight and can help them obtain the same physical appearance as that of the influencer. But the catch here is that these influencers or quacks not just conveniently forget about proper nutrition required by a human body but also discards the role of genetics in determining a person's weight loss journey.
"Sorry to burst your bubble, but weight loss also relies on genetics. Metabolism, presence of any hereditary or non-hereditary disease, family history, many such characteristics define a person's body weight and external appearance," said Vaidehi Apte, a food safety enthusiast and a postgraduate in Food Science from London Metropolitan University (UK).
 "It's good that celebrities and media influencers today are promoting health. But they should only be vocal about a healthy lifestyle, not a particular diet which is often showcased in 'what I eat in a day' videos." Further adding, she said, "It's high time that people should stop comparing themselves with a person who has a completely different body type and this is the very reason why one-on-one consultation from a professional is mandatory before experimenting with our beautiful bodies."
A complete deficiency of Body Positivity!
It is no secret that these 'what I eat in a day' videos are mostly posted by the influencers who possess the so-called 'standard or attractive body' which automatically makes the viewers compare themselves with those thin and small body sizes visible in the visuals.
Hardi Trivedi, a professional in Nutrition and Dietetics said, "These videos often portray the fact that the ultimate achievement of a healthy body is being thin. Most people believe that since their favourite influencer or a particular celebrity is following a certain diet, they can do it too and obtain similar results. But that's not the case. She also said, "In this whole process of looking attractive, we are losing ourselves and have stopped appreciating who we actually are."
Not just the viewers! It affects the creators too
Negative feedback and comments are a part of social media and therefore, sometimes it can relatively act toxic as well. Some people look at things with different glasses which can lead to negativity for some. The same is the case for social media.
"Non-stop negative feedback and comments about the creator's appearance, body or any personal aspect can lead to a drop in confidence. This can even make them become the victims of suicidal thoughts and severe depression," Trivedi added.
It is sometimes possible that instead of gaining likes, comments and praises for the content shared on social media platforms, the creator might even get trolled which can further hamper the mental health of the creator itself affecting their confidence leading them to depression, anxiety, disturbed mental health.
Therefore, various health experts and nutritionists warn against such social media trends as the visuals present in the videos often mislead people. It is not possible to end this trend at once, but proper knowledge and awareness of facts may help us cope with this catfishing.