India stands out as one of the world's fastest growing economies with a population of over 1.3 billion people and an impressive GDP exceeding 2.7 trillion USD. Despite these remarkable achievements, India's manufacturing sector a vital contributor to its GDP at around 15% has been grappling with considerable hurdles, including low productivity, soaring costs, inadequate infrastructure and intricate regulations. In pursuit of remedies to these challenges and the vision to establish India as a thriving global manufacturing hub, the Government of India launched the transformative Make­ in India initiative in 2014.
What is Make in India Initiative & its 4 Pillars?
Launched in September 2014 by Prime Minister Narendra Modi, the Make in India Initiative was part of a wider set of nation building initiatives. It was devised to transform India into a global design and manufacturing hub. The Make in India was a timely response to a critical situation. By 2013, the bubble of the much hyped emerging markets had burst and India's growth rate had fallen to its lowest level in a decade. India was tagged as one of the so called 'Fragile Five' and the promise of the BRICS (Brazil, Russia, India, China and South Africa) nation had faded. Global investors had started to question whether the world's largest democracy was a risk or an opportunity. India's 1.2 billion citizens questioned whether India was too big to succeed or too big to fail. It was amidst this brink of economic failure when India needed a push that the Initiative was launched by the Prime Minister. The initiative became a rallying cry for India's innumerable stakeholders and partners. It was a call for action for India's citizens and business leaders and an invitation to potential partners and investors across the world. But, Make in India is much more than just an inspiring slogan. It represents a comprehensive and unprecedented overhaul of outdated processes and policies. Moreover, it represents a complete change in the government's mindset. It saw a shift from issuing authority to a business partner which was in line with the Prime Minister's tenet of 'Minimum Government, Maximum Governance'.
The Make in India initiative is based on four pillars, which are identified to give a boost to entrepreneurship in India, not only to manufacturing but also to other sectors.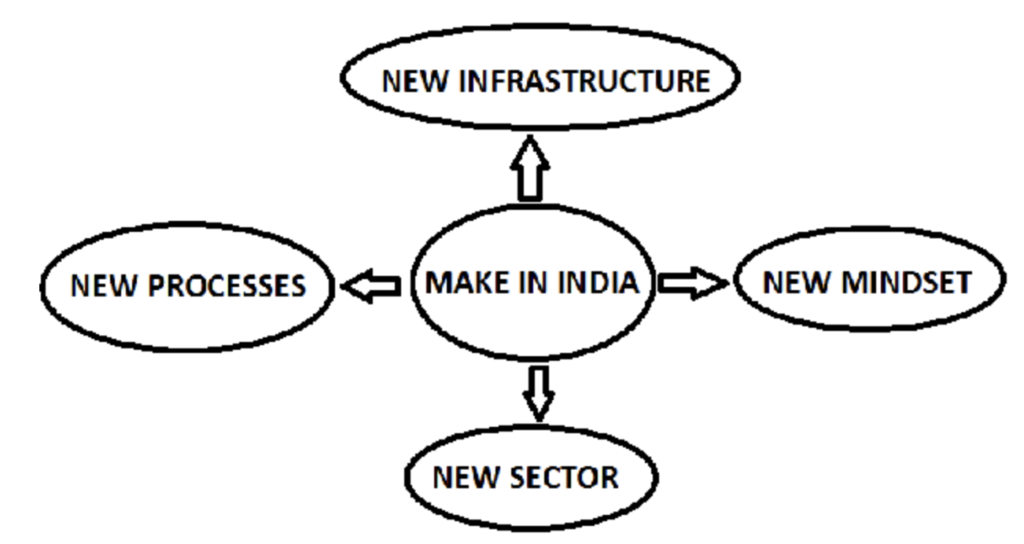 These four pillars are as follows-
New Processes
The Make in India recognizes 'ease of doing business' as one of the single most important factors to promote entrepreneurship. Its aim is to de-license and de-regulate the industry during the entire life cycle of a business. A number of initiatives have already been undertaken in this regard to ease the business environment.
New Infrastructure
The initiative seeks to develop top notch infrastructure for the manufacturing sector. It has introduced several projects including industrial corridors, smart cities, dedicated freight corridors and coastal economic zones. These initiatives aim to provide optimal connectivity, logistics support, utilities and amenities essential for industries.
New Sectors
The Initiative has identified 25 sectors across manufacturing, infrastructure and service activities. Detailed information is being shared through interactive web portals and professionally developed brochures. FDI has been opened up in Defence Production, Construction and Railway Infrastructure in a big way.
New Mindset
The industry was used to view the Government as a hurdle then facilitator for conduct of business. The Make in India initiative intended to bring a change to this outlook on how the Government interacts with the industry. The Government would act as a partner with the industry to facilitate the economic development of the country rather than acting as a regulator.
What are the Outcomes of Make in India Initiative?
The Make­ in India initiative has been successful in achieving significant outcomes. These include attracting investments, creating jobs, enhancing exports, improving competitiveness, and increasing growth. Let's take a closer look at some of the outcomes:
Attracting Investments
The initiative has seen remarkable success in drawing FDI inflows into the manufacturing sector. According to the Department for Promotion of Industry and Internal Trade (DPIIT), FDI equity inflows into manufacturing have surged from 16 billion USD in 2013-14 to an impressive 82 billion USD in 2019-20. Moreover, there have been significant relaxations in FDI policies across various sectors such as defense­ (74%), railways (100%), civil aviation (100%), and coal mining (100%).
Creating Jobs
The Make in India initiative have significantly contributed to job creation in the manufacturing and allied sectors. According to 'The Future of Jobs 2020' from the World Economic Forum (WEF), this initiative has the potential to generate 90 million jobs by 2025. Furthermore, it emphasizes skill development and vocational training to enhance workforce employability and productivity.
Enhancing Exports
The initiative­ has successfully increased the exports of manufactured goods from India to global markets. From 2013-14 to 2019-20, the exports of manufactured goods rose significantly from 220 billion USD to 314 billion USD. Alongside, several schemes like the Merchandise Exports from India Scheme (MEIS), Export Promotion Capital Goods Scheme (ECGS) and Advance Authorization Scheme (AAS) have been implemented to provide exporters with incentives and benefits
Improving Competitiveness
The initiative has enhanced the manufacturing sector's competitive edge in India. This achievement is attributed to cost reduction, quality improvement, efficiency enhancement and innovation promotion. Notably, India significantly progressed in its ranking on the World Bank's Ease of Doing Business Report, jumping from 142nd place in 2014 to the impressive 63rd position in 2020. Furthermore, according to the­ World Economic Forum's Global Competitiveness Report India's ranking improved from 71st in 2014 to 68th in 2019.
Increasing Growth
This initiative has successfully increased the manufacturing sector's expansion in India. By stimulating demand, enhancing supply and creating value, the initiative led to a notable rise in the growth rate of the manufacturing sector. According to data from the Ministry of Statistics and Programme Implementation (MOSPI), this growth rate surged from 5.3% in 2013-14 to 6.9% in 2019-20.
What are the Challenges and Prospects of Make in India?
The Make in India initiative has encountered challenges and limitations hindering its full potential and vision. Some of these obstacles include:
Infrastructure Bottlenecks
Despite efforts to enhance the manufacturing sector's infrastructure, there are gaps and deficiencies in power, water, transport, and communication. The World Bank's Logistics Performance Index revealed that India's ranking improved from 54th in 2014 to 44th in 2018. However, it continues to trail behind competitors like­ China (26th), Thailand (32nd), and Vietnam (39th).
Regulatory Hurdles
Despite efforts to simplify and streamline business regulations in India, there are challenges regarding compliance, enforcement, coordination, and transparency. The World Bank's Ease of Doing Business Report shows that India's ranking has improved from 142nd in 2014 to 63rd in 2020. However, it still performs poorly on certain indicators such as enforcing contracts (163rd), registering property (154th), and paying taxes (115th).
Skill Gaps
Despite the emphasis on developing skills and providing vocational training, shortages and mismatches still exist in terms of both quantity and quality of skilled workers within the manufacturing sector.
Innovation Deficits
Despite efforts to encourage innovation and research and development (R&D), India still faces significant constraints and barriers in terms of funding, infrastructure­, collaboration, and protection for its innovation ecosystem. The Global Innovation Index reveals that although India's ranking improved from 76th in 2014 to 48th in 2020, it remains behind countries like China (14th), South Korea (10th), and Singapore when it comes to manufacturing sector innovation. To address this, the Make­ in India initiative has been instrumental in driving initiatives such as Digital India, Startup India, and Smart Manufacturing. These initiatives aim to harness the potential of technology and foster a digitalized and competitive manufacturing ecosystem within the country.
Sustainable Development
The increasing awareness and concern about environmental and social issues, such as climate change, pollution, resource depletion, and inequality, have opene­d up new opportunities for the manufacturing sector in India. It enables them to embrace environment friendly practices and inclusive solutions. The Make in India initiative supports various programs like Clean India, Green India and Skill India. These initiatives promote the adoption of renewable energy sources, efficient waste management systems, energy conservation measures, and socially responsible practices within the manufacturing industry in India.
Regional Integration
The countries in the region, including South Asia, Southeast Asia, and Central Asia, have been increasingly integrated and cooperating. This collaboration has led to the emergence of new markets and networks for India's manufacturing sector.
Conclusion
Make in India has emerged as a significant catalyst for India's manufacturing sector, holding immense potential to position the country as a global hub for production. This transformative initiative has yielded remarkable outcomes of fueling investments, generating employment opportunities, boosting exports, enhancing competitiveness, and fostering economic growth. A lot of changes have been brought in to make 'Make in India' a reality. These include amendments in Labor law to online filing of returns and from rationalization of the regulatory environment to increasing the validity of industrial licenses. Today India's credibility is stronger than ever and there is visible momentum, energy and optimism. Make in India is opening investment doors and multiple enterprises are adopting its mantra. The world's largest economy is now on its way to becoming the world's most powerful economy.