Imagine, Jay Gatsby from the movie "The Great Gatsby" swiping and scrolling websites to find a perfect pair of luxury shoes for his party. In 2020 this seems quite normal but a decade back I would have been called mad for associating luxury products with ecommerce. Mind you, I am talking about luxury brands who characters like Richie Rich, Gordon Gekko, Bruce Wayne and others would have interacted with. No, please don't cry looking at your bank balance. Please.
Luxury brands & experiential marketing
They have been in the market with brick and mortar sales majorly. Luxury products are always a step ahead because of the experience that they provide to their customer base. Whether it be catering to unique needs or giving you a glass of champagne as you enter, these high end stores have their game really uptight. The belief that luxury brands do not need to have a digital outlet for sales was based on:
Risk involved in the high monetary transaction over a digital platform
E-commerce would not align with the brand image
These brands like to keep their audience niche.
Lack of personalised experience which is difficult to create digitally
Luxury brands during the pandemic
However, shopping patterns have changed quite a lot during the pandemic and will evolve further, post pandemic too. To survive, brands need to adapt fast to the new habitat. Luxury brands first felt the shock when China started reporting cases of coronavirus and international travel & trade started getting affected. Now, why did China's change in shopping pattern affect luxury brands? In 2019, China's citizens accounted for 90% of global luxury market growth. 70% of them made these purchases overseas (due to tariff on imported products). The second wave that hit the luxury market was when the virus made its way to Italy. Italy being the headquarter for a lot of brands, went on a national lockdown with constantly increasing coronavirus cases. This disrupted international travel (luxury shopping complements it) and supply chains.
By this time of the year brands start wrapping up their summer collection and fashion events start rolling for the autumn and the winter collection. One would find shopping enthusiasts in the various fashion capitals attending these events, post launch parties and obviously, shopping their heart out. However, the whole fashion parade has shifted to our comfortable pajamas. There are three scenarios that largely pop up when we talk about luxury brands and their presence in the pandemic.
According to Bain & Co. there can be a contraction of 25-35% in these brands. Secondly, the profitability is set to be disproportionate and lastly as China marks recovery (comparatively) brands may shift towards it. Well, some say Shanghai can be the new Paris. Can you imagine?
Luxury Brands 2.0
While there is so much global unrest, luxury brands need to adopt a new framework and if I may summarise it in four points, it would be:
Digitisation
Expansion to China (if not already)
A combination of ethics & aesthetics
The need for an inclusive workplace
Digitisation
Digitisation goes without saying. As one lounges in the comforts and the safety of their home, luxury brands need to invade into their target audience's digital life to stand a chance. Not all of these brands are yet available at multiple brand accommodating websites because they are still yet to adapt the digital side of the brand image. Some of the websites that one can find these brands on are farfetch.com, Tmall.com and many more as such. Interestingly, Tmall is a chinese B2C model, online retail website powered by Alibaba. There are a lot of brands available here for the audience in China. The newest addition to this is Victoria Beckham. Her brand debuted on the website on July 27th, which is an additional statement by itself.
There are definitely brands that were ahead of their competition and realised the importance of digital footprints. Though not a constant vigorous attempt, as compared to other sectors but still there were some brands that made a mark or had a functional debut in the digital world before the pandemic. Some of them being, the official website of Louis Vuitton, Burberry and its AR event in Tokyo, Dior and its sunglass AR campaign on Instagram last year and more.
While most brands and famous personalities cancelled or postponed their event this year, Shanghai fashion week went digital and left quite a statement.
A lot of luxury brands have now tried using Instagram & TikTok as their communication. With more and more young people attaining financial success now, luxury brands have started modifying their focus group. The new group is more tech savvy and comparatively younger in age. Reportedly, brands also identify Gen Z and millennials that can be their potential customers in the future (High earning but not rich yet) on most used social media platforms. There has been a hike in digital jobs too from the brand's end.
Expansion
Brands have actively started their online campaigns in China. Shifting to China makes sense for them as the cost in other countries is comparatively high. The tourism nature of some countries like Italy makes a retail store's cost comparatively very high. China is one of the high stake markets that is opening up. This makes trade easier.
Ethics
Eyes are on brands and how they react during this crisis. Brands like H&M have been thrashed online for failure of proper payment to its employees. Luxury brands have to be more careful as they can't lose their ethics in the run for aesthetics. Building communities, helping in whatever way possible is what the audience is looking for. Brands have actively helped the global community and it will be fruitful for them. For instance, Louis Vuitton started producing hand sanitisers due to the increasing shortage of it.
Inclusive
Brands of all sort get away with a marketing gimmick in most social situations. However, with movements like black lives matter and a lot of dissent over social media platforms, changing logos may not work this time. The younger generation wants a more inclusive environment and I don't think anyone is settling for less this time. Luxury brands to come out better post pandemic, need to uphold inclusive attributes in their leadership.
With revamping their image into a purpose driven brand, luxury brands should and will look into relatable content and continuity of their legacy. While, all this happens I will look into my bank account and cry.
Brutal Assault on the Brazilian Government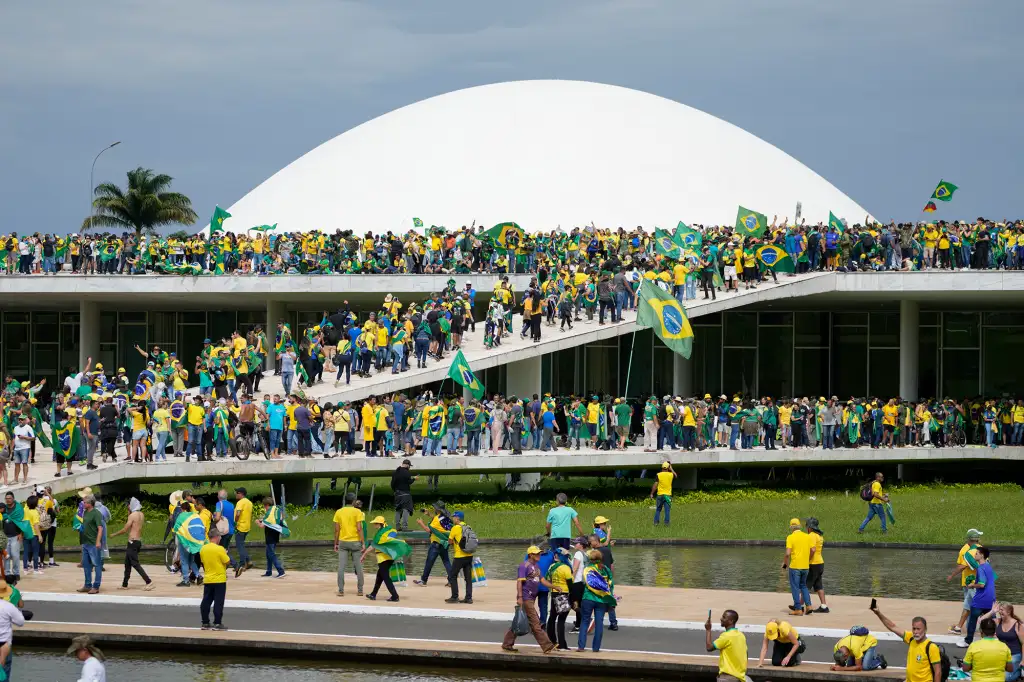 Many believed that thousands of Jair Bolsonaro's followers assaulted Congress, the presidential mansion, and the highest court in Brasilia on Sunday to start a military coup. Since President LuizInácio Lula da Silva triumphed in a closely fought runoff election on October 30, many Bolsonaro supporters have pleaded with the military to intervene. After a divisive campaign highlighting the country's bitter divisions, it was the most significant attack on Brazil's key institutions since the end of a military dictatorship and the return to democracy in the 1980s. Here is what you need to know about brutal assault on the Brazilian government.
Why was the election such a spectacular event:
This election was so dramatic because it depicted two enormous characters representing opposites in politics. Leftist Lula, a former labor union leader, is admired by those who credit him with putting policies in place that lifted millions out of poverty during his two terms in power from 2003 to 2011, but despised by those who see him as a symbol of corruption. In 2017, he was found guilty of corruption and money laundering and was given a nearly 10-year prison term. He was a 77-year-old cancer survivor who was released in 2019 following the adoption of a new detention policy by the Supreme Court. The Court later overturned his conviction on procedural grounds in 2021. Former army captain Bolsonaro, 67, has been hospitalized several times since being stabbed while campaigning in 2018. His supporters view him as a defender of traditional family values and a campaigner against corruption, which are crucial campaign issues in a predominantly conservative country. The president's opponents have referred to him as a far-right authoritarian and said he has promoted sexism, racism, and homophobia.
How did the vote count turn out:
Lula won the runoff election by a razor-thin margin of 51% to 49% over Bolsonaro. He entered office on January 1 with the promise of uniting a nation whose divides had, if anything, grown worse throughout the campaign. On the day Lula was validated, Bolsonaro supporters set fire to vehicles in the city's downtown area, and in late December, a device was discovered in a fuel truck close to the airport.
Why were Bolsonaro's followers calling for military action
Bolsonaro's supporters want the military to intervene because, during the election campaign last year, Bolsonaro and his allies spread a significant amount of false information and made snide remarks about the political process. When the country's long-established electronic voting system was attacked with unsubstantiated accusations by the then-president, his supporters began to question the validity of the results. Conflicts with the country's courts arose as a result. Even though his followers organized sizable rallies and spread conspiracies, Bolsonaro waited two days after the runoff to make an unclear speech and has never publicly admitted defeat.
After the election, What did his followers do:
In the days following the election, trucks were used to block roadways all around the nation before being removed on a court order. Then, in anticipation of a military intervention they believed Bolsonaro, who frequently talked favorably of Brazil's previous dictatorship, had hinted at in his rallies, crowds of supporters started to amass outside army headquarters across the nation. Even when Lula assumed power, hundreds still camped outside the bases.
What transpired in Brazil:
In Brasilia, On January 8, tens of thousands of rioters assaulted Congress, the presidential palace, and the Supreme Court, leaving a path of devastation with many clad in Brazilian flags or sporting the yellow and green national jersey. Historic structures were defaced, while journalists and police officers came under attack. The palaces' windows were broken by furniture being hurled through them. The doors to the closet where Judge Moraes' robes were stored were pulled off, and the justice's chairs in the highest court were thrown around. Videos online showed the vandals carrying the piece of wood bearing the justice's name as if it were a trophy. Several works of art were torn or scratched, including the well-known 20th-century painter Di Cavalcanti's painting Asmulatas.
What were people's responses to the attack:
Members of the military police began removing the rioters from the buildings after they had been free to wander for around three hours. It took another four hours for the attackers to leave the area. While in Sao Paulo to assess the effects of the recent torrential rains, Lula delivered an enraged address in which he demanded immediate intervention in the Federal District government. He accused Bolsanaro of being the reason for the disturbance and pledged to punish anyone who took part or helped finance it. After clearing the premises of the rioters, Bolsonaro denounced the "depredations and invasions of public facilities, but claimed that the incident was comparable to acts done by the left in 2013 and 2017. Both of those years saw sizable but significantly less violent public demonstrations. Bolsonaro denied Lula's accusation that he was complicit. Moraes also ordered the removal of the encampments in front of the army headquarters, which resulted in around 1,500 arrests, and suspended the Bolsonaro-supporting governor of the Federal District for 90 days at the same time.
Numerous inquiries started practically right away, and more are currently being explored. The Federal District's civil police kept track of the several people detained following the riot. The federal police and the federal highway police are looking into who may have helped Bolsonaro's supporters set up camp in front of the army headquarters for such a long time, as well as the funding of the buses that transported rioters from other states to Brasilia. To receive information about people accountable for the turmoil on January 8, the Ministry of Justice set up a dedicated email account. The municipal and federal governments are conducting internal investigations to look into potential collusion between the security officers and the vandals. It's being discussed to launch a congressional investigation in February.