Imagine, Jay Gatsby from the movie "The Great Gatsby" swiping and scrolling websites to find a perfect pair of luxury shoes for his party. In 2020 this seems quite normal but a decade back I would have been called mad for associating luxury products with ecommerce. Mind you, I am talking about luxury brands who characters like Richie Rich, Gordon Gekko, Bruce Wayne and others would have interacted with. No, please don't cry looking at your bank balance. Please.
Luxury brands & experiential marketing
They have been in the market with brick and mortar sales majorly. Luxury products are always a step ahead because of the experience that they provide to their customer base. Whether it be catering to unique needs or giving you a glass of champagne as you enter, these high end stores have their game really uptight. The belief that luxury brands do not need to have a digital outlet for sales was based on:
Risk involved in the high monetary transaction over a digital platform
E-commerce would not align with the brand image
These brands like to keep their audience niche.
Lack of personalised experience which is difficult to create digitally
Luxury brands during the pandemic
However, shopping patterns have changed quite a lot during the pandemic and will evolve further, post pandemic too. To survive, brands need to adapt fast to the new habitat. Luxury brands first felt the shock when China started reporting cases of coronavirus and international travel & trade started getting affected. Now, why did China's change in shopping pattern affect luxury brands? In 2019, China's citizens accounted for 90% of global luxury market growth. 70% of them made these purchases overseas (due to tariff on imported products). The second wave that hit the luxury market was when the virus made its way to Italy. Italy being the headquarter for a lot of brands, went on a national lockdown with constantly increasing coronavirus cases. This disrupted international travel (luxury shopping complements it) and supply chains.
By this time of the year brands start wrapping up their summer collection and fashion events start rolling for the autumn and the winter collection. One would find shopping enthusiasts in the various fashion capitals attending these events, post launch parties and obviously, shopping their heart out. However, the whole fashion parade has shifted to our comfortable pajamas. There are three scenarios that largely pop up when we talk about luxury brands and their presence in the pandemic.
According to Bain & Co. there can be a contraction of 25-35% in these brands. Secondly, the profitability is set to be disproportionate and lastly as China marks recovery (comparatively) brands may shift towards it. Well, some say Shanghai can be the new Paris. Can you imagine?
Luxury Brands 2.0
While there is so much global unrest, luxury brands need to adopt a new framework and if I may summarise it in four points, it would be:
Digitisation
Expansion to China (if not already)
A combination of ethics & aesthetics
The need for an inclusive workplace
Digitisation
Digitisation goes without saying. As one lounges in the comforts and the safety of their home, luxury brands need to invade into their target audience's digital life to stand a chance. Not all of these brands are yet available at multiple brand accommodating websites because they are still yet to adapt the digital side of the brand image. Some of the websites that one can find these brands on are farfetch.com, Tmall.com and many more as such. Interestingly, Tmall is a chinese B2C model, online retail website powered by Alibaba. There are a lot of brands available here for the audience in China. The newest addition to this is Victoria Beckham. Her brand debuted on the website on July 27th, which is an additional statement by itself.
There are definitely brands that were ahead of their competition and realised the importance of digital footprints. Though not a constant vigorous attempt, as compared to other sectors but still there were some brands that made a mark or had a functional debut in the digital world before the pandemic. Some of them being, the official website of Louis Vuitton, Burberry and its AR event in Tokyo, Dior and its sunglass AR campaign on Instagram last year and more.
While most brands and famous personalities cancelled or postponed their event this year, Shanghai fashion week went digital and left quite a statement.
A lot of luxury brands have now tried using Instagram & TikTok as their communication. With more and more young people attaining financial success now, luxury brands have started modifying their focus group. The new group is more tech savvy and comparatively younger in age. Reportedly, brands also identify Gen Z and millennials that can be their potential customers in the future (High earning but not rich yet) on most used social media platforms. There has been a hike in digital jobs too from the brand's end.
Expansion
Brands have actively started their online campaigns in China. Shifting to China makes sense for them as the cost in other countries is comparatively high. The tourism nature of some countries like Italy makes a retail store's cost comparatively very high. China is one of the high stake markets that is opening up. This makes trade easier.
Ethics
Eyes are on brands and how they react during this crisis. Brands like H&M have been thrashed online for failure of proper payment to its employees. Luxury brands have to be more careful as they can't lose their ethics in the run for aesthetics. Building communities, helping in whatever way possible is what the audience is looking for. Brands have actively helped the global community and it will be fruitful for them. For instance, Louis Vuitton started producing hand sanitisers due to the increasing shortage of it.
Inclusive
Brands of all sort get away with a marketing gimmick in most social situations. However, with movements like black lives matter and a lot of dissent over social media platforms, changing logos may not work this time. The younger generation wants a more inclusive environment and I don't think anyone is settling for less this time. Luxury brands to come out better post pandemic, need to uphold inclusive attributes in their leadership.
With revamping their image into a purpose driven brand, luxury brands should and will look into relatable content and continuity of their legacy. While, all this happens I will look into my bank account and cry.
Assassination of Shinzo Abe & Salman Rushdie – Know Real Facts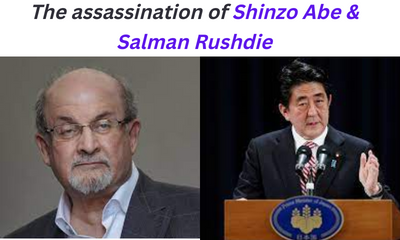 The months July and August of 2022 saw two cases of extermination to promote the fear of terrorism. One of the assassination of Shinzo Abe former Japanese Prime Minister, and another of the famous Novelist Salman Rushdie.
Shinzo Abe succumbed to a gunshot wound, whereas Rushdie's health conditions are improving and he is under medical supervision after the knife attack. However, various assassination attempt of Salman Rushdie has been made during the year.
These two terror acts force us to think about the impact of terrorism on society, the main objective of which is to create an atmosphere of fear so that citizens of the country cannot rely on their government.
This ultimately disturbs the law and order of the society, and serves the terrorists' purpose of creating a chaos.
Here we will see how these two attacks had different reasons but the objective remained the same – to stop someone from propagating his/her opinions independently, and also the factors that make attackers indulge in such acts.
Assassination Attempt of Salman Rushdie – Satanic Controversy
On 12 August 2022, Rushdie was attacked several times by a 24-year-old man Hadi Matar. The attacker's intentions can be linked to Rushdie's fourth novel, The Satanic Verses, published in 1988. Some Muslims considered the novel disrespectful towards Prophet Mohammed.
Soon after its publication, the novel sparked a 'fatwa' or a religious decree. The Iranian revolutionary leader Ayatollah Ruhollah Khomeini called for Rushdie's death in 1989. After, this various assassination attempt of Salman Rushdie has been made.
Complete conversation for Salman Rushdie Assassination:
When asked about the attack Hadi Matar said, "I don't like the person. I don't think he's a very good person. I don't like him very much". He further criticised Rushdie's work by saying, "He's someone who attacked Islam, he attacked their beliefs, the belief systems". Mr. Matar also told New York Post that he had only read 'a couple of pages' of the book and did not tell about whether the fatwa had inspired him or not.
While praising the Iranian religious leader, he stated, "I respect the Ayatollah. I think he's a great person. That's as far as I will say about that".
One can observe that the psychology of the attacker was that he simply disliked the novelist because of his work; although he read only two pages of the novel, but was rather influenced by the religious leaders and their sayings. Just, like this the assassination of Shinzo Abe has been made during this year, which we will discuss on next section.
Perceptions like these can have a long-lasting impact on future generations which can further deteriorate the situation. Violent acts like this demand proper scrutiny of the dissemination of information.
Extremists take advantage of such incidents and brainwash the young minds so that they can be used by them for their selfish purposes.
Assassination of Shinzo Abe – Complete Truth
On 8 July 2022, it was just another day of Abe's political campaign for the upcoming parliamentary elections. He was delivering a speech in Nara City, but no one is the aware about the assassination of Shinzo Abe that day. When a 41-year-old Tetsuya Yamagami shot him twice from behind from a distance of about 10 meters.
During the investigation, he confessed his intentions of killing and it was found that his motives had more to do with religious backing instead of a political reason.
It so happened that Yamagami's mother was a member of a religious group which she joined after her husband's death in 1998. She used to donate huge amounts of money as charity to the group, after the assassination of Shinzo Abe and Yamagami blames the sect for bankrupting his mother.
Confession Statement on Abe Case
The report reveal that Abe was closely associated with the sect, and wanted to take revenge against him for promoting it. "The suspect stated that he held a grudge against a particular organisation and that he committed the crime because he believed former Prime Minister Abe had a connection to it", a senior police officer in Japan's Nara region told reporters.
While the police hasn't given any clarification regarding the unidentified organization, social media in Japan has it that it could be the Unification Church.
Yamagami was unemployed, felt isolated in society, was against religious preaching and blind faith, and wanted to kill the leader of the religious organization but couldn't. One can see the psychological aspects of it that, the killer was anguished with the organisation and blamed them for his conditions and economic turmoil.
Ultimately his grudge converted into a motive of taking revenge for his loss and he did that by killing the perpetrator of the religious group, to give a message to the society and the world that one should avoid themselves from joining or contributing to such groups.
Japan has the strictest gun laws after the assassination of Shinzo Abe , so to bypass such stringent laws the killer used a handmade gun. The occurrence of such incidents in the island nation shows how much resentment the killer has and how strongly he was motivated to commit the murder.
Such incidents are eye-openers for the society that someone's freedom of belief can become others' pain, and teaches that as a society we should try to maintain a balance between them.
Two Paths to Crime
The above two accidents of assassination of Shinzo Abe, and the assassination attempt of Salman Rushdie has been terrifying for the country. First, being a part of a religious group the killer face hardship in his life, which forced him to commit the crime. In the second instance, the attacker got the impression that his religion is being targeted and that it is his responsibility to take revenge so that next time no one dares to do anything like that again.
Interpretation of things based on pre-assumed thoughts can lead to revenge, and revenge based on half-baked knowledge causes harm to the whole humanity, and not just the particular group concerned.