"If helping someone reach Mecca Medina counts as a good deed, then I believe that the same is valid for someone who guides you to life in Kashmir after 370" ~ Anonymous

–

A source spoke to the wonk on the condition of confidentiality
Defying the negative portrayal
Kashmir is paradise on Earth. People say that it is the most beautiful yet the most dangerous place to be at. But when you speak to a couple of Kashmiris, they have a strikingly opposing viewpoint to this. You will come across people who reveal that Media's portrayal of Kashmir is an adulterated one. One such person shared said that Kashmir is nothing like what the media shows. 'Kashmiriyat': the essence of Kashmir's culture and welcoming aura. That whoever visits Kashmir not only praises its exquisiteness and beauty, but is all praise for the safe, welcoming nature of Kashmiris, its heritage, and their culture. A Kashmiri man said that a woman would be safer at midnight in Kashmir, rather than Delhi. This comes as a shocker considering the image of Kashmir which the media and specifically the Bollywood depict (life in Kashmir after 370).
Both culturally and religiously, the people of Kashmir are taught to respect women and outsiders who visit the Valley.
Another person said that to understand Kashmir's present you need to go back to its history; in essence the partition, infiltration by Pakistan, Maharaja Hari Singh's request, Kashmir's accession, the promise of a plebiscite, and the abrogation of Article life in Kashmir after 370 which previously gave a special status to Jammu and Kashmir.
Javed Iqbal, Columnist, Rising Kashmir, said that Kashmir has had a history of being an independent kingdom… a sovereign state in every sense, whosoever tried to control it, whether the Afghans, the Sikhs or later the Dogras, has had problems.
Some common facts and figures
2014: there were 583 incidents of ceasefire violations. Out of which 14 civilians and three security personnel were killed. 101 civilians and 28 security personnel were injured.
2016: there were 449 incidents of ceasefire violations in which 13 civilians and 13 security personnel were killed. 83 civilians and 99 security personnel were injured. Life is Kashmir after 370.
June 2018- BJP pulled out of its coalition with PDP in the valley. 5 months later, in November, chances of a 'valley coalition' emerge. The Coalition between the National Congress and PDP, which is a first in the past 7 decades. PDP wrote to Governor Satyapal Malik, staking claim to form a government. The PDP went on to claim support of more than 50 MLAs, including those of Congress and The NC.
Civil society demonstrations in Kashmir are not a law-and-order problem, as they have been reported. Stone pelting, and incidents of arson and violence, are not causal to the violence that is routine in Kashmir today. Stone pelting does not seek to kill and has not resulted in death. Pro-freedom leaders (termed "separatists" by the Indian state) have emphasized nonviolent civil disobedience, and have appealed to civil society not to engage in violent protests in reaction to the violence and killings by Indian forces.
AFSPA
Armed Forces Special Powers Act (AFSPA) was enacted by the Parliament on September 11, 1958. It was first implemented in the Northeast, and then in Punjab. In September 1990, Parliament passed the Armed Forces (Jammu and Kashmir) Special Powers Act, which was "deemed to have come into force" retrospectively from July 5, 1990.
Army officers have legal immunity for their actions. There can be no prosecution, suit or any other legal proceedings against anyone acting under AFSPA.
We sitting anywhere else can praise or disregard the armed forces! What we should consider is that the ground reality there is a result of eventful and historic occurrences.
One should visit Kashmir at least twice! Once during the autumn when we call it 'Golden Kashmir'. Second, during snow.
Executions and HR violations
The Jammu and Kashmir Coalition of Civil Society (JKCCS), in its bi-annual report, revealed that from January 1 to June 30, the region witnessed the extrajudicial executions of at least 32 civilians and the killing of 54 armed forces personnel. Since August 5, 2019, there have been instances of the ban on high-speed mobile internet services. In the last six months, there were 55 instances of internet blockades.
The recent photo of a toddler sitting on his deceased grand father's bullet-ridden chest was particularly disturbing. Speculation rises upon the fact as to who clicked that picture??? Sources say that owing to the activity and of course the pandemic, there were no photojournalists or media persons present at the spot.
The brighter side
Speaking to The Wonk, a source suggested that youths from all over India should join hands with their Kashmiri friends. Delegations and exchanges should be initiated. Youth is like wet mud, which can still be molded into any shape. It's better for youth to get first-hand and primary exposure to see for themselves what the ground reality is at either end. With the abrogation of Article life in Kashmir after 370 and the intention of the Valley with the union of India, it is essential that Kashmiris are unalienated. The youth can initiate ice-breaker moments and bond with Kashmiris, their fellow Indians. The Wonk provides a piece of relevant news.
India needs to closely look into the "Kashmir issue", it will not get solved overnight. India's diplomacy is directed toward assuming a role as a world power, a world market, and a world negotiator in global politics. India recently earned a seat at the United Nations Security Council (UNSC) as a non-permanent member. The media should not run a pervasive foul play or set a false narrative that plays with the minds of Kashmiri residents. Kashmir should at least be on every Indian's bucket list! It is heaven on Earth, let's not make it hell!
By Kunjan Ahluwalia
President Joe Biden's Conversation with the Cambodian Prime Minister Hun Sen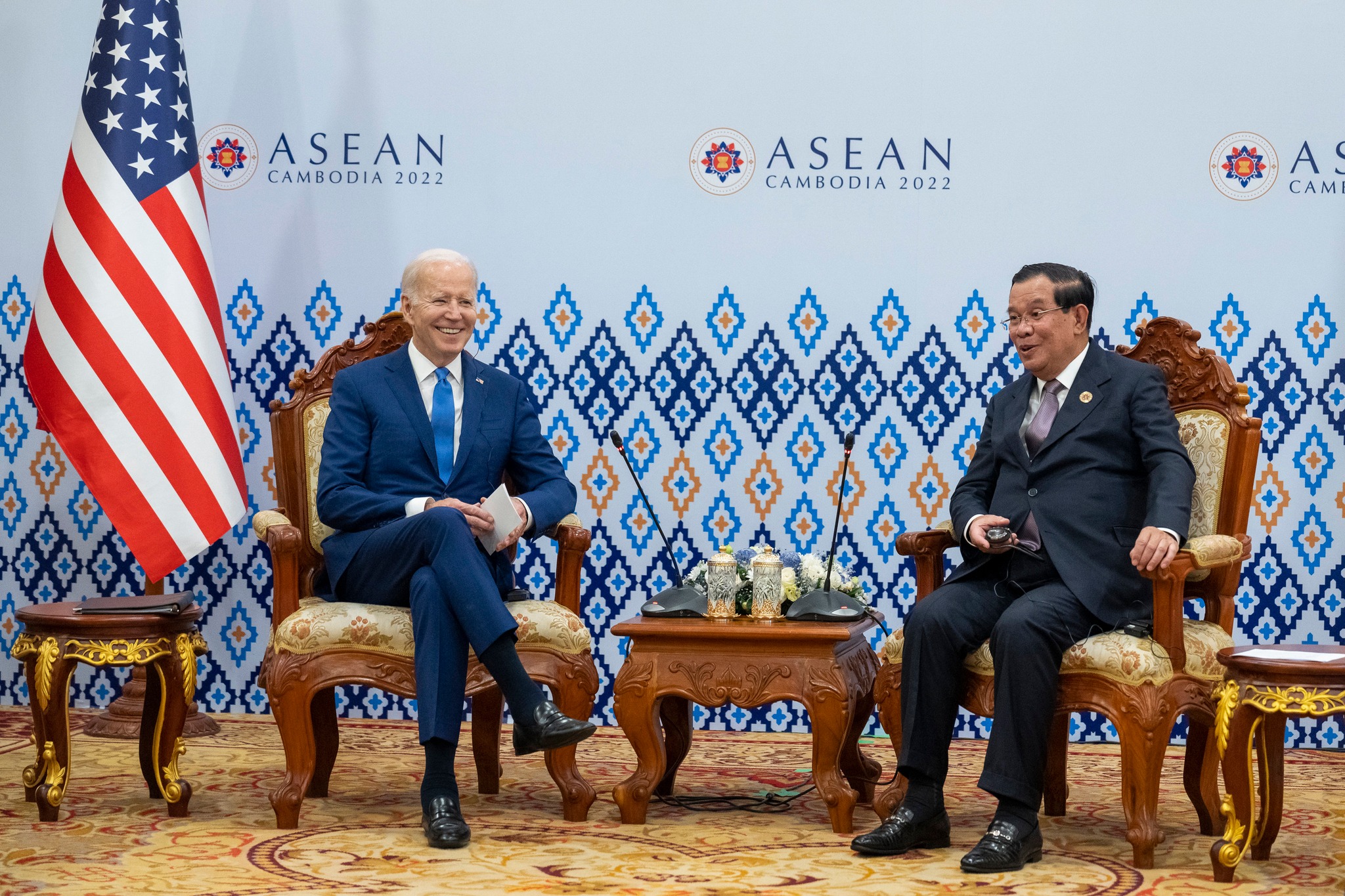 President Joe Biden landed in Cambodia on Saturday and supported the ASEAN nations. Before the eagerly anticipated Group of 20 summits next week in Indonesia, where Biden will meet with Xi for the first time in person since he took office, there will be a weekend of meetings in Cambodia. Before meeting with Xi, the president can engage with US allies at the ASEAN summits and the East Asia Summit on Sunday, both in Phnom Penh.
The US-ASEAN Comprehensive Strategic Partnership, which, according to Biden, "will tackle the biggest issues of our time, from climate to health security, defend against the significant threats to rule-based order and threats to the rule of law, and build an Indo-Pacific that's free and open, stable and prosperous, resilient and secure," was announced as "another critical step" toward building on the group's progress during his remarks at the summit. He cited a budget proposal for $850 million in support for Southeast Asia while praising the US's current financial commitments to ASEAN.
"This is my third journey and third summit, my second in person." The value reflects the United States' commitment to our relationship with ASEAN and our dedication to the region's centrality. The core of the Indo-Pacific strategy of my administration is ASEAN. In his opening remarks to the meeting, Biden said, "And we continue to reinforce our resolve to work in lockstep with an empowered, united ASEAN."
To build on the ASEAN leaders' conference in Washington earlier this year, the president's first meeting in Cambodia was with Prime Minister Hun Sen of Cambodia.
From the beginning of his presidency, Biden "was intent on elevating our engagement in the Indo-Pacific," according to national security adviser Jake Sullivan, and his attendance at the ASEAN and East Asia summits this weekend will highlight his accomplishments to date, including the Indo-Pacific Economic Framework unveiled earlier this year and security partnership initiatives.
"He's coming into this series of summits with that track record of success and purpose behind him, and he wants to be able to use the next 36 hours to build on that foundation to move American engagement forward, as well as to deliver several actual, practical initiatives," Sullivan said.
New initiatives on maritime cooperation, internet connectivity, and economic investment are some of these valuable measures, according to Sullivan. He added that Biden will soon begin a new maritime initiative that will "focus on using radio frequencies from commercial satellites to be able to track dark shipping, illegal and unregulated fishing, and also to improve the capacity of the countries of the region to respond to disasters and humanitarian crises."
Further, he added, Biden will also emphasize a "forward-deployed posture" toward regional defense to demonstrate that the US is actively pursuing security cooperation.
Biden also mentioned a brand-new US-ASEAN electric car infrastructure program during his speech.
He described the project as "a collaborative effort to build an integrated electric car ecosystem in Southeast Asia, enabling the region to achieve sustainable energy, economic growth, and ambitious emissions reduction targets."
Discussions on coordination "to continue to impose costs and build pressure on the junta" will also be centered on Myanmar, which was the subject of a February 2021 coup that ousted the country's democratically elected government.
Key Highlights
Concerns raised by Biden regarding Chinese activity at the Cambodian Ream Naval Base. The president expressed concern over the circumstances at Ream Naval Base and emphasized the value of complete transparency regarding the PRC (China's) military activities there.
The US President congratulated Cambodia's Prime Minister for backing Ukraine at the UN and spoke about the turmoil in military-ruled Myanmar.
President Biden also conveyed his gratitude to Cambodia for supporting resolutions at the UN to defend Ukraine from the brutal assault of Russia.
He thanked Cambodia for holding the ASEAN helm through a trying year.
The leaders "reflection on the historic US-ASEAN Special Summit's success in Washington, DC and applauded plans to establish a US-ASEAN Comprehensive Strategic Partnership at the annual US-ASEAN Summit later that day."
Along with the ASEAN Five Point Consensus, they also discussed the crisis in Burma and ASEAN's reaction, highlighting the international community's crucial role in restoring of democracy and stability in Burma.
In addition, Biden urged releasing activists like Seng Theory and a dual US-Cambodia citizen arrested on politically motivated allegations. The commitment of the United States to the Cambodian people and their goals for a more wealthy, democratic, and independent nation was reaffirmed by President Biden.