"If helping someone reach Mecca Medina counts as a good deed, then I believe that the same is valid for someone who guides you to life in Kashmir after 370" ~ Anonymous

–

A source spoke to the wonk on the condition of confidentiality
Defying the negative portrayal
Kashmir is paradise on Earth. People say that it is the most beautiful yet the most dangerous place to be at. But when you speak to a couple of Kashmiris, they have a strikingly opposing viewpoint to this. You will come across people who reveal that Media's portrayal of Kashmir is an adulterated one. One such person shared said that Kashmir is nothing like what the media shows. 'Kashmiriyat': the essence of Kashmir's culture and welcoming aura. That whoever visits Kashmir not only praises its exquisiteness and beauty, but is all praise for the safe, welcoming nature of Kashmiris, its heritage, and their culture. A Kashmiri man said that a woman would be safer at midnight in Kashmir, rather than Delhi. This comes as a shocker considering the image of Kashmir which the media and specifically the Bollywood depict (life in Kashmir after 370).
Both culturally and religiously, the people of Kashmir are taught to respect women and outsiders who visit the Valley.
Another person said that to understand Kashmir's present you need to go back to its history; in essence the partition, infiltration by Pakistan, Maharaja Hari Singh's request, Kashmir's accession, the promise of a plebiscite, and the abrogation of Article life in Kashmir after 370 which previously gave a special status to Jammu and Kashmir.
Javed Iqbal, Columnist, Rising Kashmir, said that Kashmir has had a history of being an independent kingdom… a sovereign state in every sense, whosoever tried to control it, whether the Afghans, the Sikhs or later the Dogras, has had problems.
Some common facts and figures
2014: there were 583 incidents of ceasefire violations. Out of which 14 civilians and three security personnel were killed. 101 civilians and 28 security personnel were injured.
2016: there were 449 incidents of ceasefire violations in which 13 civilians and 13 security personnel were killed. 83 civilians and 99 security personnel were injured. Life is Kashmir after 370.
June 2018- BJP pulled out of its coalition with PDP in the valley. 5 months later, in November, chances of a 'valley coalition' emerge. The Coalition between the National Congress and PDP, which is a first in the past 7 decades. PDP wrote to Governor Satyapal Malik, staking claim to form a government. The PDP went on to claim support of more than 50 MLAs, including those of Congress and The NC.
Civil society demonstrations in Kashmir are not a law-and-order problem, as they have been reported. Stone pelting, and incidents of arson and violence, are not causal to the violence that is routine in Kashmir today. Stone pelting does not seek to kill and has not resulted in death. Pro-freedom leaders (termed "separatists" by the Indian state) have emphasized nonviolent civil disobedience, and have appealed to civil society not to engage in violent protests in reaction to the violence and killings by Indian forces.
AFSPA
Armed Forces Special Powers Act (AFSPA) was enacted by the Parliament on September 11, 1958. It was first implemented in the Northeast, and then in Punjab. In September 1990, Parliament passed the Armed Forces (Jammu and Kashmir) Special Powers Act, which was "deemed to have come into force" retrospectively from July 5, 1990.
Army officers have legal immunity for their actions. There can be no prosecution, suit or any other legal proceedings against anyone acting under AFSPA.
We sitting anywhere else can praise or disregard the armed forces! What we should consider is that the ground reality there is a result of eventful and historic occurrences.
One should visit Kashmir at least twice! Once during the autumn when we call it 'Golden Kashmir'. Second, during snow.
Executions and HR violations
The Jammu and Kashmir Coalition of Civil Society (JKCCS), in its bi-annual report, revealed that from January 1 to June 30, the region witnessed the extrajudicial executions of at least 32 civilians and the killing of 54 armed forces personnel. Since August 5, 2019, there have been instances of the ban on high-speed mobile internet services. In the last six months, there were 55 instances of internet blockades.
The recent photo of a toddler sitting on his deceased grand father's bullet-ridden chest was particularly disturbing. Speculation rises upon the fact as to who clicked that picture??? Sources say that owing to the activity and of course the pandemic, there were no photojournalists or media persons present at the spot.
The brighter side
Speaking to The Wonk, a source suggested that youths from all over India should join hands with their Kashmiri friends. Delegations and exchanges should be initiated. Youth is like wet mud, which can still be molded into any shape. It's better for youth to get first-hand and primary exposure to see for themselves what the ground reality is at either end. With the abrogation of Article life in Kashmir after 370 and the intention of the Valley with the union of India, it is essential that Kashmiris are unalienated. The youth can initiate ice-breaker moments and bond with Kashmiris, their fellow Indians. The Wonk provides a piece of relevant news.
India needs to closely look into the "Kashmir issue", it will not get solved overnight. India's diplomacy is directed toward assuming a role as a world power, a world market, and a world negotiator in global politics. India recently earned a seat at the United Nations Security Council (UNSC) as a non-permanent member. The media should not run a pervasive foul play or set a false narrative that plays with the minds of Kashmiri residents. Kashmir should at least be on every Indian's bucket list! It is heaven on Earth, let's not make it hell!
By Kunjan Ahluwalia
G20 Summit & All That You Need To Know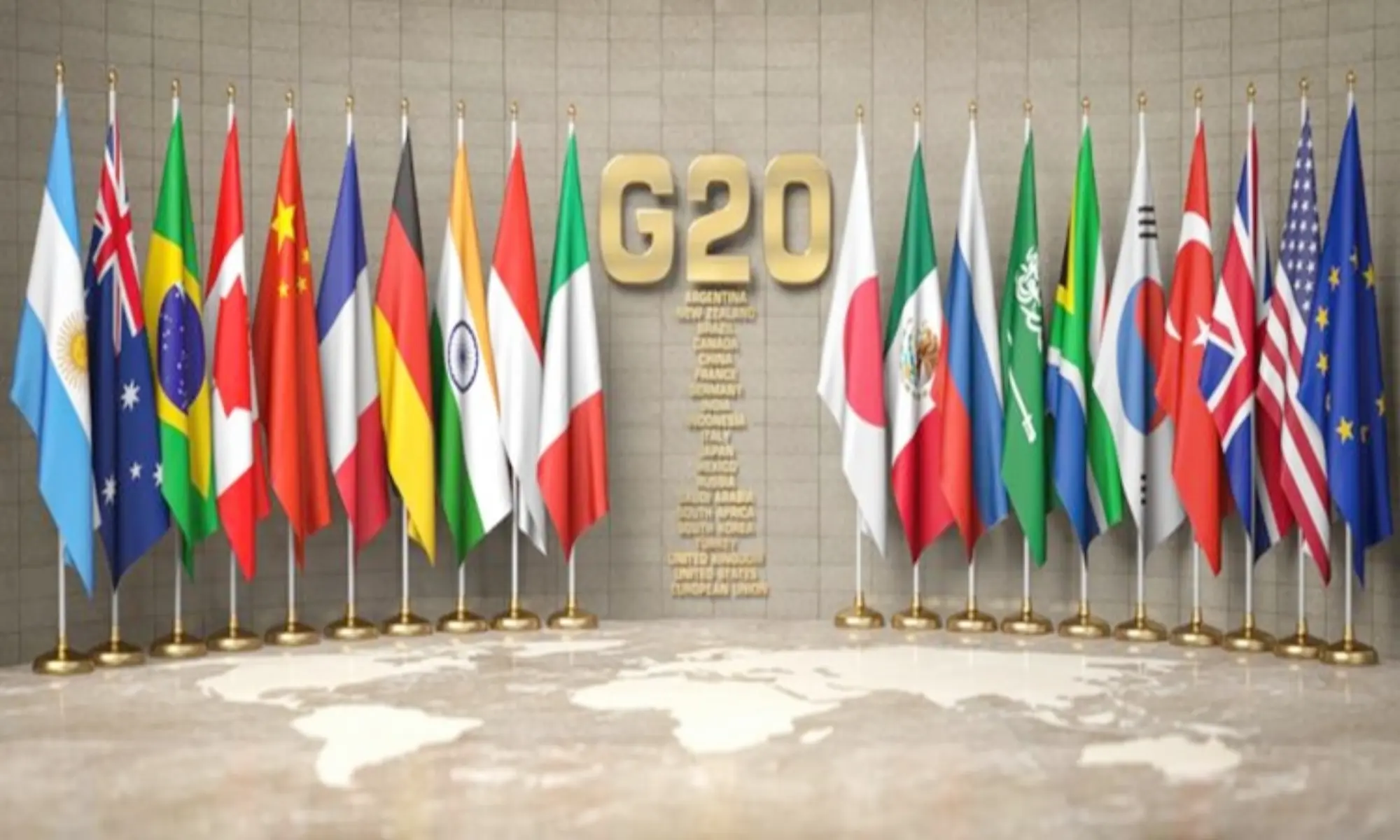 The G20 summit represents a significant portion of the global economy, accounting for around 85% of global gross domestic product (GDP), 80% of global trade, and two-thirds of the world's population. As a result, decisions made within the G20 can have far-reaching impacts on global economic policies and international relations.
What is the G-20?
Found in 1999, the Group of Twenty, or G20, is a global organization with 20 member nations. It was established in response to the financial crisis of the late 1990s and to bring together significant economies to discuss policy coordination and collaboration. It offers a stage for talks on problems related to the financial system's stability, sustainable development, and global economic issues. But over the years it has become a significant platform for leaders to discuss and act on critical global issues like poverty, inequality and climate change.
Which countries form the G-20?
Argentina, Australia, Brazil, Canada, China, France, Germany, India, Indonesia, Italy, Japan, Mexico, Russia, Saudi Arabia, South Africa, South Korea, Turkey, the United Kingdom, and the United States comprise the G20. The European Union is also a member and is represented by the European Commission and the European Central Bank.
Heads of state or government, finance ministers, and central bank governors gather at the G20's yearly meetings to conduct business. Discussions and negotiations aimed at promoting investment, international trade, financial regulation, and economic growth are the main topics of the sessions. Meetings of the finance ministers and central bank governors are held throughout the year in addition to the official summits to discuss ongoing economic challenges.
What is the Significance of G20 organisation and the G20 Summit?
Globally speaking, the G20 is essential in promoting cooperation among its members and tackling global economic and financial issues. It acts as a forum for discussion, collaboration, and coordination to support global economic stability and sustainable development. The G20 represents a significant portion of the global economy, accounting for around 85% of global gross domestic product (GDP), 80% of global trade, and two-thirds of the world's population. As a result, decisions made within the G20 can have far-reaching impacts on global economic policies and international relations.
The G20 summit brings together leaders from the G20 member countries to discuss and decide on various global economic concerns. However, it is the meaningful conversations between the sherpas of these nations that is vital for policy and decision making. 
Who are the G20 Sherpas?
During the G20 process, the senior officials and diplomats who attend/represent the G20 meetings on behalf of their nation's head of state or government are called as Sherpas. G20 Sherpas set the agenda, negotiate positions, and promote dialogue among the members.
Before the summit, sherpas frequently hold many rounds of discussions. These conversations touch on various issues, including financial stability, trade, investment, development, climate change, and other urgent global issues. The primary goal of these meetings is to identify areas of agreement, create consensus, and create cooperative strategies to deal with global economic difficulties. Sherpas hold in-depth discussions with their counterparts, examining various policy choices, sharing information, and attempting to reach a consensus on important topics.
Since each nation brings unique interests, priorities, and views, the conversations between the sherpas are intricate. To make sure that the outcomes of the G20 summit represent a broad consensus among the member countries, these discussions may require reaching concessions, settling disputes, and negotiating delicate problems. Sherpas bring together the priorities and viewpoints of the participating nations through these meetings, identify areas requiring group effort, and lay out potential solutions or policy suggestions for the summit's leaders to consider.
Sherpas are crucial in determining the G20 summit's agenda and results. As a result of their work, joint declarations, action plans, and pledges are created and approved by the leaders at the summit.
The conversations between the sherpas are a vital forum for communication, collaboration, and consensus-building among the G20 member nations. They are crucial in determining the summit's course and results, helping to make sure that the G20 addresses the world's economic concerns and promotes equitable and sustainable growth on a global scale.
India's G-20 Presidency
From December 1, 2022, through November 30, 2023, India will be the G20's president. In September of this year, the final New Delhi Summit will have 43 heads of delegation, the most ever to attend a G20 summit.
The slogan of this year's G20 Summit under the Indian Presidency is "Vasudhaiva Kutumbakam," which translates to "One Earth, One Family."
What is on agenda in the 2023 G-20 Summit?
Climate Finance, Life, and Green Development

Fast, Inclusive, and Resilient Growth 

Increasing SDGs progress

Digital Public Infrastructure and Technological Change

21st century's multilateral institutions

Women driving development
Behind the Scenes at G20
Before the summit in Kashmir (from 22 – 24 May), China raised a protest against the conduct of the G20 tourism working group conference being conducted in the Indian State. 
China's decision is most likely the result of Pakistan's concerns, a close ally who stated that the G20 summits were intended to support India's "illegal occupation" of Jammu and Kashmir. Meanwhile dismissing such ill-founded concerns of the Chinese side, India reiterated that all her states and union territories were hosting the G20 Summit 2023 in India.
However, as India continues to garner more goodwill and support from the G20 leaders, and China continues to lose standing in international global forums, it become a permanent absentee from such global summits soon.