It looks like unmanned aerial vision, or 'Eye in the sky' technology by the use of drones, is set to make its mark in the railway sector. Last year Dutch national railway operator Nederlandse Spoorwegen (NS) announced its plans to use drones for inspections of train stations. A report by Railtech revealed that according to NS, the unmanned aerial vehicles will fly over train stations and platforms. They will make photos and videos of the infrastructure objects. With the help of the drones, NS intends to improve the maintenance of the train stations.
Ninja UAVs for Mumbai railway station
In a bid to enhance security and surveillance, Central Railway's Mumbai Division recently procured two Ninja UAVs. This is for use in railway areas like station premises, railway track sections, yards, workshops, etc.
"A team of four staff from Modernisation Cell of the RPF have been trained to obtain the licence for flying these drones," said Shivaji Sutar, chief spokesperson for Central Railway.
"They can also do real-time tracking, video streaming and (operate in) automatic failsafe mode," Sutar said.
The drone has an operational range of 2 km and flies up to 25 minutes. Its take-off weight is up to 2 kg and can capture HD images at 1280×720 pixels during daylight.
Railway Protection Force (RPF) and the drone
Until now, RPF has procured as many as nine drones at a cost of Rs 31.87 lakh at Central Railway, South Eastern Railway, South Western Railway, Modern Coaching Factory, and Raebareli. In the future, it is further proposed to procure 17 more drones at a cost of Rs 97.52 lakh. So far, as many as 19 RPF personnel have been trained in drone operation and its maintenance. Of those, four RPF personnel have received the licenses for flying drones. An additional six RPF personnel are also being trained. Source: Financial express
Features and specifications
According to a press release issued by the Railway Ministry, these drones are capable of Real Time Tracking and Video Streaming, as well as they can be operated on Automatic Fail Safe Mode. The extensive use of drones has been planned by the RPF for the purpose of Railway security.
Railway Ministry's released data says that the drone deployment's purpose is to provide a force multiplier as well as aid to the effectiveness of the security staff deployed. The drones can help in inspection of Indian Railways' assets and safety of yards, car sheds, workshops, etc. Also, to launch surveillance on anti-social and criminal activities such as garbage throwing, hawking, gambling, etc., on railway premises, the drones can be used. Additionally, the drones can be deployed for data collection analysis that may prove to be very useful in those sections that are vulnerable, for safe train operations.
Need in the present scenario
The Coronavirus pandemic witnessed drones being utilized to enforce lockdown and monitor the migrants' movement.
Aerial monitoring through drones has great potential as threats have also evolved. Technology should be used not only for luxury but also to avert security failures.
Progressive Rail Roading explains that from better vantage points to high-quality imaging linked to precise GPS locations, drones can help railroads obtain data that can be dangerous, expensive or inefficient to obtain frequently with traditional inspection methods.
"The human element is not always 100 percent accurate," says Zach Garner, president of VisioStack, a drone imagery data management company. "There is a potential for accuracy gain [with a drone]. There is a potential to reach places that cannot be reached very easily."
President Joe Biden's Conversation with the Cambodian Prime Minister Hun Sen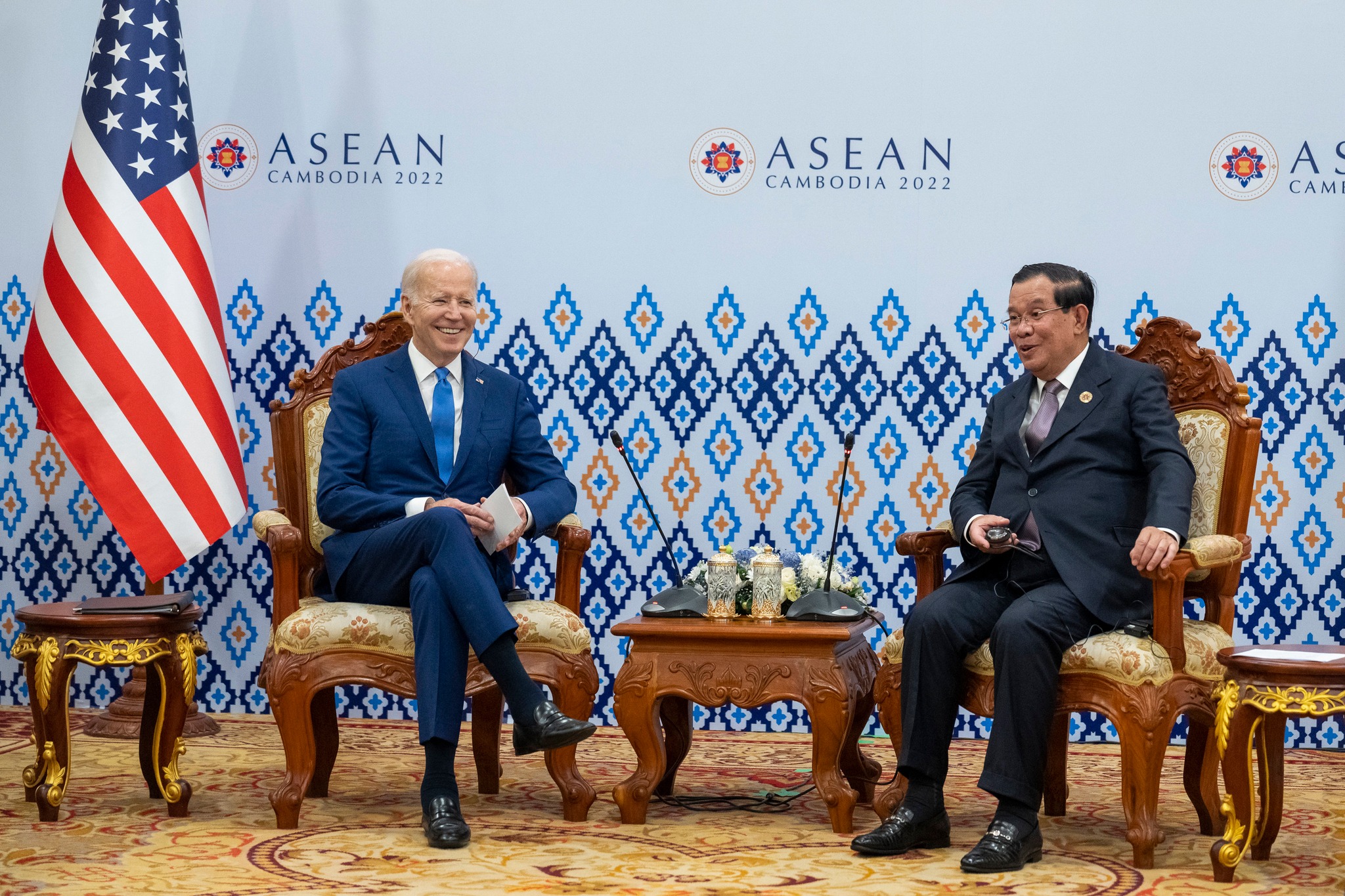 President Joe Biden landed in Cambodia on Saturday and supported the ASEAN nations. Before the eagerly anticipated Group of 20 summits next week in Indonesia, where Biden will meet with Xi for the first time in person since he took office, there will be a weekend of meetings in Cambodia. Before meeting with Xi, the president can engage with US allies at the ASEAN summits and the East Asia Summit on Sunday, both in Phnom Penh.
The US-ASEAN Comprehensive Strategic Partnership, which, according to Biden, "will tackle the biggest issues of our time, from climate to health security, defend against the significant threats to rule-based order and threats to the rule of law, and build an Indo-Pacific that's free and open, stable and prosperous, resilient and secure," was announced as "another critical step" toward building on the group's progress during his remarks at the summit. He cited a budget proposal for $850 million in support for Southeast Asia while praising the US's current financial commitments to ASEAN.
"This is my third journey and third summit, my second in person." The value reflects the United States' commitment to our relationship with ASEAN and our dedication to the region's centrality. The core of the Indo-Pacific strategy of my administration is ASEAN. In his opening remarks to the meeting, Biden said, "And we continue to reinforce our resolve to work in lockstep with an empowered, united ASEAN."
To build on the ASEAN leaders' conference in Washington earlier this year, the president's first meeting in Cambodia was with Prime Minister Hun Sen of Cambodia.
From the beginning of his presidency, Biden "was intent on elevating our engagement in the Indo-Pacific," according to national security adviser Jake Sullivan, and his attendance at the ASEAN and East Asia summits this weekend will highlight his accomplishments to date, including the Indo-Pacific Economic Framework unveiled earlier this year and security partnership initiatives.
"He's coming into this series of summits with that track record of success and purpose behind him, and he wants to be able to use the next 36 hours to build on that foundation to move American engagement forward, as well as to deliver several actual, practical initiatives," Sullivan said.
New initiatives on maritime cooperation, internet connectivity, and economic investment are some of these valuable measures, according to Sullivan. He added that Biden will soon begin a new maritime initiative that will "focus on using radio frequencies from commercial satellites to be able to track dark shipping, illegal and unregulated fishing, and also to improve the capacity of the countries of the region to respond to disasters and humanitarian crises."
Further, he added, Biden will also emphasize a "forward-deployed posture" toward regional defense to demonstrate that the US is actively pursuing security cooperation.
Biden also mentioned a brand-new US-ASEAN electric car infrastructure program during his speech.
He described the project as "a collaborative effort to build an integrated electric car ecosystem in Southeast Asia, enabling the region to achieve sustainable energy, economic growth, and ambitious emissions reduction targets."
Discussions on coordination "to continue to impose costs and build pressure on the junta" will also be centered on Myanmar, which was the subject of a February 2021 coup that ousted the country's democratically elected government.
Key Highlights
Concerns raised by Biden regarding Chinese activity at the Cambodian Ream Naval Base. The president expressed concern over the circumstances at Ream Naval Base and emphasized the value of complete transparency regarding the PRC (China's) military activities there.
The US President congratulated Cambodia's Prime Minister for backing Ukraine at the UN and spoke about the turmoil in military-ruled Myanmar.
President Biden also conveyed his gratitude to Cambodia for supporting resolutions at the UN to defend Ukraine from the brutal assault of Russia.
He thanked Cambodia for holding the ASEAN helm through a trying year.
The leaders "reflection on the historic US-ASEAN Special Summit's success in Washington, DC and applauded plans to establish a US-ASEAN Comprehensive Strategic Partnership at the annual US-ASEAN Summit later that day."
Along with the ASEAN Five Point Consensus, they also discussed the crisis in Burma and ASEAN's reaction, highlighting the international community's crucial role in restoring of democracy and stability in Burma.
In addition, Biden urged releasing activists like Seng Theory and a dual US-Cambodia citizen arrested on politically motivated allegations. The commitment of the United States to the Cambodian people and their goals for a more wealthy, democratic, and independent nation was reaffirmed by President Biden.