The post of Chief of Defence Staff (CDS) which had been vacant for nine months after the tragic death of India's first CDS General Bipin Rawat in a helicopter crash last December, has got a new appointment as Lieutenant General (Lt. Gen.) Anil Chauhan (retd.) on 30 September. As CDS, Gen. Chauhan will also function as the Principal Military Adviser to the Defence Minister on all tri-service matters as well as head the Department of Military Affairs as Secretary. In addition to these, he will be the permanent Chairman of the Chiefs of Staff Committee (COSC).
Born on 18 May 1961, Lt. Gen. Anil Chauhan was commissioned into the 11th Gorkha Rifles, the same regiment that the former CDS was part of.
The selection took four months after the government amended the Army, Navy, and Air Force rules in early June to widen the eligibility criteria for fulfilling the top post; new rules allowed retired three-star officers to be eligible for the prestigious post.
It is for the first time in the history of the Indian Army that a three-star officer has been brought back from retirement to take charge of a four-star rank.
Who is General Anil Chauhan?
As an alumnus of the National Defence Academy (NDA), Khadakwasla, a 1981 alumnus of the Indian Military Academy (IMA) Dehradun, Chauhan was commissioned as a second lieutenant into the 6th Battalion of the 11th Gorkha Rifles (6/11 GR) based in Lucknow. Gen. Chauhan, in his career spanning over four decades, has held several commands, and has had invaluable experience in counter-insurgency operations in Jammu and Kashmir and North-East India.
As part of his duty as Major General, he commanded an infantry division in the Baramulla sector in Jammu and Kashmir and the Dimapur-based 3 corps as the Corps Commander. Later as Lieutenant General, he commanded a Corps in the North-Eastern India and subsequently became the Eastern Army Commander in September 2019. In this duty he ensured that the army's focus shifted from counter-insurgency to conventional tasks along the Line of Actual Control (LAC) as Operation Snow Leopard was underway in Eastern Ladakh. In this operation, the Indian Army dedicated three months entirely for planning before it executed the operation to control key heights along the LAC in eastern Ladakh. The role of Gen. Chauhan was crucial in this operation which is still in progress. He held charge of the Eastern Army Commander until he retired from service on May 31, 2021.
In addition to these command appointments, Gen. Chauhan has also served as Director General of Military Operations (DGMO). As the DGMO he was in charge of 'Operation Sunrise', which consisted of coordinated operations undertaken jointly by Indian and Myanmar armies on insurgent groups taking shelter across the border. The operation was particularly important in eradicating North-East India's insurgencies and it turned out to be highly successful. He had also contributed to the Naga talks in consultation with the then-Governor of Nagaland.
In fulfilling his duty as DGMO at the Army Headquarters from January 30, 2018 to August 31, 2019 when Gen. Rawat was the Army Chief, he was closely involved in India's response to the Pulwama terror attack. The assault which involved India's north-western neighbour resulted in the death of 40 Indian security personnel. It was avenged in the form of Balakot air strike on February 26, in which Gen. Chauhan had a role to play.
Post retirement, Gen. Chauhan took charge as the Military Adviser in the National Security Council Secretariat (NSCS), where he was working closely with National Security Adviser, Ajit Doval.
Personal Life
Having immense experience in resolving border issues, Gen. Chauhan has shared his understanding of his life's journey in his two books – 'Aftermath of a Nuclear Attack', and 'Military and Geography of India's Northern Borders'. As per sources close to him, he is known to be a consistent golf player and a passionate collector of masks.
Challenges That Lie Ahead 
The post of CDS is still evolving; the groundwork was done by the former CDS, and Gen. Chauhan has to take forward from where he left off. The priority will be to reorganise the armed forces into theatre commands meant to bring in synergy and optimise resources. Secondly, being an expert in Indo-Chinese affairs, his experience will help his country in resolving border issues with China. Thirdly, he will take care of modernisation of forces as the vintage weapons need replacements. Lastly, one of his key responsibilities is to stop cross-border terrorism emanating from Pakistan. Citizens of the country are hopeful that the new CDS will usher in new possibilities and a new perspective of functioning in the three wings of defence.
When a Chinese Spy Balloon Made UFOs, a Matter of Grave Concern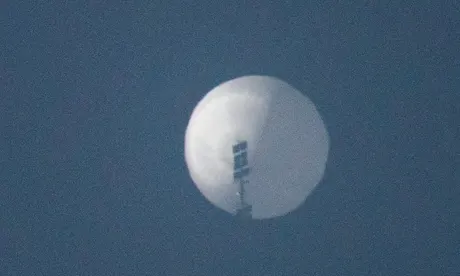 A year back, if someone told you that they spotted a "mysterious looking, white, balloon-shaped object" in the sky…you would have probably rubbished it, right? But what about today…how would you react to a news of 'mysterious balloons in the sky'? With a lot of concern, I presume…and rightly so! In this article we have discussed the incident of Chinese Spy Balloon aka Unidentified Flying Object.
From January 28 to February 4 this year, a giant white balloon was sighted across various parts of the North American airspace. This balloon, that was said to have traveled across South Korea, Japan, Alaska, Canada, and the contiguous United States, was later accepted by the Chinese government to be one of theirs – a Chinese 'Meteorological' Balloon that had drifted off-course due to the westerlies.
"The airship is from China. It is a civilian airship used for research, mainly meteorological, purposes. Affected by the Westerlies and with limited self-steering capability, the airship deviated far from its planned course."

– Chinese Foreign Ministry Spokesperson's Remarks on the Spy Balloon on 03 Feb 2023
But the American and Canadian intelligence services had different opinions – they claimed that the balloon was an instrument of surveillance which were endangering peace and security of these nations. On February 3, USA's Department of Defense reported that a second Chinese balloon was flying over Latin America, which China also claimed as its own. Following orders from U.S. President Joe Biden, the US Air Force shot down the balloon on February 4 in the Atlantic Ocean off the coast of South Carolina. 
But peace was not restored. The spy balloon incident has opened the pandora's box and the intelligence agencies now find themselves thinking on many fronts.
Before we dive into this, let's talk about China's "Civil-Military Fusion" program, under with such emerging technology is being developed.
China's National Strategy of Civil-Military Fusion (CMF)
"China encourages joint building and utilization of military and civilian infrastructure, joint exploration of the sea, outer space and air, and shared use of such resources as surveying and mapping, navigation, meteorology and frequency spectra. Accordingly, military and civilian resources can be more compatible, complementary and mutually accessible."

– China's Military Strategy, May 2015
To fulfill the Chinese goal of becoming a "world class military" by 2049, the Chinese government accelerated its program of CMF in 2015. Under this program, advanced technologies like Quantum Computing, AI, Big Data, nuclear, space and near-space technologies would be developed by exploiting both civilian and military capabilities. The importance of this Military Civilian Development Program can be identified by the fact that the President of the country, Xi Jinping, himself controls and oversees its progress. 
But why has the CCP government opted for this civilian-owned militarily empowered program? The reason is quite simple – 
If Caught – The government has the option to claim innocence by citing civilian–error and proving that there is no relation to the government or military. 
If Successful – The government successfully has access to the sensitive data of adversary and may weaponize this information as and when required for their benefit.
Now let's take another look at the Chinese Foreign Ministry Spokesperson's Remarks on the Spy Balloon –
"The airship is from China. It is a civilian airship used for research, mainly meteorological, purposes."
There should be no doubt that China's recent 'meteorological' balloons are a by-product of it's Civilian-Military Fusion program. The claim that the balloon's purpose was to spy on military installations in the Pacific region, cannot and should not be swiftly rejected. 
In the past few weeks, the North American Aerospace Defense Command has shot down four objects, and there are rumors of another balloon floating over the Middle East. What was once claimed to be a "civilian airship used for research, mainly meteorological, purposes", is now recognized as a component of a vast surveillance program.
Regardless of the quantity or caliber of the balloon's data gathered while flying over the United States, the controversy surrounding it has grown into an international incident, with multiple claims of similar "UFO" sightings all over the world – Japan, India, Taiwan, Colombia and list goes on.
What damage could the China's Spy Balloon inflict on the countries? Should we be bothered?
Let's answer the 2nd question first, should the spying balloon matter to us? 
YES, it definitely should. 
 It is no surprise that most members of Generation Z are unconcerned about data privacy, since they are so accustomed to being watched. In fact, a prevailing thought during a discussion about the balloon was, "Oh, the U.S. probably has comparable programs in China." The idea of a foreign competitor power gathering surveillance data on them therefore doesn't seem that terrifying to young people since. 
But, let's not forget this balloon was flying over the country's military areas, significant bases and important sites. 
Now let's come to the first question, what is the extent of damage that this balloon could cause? – Well, for this we leave you with two opinions to deliberate and make your own judgement.
Opinion 1
First, the chances of electronic surveillance to identify and possibly disrupt sensitive military communications cannot be ruled out at all. Second, is the possibility of cyber espionage or sabotage. With the cyber-skills and hacker army available with China's People's Liberation Army (PLA), it is a possible that this 'balloon-voyage' was a mere precursor to a full-fledged hybrid war. Third, the spy balloon could be a test, aimed to establish the reaction ability and potential of intelligence agencies worldwide. 
Opinion 2
Human brain is wired in a way to look at a shocking event with fear and assume that worst has happened. Therefore, had the Chinese diplomat in USA immediately met POTUS to explain China's position and taken strict (and public) against the civilian owners of this balloon, the matter would have been resolved peacefully without USAF interference. Diplomatic dialogue, should have been China's response, and not escalating the situation with threats – let's be clear 'cold-war' scenario, does more damage than good.
What's Next For China & USA Relations?
Chinese spy balloon illegal intrusion into USA's airspace has further deteriorated relations between the two countries. With Secretary of State Antony Blinken indefinitely postponing his trip to China, all prospects for a detente between the two superpowers seems to be eliminated. 
The incident has also heightened tensions and has accelerated alliance formation, not very different from the pre-Cold war era of USA and USSR!
"I believe in evidence. I believe in observation, measurement, and reasoning, confirmed by independent observers. I'll believe anything, no matter how wild and ridiculous, if there is evidence for it. The wilder and more ridiculous something is, however, the firmer and more solid the evidence will have to be."

-Isaac Asimov