Drug use is one of the most discussed topic in India right now. The on-going investigation of Bollywood A-listers for substance use has risen a debate about drugs. In 2019, a report submitted by the National Drug Dependence Treatment Centre (NDDTC) stated that there are approximately 2.6 crore opioid users in India. It also stated that over 8.5 lakh people inject drugs into themselves and are addicted to it.
Being a country with significant volumes of licit and illicit drug cultivation, a transit route as well as a consumer market, India's drug policy dilemmas span 'demand' and 'supply' control.
India and Drugs
Cannabis has been consumed for spiritual, medicinal and recreational purposes in the country since the classical era. The earliest known references to cannabis use dates back to 2000 B.C.
During the colonial period, the British organised opium into a large-scale commercial enterprise, consolidating and bringing cultivation of poppy and manufacture of opium through the Opium Acts of 1857 and 1878.
By the 1920s, the nationalist movement became critical of the colonial government's profit driven drug policy. Indian leaders distanced themselves from traditional use and the removal of drugs became the agenda. Cannabis was classified as an intoxicating drug and continued to be regulated through provincial excise acts.
In the 1930s, the Dangerous Drugs Act was introduced. It was introduced to extend and strengthen control over drugs derived from coca, hemp (cannabis) and poppy plants by regulating the cultivation, possession, manufacture, sale, domestic trade and external transactions through licenses and penalising unlicensed activities. The framework of the Dangerous Drug Act remains in the current legislation.
In 1940, the Drugs and Cosmetics Act was introduced to regulate the use of medicinal drugs including cannabis and opium.
The prohibitionist sentiment became further settled by way of Article 47 of the Constitution which states: "The State shall endeavour to bring about prohibition of the consumption except for medicinal purposes of intoxicating drinks and of drugs which are injurious to health". Although these Directive Principles of State Policy are non-enforceable, this provision is frequently invoked to justify disciplinary drug policies.
The Narcotic Drugs and Psychotropic Substances Act 1985
The Narcotic Drugs and Psychotropic Substances Act, 1985 (NDPS Act) came into force on 14 November 1985. According to the official record, the NDPS Act was introduced in order to provide adequate penalties for drug trafficking, strengthen enforcement powers, implement international conventions to which India was a party and enforce controls over psychotropic substances. The Act restricts the cultivation, possession, sale, purchase, trade, import, export, use and consumption of narcotic drugs and psychotropic substances except for medical and scientific purposes in accordance with the law.
The NDPS Act Amendments:
1989
In 1989, the NDPS Act underwent the first set of amendments, after a Cabinet Subcommittee for combating drug trafficking and abuse recommended that the law be made stricter. The changes in the Act included an extension of mandatory punishment in the case of possession of drugs. The minimum sentence was moved to 10 years with restrictions on bail, a bar on suspension and commutation of sentences, forfeiture of property, trial by special courts and mandatory death sentence for certain repeat offenders.
According to revised provisions, people caught with small amounts of drugs faced long prison sentences and hefty fines. if they successfully prove that the drug was intended for personal use, they would be subjected to a punishment of six months or one year in prison.
2001
The change was made due to the criticism regarding harsh and disproportionate sentencing structure of the Act. This time, the punishment was to be graded on the basis of the quantity of drugs involved, which, – "small", "commercial" or "intermediate".
2014
The third amendment of the Act in 2014 saw an introduction of new provisions. The main features included:
Creation of a new category of "essential narcotic drugs". This can be specified and regulated by the central government uniformly throughout the country.

Widening the objective of the law from containing illicit use to also promoting the medical and scientific use of narcotic drugs and psychotropic substances.

Including the terms "management" of drug dependence and "recognition and approval" of treatment centres. This allowed the establishment of legally binding treatment standards and evidence-based medical interventions.

Revised punishment for small quantity offences from a maximum of six months to one-year imprisonment.

Allowing private sector involvement in the processing of opium and concentrated poppy straw.

Raising the rank of officers authorized to conduct search and arrest license holders for alleged NDPS violations.

More elaborate provisions for forfeiture of property of persons arraigned on charges of drug trafficking.
The Magnitude of Substance Use in India 2019
Although the use of cannabis and opioids has been documented in India since a long time, their is no proper data on the use or the pattern of use currently. In order to fight with the problem, it is necessary to have well researched data on the problem.
What is a psychoactive substance?
According to the World Health Organisation, the substances that, when taken in or administered into one's system, affect mental processes. This term and its equivalent, psychotropic drug, are the most neutral and descriptive term for the whole class of substances, licit and illicit, of interest to drug policy. 'Psychoactive' does not necessarily imply dependence-producing, and in common parlance, the term is often left unstated, as in 'drug use' or 'substance abuse'.
Use of Psychoactive Substance in India
The report states that a large number of population uses psychoactive substances all over India.
Alcohol is the most common psychoactive substance used by Indians. About 14.6% of the population used alcohol, which means, there are 16 crore people who consume alcohol in the country.
After alcohol and cannabis, opioids are the next commonly used substances in India. About 2.8% of the populate, which accounts for 3.1 crore reports to have used cannabis in the previous year.
About 2.1% of the country's population, accounting for 2.26 crore individuals use opioids. Which includes, Opium (or its variants like poppy husk known as Doda/phukki), Heroin (or its impure form – smack or brown sugar) and a variety of pharmaceutical opioids.
Other categories of drugs such as Cocaine (0.10%) Amphetamine Type Stimulants (0.18%) and Hallucinogens (0.12%) are used by a small proportion of country's population.
Access to treatment
According to the report, among people dependent on alcohol who tried quitting, about 25% (or about 2.6% of the total alcohol-dependent individuals) reported receiving any treatment. Among those who received help/treatment, the largest category of the source of help was 'spiritual/religious help' (33%) followed by a 'government doctor or health facility' (25%). A very small proportion (21%) of those who received any help or treatment reported receiving admission/hospitalisation for their alcohol use problems. Just about one in 38 people with alcohol dependence have received any treatment.
A similar trend is visible among those with dependence on illicit drugs. Among those affected by drug dependence, around 44% reported trying to give up drug use, of which, around 25% (i.e. about 12% of all drug-dependent people) reported receiving any help or treatment ever. The most common source of treatment was a government hospital (40% of those having received treatment). Among those who received treatment, as many as 44% reported having received in-patient treatment. Thus, among people suffering from dependence on illicit drugs, one among 20 people has received inpatient treatment/hospitalisation for help with drug problems ever in a lifetime.
What is the way forward?
Considering the huge challenge of substance abuse in the country, there is an urgent need for new policies and programs focused on helping the affected citizens. The evidence in the report highlights the fact that the youth is the most affected with substance abuse. The programs that are present are based on educating people and spreading awareness, but they are themselves very weak. Awareness programmes can play an important role in establishing substance use disorders as bio-psycho-social health conditions.
Drug usage is mostly dependent on emotional state of an individual. After consuming drugs, the emotional state of the individual amplifies, which may make a person feel better at that time, but is bound to negatively affect the person later. Currently, more than 50% youth of our country suffers from psychological problems, depression or anxiety. These situations keep amplifying due to drug use, which results in addiction. The most important thing in this situation, which will work better than any treatment is giving out mental support and positivity to people who are addicted and want to quit. Using substance may seem to be a get away for the time being, but it clearly isn't.
The problem with 'What I eat in a day' videos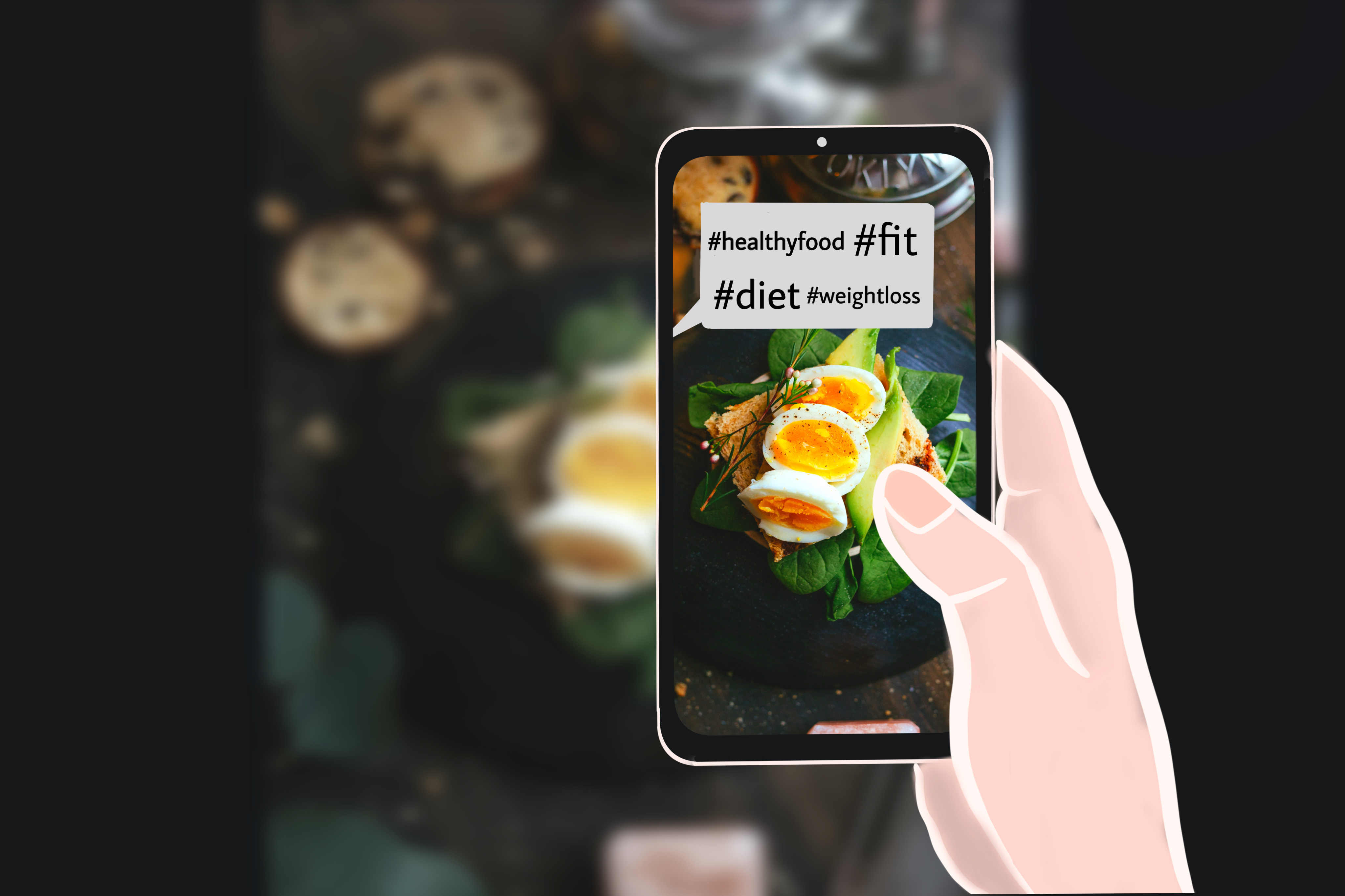 Exploring the harmful side of 'what I eat in a day' videos, with the pertinent question being – Is this content really healthy?
Let me start by asking a very simple question to you – What's 'what I eat in a day' videos for you? Let me guess – 'Doodh chodh do, dahi chodh do, ghee chodh do, atta chodh do, just don't eat anything' – at least, these videos on the face perpetuate this very idea of starving yourself to death if in any case, you want the so-called healthy, attractive or slim body. Right?
But you know what scares me the most – the idea that following a particular diet plan that just worked for a specific person will work for everyone on the planet. Honestly speaking, these trends in a sense are a bit problematic, why? Because most of us are now following a sedentary lifestyle with the lowest levels of physical activity, and watching these videos will give us the idea that following the same meal plan might help us achieve similar outcomes.
With every thumbs-up and thumbs-down on our screen, there's one thing common with these 'what I eat in a day' videos, and that's their thumbnails. Almost every time, I come across these videos online, the image of an extremely delicious-looking salad appears, but right next to it, there mostly appears an image of a woman wearing either a sports bra or a swimsuit making it just obvious that by eating this specific meal plan, you too are going to attain the same body structure.
Don't you think that meal plans are getting shared too much nowadays? Nonetheless, this craze of 'what I eat in a day' videos is hitting an all-time high in terms of its viewer tally.  However, some scroll down after watching these pseudo-professional nutrition tips without thinking of it much, but some on the other are obsessed with these videos and often fall for such diet plans which is alarming.
It is unquestionably true that today's generation is easily persuadable and which is why this leading 'what I eat in a day' content by many influencers and celebrities has increased the concerns of many health experts and nutritionists about its dangers as they believe that these videos made on misleading and incorrect information may encourage disordered eating which can lead to unfavourable outcomes. 
"I have seen a lot of celebrities, social media influencers and quacks post about such trends to engage their audience and influence them. Honestly, it's a wrong practice and misguides everyone. A large number of the young population receive inspiration from these videos which often leads to crash dieting and adverse health outcomes. Frankly speaking, there is no fixed meal or food that needs to be taken throughout the day, it keeps on changing and ultimately variety is needed. There has to be sustainability," said Margi Mankad, a Nutritionist based in Pune.
Most important! Differentiate between an Influencer & an Expert
"Just like brushing your teeth doesn't make you a dentist. Similarly, losing weight or having a healthy lifestyle does not make you a Nutritionist. This might sound weird, but it's true. Viewers need to understand that these meal plan videos will not only mislead them but will also not provide them with the benefits they are looking for. It's like blind leading the blind," said Aesha Mehta, Health Coach at GOQii technologies and Research assistant at Lilavati Hospital, Mumbai.
You will be misguided from your intention if you gain knowledge from unprofessional nutrition guidance. It is, therefore, important and necessary to have legitimate solid advice promoted by professionals as diet plans need to involve the right nutrition content and direction.
"What if a doctor prescribes a wrong medication to the patient? The patient will of course suffer and will have adverse health outcomes. Similar is the case with 'food'," Mankad said. "Incorrect practices may lead a person towards extreme weight-loss, being deficient in essential vitamins and minerals, and will ultimately decrease their quality of life."
Remember! Every 'body' is different, 'genes' have a role to play
It is important to note that these 'what I eat in a day' videos simply put out the message that following the same meal plan may lead any person to lose weight and can help them obtain the same physical appearance as that of the influencer. But the catch here is that these influencers or quacks not just conveniently forget about proper nutrition required by a human body but also discards the role of genetics in determining a person's weight loss journey.
"Sorry to burst your bubble, but weight loss also relies on genetics. Metabolism, presence of any hereditary or non-hereditary disease, family history, many such characteristics define a person's body weight and external appearance," said Vaidehi Apte, a food safety enthusiast and a postgraduate in Food Science from London Metropolitan University (UK).
 "It's good that celebrities and media influencers today are promoting health. But they should only be vocal about a healthy lifestyle, not a particular diet which is often showcased in 'what I eat in a day' videos." Further adding, she said, "It's high time that people should stop comparing themselves with a person who has a completely different body type and this is the very reason why one-on-one consultation from a professional is mandatory before experimenting with our beautiful bodies."
A complete deficiency of Body Positivity!
It is no secret that these 'what I eat in a day' videos are mostly posted by the influencers who possess the so-called 'standard or attractive body' which automatically makes the viewers compare themselves with those thin and small body sizes visible in the visuals.
Hardi Trivedi, a professional in Nutrition and Dietetics said, "These videos often portray the fact that the ultimate achievement of a healthy body is being thin. Most people believe that since their favourite influencer or a particular celebrity is following a certain diet, they can do it too and obtain similar results. But that's not the case. She also said, "In this whole process of looking attractive, we are losing ourselves and have stopped appreciating who we actually are."
Not just the viewers! It affects the creators too
Negative feedback and comments are a part of social media and therefore, sometimes it can relatively act toxic as well. Some people look at things with different glasses which can lead to negativity for some. The same is the case for social media.
"Non-stop negative feedback and comments about the creator's appearance, body or any personal aspect can lead to a drop in confidence. This can even make them become the victims of suicidal thoughts and severe depression," Trivedi added.
It is sometimes possible that instead of gaining likes, comments and praises for the content shared on social media platforms, the creator might even get trolled which can further hamper the mental health of the creator itself affecting their confidence leading them to depression, anxiety, disturbed mental health.
Therefore, various health experts and nutritionists warn against such social media trends as the visuals present in the videos often mislead people. It is not possible to end this trend at once, but proper knowledge and awareness of facts may help us cope with this catfishing.