Through a telephonic conversation, Indian Prime Minister Narendra Modi and Afghan President Ashraf Ghani discussed the evolving security situation in the region and other areas of mutual and bilateral interest, according to the prime minister's office.
Ghani thanked Modi for India's timely supply of food and medical assistance to Afghanistan. Modi reiterated India's commitment to the people of Afghanistan in their quest for a peaceful, prosperous and inclusive society, the Prime Minister's Office said
During a phone call, the two also exchange Eid-ul-Adha greetings. Tahir Qadiry, Afghan charge d' affaires in New Delhi, tweeted, "HE President @ashrafghani in a telephonic conversation with HE PM @narendramodi exchanged greetings on the joyous festival of #EidAlAdha & also discussed the evolving security situation in the region and other areas of bilateral interests,"
Tackling terrorism
Aghanistan government has released around 4,900 prisoners, according to various media reports. On Friday, Ghani was quoted as saying that he had "no authority" under the country's constitution to release the remaining prisoners as they were involved in serious crimes. The Afghan president said he would soon call the consultative Loya Jirga, a traditional grand assembly of Afghan elders, to decide their fate.
According to the Afghan government, there has been no let up in the violence in Afghanistan since the US-Taliban deal was agreed upon. More than 3,500 Afghan troops were killed by armed fighters.
Indo-Afghan bilateral ties
India and Afghanistan have a strong relationship based on historical and cultural
links. India has played a significant role in the reconstruction and rehabilitation of
Afghanistan. We believe that democracy and development are the key instruments to
ensure that Afghanistan becomes a source of regional stability. Source: MEA website
According to verified data by the Ministry of External affairs, there have been frequent high level visits from both sides in 2011-12, including among others, External Affairs Minister (EAM) and National Security Adviser (NSA) in January and March 2011 respectively; Prime Minister in May 2011; Special Envoy to PM to Kabul in June 2011 for a meeting of the International Contact Group; Foreign Secretary in September 2011; Minister of Law & Justice Shri Salman Khurshid on September 24, 2011 after the demise of Prof. Burhanuddin Rabbani, and again on June 14 for the Heart of Asia Conference in Kabul, and Minister for Steel Shri Beni Prasad Verma in April 2012.  
Important exchanges and visits
President Hamid Karzai in February, 2011; Defence Minister Wardak in June, 2011; First Vice President Marshal Fahim in June 2011; a Parliamentary delegation led by Speaker of the lower house of the Afghan Parliament Mr Ibrahimi to India in July, 2011; a delegation from the High Peace Council headed by its Chairman, late Prof. Burhanuddin Rabbani in July 2011; Afghan NSA Mr Rangin Dadfar Spanta in August, 2011; Afghan Minister of Mines Mr Shahrani for the TAPI meeting in September, 2011; Afghan Commerce Minister Mr. Anwar ul Ahady in October 2011 for the CII, SME summit, President Karzai in October 2011, Minister of Mines and Finance Minister in January 2012 for the CII Partnership Summit in Hyderabad and Foreign Minister Zalmai Rassoul at the first Partnership Council meeting on May 1, 2012.
Recent years
In 2012, Dr. Zalmai Rassoul, Minister of Foreign Affairs, Mr. Anwar-ul-Haq Ahady, Minister of Commerce and Industry, Mr. Omar Zakhilwal, Minister of Mines, Mr. Wahidullah Shahrani, Minister of Mines and Mr. Asef Rahimi, Minister of Agriculture were in Delhi on for the Delhi Investment Summit on Afghanistan, which sought to provide a forum for potential investors from the region and beyond to meet and explore possible cross-country company partnerships on investments in and around Afghanistan in various sectors where Afghanistan holds the promise of significant potential, opportunity and need, as a means of bringing stability and development to Afghanistan through economic means in the challenging post-2014 phase.  
According to the Ministry of External Affairs, release, Prime Minister Narendra Modi paid a visit to Kabul on December 25, 2015. It was the Prime Minister's first visit to Afghanistan. During the visit, Prime Minister Modi and Afghan President Mohammad Ashraf Ghani jointly inaugurated and dedicated the National Assembly building, to the Afghan people. An enduring symbol of friendship and cooperation between the two countries, the National Assembly building, was constructed under India-Afghanistan Development Cooperation
Regional cooperation
In regional cooperation, Afghanistan joined SAARC at the 14th SAARC Summit held in Delhi in April 2007, opening possibilities of Afghanistan becoming a trade, transportation and energy hub linking together the countries of the region from Central to South Asia. India has also encouraged Afghanistan's efforts at capitalising on its unique geographical location at the heart of the Asian continent by supporting regional initiatives like the Istanbul process and RECCA that seek to assist in Afghanistan's development through cooperation in a various sectors of the economy.
Assassination of Shinzo Abe & Salman Rushdie – Know Real Facts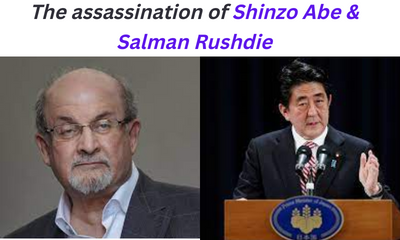 The months July and August of 2022 saw two cases of extermination to promote the fear of terrorism. One of the assassination of Shinzo Abe former Japanese Prime Minister, and another of the famous Novelist Salman Rushdie.
Shinzo Abe succumbed to a gunshot wound, whereas Rushdie's health conditions are improving and he is under medical supervision after the knife attack. However, various assassination attempt of Salman Rushdie has been made during the year.
These two terror acts force us to think about the impact of terrorism on society, the main objective of which is to create an atmosphere of fear so that citizens of the country cannot rely on their government.
This ultimately disturbs the law and order of the society, and serves the terrorists' purpose of creating a chaos.
Here we will see how these two attacks had different reasons but the objective remained the same – to stop someone from propagating his/her opinions independently, and also the factors that make attackers indulge in such acts.
Assassination Attempt of Salman Rushdie – Satanic Controversy
On 12 August 2022, Rushdie was attacked several times by a 24-year-old man Hadi Matar. The attacker's intentions can be linked to Rushdie's fourth novel, The Satanic Verses, published in 1988. Some Muslims considered the novel disrespectful towards Prophet Mohammed.
Soon after its publication, the novel sparked a 'fatwa' or a religious decree. The Iranian revolutionary leader Ayatollah Ruhollah Khomeini called for Rushdie's death in 1989. After, this various assassination attempt of Salman Rushdie has been made.
Complete conversation for Salman Rushdie Assassination:
When asked about the attack Hadi Matar said, "I don't like the person. I don't think he's a very good person. I don't like him very much". He further criticised Rushdie's work by saying, "He's someone who attacked Islam, he attacked their beliefs, the belief systems". Mr. Matar also told New York Post that he had only read 'a couple of pages' of the book and did not tell about whether the fatwa had inspired him or not.
While praising the Iranian religious leader, he stated, "I respect the Ayatollah. I think he's a great person. That's as far as I will say about that".
One can observe that the psychology of the attacker was that he simply disliked the novelist because of his work; although he read only two pages of the novel, but was rather influenced by the religious leaders and their sayings. Just, like this the assassination of Shinzo Abe has been made during this year, which we will discuss on next section.
Perceptions like these can have a long-lasting impact on future generations which can further deteriorate the situation. Violent acts like this demand proper scrutiny of the dissemination of information.
Extremists take advantage of such incidents and brainwash the young minds so that they can be used by them for their selfish purposes.
Assassination of Shinzo Abe – Complete Truth
On 8 July 2022, it was just another day of Abe's political campaign for the upcoming parliamentary elections. He was delivering a speech in Nara City, but no one is the aware about the assassination of Shinzo Abe that day. When a 41-year-old Tetsuya Yamagami shot him twice from behind from a distance of about 10 meters.
During the investigation, he confessed his intentions of killing and it was found that his motives had more to do with religious backing instead of a political reason.
It so happened that Yamagami's mother was a member of a religious group which she joined after her husband's death in 1998. She used to donate huge amounts of money as charity to the group, after the assassination of Shinzo Abe and Yamagami blames the sect for bankrupting his mother.
Confession Statement on Abe Case
The report reveal that Abe was closely associated with the sect, and wanted to take revenge against him for promoting it. "The suspect stated that he held a grudge against a particular organisation and that he committed the crime because he believed former Prime Minister Abe had a connection to it", a senior police officer in Japan's Nara region told reporters.
While the police hasn't given any clarification regarding the unidentified organization, social media in Japan has it that it could be the Unification Church.
Yamagami was unemployed, felt isolated in society, was against religious preaching and blind faith, and wanted to kill the leader of the religious organization but couldn't. One can see the psychological aspects of it that, the killer was anguished with the organisation and blamed them for his conditions and economic turmoil.
Ultimately his grudge converted into a motive of taking revenge for his loss and he did that by killing the perpetrator of the religious group, to give a message to the society and the world that one should avoid themselves from joining or contributing to such groups.
Japan has the strictest gun laws after the assassination of Shinzo Abe , so to bypass such stringent laws the killer used a handmade gun. The occurrence of such incidents in the island nation shows how much resentment the killer has and how strongly he was motivated to commit the murder.
Such incidents are eye-openers for the society that someone's freedom of belief can become others' pain, and teaches that as a society we should try to maintain a balance between them.
Two Paths to Crime
The above two accidents of assassination of Shinzo Abe, and the assassination attempt of Salman Rushdie has been terrifying for the country. First, being a part of a religious group the killer face hardship in his life, which forced him to commit the crime. In the second instance, the attacker got the impression that his religion is being targeted and that it is his responsibility to take revenge so that next time no one dares to do anything like that again.
Interpretation of things based on pre-assumed thoughts can lead to revenge, and revenge based on half-baked knowledge causes harm to the whole humanity, and not just the particular group concerned.