The same year when he was elected, US president, Donald Trump paid $1,45,400 taxes in India and $750 in the US. Trump entered the 2016 presidential race as a Republican and was elected in a surprise victory over Democratic nominee Hillary Clinton. The report was dismissed by Donald Trump as "fake news". India is yet to comment on the matter.
Going through the tax return data of 20 years, the New York Times (NYT) reported, "Donald J Trump paid $750 in federal income taxes the year he won the presidency. In his first year in the White House, he paid another $750."
The report also said that Trump paid no income taxes at all in 10 of the previous 15 years – largely because he reported losing much more money than he made.
Just days before Trump's first presidential debate with Democratic rival, Joe Biden, on September 29, 2020, the NYT released this report.
According to the US Law, disclosing details of personal finance is not mandatory for US presidents but all the presidents after Richard Nixon have been doing it. Donald Trump remains to be the only president, who has chosen not to disclose the details of his personal finances.
Instead, Trump has taken people seeking information about his returns to court. The US house too was taken to the court by Trump, as it accessed his tax returns as a part of congressional oversight
The report also stated, "His reports to the IRS (Internal Revenue Service) portray a businessman who takes in hundreds of millions of dollars a year yet racks up chronic losses that he aggressively employs to avoid paying taxes. Now, with his financial challenges mounting, the records show that he depends more and more on making money from businesses that put him in potential and often direct conflict of interest with his job as president…"
The report is claimed to have obtained tax-return data extending over two decades for Trump and the hundreds of companies that fund his business organisation. It also includes detailed information from his first two years in office. It does not include his personal returns for 2018 or 2019.
The report claims, "He reported paying taxes, in turn, on a number of his overseas ventures.". Adding to it, "In 2017, the president's $750 contribution to the operations of the US government was dwarfed by the $15,598 he or his companies paid in Panama, the $145,400 in India and the $156,824 in the Philippines."
The report stated that the data, "reveal the hollowness, but also the wizardry, behind the self-made-billionaire image".
Trumps response to the allegations
At a press briefing in the White House on Sunday, Trump dismissed the report calling it "fake news".
He also said, "It's fake news. It's totally fake news. Made up. Fake. We went through the same stories. You could have asked me the same questions four years ago. I had to litigate this and talk about it…"
Adding, "I paid tax…you'll see that as soon as my tax returns – it's under audit. They've been under audit for a long time."
Donald Trump also accused the International Revenue Service of bad treatment for him. He said, "You have people in the IRS – they treat me very badly…The New York Times tried the same thing. They want to create a little bit of a story…they're doing anything they can."
He responded to questions regarding his tax returns saying, "First of all, I've paid a lot, and I paid a lot of state income taxes, too. The New York State charges a lot and I paid a lot of money in state. It'll all be revealed. It's going to come out…after the audit."
He claimed that he has 108 pages of tax filings. He stated, "Those filings are very complete. They're very big. They're very powerful. They're very accurate. Those are the filings that you'll learn much more and when it's done."
Donald Trump has already been subject to a lot of controversies, just before the presidential elections of America, on November 3, 2020.
Why is Trump's audit such a big deal?
In late March 2016, Trump released a letter from his tax attorneys and accountants attesting to the fact that all of his tax returns from 2009 are currently being checked by the IRS.
According to the Vox, the reason Trump's tax returns are so complicated is that the Trump Organisation is a somewhat unusual business venture. A more typical rich entrepreneur might have founded a company that later staged an IPO, and Trump would be rich today because of a mix of salary he has paid as CEO of his own company and because he owns shares of stock in the company. However, the Trump Organisation isn't a company at all. Instead, it's simply a catchall phrase for a loose agglomeration of approximately 500 separately incorporated entities that Trump either wholly or largely owns. Each of these companies has its own set of transactions each year, which end up registering on Trump's personal taxes.
Therefore, it is true that Trump's tax situation is a little complex. However, the published tax returns will offer a deeper insight into Trump.
Apart from this, their is no legal rule in US stating that a person who's being audited can't release his returns.
Why Trump's finances matter?
In 2016, when Trump was a candidate, all his backing was of his alleged business prowess. He had no record in elected or appointed office, didn't serve in the military, and hadn't been involved in policymaking or public affairs in any way. However, now, in 2020, he has a record of being appointed and working in the office. He has failed to show his tax returns even after being demanded it for four years. The NYT report just fueled the demand to an irreparable extent.
Throughout his term as US President, Donald Trump has been surrounded by controversies. His recent comments on the handover of power and ballot boxes have drawn widespread criticism. Also, his comments on coronavirus and delayed actions to curb the pandemic has negatively impacted his image.
Donald Trump and Joe Biden are extremely close competitors this election. The Democrats and the youth are bidding for Joe Biden and the Republicans are set to vote for Donald Trump's second term.
Assassination of Shinzo Abe & Salman Rushdie – Know Real Facts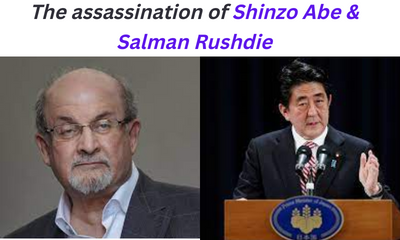 The months July and August of 2022 saw two cases of extermination to promote the fear of terrorism. One of the assassination of Shinzo Abe former Japanese Prime Minister, and another of the famous Novelist Salman Rushdie.
Shinzo Abe succumbed to a gunshot wound, whereas Rushdie's health conditions are improving and he is under medical supervision after the knife attack. However, various assassination attempt of Salman Rushdie has been made during the year.
These two terror acts force us to think about the impact of terrorism on society, the main objective of which is to create an atmosphere of fear so that citizens of the country cannot rely on their government.
This ultimately disturbs the law and order of the society, and serves the terrorists' purpose of creating a chaos.
Here we will see how these two attacks had different reasons but the objective remained the same – to stop someone from propagating his/her opinions independently, and also the factors that make attackers indulge in such acts.
Assassination Attempt of Salman Rushdie – Satanic Controversy
On 12 August 2022, Rushdie was attacked several times by a 24-year-old man Hadi Matar. The attacker's intentions can be linked to Rushdie's fourth novel, The Satanic Verses, published in 1988. Some Muslims considered the novel disrespectful towards Prophet Mohammed.
Soon after its publication, the novel sparked a 'fatwa' or a religious decree. The Iranian revolutionary leader Ayatollah Ruhollah Khomeini called for Rushdie's death in 1989. After, this various assassination attempt of Salman Rushdie has been made.
Complete conversation for Salman Rushdie Assassination:
When asked about the attack Hadi Matar said, "I don't like the person. I don't think he's a very good person. I don't like him very much". He further criticised Rushdie's work by saying, "He's someone who attacked Islam, he attacked their beliefs, the belief systems". Mr. Matar also told New York Post that he had only read 'a couple of pages' of the book and did not tell about whether the fatwa had inspired him or not.
While praising the Iranian religious leader, he stated, "I respect the Ayatollah. I think he's a great person. That's as far as I will say about that".
One can observe that the psychology of the attacker was that he simply disliked the novelist because of his work; although he read only two pages of the novel, but was rather influenced by the religious leaders and their sayings. Just, like this the assassination of Shinzo Abe has been made during this year, which we will discuss on next section.
Perceptions like these can have a long-lasting impact on future generations which can further deteriorate the situation. Violent acts like this demand proper scrutiny of the dissemination of information.
Extremists take advantage of such incidents and brainwash the young minds so that they can be used by them for their selfish purposes.
Assassination of Shinzo Abe – Complete Truth
On 8 July 2022, it was just another day of Abe's political campaign for the upcoming parliamentary elections. He was delivering a speech in Nara City, but no one is the aware about the assassination of Shinzo Abe that day. When a 41-year-old Tetsuya Yamagami shot him twice from behind from a distance of about 10 meters.
During the investigation, he confessed his intentions of killing and it was found that his motives had more to do with religious backing instead of a political reason.
It so happened that Yamagami's mother was a member of a religious group which she joined after her husband's death in 1998. She used to donate huge amounts of money as charity to the group, after the assassination of Shinzo Abe and Yamagami blames the sect for bankrupting his mother.
Confession Statement on Abe Case
The report reveal that Abe was closely associated with the sect, and wanted to take revenge against him for promoting it. "The suspect stated that he held a grudge against a particular organisation and that he committed the crime because he believed former Prime Minister Abe had a connection to it", a senior police officer in Japan's Nara region told reporters.
While the police hasn't given any clarification regarding the unidentified organization, social media in Japan has it that it could be the Unification Church.
Yamagami was unemployed, felt isolated in society, was against religious preaching and blind faith, and wanted to kill the leader of the religious organization but couldn't. One can see the psychological aspects of it that, the killer was anguished with the organisation and blamed them for his conditions and economic turmoil.
Ultimately his grudge converted into a motive of taking revenge for his loss and he did that by killing the perpetrator of the religious group, to give a message to the society and the world that one should avoid themselves from joining or contributing to such groups.
Japan has the strictest gun laws after the assassination of Shinzo Abe , so to bypass such stringent laws the killer used a handmade gun. The occurrence of such incidents in the island nation shows how much resentment the killer has and how strongly he was motivated to commit the murder.
Such incidents are eye-openers for the society that someone's freedom of belief can become others' pain, and teaches that as a society we should try to maintain a balance between them.
Two Paths to Crime
The above two accidents of assassination of Shinzo Abe, and the assassination attempt of Salman Rushdie has been terrifying for the country. First, being a part of a religious group the killer face hardship in his life, which forced him to commit the crime. In the second instance, the attacker got the impression that his religion is being targeted and that it is his responsibility to take revenge so that next time no one dares to do anything like that again.
Interpretation of things based on pre-assumed thoughts can lead to revenge, and revenge based on half-baked knowledge causes harm to the whole humanity, and not just the particular group concerned.