According to a study conducted by Georgetown University Medical Centre on September 9, 2020, the individuals who can unconsciously predict complex patterns and ability called Implicit Pattern learning are likely to hold strong beliefs in the existence of God who creates patterns of events in the universe, according to neuroscientists.
The research reported in the journal, 'Nature Communications,' is the first to use implicit pattern learning to investigate religious beliefs. The study is based on two very different cultural and religious groups, one in the US and one in Afghanistan.
The main aim of the study was to test whether implicit pattern learning is a basis of belief or whether that connection holds across different faces and cultures or not. Conclusively, the researchers found that implicit pattern learning appears to offer a key to understanding a variety of religions.
An associate professor in the department of psychology and interdisciplinary program in neuroscience at Georgetown, Adam Green suggests that belief in a god or gods to intervene in the world to create order is a core element of global religion. He also added, "this is not a study about whether God exists this is a study about why and how the brain came to believe in god. Our hypothesis is that people whose brains are good at subconsciously discerning patterns in their environment Mein ascribe those patterns to the hand of a high-power."
Adam Green, who is also the director of Georgetown laboratory for relational cognition explained a really interesting observation about what happened between childhood and adulthood. According to the data in the study, if children are unconsciously picking up on patterns in the environment they believe, is more likely to increase as they grow up even if they are in non-religious households, if they are experiencing something unconsciously during their childhood they tend to believe in the same thing. Likewise, if they are not unconsciously picking up on patterns around them they believe is more likely to decrease as they grow up even in a religious household hence, a religious or non-religious household is not of significance the patina Jaya discovers and takes on while growing up in his or her own experience is a what forms a religious or non-religious belief in a full-grown adult.
What is implicit learning its patterns and varieties
Learning and memory are inevitably connected according to a psychologist. The capacity of learning is an individual necessity and ability to retain the knowledge acquired through experiences while memory stores the background knowledge against which new learning takes place basically memory acts as a storage box for our brains whatever we learn consciously or subconsciously is stored in the memory box of our brain which gives us more space to learn.
At the time when people believed only what they could see and experience in their environment the concept of memory was said to be to mentalistic to be a proper subject of scientific study research on human memory took the form of research on verbal learning.
In correlation with memory, explicit learning can be defined as a relatively permanent change in knowledge or behaviour that is adopted by the conscious awareness of experiences. On the contrary implicit learning refers to a relatively permanent change in knowledge or behaviour in the absence of conscious awareness of what has been learned.
The critical feature of implicit learning is that it is unconscious which means that people are unaware of what they have learnt hence not knowing the basis of their belief most of the time
It is sometimes said that implicit learning is so accurate because it is automatic and unconscious. It is very powerful as well as a more primitive form of learning, more powerful than conscious forms of learning that emerge more recently in evolutionary history.
The varieties of implicit learning
Concepts: Taking an example similar to artificial grammar learning to identify the occurrence of unfamiliar or new concepts like patterns of dots that vary around a paradigm without being able to describe the defining or characteristic features of the concept themselves.
Covariation detection: People learn the association between two features, for example, we know that there is a correlation between our hair length and our personality, but we cannot identify the why and how is it based on our predictions.
Sequence learning: Learning the sequence in which certain provocation will occur. For example, when we look at a computer screen we target a particular portion of the screen without knowing or identifying the sequence.
Dynamic systems: The conscious knowledge of controlling the outcome of a difficult system by influencing an input change without being able to identify the relationship between the two.
Changes in behavior on the basis of belief
Changes in belief and behavior of an individual, across the lifespan, and particularly from childhood to adulthood are not uncommon. This is something that everybody goes through, the changing beliefs throughout life, the changing religious stance and thoughts on multiple things change as we grow up and experience different things. So to the extent that individual differences in implicit learning are present at an early age and maybe stable across time, it appears more likely that differences in implicit learning could drive changes in beliefs across development or adult level of belief in an interventionist god as measured in the study.
Religious belief is often correlated with a desire for meaning and it is conceivable that more religious participants might feel a greater threat to the meaning which may have an influence on, at least some forms of implicit learning.
In the study by Georgetown University Medical Centre, the culturally and religiously different samples studied in Washington DC and Afghanistan was to support the hypothesis that individual differences in implicit pattern learning measured via a modified serial reaction time task predicted that:
Firstly, the strength of belief in an intervening or ordering God and secondly, the change in the strength of belief in God from childhood to adulthood.
A core belief across major religions is that the sequence and structure of events in human life and their experiences are universally binding and it underlines the path determined by the intervention of the Gods.
The concept of whatever happens happens for a reason is widely accepted by believers and this signifies that the believers are inclined towards the thought of the world adhering to a purpose or design a rather than as a series of random unpredictable occurrences.
These beliefs contribute to the theory that a person who believes in the intervention or order of god tense to change their behavior according to the belief.
Intuitions and Intervention
If we take a look at the associations between integration and religious beliefs it has been noted that multiple lines of work in cognitive science have specifically incinerated order related perceptual information processing a basis of intuitions.
A Framework developed by Epstein and others contributes that the implication of automatic implicit learning from experience is that the information acquired is the primary source of intuitive knowing without knowing how one knows which means that search intuition serves as a bridge between implicit and explicit levels of cognition.
This suggests that the implicit pattern learning regularly in original experiences of people which provoke a broad range of factors that gives a stimulus to beliefs including many forms of visual modularity input.
The relation between implicit pattern learning and belief in God
The study implicated that the relationship between implicit pattern learning and belief and gods in the US and Afghanistan that are different in many dimensions.
It is very important to note that the study does not focus on proving or not proving the existence of god the study particularly focuses on how the implicit pattern learning affects the belief in people.
Individuals showing signs of stronger implicit learning of order in cognitive sequences held stronger belief in an intervening or ordering God. Therefore, exhibiting an increased belief in God's existence from childhood to adulthood.
Exploratory data analysis stipulate that Implicit learning was more strongly related to Existence Belief in a subset of individuals, who believed in the existence of God largely focused and dependent on belief in the interventionist influence of God, and less related to existence belief in others for whom belief in the existence of God depends more on other factors.
The study pattern was not related to the participants' learned pattern sequences that went on without any apparent opportunity for the participant to influence them.
Also, the implicit learning sequences in the study were not devised to indicate any form of causality, nor were participants given any instruction to consider causality.
Why Olaf Scholz, Chancellor of Germany, is sending a message of Independence by visiting China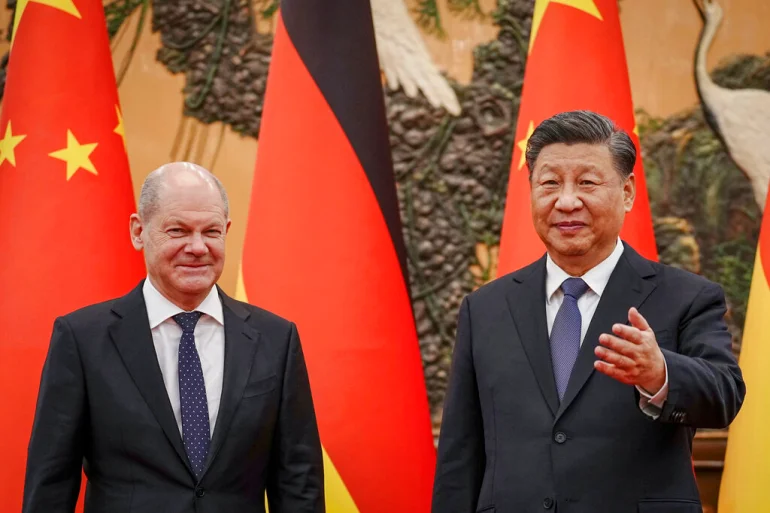 German Chancellor Olaf Scholz was the first G7 head of state to visit China since the outbreak. After the public health crisis, the world changed. The relationship between China and Germany seems to be returning to normal. Since Xi Jinping was re-crowned as the General Secretary of the Communist Party of China, Scholz is the first prominent European figure to visit China.
Nguyen PhuTrong, the head of the Vietnamese Communist Party, Shehbaz Sharif, and Samia Hassan, the president of Tanzania, arrived in Beijing before Scholz. Given that China's relations with Europe have deteriorated due to Uyghur human rights in Xinjiang and Chinese support for Russia in the Ukraine conflict, the Scholz visit last week was positive for Beijing.
Germany's biggest European economy will be even more reliant on China in the first quarter of 2022. During this time, Germany invested €10 billion in China. The amount of bilateral commerce increased by 0.9% to $173.57 billion. Imports from Germany are up 54%. The medium-term ambitions of Germany are in jeopardy due to its 1.9% growth rate.
German investment in China grew by 30% in 2022 despite the Ukraine crisis and criticism of China. A €69.5 billion railway project connecting Tianjin, in North China, and Beijing Daxing International Airport is being financed by KfW (the German state-owned development and investment bank), BASF, Hella, and Robert Bosch. For a total of $17 billion, China is purchasing 140 Airbus planes. Costco, a Chinese shipping business, was permitted to invest in Germany's busiest port, Hamburg, prior to the visit, but with a smaller share. Additionally, the arrival of Scholz coincided with polarization and deteriorating US-China ties. Due to the Ukraine conflict, Germany soon adopted a similar strategy to the US, breaking its contact with Russia.
It maintains caution regarding China because its economic interests are crucial. Scholz met with PM Modi in Berlin after starting his Asia strategy with a visit to Japan rather than China. Germany's foreign policy did not give China top priority, but it is nevertheless significant. It looks inconvenient that the visit comes right after the CCP's 20th National Congress.
Germany confronting China alone has angered Europe. Germany rejected the joint Scholz-Macron visit. The visit by Scholz and a corporate delegation demonstrates a duplication of Angela Merkel's approach. German businesses, which are already suffering from the epidemic, the energy crisis, and the break from Russia, according to the ruling SPD, cannot afford to decouple from China. The German Foreign Ministry criticizes China's human rights record and is developing a new China strategy to counter the systemic rivalry that the EU anticipated.
The Scholz visit revealed strategic independence in Germany. When viewed from the perspective of German relations with Russia, the same autonomy is apparent.
If Germany sways away for its own reasons, how will it continue to lead Europe? Scholz needed to pull many savvy rabbits out of his Beijing visit if he wanted to position Germany and potentially Europe as independent players in the inevitable US-China polarization.
Scholz provided background information for his visit in an opinion piece that was published in the FAZ the day before. Since Merkel's most recent trip to China in 2019, he admitted that the world had undergone significant upheaval. It was crucial to have a face-to-face meeting with Xi in order to address the world's unresolved problems, not because he intended to carry on as normal. China had seen a major upheaval. The German approach had to adapt as well because China had changed.
Additionally, the world had changed. Russia posed a menace that needed Chinese assistance to counter. China was reminded of its unique duty to uphold the UN Charter's ideals and exert influence over Russia as a permanent member of the UN Security Council. This is similar to what China claims about Russia in its Global Security Initiative, which it has yet to put into action. Scholz talked about the necessity of increasing Germany's partnerships and the multipolarity of the world.
Berlin works with various partners because he does not want to see blocs reemerge. China shouldn't be left alone, and a Chinese-dominated world system cannot be cozy. Germany and Europe continue to value China as a trading partner. Berlin didn't want to cut its ties with it. With China, Germany would want more parity and economic diversification. When it came to rare earth, cutting-edge technologies, or raw resources, "risky dependencies" had grown. German enterprises were developing different supply chains. China and Germany will now look for a differentiated basis for trade and investment. Instead of "protectionism and withdrawal," Germany prefers diversity and strengthening.
Scholz's fourth goal was that the disparities between China and Germany, notably those involving political and civil rights, including in Xinjiang, could not be overlooked. Scholz stated that while Germany adheres to the One-China policy, any change to Taiwan's status must be peaceful and reached via mutual consent.
Germany's China policy, according to Scholz, will be effective if it is in line with European policy. In his opinion, there were various areas where China should have a role, including dealing with the G 20, the SDGs, and other things. Before his visit, he consulted with the EU, French President Macron, and the US.
The Chinese readout supports the majority of what Scholz claimed. To preserve Germany's strategic autonomy, Xi is courting it. Despite Scholz's concerns, it stated that "there should be no self-imposed constraints or unrealistic expectations" and publicly disregarded the Taiwan and Xinjiang issues.
This visit is significant because Germany has again demonstrated its desire for strategic independence from the US. Before the Ukraine crisis, which caused them all to flee in the wake of NATO and US leadership, the German coalition and other German and European nations had this as their top priority. Europe is suffering from sanctions and a diminished energy supply due to the standoff in the Ukraine conflict. Despite resistance from within Germany and outside Europe, Germany appears prepared to continue its relationship with China. It must protect its economic growth against the ravages of conflict.