According to a study conducted by Georgetown University Medical Centre on September 9, 2020, the individuals who can unconsciously predict complex patterns and ability called Implicit Pattern learning are likely to hold strong beliefs in the existence of God who creates patterns of events in the universe, according to neuroscientists.
The research reported in the journal, 'Nature Communications,' is the first to use implicit pattern learning to investigate religious beliefs. The study is based on two very different cultural and religious groups, one in the US and one in Afghanistan.
The main aim of the study was to test whether implicit pattern learning is a basis of belief or whether that connection holds across different faces and cultures or not. Conclusively, the researchers found that implicit pattern learning appears to offer a key to understanding a variety of religions.
An associate professor in the department of psychology and interdisciplinary program in neuroscience at Georgetown, Adam Green suggests that belief in a god or gods to intervene in the world to create order is a core element of global religion. He also added, "this is not a study about whether God exists this is a study about why and how the brain came to believe in god. Our hypothesis is that people whose brains are good at subconsciously discerning patterns in their environment Mein ascribe those patterns to the hand of a high-power."
Adam Green, who is also the director of Georgetown laboratory for relational cognition explained a really interesting observation about what happened between childhood and adulthood. According to the data in the study, if children are unconsciously picking up on patterns in the environment they believe, is more likely to increase as they grow up even if they are in non-religious households, if they are experiencing something unconsciously during their childhood they tend to believe in the same thing. Likewise, if they are not unconsciously picking up on patterns around them they believe is more likely to decrease as they grow up even in a religious household hence, a religious or non-religious household is not of significance the patina Jaya discovers and takes on while growing up in his or her own experience is a what forms a religious or non-religious belief in a full-grown adult.
What is implicit learning its patterns and varieties
Learning and memory are inevitably connected according to a psychologist. The capacity of learning is an individual necessity and ability to retain the knowledge acquired through experiences while memory stores the background knowledge against which new learning takes place basically memory acts as a storage box for our brains whatever we learn consciously or subconsciously is stored in the memory box of our brain which gives us more space to learn.
At the time when people believed only what they could see and experience in their environment the concept of memory was said to be to mentalistic to be a proper subject of scientific study research on human memory took the form of research on verbal learning.
In correlation with memory, explicit learning can be defined as a relatively permanent change in knowledge or behaviour that is adopted by the conscious awareness of experiences. On the contrary implicit learning refers to a relatively permanent change in knowledge or behaviour in the absence of conscious awareness of what has been learned.
The critical feature of implicit learning is that it is unconscious which means that people are unaware of what they have learnt hence not knowing the basis of their belief most of the time
It is sometimes said that implicit learning is so accurate because it is automatic and unconscious. It is very powerful as well as a more primitive form of learning, more powerful than conscious forms of learning that emerge more recently in evolutionary history.
The varieties of implicit learning
Concepts: Taking an example similar to artificial grammar learning to identify the occurrence of unfamiliar or new concepts like patterns of dots that vary around a paradigm without being able to describe the defining or characteristic features of the concept themselves.
Covariation detection: People learn the association between two features, for example, we know that there is a correlation between our hair length and our personality, but we cannot identify the why and how is it based on our predictions.
Sequence learning: Learning the sequence in which certain provocation will occur. For example, when we look at a computer screen we target a particular portion of the screen without knowing or identifying the sequence.
Dynamic systems: The conscious knowledge of controlling the outcome of a difficult system by influencing an input change without being able to identify the relationship between the two.
Changes in behavior on the basis of belief
Changes in belief and behavior of an individual, across the lifespan, and particularly from childhood to adulthood are not uncommon. This is something that everybody goes through, the changing beliefs throughout life, the changing religious stance and thoughts on multiple things change as we grow up and experience different things. So to the extent that individual differences in implicit learning are present at an early age and maybe stable across time, it appears more likely that differences in implicit learning could drive changes in beliefs across development or adult level of belief in an interventionist god as measured in the study.
Religious belief is often correlated with a desire for meaning and it is conceivable that more religious participants might feel a greater threat to the meaning which may have an influence on, at least some forms of implicit learning.
In the study by Georgetown University Medical Centre, the culturally and religiously different samples studied in Washington DC and Afghanistan was to support the hypothesis that individual differences in implicit pattern learning measured via a modified serial reaction time task predicted that:
Firstly, the strength of belief in an intervening or ordering God and secondly, the change in the strength of belief in God from childhood to adulthood.
A core belief across major religions is that the sequence and structure of events in human life and their experiences are universally binding and it underlines the path determined by the intervention of the Gods.
The concept of whatever happens happens for a reason is widely accepted by believers and this signifies that the believers are inclined towards the thought of the world adhering to a purpose or design a rather than as a series of random unpredictable occurrences.
These beliefs contribute to the theory that a person who believes in the intervention or order of god tense to change their behavior according to the belief.
Intuitions and Intervention
If we take a look at the associations between integration and religious beliefs it has been noted that multiple lines of work in cognitive science have specifically incinerated order related perceptual information processing a basis of intuitions.
A Framework developed by Epstein and others contributes that the implication of automatic implicit learning from experience is that the information acquired is the primary source of intuitive knowing without knowing how one knows which means that search intuition serves as a bridge between implicit and explicit levels of cognition.
This suggests that the implicit pattern learning regularly in original experiences of people which provoke a broad range of factors that gives a stimulus to beliefs including many forms of visual modularity input.
The relation between implicit pattern learning and belief in God
The study implicated that the relationship between implicit pattern learning and belief and gods in the US and Afghanistan that are different in many dimensions.
It is very important to note that the study does not focus on proving or not proving the existence of god the study particularly focuses on how the implicit pattern learning affects the belief in people.
Individuals showing signs of stronger implicit learning of order in cognitive sequences held stronger belief in an intervening or ordering God. Therefore, exhibiting an increased belief in God's existence from childhood to adulthood.
Exploratory data analysis stipulate that Implicit learning was more strongly related to Existence Belief in a subset of individuals, who believed in the existence of God largely focused and dependent on belief in the interventionist influence of God, and less related to existence belief in others for whom belief in the existence of God depends more on other factors.
The study pattern was not related to the participants' learned pattern sequences that went on without any apparent opportunity for the participant to influence them.
Also, the implicit learning sequences in the study were not devised to indicate any form of causality, nor were participants given any instruction to consider causality.
G20 Summit & All That You Need To Know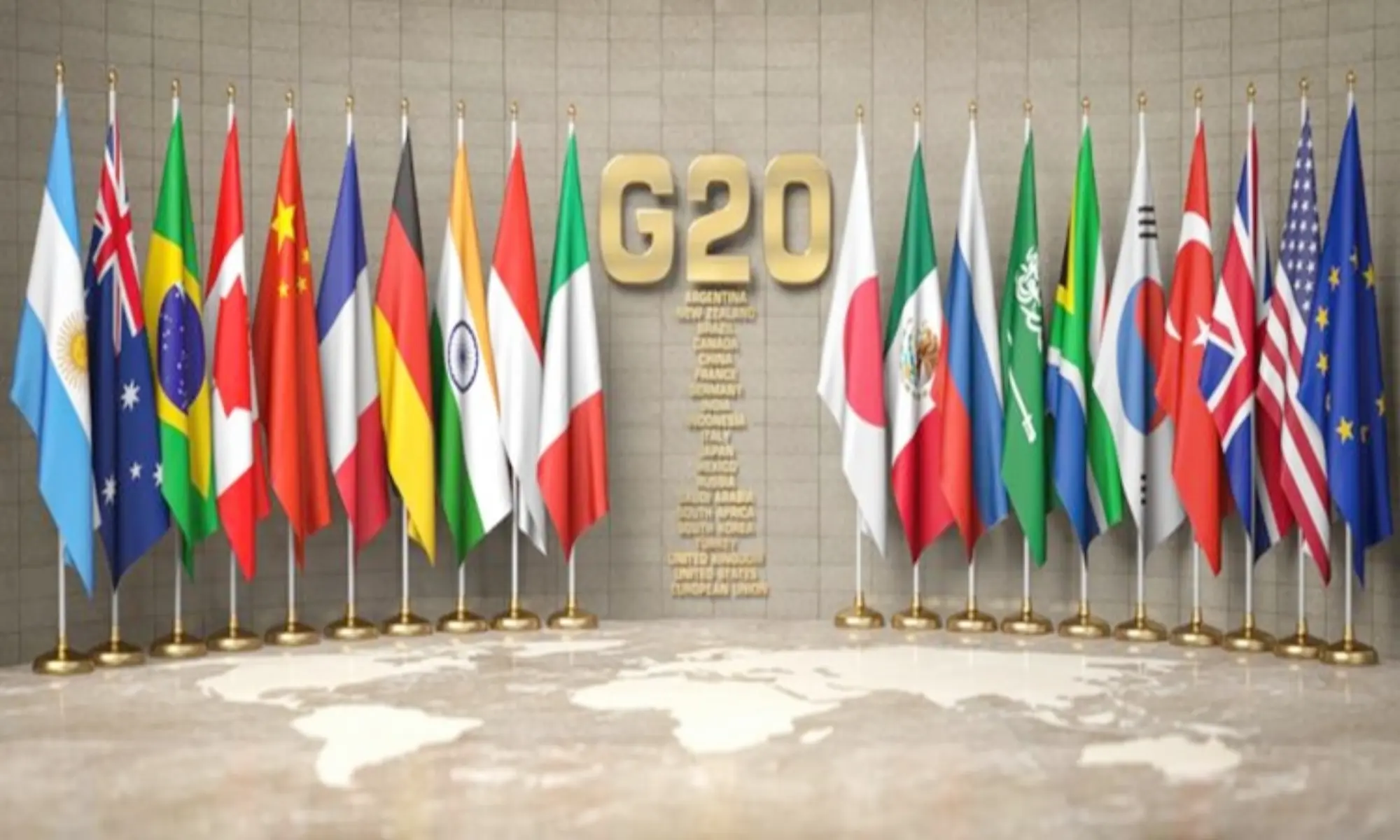 The G20 summit represents a significant portion of the global economy, accounting for around 85% of global gross domestic product (GDP), 80% of global trade, and two-thirds of the world's population. As a result, decisions made within the G20 can have far-reaching impacts on global economic policies and international relations.
What is the G-20?
Found in 1999, the Group of Twenty, or G20, is a global organization with 20 member nations. It was established in response to the financial crisis of the late 1990s and to bring together significant economies to discuss policy coordination and collaboration. It offers a stage for talks on problems related to the financial system's stability, sustainable development, and global economic issues. But over the years it has become a significant platform for leaders to discuss and act on critical global issues like poverty, inequality and climate change.
Which countries form the G-20?
Argentina, Australia, Brazil, Canada, China, France, Germany, India, Indonesia, Italy, Japan, Mexico, Russia, Saudi Arabia, South Africa, South Korea, Turkey, the United Kingdom, and the United States comprise the G20. The European Union is also a member and is represented by the European Commission and the European Central Bank.
Heads of state or government, finance ministers, and central bank governors gather at the G20's yearly meetings to conduct business. Discussions and negotiations aimed at promoting investment, international trade, financial regulation, and economic growth are the main topics of the sessions. Meetings of the finance ministers and central bank governors are held throughout the year in addition to the official summits to discuss ongoing economic challenges.
What is the Significance of G20 organisation and the G20 Summit?
Globally speaking, the G20 is essential in promoting cooperation among its members and tackling global economic and financial issues. It acts as a forum for discussion, collaboration, and coordination to support global economic stability and sustainable development. The G20 represents a significant portion of the global economy, accounting for around 85% of global gross domestic product (GDP), 80% of global trade, and two-thirds of the world's population. As a result, decisions made within the G20 can have far-reaching impacts on global economic policies and international relations.
The G20 summit brings together leaders from the G20 member countries to discuss and decide on various global economic concerns. However, it is the meaningful conversations between the sherpas of these nations that is vital for policy and decision making. 
Who are the G20 Sherpas?
During the G20 process, the senior officials and diplomats who attend/represent the G20 meetings on behalf of their nation's head of state or government are called as Sherpas. G20 Sherpas set the agenda, negotiate positions, and promote dialogue among the members.
Before the summit, sherpas frequently hold many rounds of discussions. These conversations touch on various issues, including financial stability, trade, investment, development, climate change, and other urgent global issues. The primary goal of these meetings is to identify areas of agreement, create consensus, and create cooperative strategies to deal with global economic difficulties. Sherpas hold in-depth discussions with their counterparts, examining various policy choices, sharing information, and attempting to reach a consensus on important topics.
Since each nation brings unique interests, priorities, and views, the conversations between the sherpas are intricate. To make sure that the outcomes of the G20 summit represent a broad consensus among the member countries, these discussions may require reaching concessions, settling disputes, and negotiating delicate problems. Sherpas bring together the priorities and viewpoints of the participating nations through these meetings, identify areas requiring group effort, and lay out potential solutions or policy suggestions for the summit's leaders to consider.
Sherpas are crucial in determining the G20 summit's agenda and results. As a result of their work, joint declarations, action plans, and pledges are created and approved by the leaders at the summit.
The conversations between the sherpas are a vital forum for communication, collaboration, and consensus-building among the G20 member nations. They are crucial in determining the summit's course and results, helping to make sure that the G20 addresses the world's economic concerns and promotes equitable and sustainable growth on a global scale.
India's G-20 Presidency
From December 1, 2022, through November 30, 2023, India will be the G20's president. In September of this year, the final New Delhi Summit will have 43 heads of delegation, the most ever to attend a G20 summit.
The slogan of this year's G20 Summit under the Indian Presidency is "Vasudhaiva Kutumbakam," which translates to "One Earth, One Family."
What is on agenda in the 2023 G-20 Summit?
Climate Finance, Life, and Green Development

Fast, Inclusive, and Resilient Growth 

Increasing SDGs progress

Digital Public Infrastructure and Technological Change

21st century's multilateral institutions

Women driving development
Behind the Scenes at G20
Before the summit in Kashmir (from 22 – 24 May), China raised a protest against the conduct of the G20 tourism working group conference being conducted in the Indian State. 
China's decision is most likely the result of Pakistan's concerns, a close ally who stated that the G20 summits were intended to support India's "illegal occupation" of Jammu and Kashmir. Meanwhile dismissing such ill-founded concerns of the Chinese side, India reiterated that all her states and union territories were hosting the G20 Summit 2023 in India.
However, as India continues to garner more goodwill and support from the G20 leaders, and China continues to lose standing in international global forums, it become a permanent absentee from such global summits soon.