The Indian-Pacific Quad is working to break China's monopoly on rare earth elements.
The Indian-Pacific Quad comprising of India, Japan, Australia, and the United States are working together to break the Chinese monopoly on processing rare earth elements. So far, China has exercised a virtual monopoly on processing rare earth elements. Amid the trade war going on in between China and the United States, Beijing has many times, signalled that Washington may be denied supply of these rare minerals produced in China.
Why Australia is important?
The Quad countries are looking forward to utilising this opportunity to rapidly build collective self-reliance as dependency on China in critical areas may be a grave threat in the near future. In order to cut China's monopoly on rare earth elements, the Quad countries are trying to build Australia as the real taskmaster in order to liberate the region's democracies.
However, Australia's output is much smaller so far when compared to the mammoth quantities produced by China. But Australia is mounting a serious effort to bridge the production gap with China. This situation of vulnerability created by China may change soon, as there are four Australian companies who are working on advanced rare earth projects.
The three Australian companies located in Australia and one in Tanzania are focusing on the ferret neodymium-praseodymium: a combination of rare-earth metals, which imparts high strength permanent magnets, extensively used in electric vehicle engines.
India-Australia critical minerals deal:
In the month of June, Australia had inked a preliminary agreement for supplying critical minerals to push India's transition to a new energy economy. According to a report published in Businessworld, Australian Resources Minister Keith Pitt said, "Canberra could become India's top supplier of cobalt and zircon."
He further added, "India presents growing opportunities for Australia's critical minerals, especially when the nation-building its manufacturing sector, defence and space capabilities."
US-Australia rare earth mineral deal:
Australia has also worked out a rare earth elements deal with the US, the India-Pacific Quad's most powerful partner. The Australian rare earth miner Lynas would process the mined minerals in a facility in Texas, in partnership with the Pentagon. Besides the Australian company, Syrah has earmarked a production line in the US state of Louisiana to turn graphite into super-conductor graphene, for use in electric cars.
Japan-Australia rare earth partnership goes back ages:
Australia's partnership with Japan in the domain of the rare earth is already well established, following Tokyo's spat with Beijing over islands in the East China Sea. Fearing that its high-tech industries could be compromised, the Japanese decided to invest in Mount Weld, a mountain and a mine site in Western Australia, with one of the richest major rare earth deposits in the world.
What are rare earth elements, and why are they important?
The rare earth elements (REE) are a set of seventeen metallic elements that include 15 lanthanide elements present on the periodic table plus scandium and yttrium. The rare earth elements are all metals that have many similar properties and are often found together in geologic deposits.
Rare-earth elements are necessary components used for the manufacturing of more than 200 products. They are used in a wide range of applications, especially high-tech consumer products, such as cellular telephones, computer hard drives, electric and hybrid vehicles, and flat-screen monitors and televisions. During the past twenty years, there has been an explosion in demand for many items that require rare earth metals.
These metals play an essential role in our national defence. Rare earth metals are the key ingredients for making the very hard alloys used in armoured vehicles and projectiles that shatter upon impact. The United States is a major consumer of products containing rare earth elements. These elements are incorporated into many sophisticated technologies with both commercial and defence applications.
China's rare earth industry:
China is not only the largest producer of rare earth materials but is also its dominant consumer. China uses rare earth metals mainly in manufacturing electronics products for domestic and export markets. The major reason behind Chinese dominance in the international market mainly when it comes to the production of electronic products is because China controls around 95 percent of the world's rare earth production.
The rare earth elements industry is highly important to Chinese internal economics. From the 1960s to the 1980s, the United States was the leader in the global production of rare earth elements. Since that time, processing and manufacturing of the world's supply of rare earth elements and downstream value-added forms such as metals, alloys, and magnets have shifted almost entirely to China, in part due to lower labour costs and lower environmental standards.
What brought China's rare earth metals monopoly into focus?
China's stranglehold on rare earth metals and their supply chains has been highlighted by the disruption caused by the coronavirus pandemic. This pandemic situation resulted in an unimaginable loss to the global economy prompting governments and buyers to look for alternative sources for these expensive metals.
The worldwide lockdown caused disruption in the supply chain which made consumers rethink about their needs and therefore, necessitated on the fact to build collective self-reliance in the sector.
President Joe Biden's Conversation with the Cambodian Prime Minister Hun Sen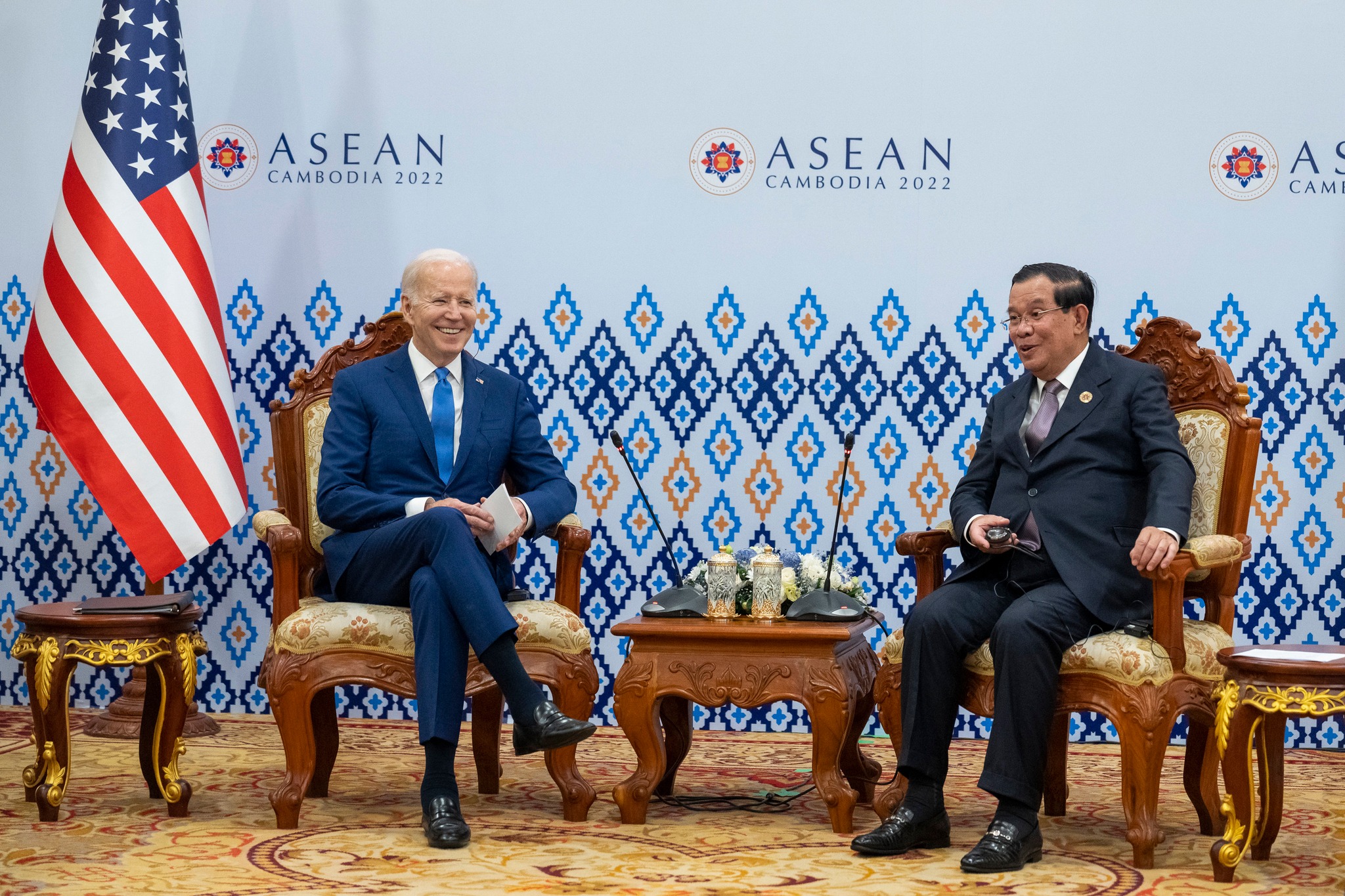 President Joe Biden landed in Cambodia on Saturday and supported the ASEAN nations. Before the eagerly anticipated Group of 20 summits next week in Indonesia, where Biden will meet with Xi for the first time in person since he took office, there will be a weekend of meetings in Cambodia. Before meeting with Xi, the president can engage with US allies at the ASEAN summits and the East Asia Summit on Sunday, both in Phnom Penh.
The US-ASEAN Comprehensive Strategic Partnership, which, according to Biden, "will tackle the biggest issues of our time, from climate to health security, defend against the significant threats to rule-based order and threats to the rule of law, and build an Indo-Pacific that's free and open, stable and prosperous, resilient and secure," was announced as "another critical step" toward building on the group's progress during his remarks at the summit. He cited a budget proposal for $850 million in support for Southeast Asia while praising the US's current financial commitments to ASEAN.
"This is my third journey and third summit, my second in person." The value reflects the United States' commitment to our relationship with ASEAN and our dedication to the region's centrality. The core of the Indo-Pacific strategy of my administration is ASEAN. In his opening remarks to the meeting, Biden said, "And we continue to reinforce our resolve to work in lockstep with an empowered, united ASEAN."
To build on the ASEAN leaders' conference in Washington earlier this year, the president's first meeting in Cambodia was with Prime Minister Hun Sen of Cambodia.
From the beginning of his presidency, Biden "was intent on elevating our engagement in the Indo-Pacific," according to national security adviser Jake Sullivan, and his attendance at the ASEAN and East Asia summits this weekend will highlight his accomplishments to date, including the Indo-Pacific Economic Framework unveiled earlier this year and security partnership initiatives.
"He's coming into this series of summits with that track record of success and purpose behind him, and he wants to be able to use the next 36 hours to build on that foundation to move American engagement forward, as well as to deliver several actual, practical initiatives," Sullivan said.
New initiatives on maritime cooperation, internet connectivity, and economic investment are some of these valuable measures, according to Sullivan. He added that Biden will soon begin a new maritime initiative that will "focus on using radio frequencies from commercial satellites to be able to track dark shipping, illegal and unregulated fishing, and also to improve the capacity of the countries of the region to respond to disasters and humanitarian crises."
Further, he added, Biden will also emphasize a "forward-deployed posture" toward regional defense to demonstrate that the US is actively pursuing security cooperation.
Biden also mentioned a brand-new US-ASEAN electric car infrastructure program during his speech.
He described the project as "a collaborative effort to build an integrated electric car ecosystem in Southeast Asia, enabling the region to achieve sustainable energy, economic growth, and ambitious emissions reduction targets."
Discussions on coordination "to continue to impose costs and build pressure on the junta" will also be centered on Myanmar, which was the subject of a February 2021 coup that ousted the country's democratically elected government.
Key Highlights
Concerns raised by Biden regarding Chinese activity at the Cambodian Ream Naval Base. The president expressed concern over the circumstances at Ream Naval Base and emphasized the value of complete transparency regarding the PRC (China's) military activities there.
The US President congratulated Cambodia's Prime Minister for backing Ukraine at the UN and spoke about the turmoil in military-ruled Myanmar.
President Biden also conveyed his gratitude to Cambodia for supporting resolutions at the UN to defend Ukraine from the brutal assault of Russia.
He thanked Cambodia for holding the ASEAN helm through a trying year.
The leaders "reflection on the historic US-ASEAN Special Summit's success in Washington, DC and applauded plans to establish a US-ASEAN Comprehensive Strategic Partnership at the annual US-ASEAN Summit later that day."
Along with the ASEAN Five Point Consensus, they also discussed the crisis in Burma and ASEAN's reaction, highlighting the international community's crucial role in restoring of democracy and stability in Burma.
In addition, Biden urged releasing activists like Seng Theory and a dual US-Cambodia citizen arrested on politically motivated allegations. The commitment of the United States to the Cambodian people and their goals for a more wealthy, democratic, and independent nation was reaffirmed by President Biden.