Rising global temperature is the main factor behind the melting of ice caps globally. This is not new and can be traced back decades together. Two scientists from Edinburgh, Leeds Universities and University College London came to the conclusion that Earth has lost 28 trillion tonnes of ice from the surface since 1994. 
A 2019 report by the UN Intergovernmental Panel on Climate Change (IPCC) revealed shocking facts. Between 2006-2015, Greenland lost 278 gigatonnes (Gt) of ice per year. Meanwhile, Antarctica lost over 155 gigatonnes (Gt) of ice per year. The global sea-level rise stood at 0.77 mm a year.
The new study by UK scientists is based on analyzed satellite surveys of the Earth's mountains, poles, and glaciers to understand lost ice coverage due to global warming and greenhouse gas emissions.
Between 1994-2017, the planet lost nearly 28 trillion tonnes of ice. Polar ice sheets, sea level, and mountain glaciers have all seen drastic changes in the last 23 years. Due to the increase in ice melt, global sea levels have risen by 35 mm.
A research paper titled 'Earth's Ice Imbalance' was published in the Cryosphere Discussions journal. It says that the loss of ice has increased by 49 percent in the last 24 years compared to the period before 1990.
Professor Andy Shepherd from Leeds University, one of the writers of the report, told The Guardian, "To put that in context, every centimetre of sea-level rise means about a million people will be displaced from their low-lying homelands."
"In the past researchers have studied individual areas – such as the Antarctic or Greenland where ice is melting. But this is the first time anyone has looked at all the ice that is disappearing from the entire planet. What we have found has stunned us," added Shepherd.
Rising sea temperatures have triggered the melting of ice sheets in Antarctica. While the increase in atmospheric temperature is the main cause of inland ice melting, as seen in the Himalayas. Both rising sea and atmospheric temperatures have been the root cause of ice melting in Greenland.
As ice melting grows around the world, the loss of ice sheets is creating new challenges to fight global warming. Melting ice is reducing Earth's ability to reflect solar radiation into space. Diminishing ice sheets expose soils beneath them to the sun, releasing heat which further impacts the planet.
Melting ice that creates cold freshwater adds to the sea and creates severe disruptions to the biological health of Arctic and Antarctic waters. Meanwhile, melting glaciers in mountainous regions pose a major threat to local communities who depend on them for fresh water.
In India, higher in the Himalayas, many local communities depend on fresh water from glaciers nearby. Increasing temperatures are now melting glaciers swiftly and forcing communities to move.
Rising sea levels also pose a major threat to India. Coastal districts and islands are home to more than 177 million people. Rising levels can destroy many homes and push the inhabitants to high-level areas. This can increase pressure on available resources and land.
The report says nearly 60 percent of the ice loss was recorded in the northern hemisphere. In addition, another report published in Nature says 60 percent of Antarctica's ice shelves face serious danger of fracturing. These shelves act as a shield to reduce inland ice melting, if they collapse, the melting would rise to unprecedented levels.
According to the 'Earth's Ice Imbalance' report, it is clear that the rise in ice melting around the world is a direct result of man-made actions such as increased greenhouse emissions. It is clear that the only way to stop these changes in Earth's natural system is to reduce dependence on the carbon-based system.
President Joe Biden's Conversation with the Cambodian Prime Minister Hun Sen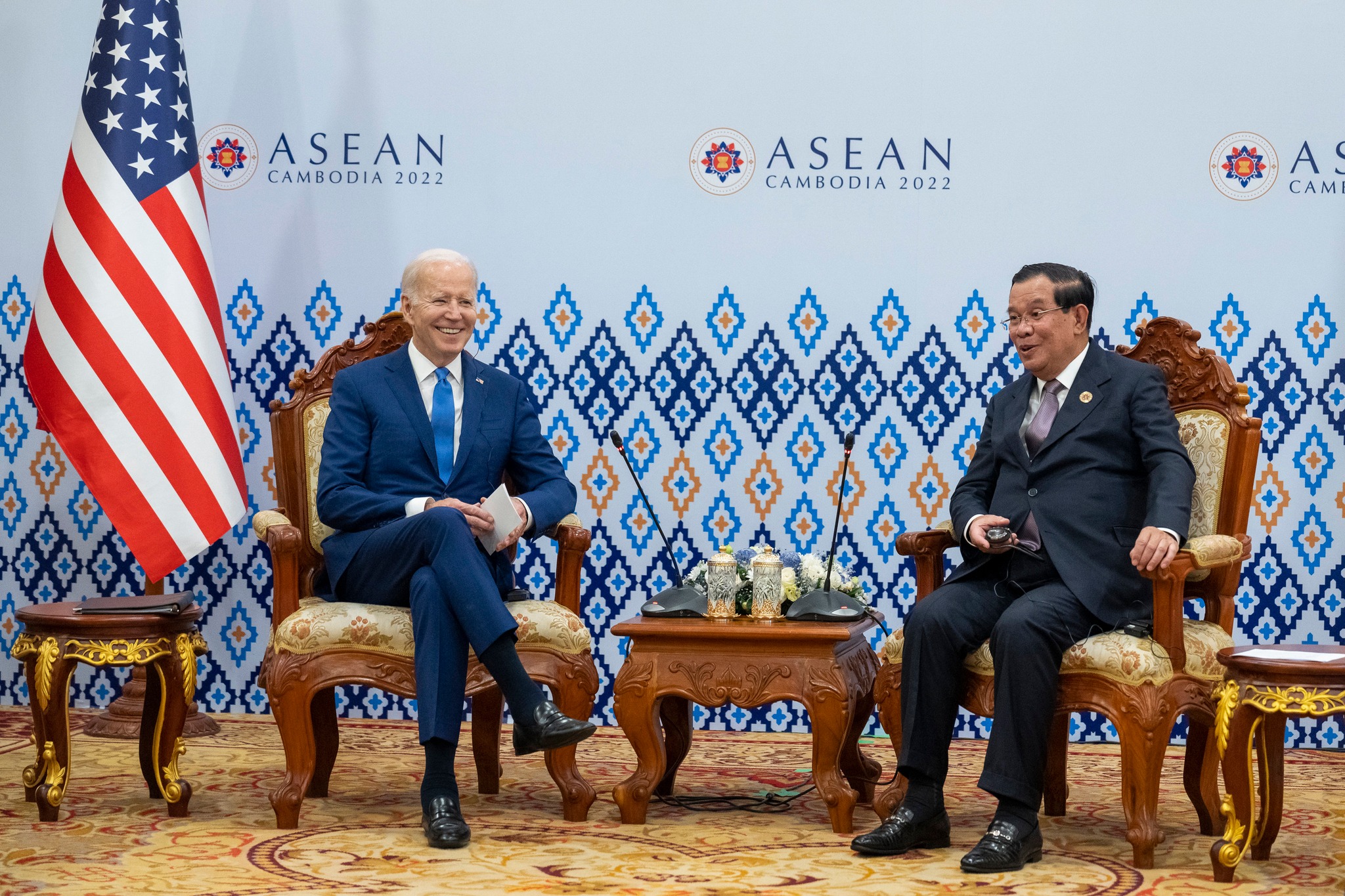 President Joe Biden landed in Cambodia on Saturday and supported the ASEAN nations. Before the eagerly anticipated Group of 20 summits next week in Indonesia, where Biden will meet with Xi for the first time in person since he took office, there will be a weekend of meetings in Cambodia. Before meeting with Xi, the president can engage with US allies at the ASEAN summits and the East Asia Summit on Sunday, both in Phnom Penh.
The US-ASEAN Comprehensive Strategic Partnership, which, according to Biden, "will tackle the biggest issues of our time, from climate to health security, defend against the significant threats to rule-based order and threats to the rule of law, and build an Indo-Pacific that's free and open, stable and prosperous, resilient and secure," was announced as "another critical step" toward building on the group's progress during his remarks at the summit. He cited a budget proposal for $850 million in support for Southeast Asia while praising the US's current financial commitments to ASEAN.
"This is my third journey and third summit, my second in person." The value reflects the United States' commitment to our relationship with ASEAN and our dedication to the region's centrality. The core of the Indo-Pacific strategy of my administration is ASEAN. In his opening remarks to the meeting, Biden said, "And we continue to reinforce our resolve to work in lockstep with an empowered, united ASEAN."
To build on the ASEAN leaders' conference in Washington earlier this year, the president's first meeting in Cambodia was with Prime Minister Hun Sen of Cambodia.
From the beginning of his presidency, Biden "was intent on elevating our engagement in the Indo-Pacific," according to national security adviser Jake Sullivan, and his attendance at the ASEAN and East Asia summits this weekend will highlight his accomplishments to date, including the Indo-Pacific Economic Framework unveiled earlier this year and security partnership initiatives.
"He's coming into this series of summits with that track record of success and purpose behind him, and he wants to be able to use the next 36 hours to build on that foundation to move American engagement forward, as well as to deliver several actual, practical initiatives," Sullivan said.
New initiatives on maritime cooperation, internet connectivity, and economic investment are some of these valuable measures, according to Sullivan. He added that Biden will soon begin a new maritime initiative that will "focus on using radio frequencies from commercial satellites to be able to track dark shipping, illegal and unregulated fishing, and also to improve the capacity of the countries of the region to respond to disasters and humanitarian crises."
Further, he added, Biden will also emphasize a "forward-deployed posture" toward regional defense to demonstrate that the US is actively pursuing security cooperation.
Biden also mentioned a brand-new US-ASEAN electric car infrastructure program during his speech.
He described the project as "a collaborative effort to build an integrated electric car ecosystem in Southeast Asia, enabling the region to achieve sustainable energy, economic growth, and ambitious emissions reduction targets."
Discussions on coordination "to continue to impose costs and build pressure on the junta" will also be centered on Myanmar, which was the subject of a February 2021 coup that ousted the country's democratically elected government.
Key Highlights
Concerns raised by Biden regarding Chinese activity at the Cambodian Ream Naval Base. The president expressed concern over the circumstances at Ream Naval Base and emphasized the value of complete transparency regarding the PRC (China's) military activities there.
The US President congratulated Cambodia's Prime Minister for backing Ukraine at the UN and spoke about the turmoil in military-ruled Myanmar.
President Biden also conveyed his gratitude to Cambodia for supporting resolutions at the UN to defend Ukraine from the brutal assault of Russia.
He thanked Cambodia for holding the ASEAN helm through a trying year.
The leaders "reflection on the historic US-ASEAN Special Summit's success in Washington, DC and applauded plans to establish a US-ASEAN Comprehensive Strategic Partnership at the annual US-ASEAN Summit later that day."
Along with the ASEAN Five Point Consensus, they also discussed the crisis in Burma and ASEAN's reaction, highlighting the international community's crucial role in restoring of democracy and stability in Burma.
In addition, Biden urged releasing activists like Seng Theory and a dual US-Cambodia citizen arrested on politically motivated allegations. The commitment of the United States to the Cambodian people and their goals for a more wealthy, democratic, and independent nation was reaffirmed by President Biden.