Recently, Pakistani artist Saad Alavi has turned Pakistan Prime Minister Imran Khan's signature phrase "Aapne ghabrana nahi hai" into a rap song and people are not only finding this extremely entertaining but are also loving it.
India and Pakistan, the two countries that were divided by borders, are now getting united by social media. It's highly rare to see Indians and Pakistanis liking and bonding over the same thing. I think 2021 will be remembered as the year that made the unification of the two countries possible and this time the thing that led towards this phenomenal task is a Meme. Yes! It's a meme.
India's first meme trend of the year made everybody party on social media. Instagram and Twitter went ablaze with not just any party, but "pawwwri". Yashraj Mukhate's "Pawri ho rahi hai" went viral on social media as usual, but this time apart from this modish and on fleek form of music made out of random dialogues, it was a Pakistani influencer who gained a lot of attention doing a fake English accent, introducing her car, her friends and how they were partying: "Yeh hamari caar hai. Yeh hum hain. Aur yeh hamari pawri horai hai."
While Indians and Pakistanis were still 'pawring' on the same song, Pakistan got its own Yashraj Mukhate. Recently, Pakistani artist Saad Alavi has turned Pakistan Prime Minister Imran Khan's signature phrase "Aapne ghabrana nahi hai" into a rap song and people are not only finding this extremely entertaining but are also loving it.
This clichéd phrase of the Pakistani Prime Minister is actually creating and triggering panic among the countrymen and has crushed their expectations. Amid the rising prices of almost every item in Pakistan, the artist takes a jibe at the inflation caused in the country by asking everyone to discontinue the use of basic commodities like soap and atta (wheat flour) and ignore these products by reminding their Prime Minister's most famous line – "Aapne ghabrana nahi hai".
Yashraj Mukhate: Man with a 'Golden touch'
I think it will be absolutely error-free and justified if I call Yashraj Mukhate a "Man with a Golden touch". The man has the ability to turn almost all his raps into a massive and tremendous hit on social media.
Who thought that just a simple dialogue of Kokilaben's from daily soap "Saath Nibhana Saathiya" – "Rasode me kon tha", will become this popular that almost everyone will dance on it? Mukhate made the dialogue so popular that even Star Plus thought of bringing their show back with Season 2.
Apart from this 'Rasode me kon tha' rap video, Mukhate made everyone on the internet go crazy with "Biggini shoot", "Tuadda kutta Tommy", "Kya karu me itani Sundar hu to aap hi bataao" and now with "Pawri ho rahi hai". This meme religion bought in by Memelord Yashraj Mukhate not only creates buzz on social media but is also influencing artists from various parts of world.
Pakistan now has found its own Yashraj Mukhate
It is no doubt that Indians are obsessed with Yashraj Mukhate's rap videos in which he turns famous dialogues into a music video, but with the latest "Aapne ghabrana nahi" rap song by popular Pakistani music artist and YouTuber, Saad Alavi, it is now quite obvious that this new trend and culture of creating music from random dialogues is gaining a lot of attention even outside India and is also being liked and appreciated by our neighbour, Pakistan.
Alavi drew his inspiration from Imran Khan's popular dialogue which in past has also inspired many memes. With appropriate lyrics and amazing music, the song is a true example of on-point sarcasm through which the artist is taunting the government of Pakistan for its policies. The song is an honest depiction of how Khan's statement where he is asking his citizens not to panic is actually creating panic.
Just entertainment or can these raps be directed towards a purpose?
Well, for at least now, these viral rap videos made out of simple dialogues are created in order to entertain social media users. But it's always important to remember the fact that social media never remains constant and to everybody's surprise can change and do what nobody even thinks of.
When Yashraj Mukhate, the Indian composer came up with his recent hit – "Pawri ho rahi hai", the viral track was soon used by Pakistanis to highlight the education of women in Pakistan, specifically of Zara Naeem who broke the world record and became the highest scorer in ACCA examination.
Apart from entertainment and using memes for good reasons these viral tracks can even have the capacity to shake the political grounds of a country. The latest video by Saad Alavi in which he mocked the statement of Khan and spoke about the inflation situation that the nation is suffering from right now seems to be funny but might occur like a serious political satire in near future.
Although when the video when viral, Alavi thanked his viewers and added, "Mein apne room mein akela betha huwa tha ye sab mere ehsaasat hain jo mene is song mein bataaye hain, mein ek artist hoon aur art lover hoon aur artist political nahi hota" (I was sitting in my room alone. I have expressed my feeling in this video. I am an artist and an artist is never political).
Assassination of Shinzo Abe & Salman Rushdie – Know Real Facts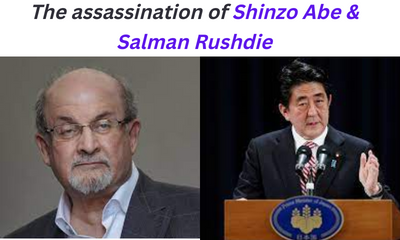 The months July and August of 2022 saw two cases of extermination to promote the fear of terrorism. One of the assassination of Shinzo Abe former Japanese Prime Minister, and another of the famous Novelist Salman Rushdie.
Shinzo Abe succumbed to a gunshot wound, whereas Rushdie's health conditions are improving and he is under medical supervision after the knife attack. However, various assassination attempt of Salman Rushdie has been made during the year.
These two terror acts force us to think about the impact of terrorism on society, the main objective of which is to create an atmosphere of fear so that citizens of the country cannot rely on their government.
This ultimately disturbs the law and order of the society, and serves the terrorists' purpose of creating a chaos.
Here we will see how these two attacks had different reasons but the objective remained the same – to stop someone from propagating his/her opinions independently, and also the factors that make attackers indulge in such acts.
Assassination Attempt of Salman Rushdie – Satanic Controversy
On 12 August 2022, Rushdie was attacked several times by a 24-year-old man Hadi Matar. The attacker's intentions can be linked to Rushdie's fourth novel, The Satanic Verses, published in 1988. Some Muslims considered the novel disrespectful towards Prophet Mohammed.
Soon after its publication, the novel sparked a 'fatwa' or a religious decree. The Iranian revolutionary leader Ayatollah Ruhollah Khomeini called for Rushdie's death in 1989. After, this various assassination attempt of Salman Rushdie has been made.
Complete conversation for Salman Rushdie Assassination:
When asked about the attack Hadi Matar said, "I don't like the person. I don't think he's a very good person. I don't like him very much". He further criticised Rushdie's work by saying, "He's someone who attacked Islam, he attacked their beliefs, the belief systems". Mr. Matar also told New York Post that he had only read 'a couple of pages' of the book and did not tell about whether the fatwa had inspired him or not.
While praising the Iranian religious leader, he stated, "I respect the Ayatollah. I think he's a great person. That's as far as I will say about that".
One can observe that the psychology of the attacker was that he simply disliked the novelist because of his work; although he read only two pages of the novel, but was rather influenced by the religious leaders and their sayings. Just, like this the assassination of Shinzo Abe has been made during this year, which we will discuss on next section.
Perceptions like these can have a long-lasting impact on future generations which can further deteriorate the situation. Violent acts like this demand proper scrutiny of the dissemination of information.
Extremists take advantage of such incidents and brainwash the young minds so that they can be used by them for their selfish purposes.
Assassination of Shinzo Abe – Complete Truth
On 8 July 2022, it was just another day of Abe's political campaign for the upcoming parliamentary elections. He was delivering a speech in Nara City, but no one is the aware about the assassination of Shinzo Abe that day. When a 41-year-old Tetsuya Yamagami shot him twice from behind from a distance of about 10 meters.
During the investigation, he confessed his intentions of killing and it was found that his motives had more to do with religious backing instead of a political reason.
It so happened that Yamagami's mother was a member of a religious group which she joined after her husband's death in 1998. She used to donate huge amounts of money as charity to the group, after the assassination of Shinzo Abe and Yamagami blames the sect for bankrupting his mother.
Confession Statement on Abe Case
The report reveal that Abe was closely associated with the sect, and wanted to take revenge against him for promoting it. "The suspect stated that he held a grudge against a particular organisation and that he committed the crime because he believed former Prime Minister Abe had a connection to it", a senior police officer in Japan's Nara region told reporters.
While the police hasn't given any clarification regarding the unidentified organization, social media in Japan has it that it could be the Unification Church.
Yamagami was unemployed, felt isolated in society, was against religious preaching and blind faith, and wanted to kill the leader of the religious organization but couldn't. One can see the psychological aspects of it that, the killer was anguished with the organisation and blamed them for his conditions and economic turmoil.
Ultimately his grudge converted into a motive of taking revenge for his loss and he did that by killing the perpetrator of the religious group, to give a message to the society and the world that one should avoid themselves from joining or contributing to such groups.
Japan has the strictest gun laws after the assassination of Shinzo Abe , so to bypass such stringent laws the killer used a handmade gun. The occurrence of such incidents in the island nation shows how much resentment the killer has and how strongly he was motivated to commit the murder.
Such incidents are eye-openers for the society that someone's freedom of belief can become others' pain, and teaches that as a society we should try to maintain a balance between them.
Two Paths to Crime
The above two accidents of assassination of Shinzo Abe, and the assassination attempt of Salman Rushdie has been terrifying for the country. First, being a part of a religious group the killer face hardship in his life, which forced him to commit the crime. In the second instance, the attacker got the impression that his religion is being targeted and that it is his responsibility to take revenge so that next time no one dares to do anything like that again.
Interpretation of things based on pre-assumed thoughts can lead to revenge, and revenge based on half-baked knowledge causes harm to the whole humanity, and not just the particular group concerned.