In a recent essay published in The Kathmandu Post, China's departing ambassador to Nepal, HouYanqi, mentioned the forthcoming parliamentary elections and expressed the hope that bilateral relations will "continue to achieve new levels."
It was clear from Beijing's overt indication that it wanted to maintain strong bilateral relations irrespective of the outcome. Since China has a lot riding on the election results on November 20, India, Nepal's other prominent neighbor, agrees.
The influence of Nepal, which is geographically positioned between the two Asian superpowers, has been the subject of a high-stakes power struggle between them. They both want a "friendly" administration in Kathmandu in a few weeks.
However, Nepal's elections are just some of the ones being watched closely by China and India. The US is similarly interested in the outcome, given its fierce regional competition with China.
The US spent significant diplomatic capital over the past year to ensure Kathmandu agreed to its own $500 million Millennium Challenge Corporation (MCC) agreement that calls for constructing roads and energy infrastructure in Nepal. This was done to counter China's multi-billion dollar Belt and Road Initiative (BRI) in the Indo-Pacific, which Nepal has endorsed.
Though on the surface, Washington's State Partnership Programme (SPP) appeared to entail the Nepal Army collaborating with the Utah State National Guard on "humanitarian and disaster management" issues, Kathmandu has been unable to join. However, the SPP has a hidden military purpose and the goal of bringing Nepal on board with the American Indo-Pacific strategy.
Once elections for the 275-member House of Representatives (PratinidhiSabha) and its seven provincial assemblies are complete, New Delhi, Beijing, and Washington will all seek a government in Kathmandu that will protect, if not advance, their strategic interests.
Two erratic electoral coalitions have been established for the time being, with the same old, senile warhorses vying for the position of prime minister. Current Nepali Congress leader SherBahadurDeuba leads one alliance, while former PM K P Sharma Oli of the Communist Party of Nepal-Unified Marxist Leninist leads the other.
Given that Nepalese leaders are motivated more by political expediency and opportunism than by ideology, it is not surprising that Pushpa Kamal Dahal, the leader of the Communist Party of Nepal (Maoist Centre), who was formerly a member of the grand Communist alliance, is now a member of the coalition led by Deuba.
Also Read: A Cruel Birth of Bangladesh – Book Review
Madhav Kumar Nepal, another former prime minister, is also a member of the ruling coalition. After criticizing Oli's authoritarian behavior, he broke up his relationship with him last year, dividing the CPN-UML. He is presently the leader of Nepal's newly established Communist Party (Unified Socialist).
A stable Nepali administration that prioritizes its strategic interests is essential for India. However, stability is unlikely to even in the following administration, given the infamy. Nepalese politicians have amassed due to their unquenchable quest for power and the prime ministership.
In addition to causing severe political turmoil within Nepal to ensure his government's survival, pro-China Oli's tenure as prime minister caused New Delhi some difficulty. He ferociously incited nationalist feelings, even changing Nepal's map, sparking a response to the Kalapani territorial dispute with India. As a result, under his leadership, relations between New Delhi and Kathmandu were considerably chilly.
Following Deuba's appointment as PM in July of last year, who was seen as being pro-India, there was a thaw. Although a coalition administration would make his position shaky as well, New Delhi would likely gamble on Deuba returning to lead the government.
India, which historically regarded Nepal as its backyard because of its connections to civilization and culture and its physical proximity, has seen its influence there fade even as China has made significant gains, luring the nation with its resources and building projects.
Even more, concerning for India is the fact that Beijing has established strong bonds not just with the Communist parties but also with Nepalese leaders who cross party lines. Therefore, the outcome of the election is much more vital for New Delhi.
The fact that the outgoing Chinese envoy publicly attempted to serve as a "peace-maker" to keep the feuding factions of the ruling Nepal Communist Party (NCP) united when Oli was prime minister two years ago provides evidence of the extent to which Chinese influence has permeated Nepal's political system.
Beijing exerted much effort to bring the Communist parties—the Oli-led CPN-UML and the Dahal-led CPN (Maoist Centre)—together. India is well aware that China will continue its efforts to make sure the Communist-led coalition wins, even though this front collapsed due to the fierce struggle for dominance between Oli and Dahal. New Delhi will be crossing its fingers in the hopes that the new political climate in Kathmandu will be stable and advantageous.
Why Olaf Scholz, Chancellor of Germany, is sending a message of Independence by visiting China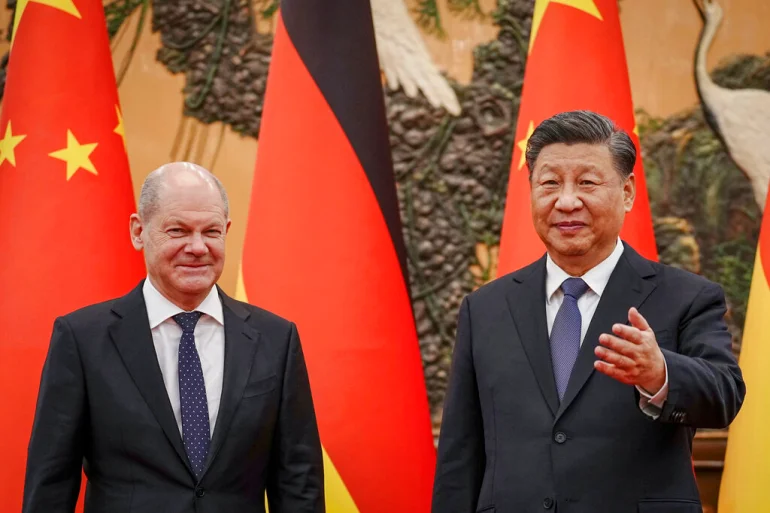 German Chancellor Olaf Scholz was the first G7 head of state to visit China since the outbreak. After the public health crisis, the world changed. The relationship between China and Germany seems to be returning to normal. Since Xi Jinping was re-crowned as the General Secretary of the Communist Party of China, Scholz is the first prominent European figure to visit China.
Nguyen PhuTrong, the head of the Vietnamese Communist Party, Shehbaz Sharif, and Samia Hassan, the president of Tanzania, arrived in Beijing before Scholz. Given that China's relations with Europe have deteriorated due to Uyghur human rights in Xinjiang and Chinese support for Russia in the Ukraine conflict, the Scholz visit last week was positive for Beijing.
Germany's biggest European economy will be even more reliant on China in the first quarter of 2022. During this time, Germany invested €10 billion in China. The amount of bilateral commerce increased by 0.9% to $173.57 billion. Imports from Germany are up 54%. The medium-term ambitions of Germany are in jeopardy due to its 1.9% growth rate.
German investment in China grew by 30% in 2022 despite the Ukraine crisis and criticism of China. A €69.5 billion railway project connecting Tianjin, in North China, and Beijing Daxing International Airport is being financed by KfW (the German state-owned development and investment bank), BASF, Hella, and Robert Bosch. For a total of $17 billion, China is purchasing 140 Airbus planes. Costco, a Chinese shipping business, was permitted to invest in Germany's busiest port, Hamburg, prior to the visit, but with a smaller share. Additionally, the arrival of Scholz coincided with polarization and deteriorating US-China ties. Due to the Ukraine conflict, Germany soon adopted a similar strategy to the US, breaking its contact with Russia.
It maintains caution regarding China because its economic interests are crucial. Scholz met with PM Modi in Berlin after starting his Asia strategy with a visit to Japan rather than China. Germany's foreign policy did not give China top priority, but it is nevertheless significant. It looks inconvenient that the visit comes right after the CCP's 20th National Congress.
Germany confronting China alone has angered Europe. Germany rejected the joint Scholz-Macron visit. The visit by Scholz and a corporate delegation demonstrates a duplication of Angela Merkel's approach. German businesses, which are already suffering from the epidemic, the energy crisis, and the break from Russia, according to the ruling SPD, cannot afford to decouple from China. The German Foreign Ministry criticizes China's human rights record and is developing a new China strategy to counter the systemic rivalry that the EU anticipated.
The Scholz visit revealed strategic independence in Germany. When viewed from the perspective of German relations with Russia, the same autonomy is apparent.
If Germany sways away for its own reasons, how will it continue to lead Europe? Scholz needed to pull many savvy rabbits out of his Beijing visit if he wanted to position Germany and potentially Europe as independent players in the inevitable US-China polarization.
Scholz provided background information for his visit in an opinion piece that was published in the FAZ the day before. Since Merkel's most recent trip to China in 2019, he admitted that the world had undergone significant upheaval. It was crucial to have a face-to-face meeting with Xi in order to address the world's unresolved problems, not because he intended to carry on as normal. China had seen a major upheaval. The German approach had to adapt as well because China had changed.
Additionally, the world had changed. Russia posed a menace that needed Chinese assistance to counter. China was reminded of its unique duty to uphold the UN Charter's ideals and exert influence over Russia as a permanent member of the UN Security Council. This is similar to what China claims about Russia in its Global Security Initiative, which it has yet to put into action. Scholz talked about the necessity of increasing Germany's partnerships and the multipolarity of the world.
Berlin works with various partners because he does not want to see blocs reemerge. China shouldn't be left alone, and a Chinese-dominated world system cannot be cozy. Germany and Europe continue to value China as a trading partner. Berlin didn't want to cut its ties with it. With China, Germany would want more parity and economic diversification. When it came to rare earth, cutting-edge technologies, or raw resources, "risky dependencies" had grown. German enterprises were developing different supply chains. China and Germany will now look for a differentiated basis for trade and investment. Instead of "protectionism and withdrawal," Germany prefers diversity and strengthening.
Scholz's fourth goal was that the disparities between China and Germany, notably those involving political and civil rights, including in Xinjiang, could not be overlooked. Scholz stated that while Germany adheres to the One-China policy, any change to Taiwan's status must be peaceful and reached via mutual consent.
Germany's China policy, according to Scholz, will be effective if it is in line with European policy. In his opinion, there were various areas where China should have a role, including dealing with the G 20, the SDGs, and other things. Before his visit, he consulted with the EU, French President Macron, and the US.
The Chinese readout supports the majority of what Scholz claimed. To preserve Germany's strategic autonomy, Xi is courting it. Despite Scholz's concerns, it stated that "there should be no self-imposed constraints or unrealistic expectations" and publicly disregarded the Taiwan and Xinjiang issues.
This visit is significant because Germany has again demonstrated its desire for strategic independence from the US. Before the Ukraine crisis, which caused them all to flee in the wake of NATO and US leadership, the German coalition and other German and European nations had this as their top priority. Europe is suffering from sanctions and a diminished energy supply due to the standoff in the Ukraine conflict. Despite resistance from within Germany and outside Europe, Germany appears prepared to continue its relationship with China. It must protect its economic growth against the ravages of conflict.