On August 9, the Indian Defence ministry announced an embargo on imports of 101 items of military equipment. This is an effort to boost indigenous production and improve self-reliance in weapons manufacturing.
Defence minister Rajnath Singh said in a tweet, "Our aim is to appraise the Indian defence industry about the anticipated requirements of the Armed Forces so that they are better prepared to realize the goal of indigenization." He added, "This is a big step towards self-reliance in defence."
Indigenous development of 108 equipment
The Defence Research and Development Organisation (DRDO) provided a list of 108 systems and sub-systems to Defence Minister Rajnath Singh on Monday which have been identified for indigenous development exclusively.
DRDO will also provide its support to industries in this development process, according to the Defence Minister's office. The RMO also said that this will "pave the way for Indian Defence industry to develop many technologies towards building an AtmaNirbhar Bharat. Raksha mantri has extended his good wishes to Team DRDO in their future endeavours."
The systems and sub-systems in the list of 108 items include mini and micro UAVs, ROVs, uncooled NV-IR sights for weapons (short-range), mountain footbridge, floating bridge (both metallic), mines laying and marking equipment.
The 101 emabrgo
Earlier in August, the announcement was made in order to boost India's indigenous defence production. India also aims to increase its export figures by reducing the number of its defence imports. The Defence Ministry said almost 260 schemes for such items were contracted by the Tri-Services at an approximate cost of Rs 3.5 lakh crore between April 2015 and August 2020.
The Centre said that the list of items includes high technology weapon systems like "artillery guns, assault rifles, corvettes, sonar systems, transport aircraft, light combat helicopters, radars and many other items."
Details of 108 items for indigenous development
The list of items to ingeniously developed includes mini and micro UAVs, missile canisters, marine rocket launchers and satellite navigation receivers. Apart from these, armoured Engineering reconnaissance vehicle (AERV), Anti-terrorist vehicle, multispectral camouflage net, bulletproof vehicle, TR modules, among others, are also included in the list.
Earlier this month, Light Combat Aircraft (LCA) MK I A, Land-Attack Cruise Missiles (Long-Range),155 mm Artillery Ammunition were put among the list of the 101 items that have been put under an import embargo by the Ministry of Defence.
DRDO chief Satheesh Reddy told the media, "This initiative will pave the way for Indian defence industry to develop many technologies towards building an 'AtmaNirbhar Bharat'. DRDO will provide support to industries for the design, development and testing of these systems," said an MoD official. "Collaborating with DRDO in the development of major weapon systems, the Indian industry has matured to a stage where they can develop systems on their own. The current industry base for DRDO consists of 1,800 MSMEs along with defence PSUs, ordnance factories and industries," he said.
India has a target to increase its defence exports to $ 5 billion within five years. The import embargo will come into effect on these items in a phased manner. The deadline had been set for December 2025.
Why Olaf Scholz, Chancellor of Germany, is sending a message of Independence by visiting China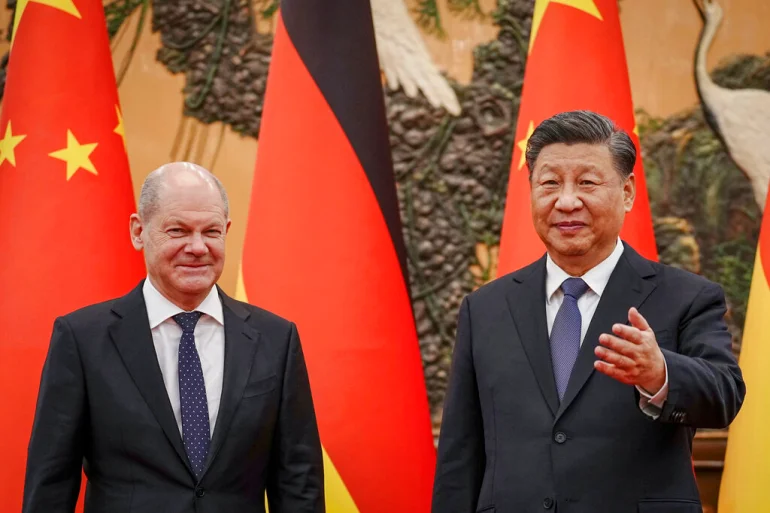 German Chancellor Olaf Scholz was the first G7 head of state to visit China since the outbreak. After the public health crisis, the world changed. The relationship between China and Germany seems to be returning to normal. Since Xi Jinping was re-crowned as the General Secretary of the Communist Party of China, Scholz is the first prominent European figure to visit China.
Nguyen PhuTrong, the head of the Vietnamese Communist Party, Shehbaz Sharif, and Samia Hassan, the president of Tanzania, arrived in Beijing before Scholz. Given that China's relations with Europe have deteriorated due to Uyghur human rights in Xinjiang and Chinese support for Russia in the Ukraine conflict, the Scholz visit last week was positive for Beijing.
Germany's biggest European economy will be even more reliant on China in the first quarter of 2022. During this time, Germany invested €10 billion in China. The amount of bilateral commerce increased by 0.9% to $173.57 billion. Imports from Germany are up 54%. The medium-term ambitions of Germany are in jeopardy due to its 1.9% growth rate.
German investment in China grew by 30% in 2022 despite the Ukraine crisis and criticism of China. A €69.5 billion railway project connecting Tianjin, in North China, and Beijing Daxing International Airport is being financed by KfW (the German state-owned development and investment bank), BASF, Hella, and Robert Bosch. For a total of $17 billion, China is purchasing 140 Airbus planes. Costco, a Chinese shipping business, was permitted to invest in Germany's busiest port, Hamburg, prior to the visit, but with a smaller share. Additionally, the arrival of Scholz coincided with polarization and deteriorating US-China ties. Due to the Ukraine conflict, Germany soon adopted a similar strategy to the US, breaking its contact with Russia.
It maintains caution regarding China because its economic interests are crucial. Scholz met with PM Modi in Berlin after starting his Asia strategy with a visit to Japan rather than China. Germany's foreign policy did not give China top priority, but it is nevertheless significant. It looks inconvenient that the visit comes right after the CCP's 20th National Congress.
Germany confronting China alone has angered Europe. Germany rejected the joint Scholz-Macron visit. The visit by Scholz and a corporate delegation demonstrates a duplication of Angela Merkel's approach. German businesses, which are already suffering from the epidemic, the energy crisis, and the break from Russia, according to the ruling SPD, cannot afford to decouple from China. The German Foreign Ministry criticizes China's human rights record and is developing a new China strategy to counter the systemic rivalry that the EU anticipated.
The Scholz visit revealed strategic independence in Germany. When viewed from the perspective of German relations with Russia, the same autonomy is apparent.
If Germany sways away for its own reasons, how will it continue to lead Europe? Scholz needed to pull many savvy rabbits out of his Beijing visit if he wanted to position Germany and potentially Europe as independent players in the inevitable US-China polarization.
Scholz provided background information for his visit in an opinion piece that was published in the FAZ the day before. Since Merkel's most recent trip to China in 2019, he admitted that the world had undergone significant upheaval. It was crucial to have a face-to-face meeting with Xi in order to address the world's unresolved problems, not because he intended to carry on as normal. China had seen a major upheaval. The German approach had to adapt as well because China had changed.
Additionally, the world had changed. Russia posed a menace that needed Chinese assistance to counter. China was reminded of its unique duty to uphold the UN Charter's ideals and exert influence over Russia as a permanent member of the UN Security Council. This is similar to what China claims about Russia in its Global Security Initiative, which it has yet to put into action. Scholz talked about the necessity of increasing Germany's partnerships and the multipolarity of the world.
Berlin works with various partners because he does not want to see blocs reemerge. China shouldn't be left alone, and a Chinese-dominated world system cannot be cozy. Germany and Europe continue to value China as a trading partner. Berlin didn't want to cut its ties with it. With China, Germany would want more parity and economic diversification. When it came to rare earth, cutting-edge technologies, or raw resources, "risky dependencies" had grown. German enterprises were developing different supply chains. China and Germany will now look for a differentiated basis for trade and investment. Instead of "protectionism and withdrawal," Germany prefers diversity and strengthening.
Scholz's fourth goal was that the disparities between China and Germany, notably those involving political and civil rights, including in Xinjiang, could not be overlooked. Scholz stated that while Germany adheres to the One-China policy, any change to Taiwan's status must be peaceful and reached via mutual consent.
Germany's China policy, according to Scholz, will be effective if it is in line with European policy. In his opinion, there were various areas where China should have a role, including dealing with the G 20, the SDGs, and other things. Before his visit, he consulted with the EU, French President Macron, and the US.
The Chinese readout supports the majority of what Scholz claimed. To preserve Germany's strategic autonomy, Xi is courting it. Despite Scholz's concerns, it stated that "there should be no self-imposed constraints or unrealistic expectations" and publicly disregarded the Taiwan and Xinjiang issues.
This visit is significant because Germany has again demonstrated its desire for strategic independence from the US. Before the Ukraine crisis, which caused them all to flee in the wake of NATO and US leadership, the German coalition and other German and European nations had this as their top priority. Europe is suffering from sanctions and a diminished energy supply due to the standoff in the Ukraine conflict. Despite resistance from within Germany and outside Europe, Germany appears prepared to continue its relationship with China. It must protect its economic growth against the ravages of conflict.