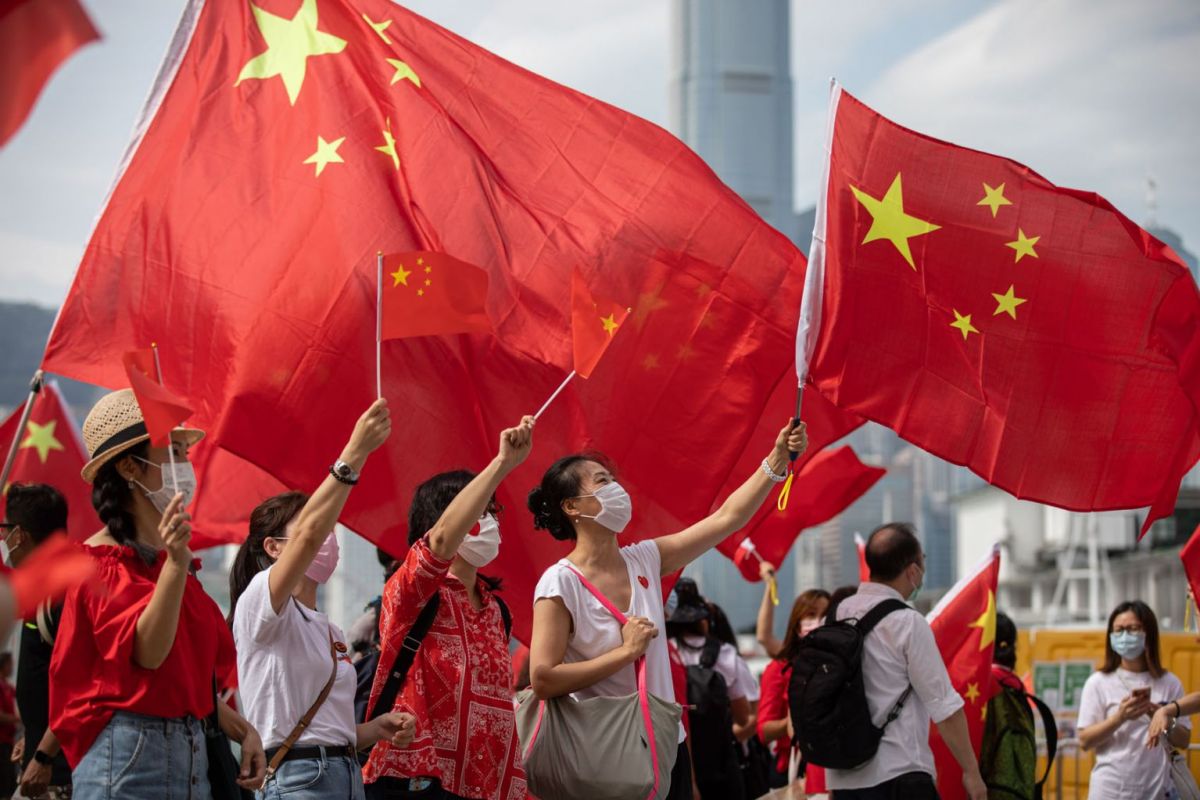 Dozens arrested in Hong Kong, amidst China's National Day celebrations; Is it the beginning of China's dominance over HongKongers?
China begun its 71st National Day celebration from today. Dozens of people have been rounded up and arrested in Hong Kong. Last year, on the 70th National day of China, the country saw a widespread pro-democracy march in Hong Kong.
After emerging from the coronavirus outbreak, this is China's first major holiday. In 2019, a total of 782 million domestic trips were made during the week long holiday. It initiated nearly 650 billion yuan ($95 billion) of tourism revenue.
While the people of China look forward to celebrate the golden week with utmost enthusiasm. In Hong Kong, it has become a day of grievance for those worried about authoritarian Beijing's intrusion on freedom. The riot police patrolling the streets of Hong Kong, have arrested dozens of people till now.
The police was placed in the region to prevent anti-democratic rallies from happening on China's special day. While the pro-democracy protesters were barred from conducting a march, police were seen rounding up more than 50 people downtown and binding their wrists with cuffs. The people were then put into a bus.
The Anti-government protests which drew large masses and turned violent last year, were smaller this year due to the restrictions regarding the virus.
Hong Kong, a limited democracy faced a restriction of speech and expression today, and the protesters commented that it's China's national day but the day is Hong Kong's death day.
Authorities did not grant permission for a protest march this year. According to the authorities, the rallies were not feasible because of security concerns and an anti-coronavirus ban on more than four people gathering in public.
The Civil Human Rights Front (CHRF) gave the orders of rally application. CHRF is a coalition which was responsible for organising record-breaking democracy marches last year. The group demands for the release of 12 HongKongers in mainland Chinese custody. The HongKongers were arrested trying to escape protest-linked judgement in the court in September.
Over the last 16 months, more than 10,000 people have been detained during protests. The detainees include many prominent protest leaders. Those 12 people were trying to escape to Taiwan by boat but were caught by the Chinese coastguard and since have been in the custody of mainland China.
Last month, Beijing imposed a controversial national security law on Hong Kong. It gave the Chinese government full powers over the semi-autonomous territory. The move is bound to crush its freedoms, according to Hong Kong.
The relationship between China and Hong Kong
According to the 1997 Sino-British Joint Declaration, the United Kingdom handed the control of Hong Kong to China. Hong Kong was made a special administrative region. It meant that Hong Kong became an autonomous administrative division based on the Hong Kong Basic Law. China agreed to govern Hong Kong under the principle of 'one country, two systems'.
The main difference between the two is that China is communist and controlled by a single party, while Hong Kong has a limited democracy.
Hong Kong has its own administration, with its own money, passports, immigration channels and legal system. It also has its own Olympic team, anthem and flag. However, Hong Kong's Chief Executive leader is appointed directly by Beijing.
Hong Kong's Basic Law was made with the agreement and acknowledgement of China and Britain. According to which, Hong Kong will retain in its semi-autonomous system for fifty years.
In the recent years, Hong Kong has expressed concerns about China imposing laws in the country which threatens its democracy.
The Extradition Law, 2019
The Extradition Law proposed by China last year drew widespread criticism from Hong Kong. According to the law, Hong Kong citizens identified doing criminal activities according to the Chinese law were to be extradited to mainland China.
Protests were organised and a pro-democratic march was held on the 70th National Day of China. The bill was eventually suspended and withdrawn by the chief executive.
This year, Beijing has imposed an controversial national security law on Hong Kong. The law gives the Chinese government almost complete control over the semi-autonomous territory.
The Anti-Sedition Law, 2020
The anti-sedition law imposed on September 29, 2020, targets the crimes of secession, subversion, terrorism and collusion with foreign forces with punishments as severe as life imprisonment.
According to the law, Hong Kong will establish a committee to be headed by the chief executive, appointed directly by Beijing, and a subject to overview by the central government in China. Beijing will set up a separate national security agency oversighting the guide to implementation of the law, as well as to "collect and analyse national security intelligence."
According to the law, Hong Kong's courts will have independence except in certain circumstances where the national security agency will be overseen by mainland China, as well as other mainland state security agencies will be able to oversee a number of cases.
The bill also calls for a special unit for national security, in competence with the last year's protests. The full draft of the law is yet to be released and the key arguments still needs to be addressed.
An expert on Chinese Law at New York University stated, "How are the national security law crimes being defined? By what criteria will the chief executive select judges and why is this special system necessary?" He added, "These signs… suggest continuing uncertainty and disagreement in the leadership about how to handle the many delicate and difficult issues involved."
The Cross-Strait Relations
Taiwan, also known as the Republic of China (ROC), is an island off the southern coast of China. Taiwan has been governed independently from mainland China since 1949. China views Taiwan as its province which will eventually join China back. Taiwan views itself as a territory with its own democratically elected government with a population of 23 million people.
Beijing and Taipei, the capital of Taiwan, strongly disagree when it comes to the island's status.
The People's Republic of China (PRC) believes that there is only 'One China' and Taiwan is a part of it. Beijing says that Taiwan is bound, considering the 1992 Consensus. It states that there is only 'one China' but allows for different interpretations. According to it, Beijing and Taipei both agree that Taiwan belongs to China, while they still disagree about which one of the two is China's legitimate governing body.
The current president of Taiwan, Tsai Ing-wen had rejected the 1992 Consensus last year. She declared that the 'one country, two systems' framework is unacceptable for Taiwan.
As a part of continued military expansion, China has been deploying missiles along the Taiwan Strait and is known to conduct drills periodically. Beijing has refused to step down with its decision of the use of force if necessary, to resolve disputes with Taiwan.
As a response, Taiwan continues to purchase weapons, primarily from the US. In 2019, Taiwan's defence budget was $11.3 billion and accounted for 2.16 percent of its gross domestic product (GDP).
Although both Taiwan and Beijing have great economic relations, they have been suggested by experts to take responsibility for avoiding a crisis.
The unrest in Hong Kong is being regarded as a significant move by Beijing. Taiwan has so far contemplated that if the scenario goes on like that, it could be the next country to suffer Beijing's dominance.
Taiwan has been strengthening its bond with US and US has reverted back with a promise of continous support to Taiwan. In September 2020, US had sent his top officials to conduct a meeting in Taiwan. This was highly criticised by Beijing and it warned US to "not to send any wrong signals to 'Taiwan independence' elements to avoid severe damage to China-US relations".
President Joe Biden's Conversation with the Cambodian Prime Minister Hun Sen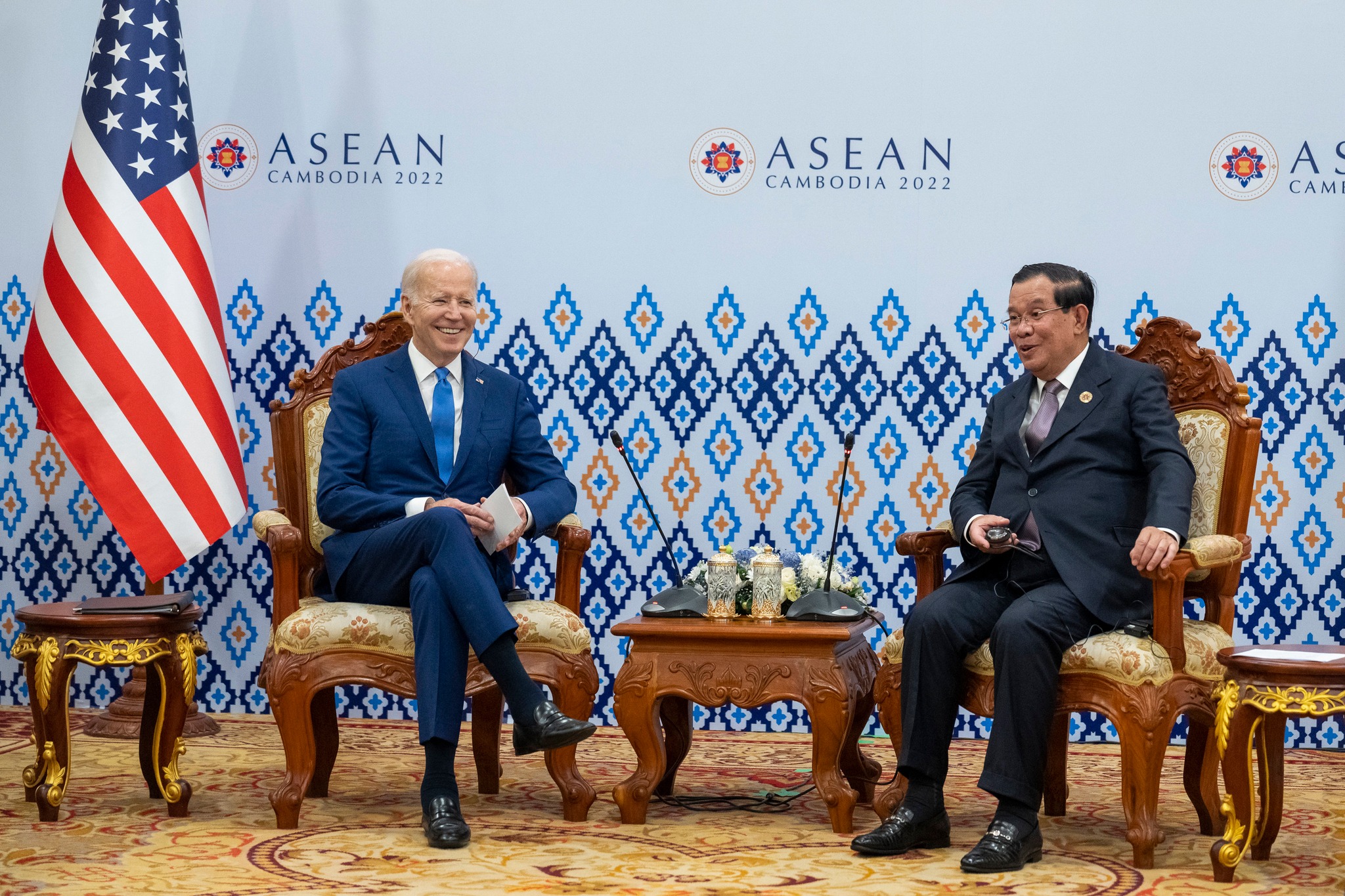 President Joe Biden landed in Cambodia on Saturday and supported the ASEAN nations. Before the eagerly anticipated Group of 20 summits next week in Indonesia, where Biden will meet with Xi for the first time in person since he took office, there will be a weekend of meetings in Cambodia. Before meeting with Xi, the president can engage with US allies at the ASEAN summits and the East Asia Summit on Sunday, both in Phnom Penh.
The US-ASEAN Comprehensive Strategic Partnership, which, according to Biden, "will tackle the biggest issues of our time, from climate to health security, defend against the significant threats to rule-based order and threats to the rule of law, and build an Indo-Pacific that's free and open, stable and prosperous, resilient and secure," was announced as "another critical step" toward building on the group's progress during his remarks at the summit. He cited a budget proposal for $850 million in support for Southeast Asia while praising the US's current financial commitments to ASEAN.
"This is my third journey and third summit, my second in person." The value reflects the United States' commitment to our relationship with ASEAN and our dedication to the region's centrality. The core of the Indo-Pacific strategy of my administration is ASEAN. In his opening remarks to the meeting, Biden said, "And we continue to reinforce our resolve to work in lockstep with an empowered, united ASEAN."
To build on the ASEAN leaders' conference in Washington earlier this year, the president's first meeting in Cambodia was with Prime Minister Hun Sen of Cambodia.
From the beginning of his presidency, Biden "was intent on elevating our engagement in the Indo-Pacific," according to national security adviser Jake Sullivan, and his attendance at the ASEAN and East Asia summits this weekend will highlight his accomplishments to date, including the Indo-Pacific Economic Framework unveiled earlier this year and security partnership initiatives.
"He's coming into this series of summits with that track record of success and purpose behind him, and he wants to be able to use the next 36 hours to build on that foundation to move American engagement forward, as well as to deliver several actual, practical initiatives," Sullivan said.
New initiatives on maritime cooperation, internet connectivity, and economic investment are some of these valuable measures, according to Sullivan. He added that Biden will soon begin a new maritime initiative that will "focus on using radio frequencies from commercial satellites to be able to track dark shipping, illegal and unregulated fishing, and also to improve the capacity of the countries of the region to respond to disasters and humanitarian crises."
Further, he added, Biden will also emphasize a "forward-deployed posture" toward regional defense to demonstrate that the US is actively pursuing security cooperation.
Biden also mentioned a brand-new US-ASEAN electric car infrastructure program during his speech.
He described the project as "a collaborative effort to build an integrated electric car ecosystem in Southeast Asia, enabling the region to achieve sustainable energy, economic growth, and ambitious emissions reduction targets."
Discussions on coordination "to continue to impose costs and build pressure on the junta" will also be centered on Myanmar, which was the subject of a February 2021 coup that ousted the country's democratically elected government.
Key Highlights
Concerns raised by Biden regarding Chinese activity at the Cambodian Ream Naval Base. The president expressed concern over the circumstances at Ream Naval Base and emphasized the value of complete transparency regarding the PRC (China's) military activities there.
The US President congratulated Cambodia's Prime Minister for backing Ukraine at the UN and spoke about the turmoil in military-ruled Myanmar.
President Biden also conveyed his gratitude to Cambodia for supporting resolutions at the UN to defend Ukraine from the brutal assault of Russia.
He thanked Cambodia for holding the ASEAN helm through a trying year.
The leaders "reflection on the historic US-ASEAN Special Summit's success in Washington, DC and applauded plans to establish a US-ASEAN Comprehensive Strategic Partnership at the annual US-ASEAN Summit later that day."
Along with the ASEAN Five Point Consensus, they also discussed the crisis in Burma and ASEAN's reaction, highlighting the international community's crucial role in restoring of democracy and stability in Burma.
In addition, Biden urged releasing activists like Seng Theory and a dual US-Cambodia citizen arrested on politically motivated allegations. The commitment of the United States to the Cambodian people and their goals for a more wealthy, democratic, and independent nation was reaffirmed by President Biden.