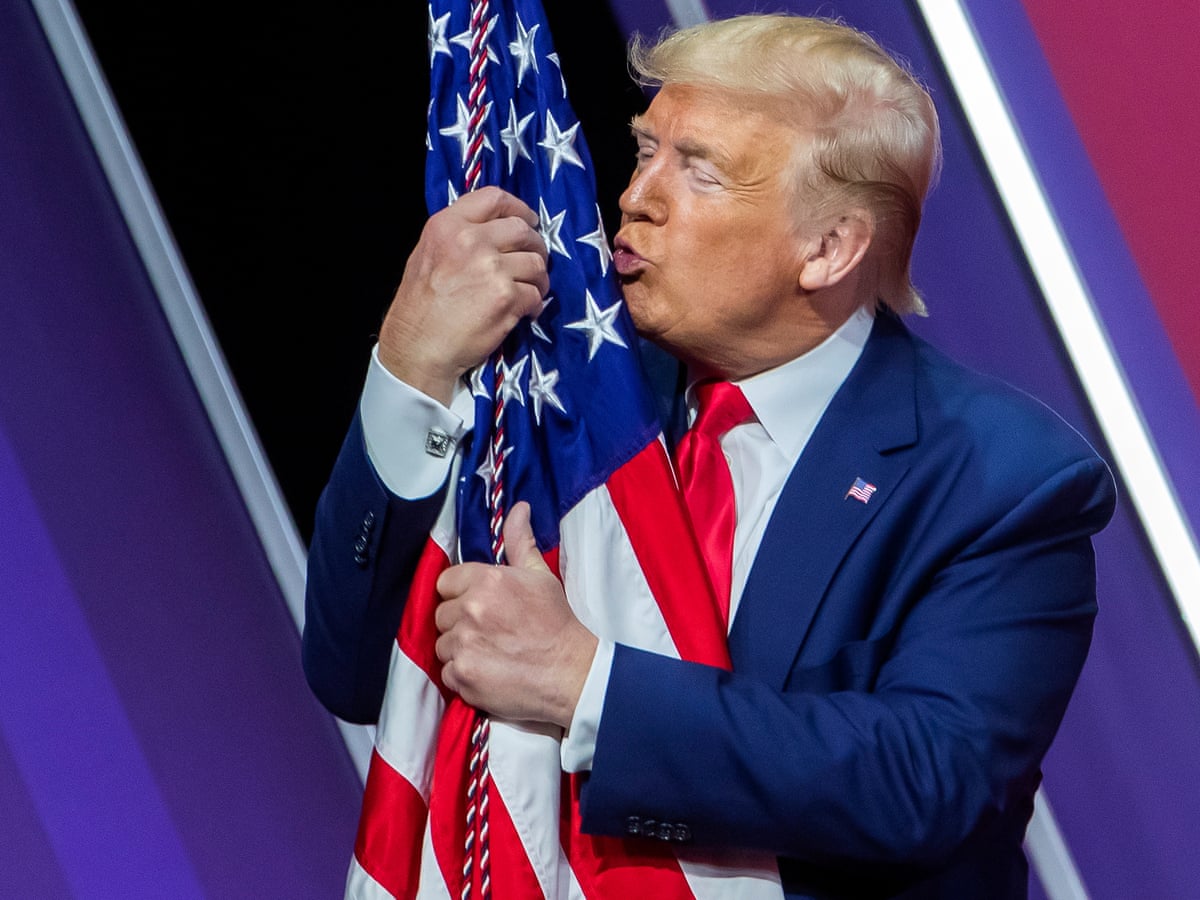 Do you love Trump? Well, some world leaders do – here's a list of world leaders who love Trump and want him to win again
Here in this article is a list of world leaders, who want Trump to win the US election 2020.
It will be an understatement to say that the 2020 US elections are important to the world. The presidential candidates are trying to win the support of several world leaders during this presidential election. Perhaps, especially talking about the Republican presidential candidate, Donald Trump, it is believed that Trump is supported by many world leaders as he has altered world affairs through his close friendships.
Here are few of the world leaders who are supporting Donald Trump and want him to win.
Brazilian President Jair Bolsonaro
If there is one world leader who has fully committed himself to Trump, it is Bolsonaro. The Brazilian President is an ardent admirer and a shrewd imitator of his US counterpart Donald Trump. President Jair Bolsonaro's strong ideological alignment with President Donald Trump is inevitably leading towards his support for Trump in the upcoming US election.
Like Trump, Bolsonaro is often seen commenting on women and minorities. He was also spotted leathering fake news, just in the way Trump does it. Just like Trump's "America First" slogan, Bolsonaro adopted his own version: "Brazil Above All." Bolsonaro can be considered as a doppelganger of Donald Trump as this world-view and political style is somewhat similar to US President.
It is believed that Biden's victory in the election will obviously affect the bilateral relationship that Brazil and the US share. But more than affecting the bilateral relationship, Biden's victory could threaten the global environment that Trump's presidency helped create for Bolsonaro's political project. Many are postulating that US election results are surely going to affect the 'Brazil elections 2020' for which Bolsonaro has started his campaigning process. Bolsonaro's close proximity to Trump is a big asset to him politically.
Trump is highly popular among Jair Bolsonaro's die-hard supporters and the perception of his supporters that Bolsonaro possesses privileged access to the White House is one of the major political assets he holds with him. He wants President Trump to secure his second term against former Vice-President Joe Biden to gain legitimacy in world politics.
Indian Prime Minister Narendra Modi
The bond between US President Donald Trump and Indian Prime Minister Narendra Modi is no secret and their friendship is quite visible to the world. Their bond between the two leaders is deep because of their shared interests in security, defence, and also about their concerns related to China. Both the leaders are popular because of their political showmanship and have even faced certain criticisms, be it from media or protesters.
On September 17, Trump was seen praising Indian Prime Minister Modi on his 70th birthday as a "great leader and loyal friend." The two world leaders were seen supporting each other during the early stage of the coronavirus pandemic. India supplied hydroxychloroquine to the US, while Trump supported by ordering ventilators to India.
The US and India have had a long close partnership with each other but it has rarely manifested in this kind of bonhomie. In Trump, Modi found a close friend and a President of the world's largest democracy who is supporting him and is efficiently ignoring the Hindu-Nationalist agenda. Trump did not even comment on the Hindu-Muslim clashes in New Delhi that occurred during his visit to India in February 2020.
Unlike Trump, Biden, and his Vice-Presidential candidate Kamala Harris is not willing to overlook political issue in India. Kamala Harris is often seen being vocal about the most controversial Kashmir issues and also about the alteration in the Citizenship Laws that rejects the citizenship of Muslims who belonged to neighbouring countries.
And let's not forget the clear demonstration of the deep friendship bond between Modi and Trump during the "Howdy, Modi!" event in Houston, Texas, and the blockbuster "Namaste Trump" event that happened in Sardar Patel Stadium, Ahmedabad. Modi enjoys a close relationship with a few of the world leaders, but Trump seems to be the most favourite of the Indian Prime Minister.
Hungarian Prime Minister Victor Orban
Hungary's far-right Prime Minister Viktor Orban, just like other nationalist leaders is hoping for Trump to remain in power for the next four years. Orban is pretty much convinced with Trump's idea of politics. Last month, he was spotted saying that the relationship between Hungary and the US will be lowered, if Biden comes to power. Most of the country's in the world want to have a friendly relationship with world power and so is a similar case with Hungary.
Orban has got reasons to maintain diplomatic relations with Trump as he is an unabashed advocate of "illiberal democracy." He doesn't care for the rule of law, democratic institutions, or press freedom. Just like Trump's 'America First' rhetoric, Orban has also frequently spoken about 'Hungary First' policies. He also accused media outlets of his country of peddling fake news, the idea popularised by Trump.
Israeli Prime Minister Benjamin Netanyahu
US President Donald Trump proved himself to the best President for Israeli Prime Minister Benjamin Netanyahu. No matter what trump's short-comings are but he surely is good for Israel. Trump is crowned as the "BFF" of Israel and is the one who is best when comes to accommodating Israel's aims – whether it's recognising Israel's control of the Golan Heights, walking out of the Iran nuclear deal, moving the US embassy to Jerusalem, or brokering the normalisation of ties with the UAE and Bahrain.
Trump is highly popular among Israelis and therefore, trump is the supported candidate in Israel for the US 2020 election.
Russian President Vladimir Putin
Russian President Vladimir Putin was the first person who expressed his support to the US President Donald Trump in 2016. He supported Trump during his 2016 election campaign. Putin considered Trump as a very flamboyant and talented man. He said, he has no doubts about trump and feels that Trump is an absolute leader for the presidential race.
Though the relationship between the US and Russia turned to be toxic during the four years of Trump's presidency as the US imposed more sanctions on Russia and walked out of arms control treaties that Moscow wanted to renegotiate, but still Trump has been great for Vladimir Putin in a general sense. Putin in a sense wants Trump to be the winner because it will be hard in the future for him to deal with the democratic Biden.
Assassination of Shinzo Abe & Salman Rushdie – Know Real Facts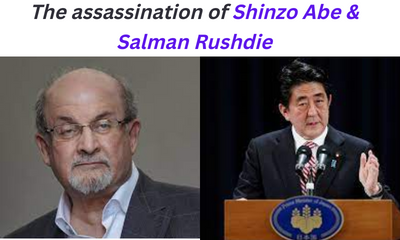 The months July and August of 2022 saw two cases of extermination to promote the fear of terrorism. One of the assassination of Shinzo Abe former Japanese Prime Minister, and another of the famous Novelist Salman Rushdie.
Shinzo Abe succumbed to a gunshot wound, whereas Rushdie's health conditions are improving and he is under medical supervision after the knife attack. However, various assassination attempt of Salman Rushdie has been made during the year.
These two terror acts force us to think about the impact of terrorism on society, the main objective of which is to create an atmosphere of fear so that citizens of the country cannot rely on their government.
This ultimately disturbs the law and order of the society, and serves the terrorists' purpose of creating a chaos.
Here we will see how these two attacks had different reasons but the objective remained the same – to stop someone from propagating his/her opinions independently, and also the factors that make attackers indulge in such acts.
Assassination Attempt of Salman Rushdie – Satanic Controversy
On 12 August 2022, Rushdie was attacked several times by a 24-year-old man Hadi Matar. The attacker's intentions can be linked to Rushdie's fourth novel, The Satanic Verses, published in 1988. Some Muslims considered the novel disrespectful towards Prophet Mohammed.
Soon after its publication, the novel sparked a 'fatwa' or a religious decree. The Iranian revolutionary leader Ayatollah Ruhollah Khomeini called for Rushdie's death in 1989. After, this various assassination attempt of Salman Rushdie has been made.
Complete conversation for Salman Rushdie Assassination:
When asked about the attack Hadi Matar said, "I don't like the person. I don't think he's a very good person. I don't like him very much". He further criticised Rushdie's work by saying, "He's someone who attacked Islam, he attacked their beliefs, the belief systems". Mr. Matar also told New York Post that he had only read 'a couple of pages' of the book and did not tell about whether the fatwa had inspired him or not.
While praising the Iranian religious leader, he stated, "I respect the Ayatollah. I think he's a great person. That's as far as I will say about that".
One can observe that the psychology of the attacker was that he simply disliked the novelist because of his work; although he read only two pages of the novel, but was rather influenced by the religious leaders and their sayings. Just, like this the assassination of Shinzo Abe has been made during this year, which we will discuss on next section.
Perceptions like these can have a long-lasting impact on future generations which can further deteriorate the situation. Violent acts like this demand proper scrutiny of the dissemination of information.
Extremists take advantage of such incidents and brainwash the young minds so that they can be used by them for their selfish purposes.
Assassination of Shinzo Abe – Complete Truth
On 8 July 2022, it was just another day of Abe's political campaign for the upcoming parliamentary elections. He was delivering a speech in Nara City, but no one is the aware about the assassination of Shinzo Abe that day. When a 41-year-old Tetsuya Yamagami shot him twice from behind from a distance of about 10 meters.
During the investigation, he confessed his intentions of killing and it was found that his motives had more to do with religious backing instead of a political reason.
It so happened that Yamagami's mother was a member of a religious group which she joined after her husband's death in 1998. She used to donate huge amounts of money as charity to the group, after the assassination of Shinzo Abe and Yamagami blames the sect for bankrupting his mother.
Confession Statement on Abe Case
The report reveal that Abe was closely associated with the sect, and wanted to take revenge against him for promoting it. "The suspect stated that he held a grudge against a particular organisation and that he committed the crime because he believed former Prime Minister Abe had a connection to it", a senior police officer in Japan's Nara region told reporters.
While the police hasn't given any clarification regarding the unidentified organization, social media in Japan has it that it could be the Unification Church.
Yamagami was unemployed, felt isolated in society, was against religious preaching and blind faith, and wanted to kill the leader of the religious organization but couldn't. One can see the psychological aspects of it that, the killer was anguished with the organisation and blamed them for his conditions and economic turmoil.
Ultimately his grudge converted into a motive of taking revenge for his loss and he did that by killing the perpetrator of the religious group, to give a message to the society and the world that one should avoid themselves from joining or contributing to such groups.
Japan has the strictest gun laws after the assassination of Shinzo Abe , so to bypass such stringent laws the killer used a handmade gun. The occurrence of such incidents in the island nation shows how much resentment the killer has and how strongly he was motivated to commit the murder.
Such incidents are eye-openers for the society that someone's freedom of belief can become others' pain, and teaches that as a society we should try to maintain a balance between them.
Two Paths to Crime
The above two accidents of assassination of Shinzo Abe, and the assassination attempt of Salman Rushdie has been terrifying for the country. First, being a part of a religious group the killer face hardship in his life, which forced him to commit the crime. In the second instance, the attacker got the impression that his religion is being targeted and that it is his responsibility to take revenge so that next time no one dares to do anything like that again.
Interpretation of things based on pre-assumed thoughts can lead to revenge, and revenge based on half-baked knowledge causes harm to the whole humanity, and not just the particular group concerned.